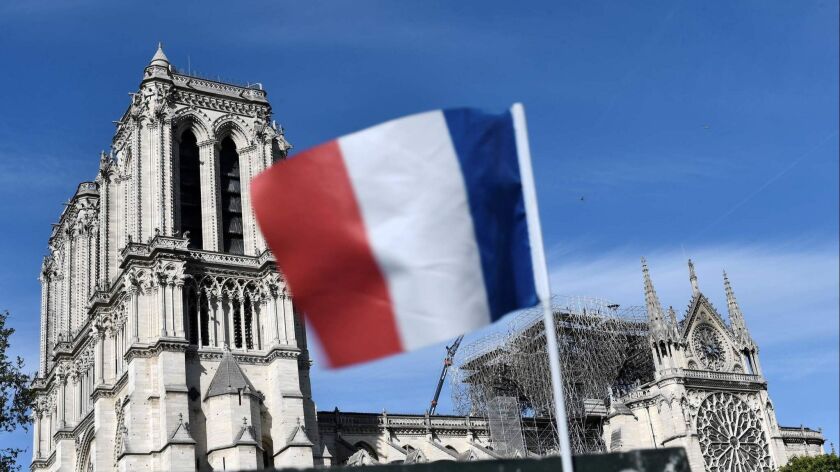 The news of the devastation of Notre Dame de Paris was met with horror, then sorrow and then anger.
Britain's the Metro reported many were piqued that people flocked to donate to the restoration of the cathedral but did nothing for the homeless in Paris or others who suffer, Joe Roberts reported.
Although some people have praised the contributors, one Metro reader wrote on its Facebook page, "'Over 300 million is being donated!!! That could save thousands of lives around the world."
Misplaced blame, anger's cousin, also stoked some of the ire; one conspiracy theorist insisted this was no accident but almost certainly terrorism.
George Hobica's indignation stemmed from the notion that this was preventable. Hobica, who wrote the essay for our digital Travel page about why Notre Dame matters to the world and to travelers, said in a later email, "Angry because it never should have happened. Too many historic buildings don't have fire suppression systems."
If you take a look at the University of Texas at Austin Fire Prevention Services website and read about historic fires, you'll see a roll call of fires that should never have happened and with outcomes that included an enormous loss of life.
In the information about Chicago's Iroquois Theatre Fire in 1903, it notes, "There were no automatic fire sprinklers"; 602 people died. Same with the Cocoanut Grove Nightclub Fire in 1942 (492 dead); Atlanta's Winecoff Hotel Fire in 1946 (119 dead); the Station Nightclub Fire in West Warwick, R.I., in 2003 (100 dead).
It is sickening and frightening.
We'll return to the topic of safety in our End paper, which is, as its name suggests, at the end of this newsletter. But before we hit that, we have a plethora of topics that give you a breather from Paris' drumbeat of sorrow. If you're a mystery reader, you may know Louise Penny's books; now you can know her home, the Eastern Townships of Quebec. Christopher Reynolds updates you on Joshua Tree after the winter of its discontent, and we learn about an academy that helps turn your over-50 self into your over-50 fabulous self. Plus a recap from the travel bargain hunting panel at the Los Angeles Times Festival of Books and more.
Why Notre Dame matters
I couldn't quite fathom why I was upset about the Notre Dame news; George Hobica put it into perspective for me in his next-day essay. You don't have to be Catholic or a lover of history or any other category to appreciate why the cathedral occupies a place in our collective travel consciousness.
A writerly look at Quebec
If you're a lover of Louise Penny's books — well-written mysteries — you probably know the town of Three Pines, where Inspector Armand Gamache seems to wind up all too often as he investigates wrongdoing. While he investigates the crime, readers may be wondering where this wonderful burg is. Answer: nowhere. Penny has drawn on the characteristics of various places to create descriptions that beg you to visit, and Margo Pfeiff's story tells you how to find them.
Growing whole, not old
If you've celebrated your 50th birthday and wonder, "What do I do now that more of my life is behind me than in front of me?" the Modern Elder Academy in Baja Mexico may be just the ticket. Amanda Jones writes about a place that can help you fit your puzzle piece in world that sometimes devalues and discounts your experience. Sign me up, please.
Joshua Tree, after the winter of its discontent
Deserts aren't always the easiest places to visit, except maybe when the entrance is unguarded and no one is minding the store. That's what happened at Joshua Tree National Park during the 35-day partial government shutdown, and damage was reported. Christopher Reynolds reports on how the newly enlarged park is faring and whether its wounds, many of them not visible from where we play in the park, are healing.
Bagging on the overhead bin problem
I'm short and not as strong as I used to be. Putting stuff into the overhead compartment? Not so easy. So why does a flight attendant not rush to my rescue? A reader posed this question, and some of the answers surprised my socks off (but please, do not go barefoot on a plane — subject of a future rant). Find out what you can do to help yourself.
Attention, shoppers: Bargain hunting tips for summer travel
If you attended the Los Angeles Times Festival of Books, your experience certainly included a star-studded lineup of authors, a glorious spring day on the USC campus and perhaps a panel about saving money on travel. Panelists John DiScala, a.k.a. JohnnyJet, and George Hobica, whose name you know from the Notre Dame story but whose resume includes being founder of low-fare-site Airfarewatchdog, offered tips on finding the best for the least.
Interestingly, the two don't always agree. DiScala flies ultra-low-cost carriers, mostly in Europe (EasyJet is one, but in the U.S., those include Frontier, Spirit and Allegiant); Hobica does not. Hobica doesn't mind staying in the smallest hotel room in the best hotel; DiScala has a family, so that's not an option. Hobica doesn't mind using an unknown third-party site to book a room but always calls the hotel — not its 800 number but its local number — to ensure it has your reservation. DiScala calls to see whether a better deal is available.
Both mentioned Autoslash as a site that has good rental car deals, and DiScala also uses Costco Travel for cars.
Both are firm about this: No matter where you are going or how you are executing your trip, make sure you pay with a credit card within the 60-day window in case anything goes wrong. You will be covered under the Fair Credit Billing Act in case something goes wrong. Also check your credit card to see whether it provides insurance outside of that 60 days; sometimes travel insurance will cover insolvency of a travel provider.
What I failed to say as moderator because I know this to be true: Traveling wisely takes a lot of work before you can have a lot of fun.
If you like travel bargains
Subscribe to this newsletter because its cost is a big round number: zero. You can have it delivered to your inbox, and it is absolutely worth more than you pay for it. It compiles the most recent travel news in one handy place. If you would like to subscribe to this newsletter or many others from the Los Angeles Times for your specific interest, go to membership.latimes.com/newsletters.
Thanks for being a reader and supporter of the Los Angeles Times, which means you get to tell us what you think or what you'd like to see in print or online. Even if you're not a subscriber to the newsletter, you're welcome to mail, but I'm always extra-impressed when I hear from someone who tags their email "Longtime subscriber."
Send your comments or suggestions on this newsletter to travel@latimes.com. Tell us what you like and what you don't like — airport layovers that do not occur in Singapore, fish-flavored biscuits (just bit into one that I thought would taste like shortbread and it did not), marshmallow Peeps — along with anything that pertains to what you're reading.
Also take a minute to think about becoming a subscriber to all of the Los Angeles Times. Why? I think the announcement of the Pulitzer Prize awarded to The Times this week says everything about our desire to serve this readership. Visit our subscription page. And thank you.
When East met West
It sounds like the start of one of those obnoxious math problems: A train from the East is traveling west and a train from the West is traveling east; when do they meet? Answer: May 10, 1869. That's the date that last spike was driven on the transcontinental railroad. If you're a train buff, as writer Jay Jones is, you'll find this a worthy Weekend Escape to Promontory Point, Utah, and even if you're not, there's plenty to appreciate about this engineering feat 150 years ago.
He was blind to the treasures in his own back yard
Blake Snow and his wife and children live in Utah, but they had never visited the national parks in their own home state. When Snow mentioned this to a traveler from Denmark, the traveler, who had come to the U.S. three times to experience our park places, was aghast. How could the Snow family not understand what a gold mine surrounded them? That encounter turned Snow and his family into aficionados, who now seek out these gems, he recounts in a Departure Points column.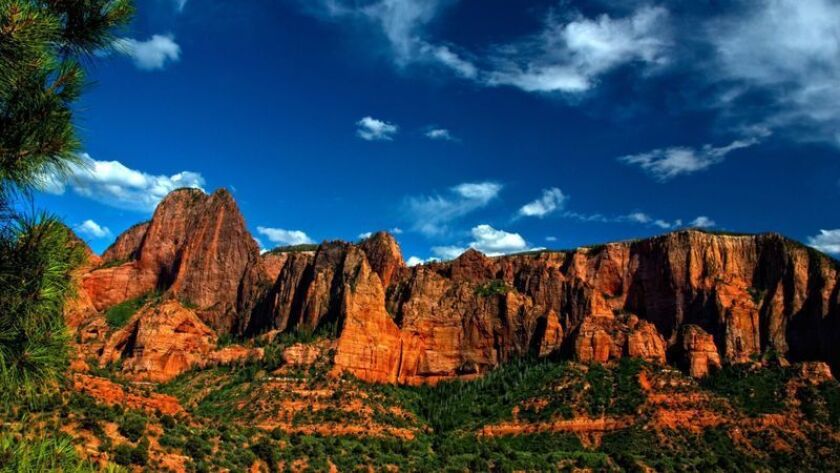 You'll want to spend time in this airport
Yeah, right. Everyone loves to spend time waiting around for a plane because it's so luxurious. But the opening of the Jewel at Singapore's Changi Airport, already a traveler favorite, you have reason to be here beyond necessity, Chris Erskine writes. Jewel has not only retail shops and restaurants but also gardens and waterfalls. And who doesn't want to spend time with topiary apes?
What we're reading
Pico Iyer, whose work has appeared in our Travel pages, is a wordsmith whose writing elevates all it touches. His new book, "Autumn Light: Season of Fire and Farewells," is just out and is reviewed by Janet Kinosian, who writes, "It's Iyer's keen ear for detail and human nature that helps him populate his trademark cantabile prose with his (seemingly boring) daily routines and the (never boring) people who populate them."
I'm not a fan of manga, but I am a fan of Evangeline Neo's "A Manga Lover's Tokyo Travel Guide," from Tuttle Publishing. It's more than manga. In fact, this newsletter is late to my editor because I couldn't stop reading this illustrated guide from Tuttle Publishing. It led me to an Ikebukuro Butler Cafe and Sanrio Puroland, an indoor amusement park. (Yes, I am a Hello Kitty fan.) It piqued my curiosity about a host of other places.
Andrea Sachs' travel stories always make me smile because they are full of sly and gentle humor, and her recent Washington Post piece on the quest to see Alaska's Northern Lights balances mirth and information. Like the best travel writing, it also puts you right in the center of her quest.
End paper
As we passed the hockey arena in which the Washington Capitals play, my driver, who is also my sister, said somewhat absently, "We always know how to get out."
It is one of those moments when what comes out of one's mouth really wasn't meant to be voiced, but it had and I had no idea what she was talking about.
"What are you talking about?" I asked, testily.
She nodded toward the arena. "Out of there. Out."
I had two pressing questions: How could someone so gentle and nice like hockey and why did she need to get out of there?
"Terrorist attack," she said. She has yet to explain the hockey fascination.
This followed a previous day's conversation with her husband who blanched when I asked whether those evacuation signs in downtown Washington, D.C., were for hurricanes.
"Terrorist attack," he said.
Living on the doorstep of the nation's capital brings up wholly different issues, I thought.
I thought Incorrectly, as it turned out.
Several security experts I've spoken with in the interim on a variety of stories have seconded the notion that wherever you are, you need to know how to get out, whether it's a terrorist attack, a shooter, a fire.
If this sounds crazy, as it did when she first uttered it, so be it. I thought seatbelts were stupid when they were first required, but I wouldn't dream of getting into a car without clicking mine closed.
Because every aircraft seems to be different these days, I pay attention to the safety announcement. Because every stadium, restaurant, theater or hotel is different, I now scan the space and look for the exits. Because life is full of curveballs, I am trying to make this practice part of my travel DNA.
The Notre Dame fire is a good reminder. Have an exit strategy. You may never need to use it; we hope that's the case.
Because we want you to travel safely and well and to know that we will be here to welcome you home. That is, we think, always a cause for celebration in the best of times and the worst.
---