Newsletter: Essential Arts & Culture: Opera and the black experience, 'Shrew' and TV's 'Jesus Christ Superstar'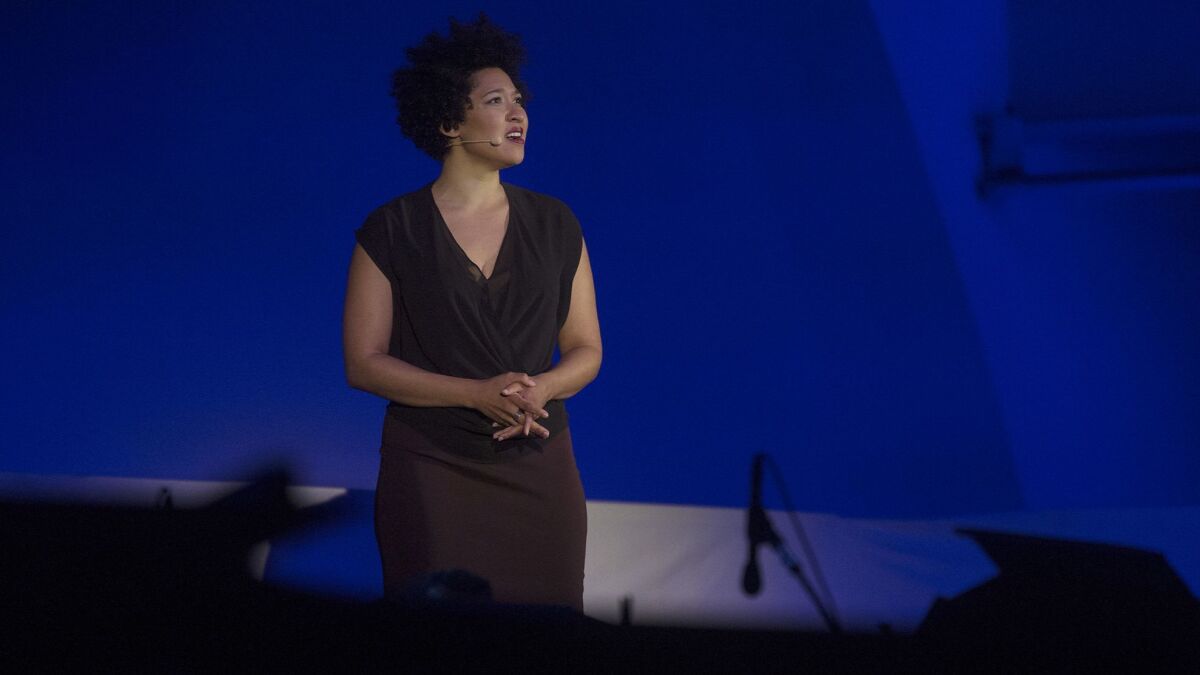 Opera's intersections with race, plus a re-imagination of a sexist Shakespeare play. I'm Carolina A. Miranda, staff writer at the Los Angeles Times, with the week's most interesting cultural (and funny sweater) news:
ESSENTIAL IMAGE
The Portland Art Museum in Oregon is set to exhibit a collection of streamline vehicles in June called "The Shape of Speed." And it contains the vehicle of my dreams: the 1936 Stout Scarab, the sort of ride in which me and my dog-beast would be stylin' and profilin'. Portland Art Museum
OPERA'S RISING DIVA
Julia Bullock, the young African American opera singer being hailed as a rising star — even though, as Times classical music critic Mark Swed points out, she's surpassed that designation — recently performed at Santa Barbara's Hahn Hall. Swed uses the concert's success as an opportunity to reflect on the challenges faced by black opera singers over the past century, along with their myriad contributions to the form. He not only discusses the work of Marian Anderson and Leontyne Price, he attends the most recent performance of Kathleen Battle at the Younes and Soraya Nazarian Center for the Performing Arts at Cal State Northridge. Battle, whose "high notes and agility are well intact," Swed writes, "became a star in the 1980s as a spectacular coloratura soprano" but was fired by the Met in 1994. "What was most moving … was Battle as a battle-scarred singer." Meanwhile, Swed says, Bullock "made, to a degree that I think is new in classical music, the black experience a universal one." Los Angeles Times
REVIVING SHAKESPEARE'S 'SHREW'
Amy Freed's "Shrew" at South Coast Repertory re-imagines Shakespeare's "Taming of the Shrew," a play that channels all the sexism of the Elizabethan era. But Times theater critic Charles McNulty says this re-consideration could use a little more spark. "Comedy thrives more by distortion than by fairness," he writes. "Freed's humor is too safe and respectful to tell us anything we're not supposed to know. The result might be more humane by today's standards, but earnestness saps the drollery. The laughter simmers yet never reaches a boil." Los Angeles Times
JESUS CHRIST IS A SUPERSTAR
"Jesus Christ Superstar Live in Concert" and its star-filled cast, headed by John Legend as Jesus, made for NBC's most-watched Easter night in 12 years. Times TV critic Lorraine Ali tuned in for a show that "walked the line between Broadway musical, pop concert and contemporary TV drama." The show, she writes, could have been "a holy mess," but "a great cast and lots and lots of expert staging" made for a great TV production. Los Angeles Times
THEATER NEWS
Times contributor Tim Greiving looks at how the Chilean group Teatrocinema is bringing theatricality to musical performances — including a shower of electric red rain during a performance of Mahler's "Das Lied van der Erde" (Song of the Earth) at Walt Disney Concert Hall. It's part of a wave of visual experimentation at the Los Angeles Philharmonic. Los Angeles Times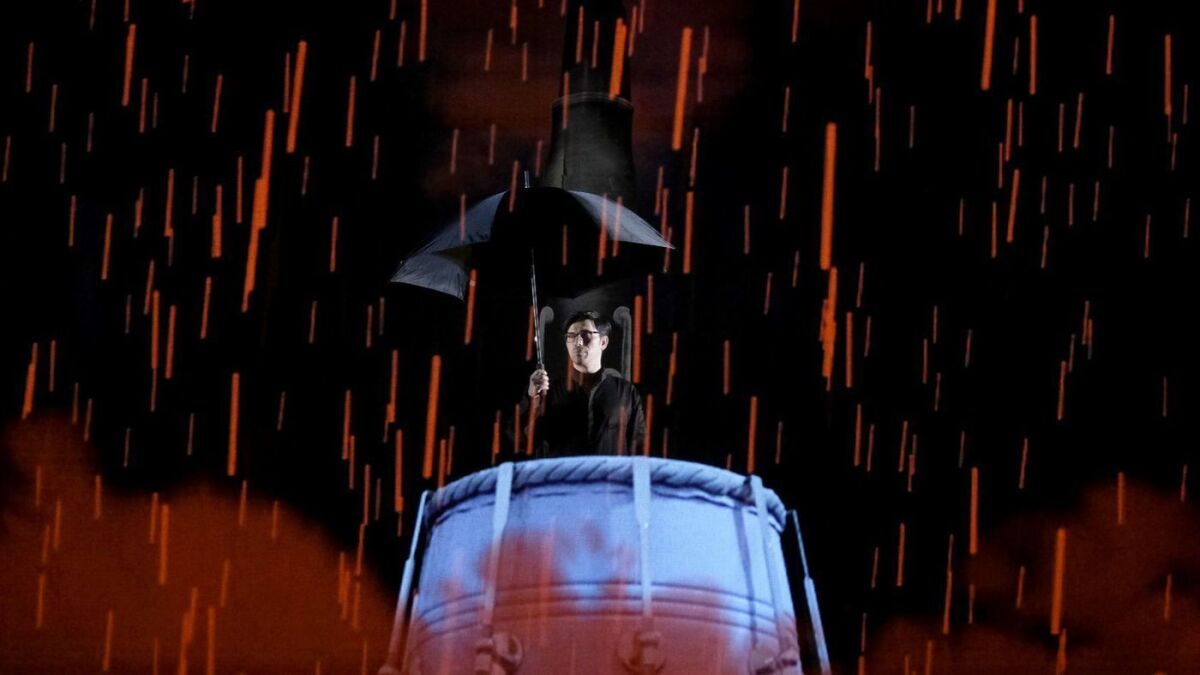 Want to know what's doing in L.A.'s 99-seat theaters? Times contributor Margaret Gray has this week's essential guide. Los Angeles Times
And since we're on the subject of 99-seat theaters: I recently wrote about Casa 0101's financial troubles. The community theater in Boyle Heights had launched a fundraising campaign to keep its doors open. The Times' Daryl H. Miller recently reported that the theater is only halfway to its goal. Los Angeles Times
GUGGENHEIMS COME TO CALI
Seventeen thinkers with ties to SoCal have been awarded 2018 Guggenheim Fellowships (out of 173 nationwide), including photographer Anthony Hernandez, poet Amy Gerstler and historian Nile Spencer Green. The John Simon Guggenheim Memorial Foundation has a long tradition of supporting culture and science in region. (Among the first crop of artists they awarded a grant to in the 1920s was the Los Angeles-born sculptor Isamu Noguchi.) Now the foundation is set to honor its California fellows with its first West Coast event. Los Angeles Times
Sort of related: The Graham Foundation has also recently announced its new crop of fellows, and among the many recipients are L.A. peeps such as Martine Syms, Ashley Hunt and Alexander Robinson (who is using the grant for a project related to Owens Lake). Graham Foundation
IN THE GALLERIES
Times contributing reviewer Sharon Mizota has been hitting the white boxes. She paid a visit to painter Nicole Eisenman's show at Susanne Vielmetter Los Angeles Projects, which she reports is "equal parts lament, lampoon and savage reckoning" of our political moment. Los Angeles Times
Also on the docket is Katherine Sherwood's show of painting at Walter Maciel Gallery, which "refracts art history through the lens of disability." Los Angeles Times
Among the new shows opening this week in Southern California galleries: Rashid Johnson's "The Rainbow Sign," which opens Saturday at David Kordanksy; Peter Shire's "Drawings, Impossible Teapots, Furniture & Sculpture," which opened earlier this week at Kayne Griffin Corcoran, and from two surviving members of the trio of prison reform activists known as the Angola 3, "Mightier Than Metal: Sturdier Than Concrete: Robert King and Albert Woodfox on the Struggle of the Angola 3," at the Main Museum. Other gallery openings and more in my Arts Datebook. Los Angeles Times
MIXED RACE IN AMERICA
Since 2001, photographer Kip Fulbeck has explored what it means to be mixed race through portraiture. The "Hapa Project," which takes its name from the Hawaiian word for for "part," is now a book and an exhibition, on view at the Japanese American National Museum. Contributor Bonnie Tsui reports. Los Angeles Times
LONG READ I'M DIGGIN'
Ian Parker has an informative, hilarious, sublime profile of architectural showman Thomas Heatherwick (who in 2015 was the subject of a solo exhibition at the Hammer Museum). The story follows the construction of "Vessel," the $150-million architectural folly in New York City's Hudson Yards. My favorite part? The paragraph in which billionaire property developer Stephen Ross describes sculptor Richard Serra's work as "very subtle" and "not iconic." Everybody's a critic. New Yorker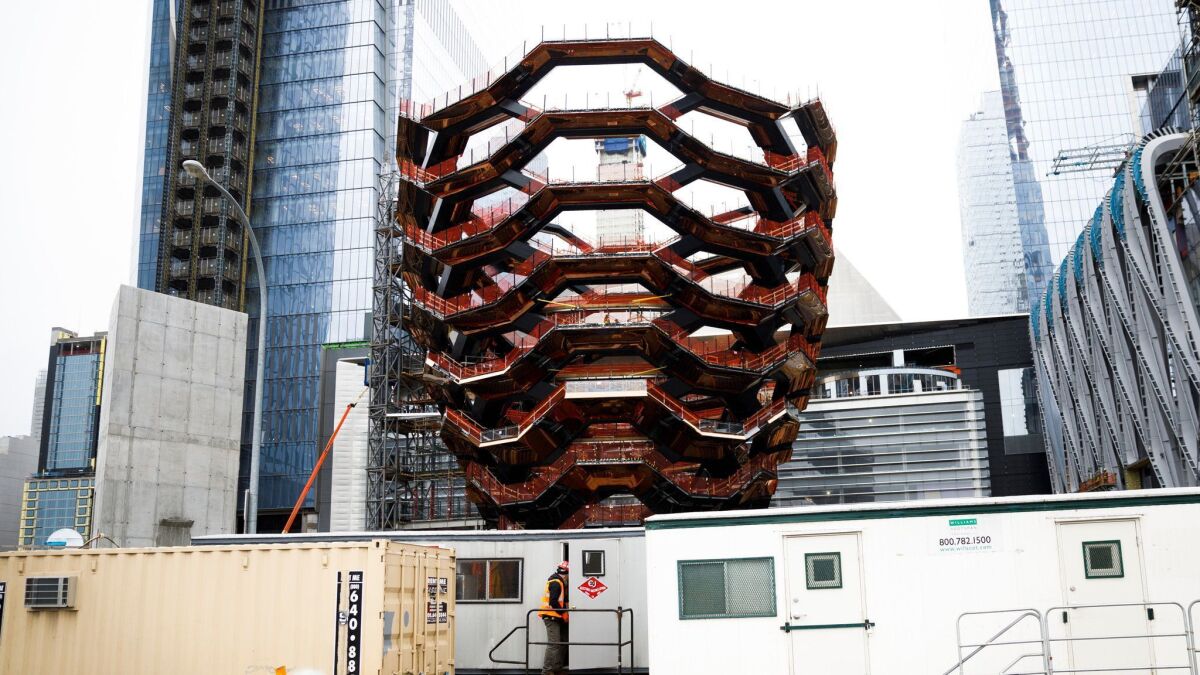 IN OTHER NEWS…
— Lincoln Center director Debora L. Spar steps down after just one year in the job. New York Times
— Helen Molesworth, whose recent firing as MOCA's chief curator upset many members of L.A.'s art community, has been chosen to give the June commencement address at the UCLA School of the Arts and Architecture with the full support of MOCA artist trustee and UCLA professor Catherine Opie. Los Angeles Times
— Drama scholar Mel Gordon, known for his unorthodox writings on bad acting, among other topics, has died. San Francisco Chronicle, New York Times
— "Frozen" the musical is smashing ticket sales records at the St. James Theatre in New York. Los Angeles Times
— Lynn Nottage's Pulitzer Prize-winning "Sweat" and Luis Valdez's "Valley of the Heart" are among the new productions going on view at L.A.'s Mark Taper Forum and the Kirk Douglas Theatre in the 2018-19 season. Los Angeles Times
— The National Symphony of Cuba has canceled its U.S. tour over visa troubles. Chicago Sun-Times
— The curious case of the FBI and a mummy's severed head. New York Times
— Are you sleepless? The Music Center's late-night performance party is back this weekend. Los Angeles Downtown News
— Michael Rakowitz recreates an ancient Assyrian sculpture destroyed by Islamic State militants in London's Trafalgar Square. Hyperallergic
— A lawsuit involving artist Cady Noland raises the question of whether art is in the idea or the materials. Artnet
— Fascinating: How author Joy McCullough used the court papers surrounding the rape trial of 17th century painter Artemisia Gentileschi as inspiration for her free verse novel "Blood Water Paint." Artnet
— John Baldessari is finally hits the big time. He got a guest spot on "The Simpsons." Apollo
— New York's Frick Collection releases revised renovation plans, designed this time by Selldorf Architects, for expanding its famous New York mansion building. The Art Newspaper
— L.A. architect Mark Lee, of Johnston Marklee, has been named chair of Harvard University's department of architecture. Architectural Digest
— Critic Alexandra Lange very incisively picks apart the contradictions embedded in Tod Williams Billie Tsien Architects' design for Obama's presidential center. Does the center, she asks, "want to be in Chicago — a trophy — or of Chicago — a worker bee?" Curbed
— Speaking of architecture, former Times architecture critic Christopher Hawthorne's documentary on Frank Lloyd Wright's L.A. houses, "That Far Corner," is must-see viewing. KCET Artbound
— Wearing hats and lighting matches: The superstitious rituals of artists, writers and designers. Artsy
— Plus, I love Meta Sweater Guy. New York Times
AND LAST BUT NOT LEAST…
Will Ferrell hits the Hammer Museum. Hollywood Reporter
Sign up for our weekly Essential Arts & Culture newsletter »
Get our L.A. Goes Out newsletter, with the week's best events, to help you explore and experience our city.
You may occasionally receive promotional content from the Los Angeles Times.