Culture and the Los Angeles riots. Carl Andre's controversial show at MOCA. And Jeffrey Kahane's galvanizing rendition of Beethoven. I'm Carolina A. Miranda, staff writer for the Los Angeles Times, with your weekly infusion of everything culture:
Remembering the '92 riots
Saturday marks the 25th anniversary of the beginning of the 1992 Los Angeles riots, and The Times is gathering its extensive coverage on the subject at this link. This includes many cultural pieces, including a Q&A with filmmaker John Singleton about his documentary on the subject, the riots stories of Korean American filmmakers, the story of how an archive of the work of pioneering black architect Paul R. Williams was lost in the flames, and my article about how artist Jeff Beall is mapping the sites of the uprising's 23 unsolved deaths.
Plus: Frances Anderton looks at how the riots changed architecture. KCRW Design & Architecture
The 'infuriating' Carl Andre
Times art critic Christopher Knight writes that minimalist sculptor Carl Andre, the subject of a retrospective at the Museum of Contemporary Art, "has been infuriating people for half a century." Some have criticized the nature of his work, made with unadulterated industrial materials. Others have taken issue with Andre's personal life: In the '80s, the artist was charged and acquitted in the death of his wife, artist Ana Mendieta. "I'm glad the retrospective overview is here," writes Knight, "and I'm glad that it was greeted with protests." Los Angeles Times
Beverly Hills Koons-hall
Jeff Koons and his gazing balls are in town for his first Los Angeles show in five years at the Gagosian gallery in Beverly Hills. "What all these different works share in common is the use of reflection," he tells The Times' Deborah Vankin. "It's affirming you, it's affirming any movement you may make, everything's dependent on you." I'm good enough, I'm smart enough, and doggone it, people like me. Los Angeles Times
Art in a time of tumult
L.A. painter Mark Bradford is representing the United States at the Venice Biennale in Italy, which opens this month. At a time of great political change, it became a fraught task. "Making this body of work became very, very emotional for me," he tells Jori Finkel. "I felt I was making it in a house that was burning." New York Times
Beethoven with a side of politics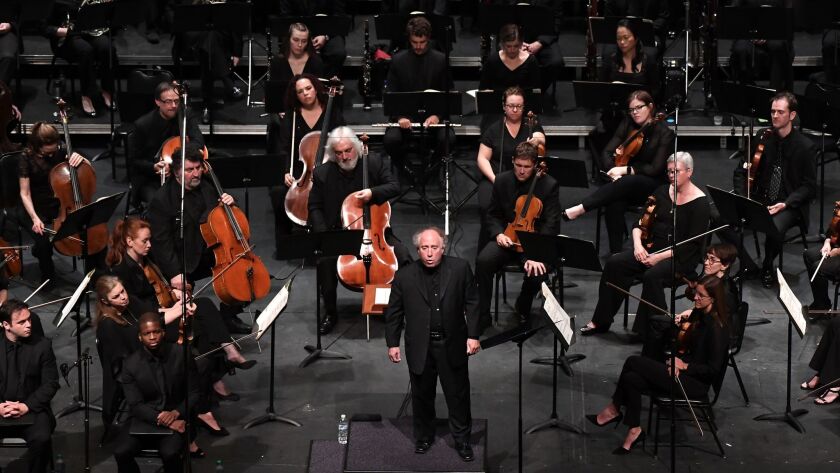 Jeffrey Kahane staged his penultimate weekend concert as music director of the Los Angeles Chamber Orchestra with what Times classical music critic Mark Swed describes as a "galvanizing performance" of Beethoven's Ninth Symphony, known as the "Ode to Joy." It was a presentation that included a dive into politics, since elements of the composition have been embraced for purposes both sinister and enlightened. Los Angeles Times
Because too much Swed is never enough: Our critic looks at how the Monday Evening Concert Series at the Colburn School in Los Angeles is bringing all kinds of complex and rarely performed music to eager audiences, and he took in an "electrifying" show by the Los Angeles Philharmonic, led by guest conductor David Robertson.
A play that is like a writer's room
Setting: a conference room. The characters: a group of storytellers who have come to pitch their narrative concepts. That's the basis of Annie Baker's new play, "The Antipodes," through mid-June at the Pershing Square Signature Center. The play is as much a story about stories as it is about group dynamics. "The show is brought to life by a strong ensemble cast that features many different shades of masculinity," writes Times theater critic Charles McNulty. But, he observes, it's still working out the balance between slow-motion observation and "daring non-naturalistic flourishes." Los Angeles Times
Plus, earlier this month, McNulty reviewed the new Lucas Hnath play, "A Doll's House, Part 2," while it was being staged at South Coast Repertory. (He dug.) Now he has traveled to New York to see how the production has been updated for Broadway. It's more comedic, he reports, which is "by turns energizing and slightly irritating." Los Angeles Times
A little coffee, a little talk
Broadway has a wild array of new original shows — which is going to make for a highly intriguing Tony Awards season. To dissect the horse race, The Times' Steven Zeitchik sat down for a round table with writer Steven Levenson of "Dear Evan Hansen," director Andy Blankenbuehler of "Bandstand," director Rachel Chavkin of "Natasha, Pierre & the Great Comet of 1812," lyricist Irene Sankoff of "Come From Away" and director Jack O'Brien of "Charlie and the Chocolate Factory." Theater people, start your ruminatin'! Los Angeles Times
Educating the 'citizen architect'
Times architecture critic Christopher Hawthorne sat down with Milton Curry, the incoming dean of the USC School of Architecture. Curry talks about his desire to look at the larger forces that shape design. "If we're not going to talk about neoliberalism and the extraction of resources from underrepresented communities, whether it be from the citizens of Detroit or other places, we're not going to solve those issues," he tells Hawthorne. "That's the kind of complexity that I think we've got to build into an architectural education to begin to produce what I call 'citizen architects.' " Los Angeles Times
A Korean-Finnish Red Ridinghood
Lisa Helmi Johanson is juggling the personas of Little Red Ridinghood and Rapunzel in Fiasco Theater's "Into the Woods," currently on view at L.A.'s Ahmanson Theatre through May 14. The Times' Craig Nakano sat down with the actress — who is half-Korean and half-Finnish and hails from Virginia — for a chat about life on the set. Los Angeles Times
L.A. and the NEA
Over the last several weeks, The Times' Jessica Gelt has been looking at the ways in which cultural programs around Los Angeles are supported by the National Endowment for the Arts. This week, she turns her lens on Piece by Piece, a nonprofit organization that provides low-income and previously homeless people with mosaic workshops. Los Angeles Times
Animating classical music
The artists known as Patterson + Reckinger — that'd be Michael Patterson and Candace Reckinger — are famous for making the iconic A-ha music video "Take On Me." But the USC professors have now established a name for themselves among the classical music set for the wild animations they create for live musical performances. Los Angeles Times
In other news …
— London Mayor Sadiq Khan has withdrawn his support for the proposed Garden Bridge, the architectural extravaganza by Thomas Heatherwick that would have straddled the Thames. BBC
— The most 1% art world story ever: The Tate in London is coming under fire for asking staff members to help foot the bill for a sailboat as a goodbye gift for departing director Nicholas Serota. Guardian
— Vito Acconi, the performance artist known for poking a stick (and other things) at the propriety of the gallery space, has died at age 77. ARTnews
— One Southern California artist's struggle for affordable healthcare. Mass Appeal
— Alyssa Rosenberg says "Hamilton" is a better musical now that Obama is out of office. Washington Post
— The Folger Shakespeare Library is launching a digital anthology of early English drama — which will make early scripts available online. Los Angeles Times
— Dance Media Film Festival is an L.A. festival where dance and film collide. Los Angeles Times
— William Poundstone has a Venn diagram that looks at the overlap between the Broad and the Marciano collections. Essential. Los Angeles County Museum on Fire
— Architect Thom Mayne razed Ray Bradbury's house in Cheviot Hills to build a "modest" new home. It's almost done. KCRW
— The Pan-American Bank in East Los Angeles has been added to the National Register of Historic Places. Architect's Newspaper
— Stuff that makes design Internet insane: architectural emoji. Citylab
Last but not least …
The amateur dance supercut you didn't know you needed. Spectacle Theater (via the Yerba Buena Center for the Arts)
Sign up for our weekly Essential Arts & Culture newsletter »
---