Essential Arts: Stories of immigration on canvas, Ellen Reid's 'stunning' opera, an inspiring musical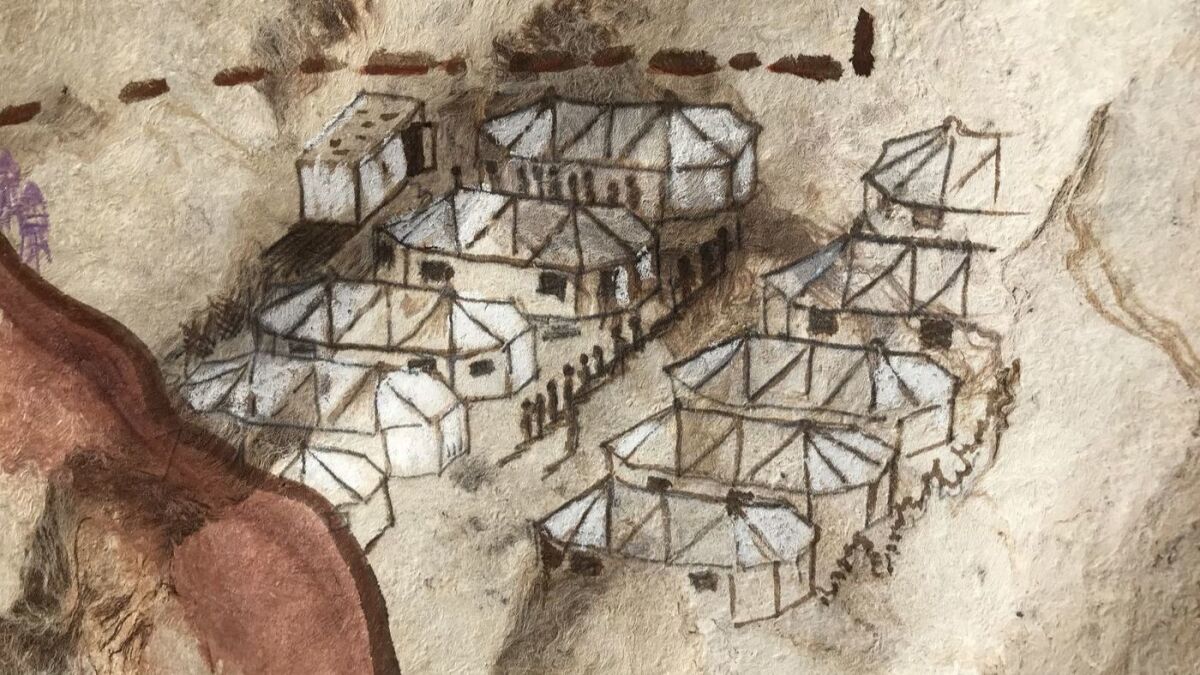 Welcome to the weekend! I'm Carolina A. Miranda, staff writer at the Los Angeles Times, with all the culture news, including red Christmas trees, paintings about immigration and a groundbreaking opera:
ESSENTIAL IMAGE
The aesthetic talk of the week revolved around the White House's unveiling of its forest of red Christmas trees. Since their debut, they have been relentlessly critiqued and memed. New York Times style writer Steven Kurutz put together a helpful overview of all the hoo-ha. My two cents: They're not unlike the flocked Christmas trees I see peddled around L.A., though seeing that much red in one place does fill me with an unexplained urge to take Midol.
Sort of related: How to decorate a tree like an artist. Hyperallergic
WHAT'S OLD IS NEW
Sandy Rodriguez creates works inspired by pre-Columbian pigments and early colonial codices. But the subject matter she inserts into her ornate map paintings is contemporary, covering today's immigration crises, including deportations and child separation. And they are now on view in a solo show at the Riverside Art Museum. Of making them, she tells me: "I wanted to create a mestizo Chicana codex." Los Angeles Times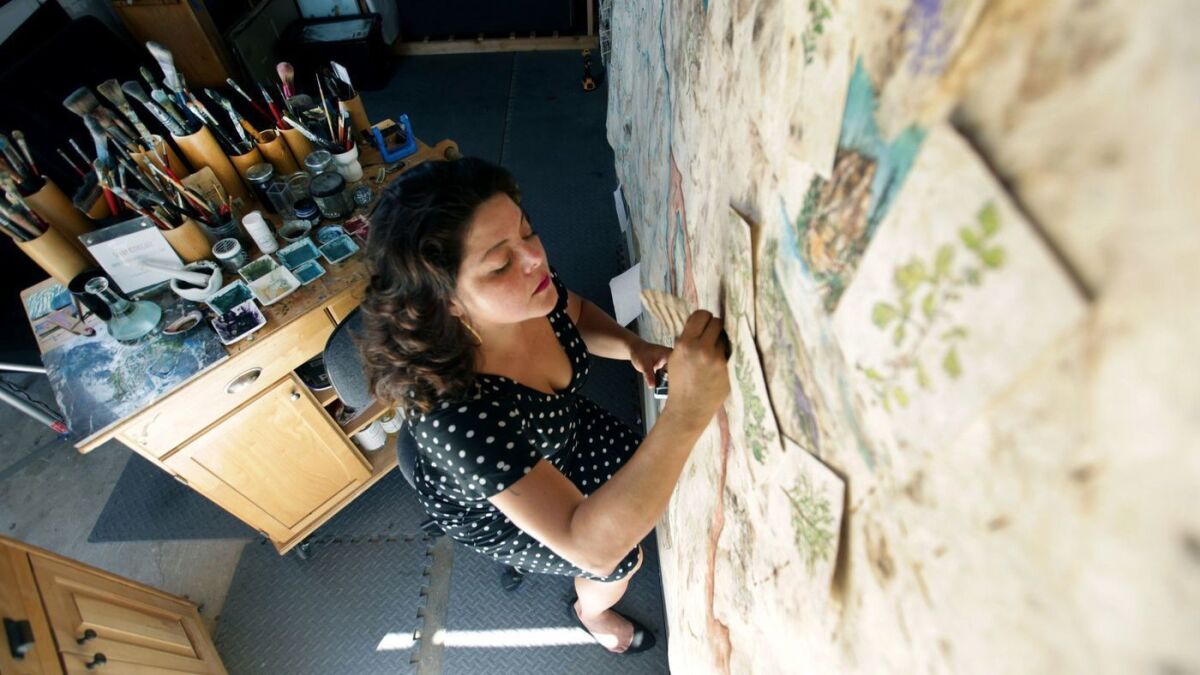 ART AND THE CITY
Where the city fails, an artist fills the gap: I hung with an anonymous L.A. artist who is taking it upon himself to spruce up overlooked Eastside bus stops by installing benches. Los Angeles Times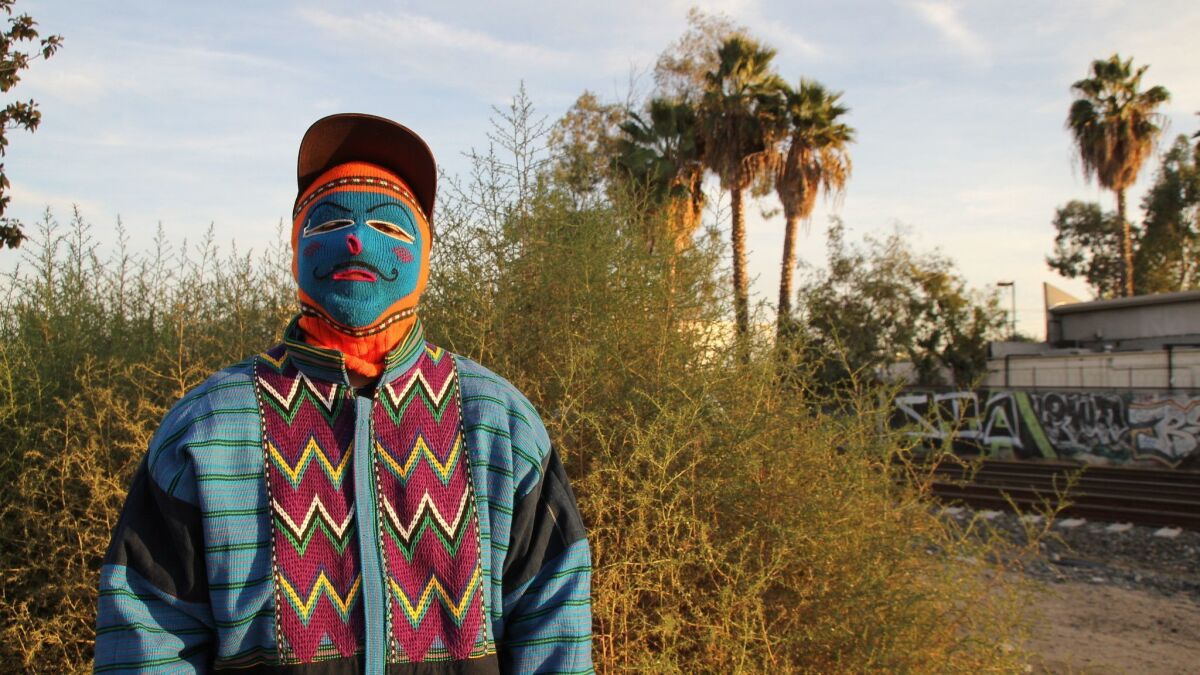 I'M JUST WILD ABOUT HARRY
Art duo Mary Reid Kelley and Patrick Kelley have created a new multimedia installation at Susanne Vielmetter Los Angeles Projects that partly draws from American literature, the presidency of Harry Truman and the closing days of World War II. The piece, writes Times art critic Christopher Knight, offers "a bug-eyed, tragicomic mask" that can "ricochet between ancient Greek theater, classical Kabuki drama and modern Mexican rituals of Day of the Dead." Count me in. Los Angeles Times
Knight also checks out a show of the wild paintings of Peter Williams at Luis de Jesus Los Angeles. With "brash color" and pointillist techniques that feel "fixated, determined, relentless," the artist melds historical, pop cultural and artistic imagery — including a depiction of Maxine Waters. Los Angeles Times
AN INCANDESCENT OPERA
On Thursday, Ellen Reid premiered what Times classical music critic Mark Swed describes as her "stunning" first opera: "prism," staged by Los Angeles Opera at REDCAT. With the opera, plus her works for the L.A. Phil, L.A. Master Chorale and L.A. Chamber Orchestra, Reid is the first composer to have been commissioned by all four of the city's major classical music institutions. The opera, which takes on dark themes of sexual assault, features myriad musical styles that are "the work of one recognizable voice." Los Angeles Times
Swed also attended Gloria Cheng's Piano Spheres concert at Zipper Hall, in which she played 32 short piano pieces written in memory of composer Steven Stucky. "Each piece," writes Swed, seemed written not about Steve, but for Steve — remembering what he would have liked." Los Angeles Times
ART AND NATIVE LIFE
"Who is it that Native people create art for? And why?" That's the question put forth by contributor Dina Gilio-Whitaker in an exploration of the ways in which American Indian artists navigate the art world. "The default setting for mainstream America is that the artist is the ambassador of the community," says Gerald Clarke Jr., a Cahuilla artist who teaches at UC Riverside, "and that almost replaces the interest in the artist's own creativity." Los Angeles Times
A FEEL-GOOD MUSICAL
The hit musical "Come From Away" may have the tragedy of 9/11 at its core, but its setting brings people together: Gander, Newfoundland, where thousands of airline passengers were stranded after the U.S. closed its airspace on that fateful day. Of the show, which is playing at the Ahmanson, Times theater critic Charles McNulty writes: "At a time when strangers in need are targets of demagogues' manipulative ire, 'Come From Away' offers a potent antidote to the cynicism and partisan rancor running amok today." Los Angeles Times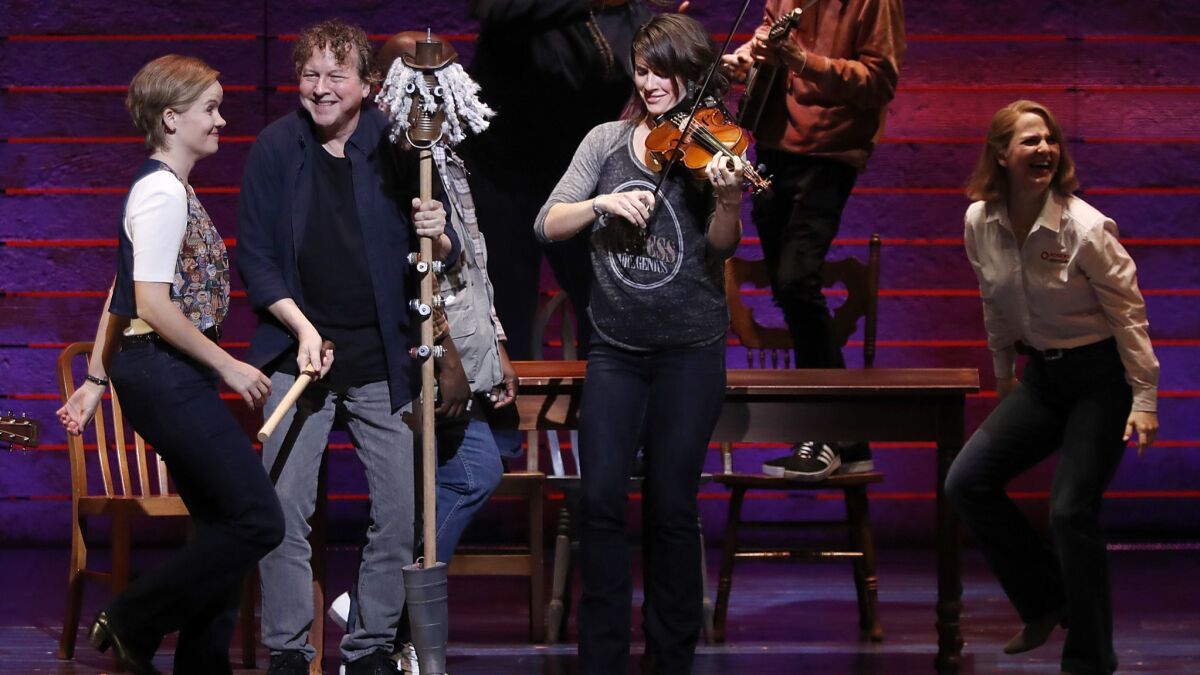 ON STAGE
Margaret Gray checks out Stefan Marks' new play, "Middle8," about a faded rock band asking all manner of what-ifs. The band, played by actual L.A. band the Four Postmen features some poignant acting and some brilliant scenes — the band trying to reinvent itself as a hip-hop trio, for example — but at times the narrative can get "confused and tired." Los Angeles Times
The Times Daryl H. Miller, in the meantime, checks out Kirsten Vangsness' new play "Cleo, Theo & Wu," about a contemporary woman tutored by female predecessors throughout history, including Cleopatra and Tang Dynasty Empress Wu. The result can be "amusing," writes Miller, but the writing is "scattered and formless." Los Angeles Times
IN THE GALLERIES
Contributing reviewer David Pagel has been catching up with the work at Spruth Magers of op-artist Bridget Riley , a painter who hasn't had a solo show in Los Angeles in 53 years. Riley's abstractions, he writes, "transform Southern California sunlight into an immersive experience of highly concentrated — and endlessly expansive — fascination."
Also on the docket are Katrin Korfmann's "tautly composed" photographs at Kopeikin Gallery and Matt Wedel's sculptures at L.A. Louver, whose forms appear to be inspired by "slithering, writhing and replicating" organic beings.
READY FOR THE WEEKEND
Matt Cooper has the week ahead in classical music, dance, theater and museums, as well as his weekend picks, including a production of the Tony-winning "Wicked" at the Hollywood Pantages.
In the meantime, Margaret Gray delivers the latest on the 99-seat theaters, including a riotous play about Tupperware. And I round up all the upcoming art happenings in my weekly Datebook, including a show of paintings inspired by Greek mythology.
IN OTHER NEWS…
— The L.A. City Council's Planning and Land Use Management Committee will recommend monument status for the older buildings in the old Times Mirror complex in downtown, but not for the 1973 William Pereira structure. Los Angeles Times, Curbed
— Lin-Manuel Miranda is getting a star on the Hollywood Walk of Fame. Playbill
— "Dear Evan Hansen" is shattering box office records in L.A. Los Angeles Times
— Frieze L.A. has announced 13 artists that will be featured in site-specific exhibitions at the February fair. Los Angeles Times
— A mural featuring African American women on Crenshaw Boulevard was vandalized with swastikas. Los Angeles Times
— San Francisco's Mexican Museum seems to have a new director. Or does it? San Francisco Chronicle
— Robert Morris, who helped usher minimalism into sculpture, has died at the age of 87. New York Times
— Critic Anthony Lane looks at how Vincent Van Gogh has been treated in film. New Yorker
— A work by William Kentridge spans half a kilometer along Rome's Tiber River and is regarded as an incredible use of unsympathetic municipal infrastructure. Momus
— Two words: rogue taxidermy. Los Angeles Times
— Two more words: meat hoodie. Los Angeles Times
— Pontius Pilate's name is found on a 2,000 year-old ring. New York Times
— Before HIV/AIDS was consistently reported on as a disease, it received indirect coverage in newspaper obituary sections. The writers for many of those obits weren't science reporters; they covered arts and culture. Slate
— Brandon Reynolds checks in on the health of L.A.'s trees (not good), starting with the ones at the Huntington Library. Los Angeles
— Somebody feel free to get me David Kipen's "Dear Los Angeles" for the holidays. Los Angeles Times
AND LAST BUT NOT LEAST …
Headbang into the weekend with some Mongolian folk rock. Phantom Sway
Sign up for our weekly Essential Arts & Culture newsletter »
carolina.miranda@latimes.com | Twitter: @cmonstah
Get our L.A. Goes Out newsletter, with the week's best events, to help you explore and experience our city.
You may occasionally receive promotional content from the Los Angeles Times.