Newsletter: Essential Arts: OCMA's new look, the Venice Architecture Biennale and the violinist shaking up Ojai
Happy Weekend! I'm Carolina A. Miranda, staff writer for the Los Angeles Times, with the week's culture news, including the latest on architecture (O.C. and Italy editions) and plenty of theater and classical music happenings:
RENDERINGS RELEASED
The Orange County Museum of Art has released renderings for a new building at Costa Mesa's Segerstrom Center for the Arts: a swooping structure designed by Pritzker Prize-winning architect Thom Mayne of Morphosis. The focus is as much on structure as on gathering areas. "Rather than building an icon, we chose to expand the public space," Mayne tells The Times' Deborah Vankin. "I'd say we gave the site back." Los Angeles Times
The building is long in coming. In case you need a catch-up, check my 2015 story on OCMA's many attempts to expand over the years. Los Angeles Times
REPORTS FROM THE BIENNALE
Since we're on the subject of architecture: the Venice Architecture Biennale is going full throttle after opening last week in Italy. And I was there! (Still trying to get the Campari out of my notes.)
I've got an overview of the main show, which was curated by Yvonne Farrell and Shelley McNamara of Grafton Architects in Ireland — only the second time a man has not curated the show. Despite the political goings-on outside the biennale — such as a protest by women architects demanding greater representation — this was a back-to-basics exhibition all about the power of architecture to make space. Or as Farrell describes it: "Space that deals with space, not with objects — the space between." Los Angeles Times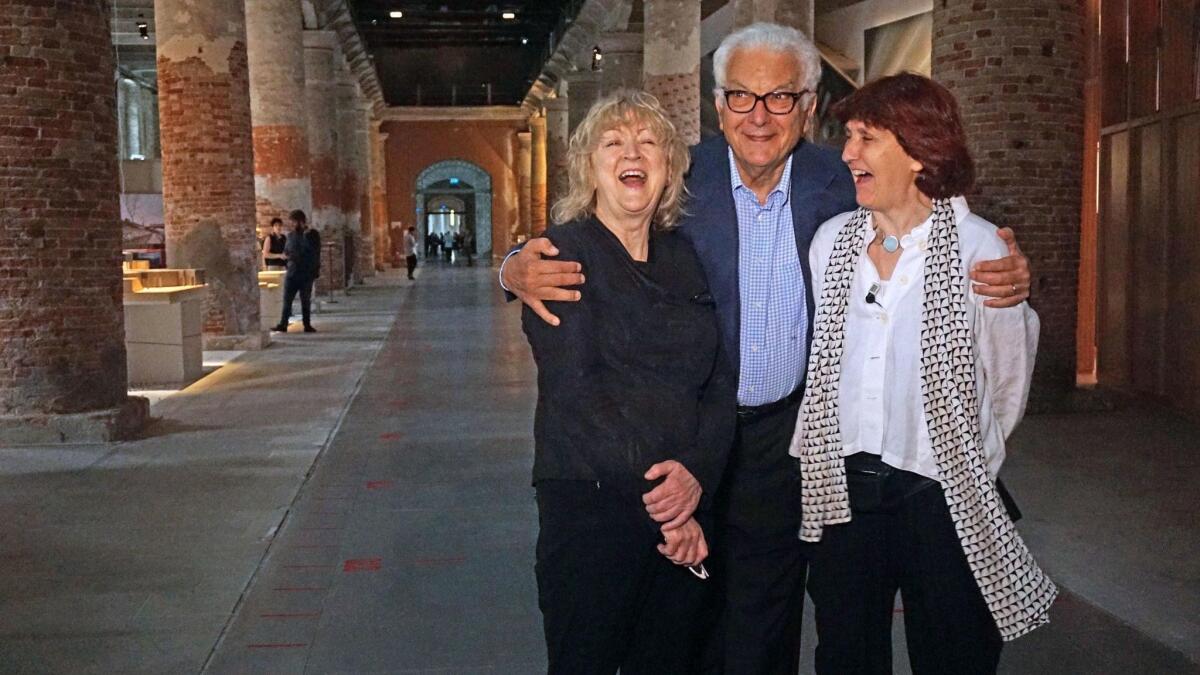 Plus, I survived the holy paparazzi scrum at the Vatican's first-ever submission to the biennale — 10 architect-designed chapels — and then went to an unofficial pavilion devoted to cruising (as in: for sex), which supplied me a biennale keepsake chocolate-flavored condom. Grazie, Venezia! Los Angeles Times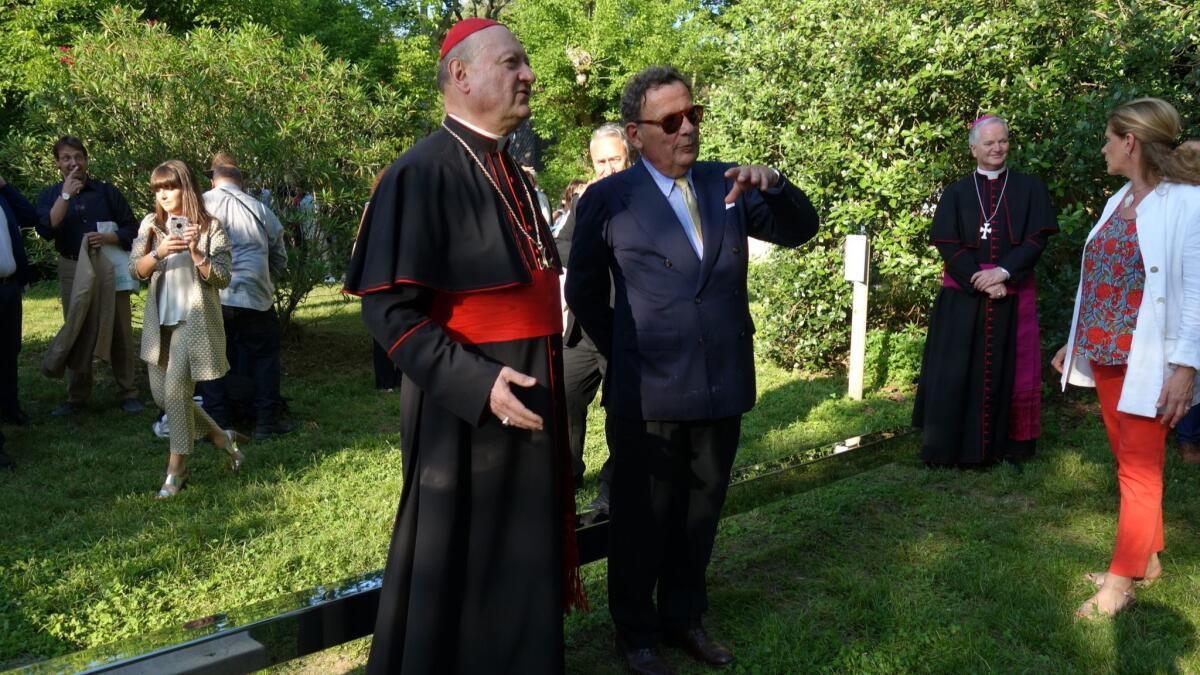 And because too much biennale is never enough:
— From contentious religious sites to humorous plays on real estate, my overview of the most intriguing national pavilions. Los Angeles Times
— And a round-up of the odds and ends that caught my eye, such as teeny tiny models and ridiculously large catalogs. Los Angeles Times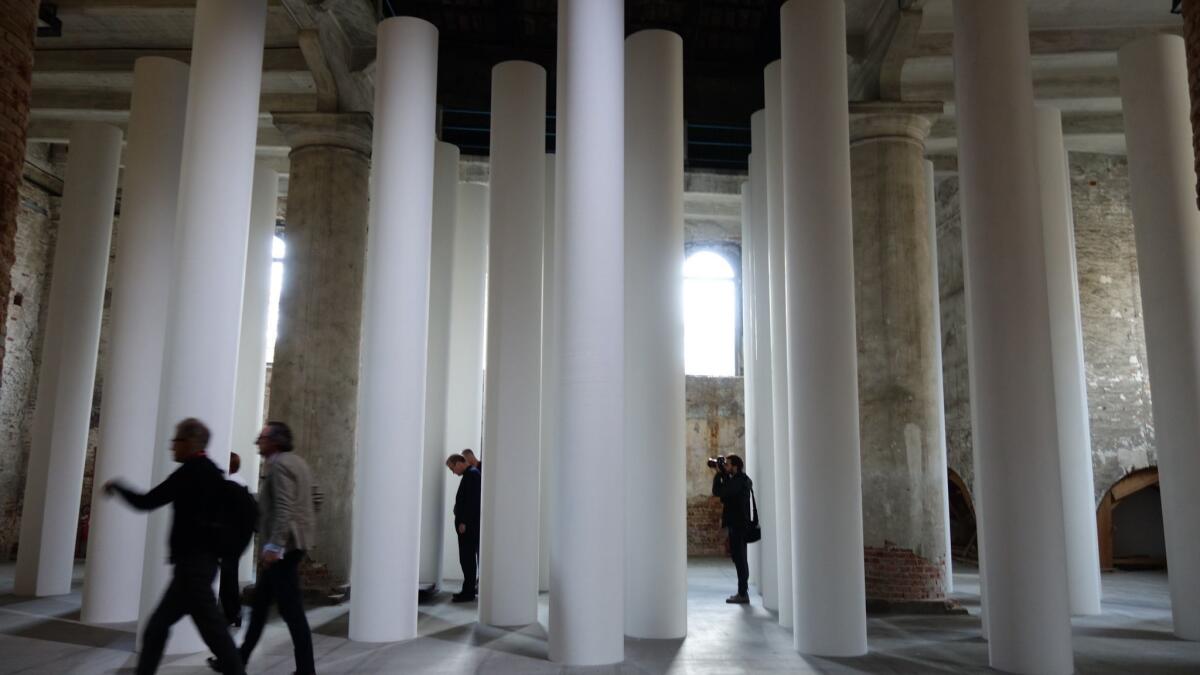 CLASSICAL HAPPENINGS
Times classical music critic Mark Swed sat down for a chat with Moldovan violinist Patricia Kopatchinskaja, "one of those transformative musicians who comes along, if we are lucky, once or twice in a generation." This year, she's serving as music director for the Ojai Music Festival, which begins Thursday. On the program are Moldovan folk tunes and a quartet by Austrian composer Georg Friedrich Haas. Kopatchinskaja is as unorthodox in her style as she is in what she says, Swed notes. "I make no difference," she tells him, "between composers who are dead and composers who are alive." Los Angeles Times
Swed also sat in on the continuing LA Phil festival devoted to Schumann's late symphonies — written shortly before he had a mental breakdown. "Writing these four symphonies may not have been able to remove a composer's day-to-day mental anguish," Swed says, "but [Gustavo] Dudamel's coherently searing performances revealed, against hard-to-break conventional wisdom, Schumann's great triumph of music over mind." Los Angeles Times
Plus: Matthew Aucoin's new opera "Crossing" got its premiere at the Wallis Annenberg Center for the Performing Arts last week. It is a work inspired by Walt Whitman's journals, from when the poet went to comfort the wounded and dying in Civil War hospitals. "On the surface, 'Crossing' is a sad and powerful almost traditional operatic love story," Swed writes. "On a deeper level ... it is a sad and powerful anti-war statement." Los Angeles Times
Plus, plus: Matt Cooper has the week ahead in Southern California classical music. Los Angeles Times
JEREMY IRONS' 'LONG DAY'S JOURNEY'
Before Jeremy Irons made the trip to Los Angeles for the Bristol Old Vic production of Eugene O'Neill's "Long Day's Journey Into Night" opposite Lesley Manville at the Wallis Annenberg Center for the Performing Arts in Beverly Hills, Emily Zemler met the actor in London. Irons arrived on motorcycle before one of his West End performances of the O'Neill play there and talked about what drew him to the role and the energy required to do it: "Each night you're trying to throw a bowling ball down the middle and knock all the skittles over." Los Angeles Times
ANGELS LIVING AND DEAD
British director John Doyle gave the musical "The Color Purple" a renewed spirituality by stripping down some of the showbiz trappings, notes Times theater critic Charles McNulty. But the version of the show currently on view at the Hollywood Pantages, he notes, is lacking some of Doyle's "fervor." Adrianna Hicks, who plays the key role of Celie, is a "potent singer," he notes, "but the inner radiance of the character is kept under wraps." The score, however, makes up for it with musical numbers that "bring down the house." Los Angeles Times
McNulty also trekked up to the Bay Area to check out Tony Taccone's production of "Angels in America" at the Berkeley Repertory Theatre. While much of the buzz to do with "Angels" is focused on the Broadway revival starring Nathan Lane, McNulty reports that this version is "no less welcome" — with elements of the staging that "are superbly harmonized to serve the storytelling." Los Angeles Times
IMMERSIVE 'CUCKOO'S NEST'
Theatergoers arriving at After Hours Theater Company's "One Flew Over the Cuckoo's Nest" at Burbank's SIX01 Studio don't simply take their seats and passively watch the play. During the performance's first hour, audience members are invited to mingle with the patients and even play puzzles and games with them. And the play? Times reviewer Philip Brandes reports that it's "quite a solid one … performed with committed passion." Los Angeles Times
ECLECTIC EXITS WITH A FESTIVAL
The Eclectic Theater Company in Valley Village is being kicked out of its home of more than 25 years after a new owner took over the building. But they are leaving in style: with a three-day festival of 10-minute plays titled "Family Schmamily." The Times' Deborah Vankin looks at the voices the theater is highlighting as it bows out. Los Angeles Times
PERFORMANCE AROUND TOWN
Need more performance? Margaret Gray surveys the small-theater scene in the 99-Seat Beat column, including notes on the superhero-filled dark comedy "Super Lair" at Hollywood's New American Theatre and Mfoniso Udofia's second installment in her cycle of plays about a Nigerian American family being staged at Pasadena's Boston Court. Los Angeles Times
Times contributor Matt Cooper has all the best weekend picks, including a free concert at Grand Park and dance by BodyTraffic at the Wallis Annenberg Center for the Performing Arts. Los Angeles Times
Cooper also has a look at the week ahead in Southern California theater, including the start of the Hollywood Fringe Festival. Los Angeles Times
Plus, a look at the week ahead in Southern California dance. Los Angeles Times
And Grace Krilanovich has a great round-up of culture outings that are good for kids. Los Angeles Times
IN THE GALLERIES
Times contributing reviewer Sharon Mizota has been out and about, with reports on the "ecstatic" paintings of Mimi Lauter at Blum & Poe; an installation by Ken Okiishi that gathers the charged personal artifacts of his life and his family's past at Reena Spaulings; and Deborah Roberts' collages of African American girls, pieces that buoy and strengthen, at Luis De Jesus Los Angeles Projects.
She also checks out "The Feminine Sublime" exhibition at the Pasadena Museum of California Art. The show's premise, she notes "is a bit shaky," but she was taken with artist Constance Mallinson's enormous panoramic painting of trash. "Rendered in exquisite detail and eye-catching color," Mizota writes, "it is the most mesmerizing pile of garbage I have ever seen." Los Angeles Times
For more exhibitions, check out my weekly Datebook, with listings for a new show of mixed-media paintings of black queer life by Jonathan Lydon Chase at Kohn Gallery and an intriguing exhibition of African ironwork at the Fowler Museum. Los Angeles Times
And Matt Cooper has a look at the week ahead in L.A. museums, including the opening of the Hammer Museum's Made in L.A. 2018. Los Angeles Times
ARTFUL DINING
A helping of "black swan." A dimly lit space infused with neon colors. Stir that together and you get ArtCubed's ArtxFood, a monthlong art-meets-supper club experience at Hollywood's Goya Studios that is a collaboration between "Top Chef" restaurateur Richard Blais and installation artist Greg Ito. The Times' Sonaiya Kelley got a seat at this very unusual table. Los Angeles Times
Kelley experienced yet another event that combines the arts and dinner: Nuit Blanche, a dinner cabaret with steamy dance numbers, mimes, magicians and a five-course meal. Held at Carondelet House, it attempts to recreate the feel of Paris in the 1920s and celebrity haunt Chateau Marmont. Los Angeles Times
IN OTHER NEWS...
— For the Houston Grand Opera, the hit from Hurricane Harvey was an expensive one. Houston Chronicle
— How "Brokeback Mountain" became an opera. Daily Beast
— Emperor Constantine's finger has been found at the Louvre! And it fits the hand of a bronze in Rome. The Art Newspaper
— San Francisco artist René Yañez, a founder of Galería de la Raza, has died at 75. SFGate
— Plus, Barbara Luderowski, the force behind Pittsburgh's Mattress Factory art space, has died at 88. Post-Gazette
— Catherine Wagley's review of the Harald Szeeman shows at the ICA LA and the Getty Research Institute makes for excellent weekend reading. Momus
— Getty Museum director Timothy Potts takes us down memory lane — reflecting on four masterpieces that have landed at the museum over the years. Los Angeles Times
— Photographer Carolyn Drake has just unveiled a remarkable project that she did in the collaboration with China's Uyghur community. Magnum Photos
— How artist Alexandra Bell chronicles media bias in her installations. (The video is really good.) New Yorker
— Mashinka Firunts Hakopian reports on a Glendale biennial that forgot almost half of Glendale. Los Angeles Review of Books
— Theater types, start your argument engines: Critics choose the 25 best American plays since "Angels in America." New York Times
— Break dancing, Moroccan style. New York Times
AND LAST BUT NOT LEAST…
As The Times prepares to move to El Segundo, data desk editor Ben Walsh has been capturing the old building's many intriguing corners. Archinect
Sign up for our weekly Essential Arts & Culture newsletter »
Get our L.A. Goes Out newsletter, with the week's best events, to help you explore and experience our city.
You may occasionally receive promotional content from the Los Angeles Times.