Haskell Wexler dies at 93; two-time Oscar-winning cinematographer and lifelong activist
Haskell Wexler, a two-time Academy Award-winning cinematographer — for "Who's Afraid of Virginia Woolf?" and "Bound for Glory" — and the writer-director of the landmark 1969 film "Medium Cool," died Sunday morning. He was 93.
Despite his success shooting big-budget films for major studios, Wexler, a lifelong liberal activist, devoted at least as much of his six-decade career to documentaries on war, politics and the plight of the disenfranchised.
"His real passion was much larger than just making movies," said son Jeff Wexler a few hours after his father's death at a hospital in Santa Monica. "His real passion was for human beings and justice and peace."
At age 89, Wexler, camera in hand, was an early and regular visitor to the Occupy L.A. encampment at City Hall in 2011. He said he was drawn to both the cause of economic justice and the political theater, feeling a kinship with the protesters despite what he acknowledged was the comfortable lifestyle of a successful Hollywood cinematographer.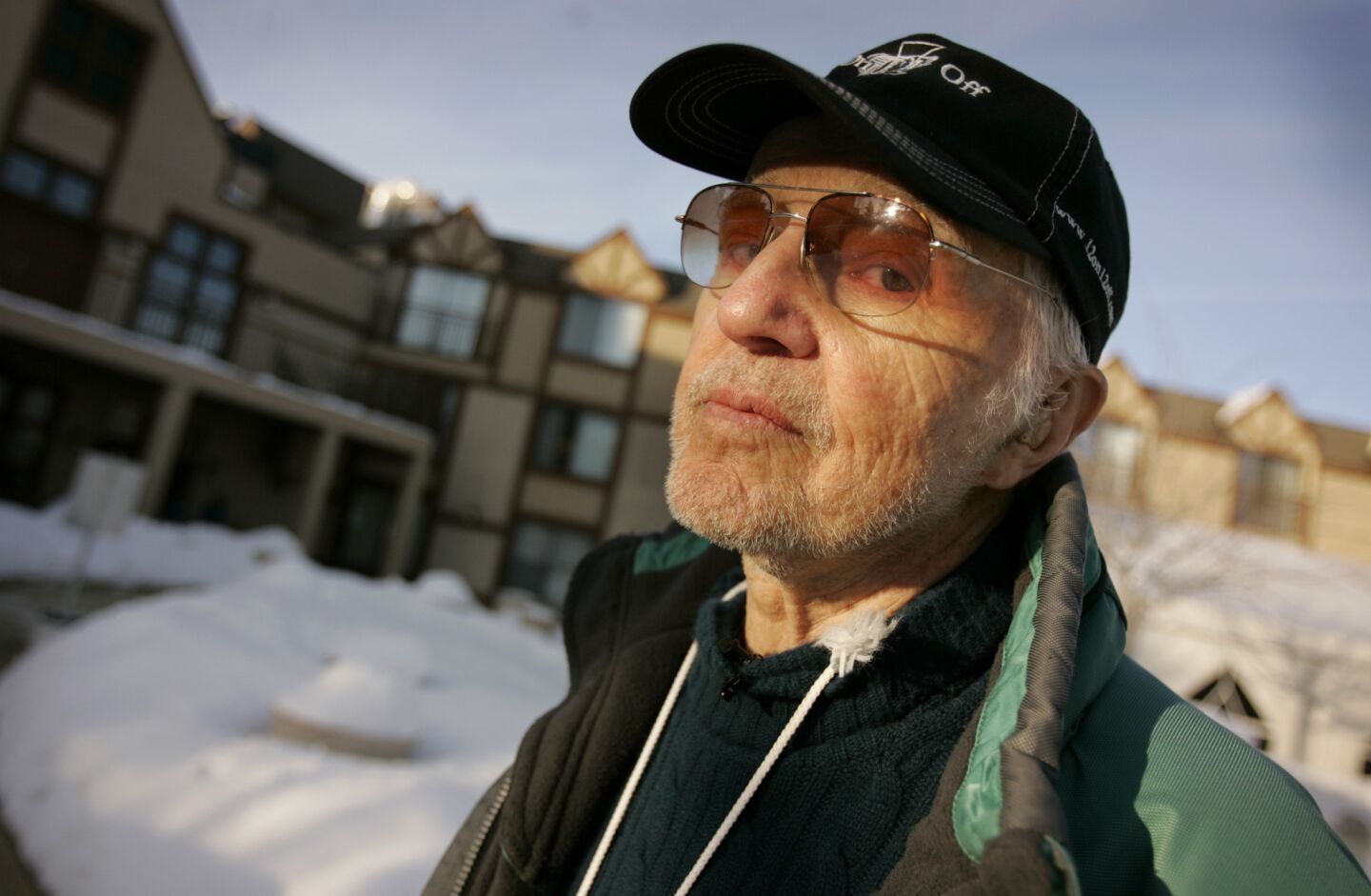 Director Haskell Wexler in Park City, Utah, in 2006, to promote his film "Who Needs Sleep?" at the Sundance Film Festival. The film explores crews working in the film and television industry, often clocking 15- to 18-hour days.
(Al Seib / Los Angeles Times)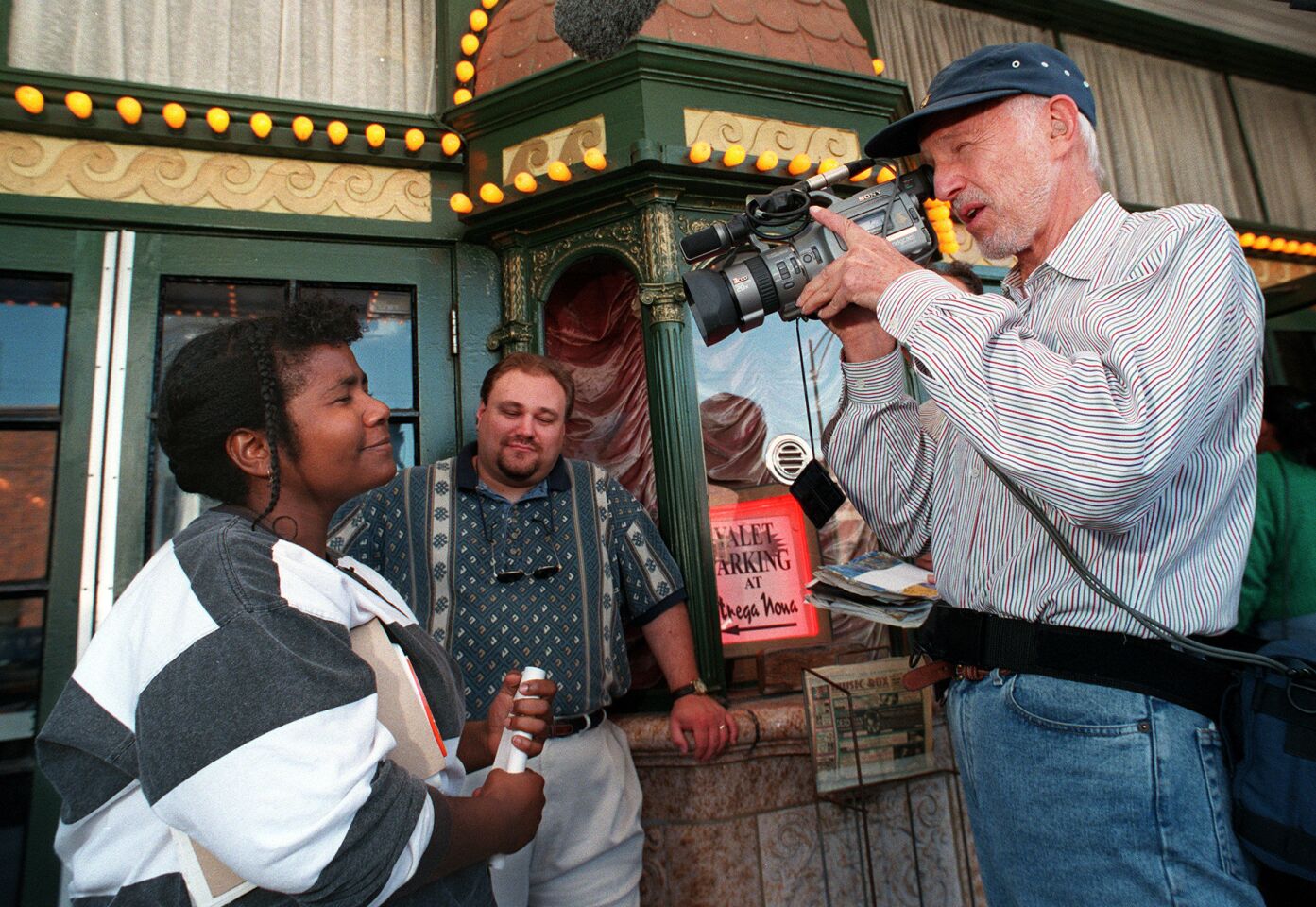 Haskell Wexler videotapes people as he asks them "What were you doing in 1968" as they enter the Music Box theatre in Chicago, showing his legendary film "Medium Cool."
(Al Seib / Los Angeles Times)
"You can take that insulation and figure you're an old guy and you [already] did your thing," Wexler said at the time. "Then something inside me gets reminded that my 'thing' is what makes me alive — to be able to have a camera and an idea and an urge that gives me pleasure."
One of the few cinematographers to have received a star on the Hollywood Walk of Fame (in 1996), Wexler won his first Oscar for his black-and-white photography on "Who's Afraid of Virginia Woolf?," director Mike Nichols' 1966 debut starring Elizabeth Taylor and Richard Burton.
His acceptance speech was among the briefest in Hollywood history: "I hope we can use our art for peace and for love. Thanks."
He won his second Oscar for "Bound for "Glory," director Hal Ashby's 1976 movie starring David Carradine as legendary singer-songwriter Woody Guthrie.
Wexler also received Oscar nominations for best cinematography for the 1975 film "One Flew Over the Cuckoo's Nest" (shared with Bill Butler), "Matewan" (1987) and "Blaze" (1989).
Among Wexler's other feature film credits as a cinematographer are "The Thomas Crown Affair," "In the Heat of the Night," "Coming Home," "Colors" and "The Babe."
He also was visual consultant on George Lucas' 1973 classic "American Graffiti." And he received an "additional photography" credit on Terrence Malick's 1978 film "Days of Heaven," for which cinematographer Nestor Almendros won an Oscar.
Wexler made his feature directorial debut with "Medium Cool," a low-budget 1969 film that he wrote and for which he served as a producer and as the director of photography.
Described by Wexler as "a wedding between features and cinema verite," the drama about an emotionally detached TV news cameraman was partly shot in Chicago during the tumultuous 1968 Democratic National Convention.
At one point, as the camera inches closer to a tear-gas cloud and a wall of police officers, a voice off-camera famously can be heard warning, "Look out, Haskell — it's real!"
Considered "a seminal film of '60s independent cinema," "Medium Cool" was selected for preservation in the National Film Registry in 2003.
Wexler also directed and wrote the 1985 feature film "Latino," a war drama shot in Nicaragua that movie critic Michael Wilmington described as "an indictment of U.S. involvement in Nicaragua that pulls no philosophical punches and was made under conditions of real danger, near actual battle zones."
Once named one of the 10 most influential cinematographers in movie history in a survey of International Cinematographers Guild members, Wexler became the first active cameraman to receive the American Society of Cinematographer's Lifetime Achievement Award in 1993.
Describing his work in an interview that year with American Cinematographer magazine, Wexler said: "Movies are a voyeuristic experience. You have to make the audience feel like they are peeking through a keyhole. I think of myself as the audience. Then I use light, framing and motion to create a focal point."
As a cinematographer, Wexler was known for being difficult — as several filmmakers attested to in "Tell Them Who You Are," the highly personal 2004 documentary on Wexler made by his son, Mark, himself a target of his father's prickly nature.
Wexler was fired from "One Flew Over the Cuckoo's Nest" more than halfway through shooting because, according to director Milos Forman, "He was sharing his frustrations with the actors."
For his part, Wexler said in the documentary: "As a director of photography, I always have worked as if it's my film. I don't think there is a movie that I've been on that I wasn't sure I could direct it better. But certainly also, as a director of photography, I have to serve the movie in whatever way I can as a filmmaker."
A child of wealth — his father made a fortune in electronics and continued to prosper during the Depression — Wexler was born Feb. 6, 1922, in Chicago.
Despite his privileged background, he showed his rebellious streak and political bent at 17 when he helped organize a workers' strike at his father's electronics factory.
After a year at UC Berkeley, Wexler dropped out in 1941 and joined the merchant marine. By the end of World War II, he had become a second officer and had survived 10 days in a lifeboat with 20 other merchant seamen after their supply ship was torpedoed in the Indian Ocean.
Back home after the war, Wexler was asked by his father what he wanted to do.
"I told him I wanted to be a filmmaker," Wexler recalled in his interview with American Cinematographer.
Although he had previously shot only home movies with his father's 16-millimeter camera, Wexler received financial backing from him to open a small studio in Des Plaines, Ill.
The filmmaking enterprise was not a success, and in 1947 Wexler began working as a freelance assistant cameraman on industrial, educational and other films.
By the late 1950s, he had begun amassing feature film credits as a cinematographer.
Once described by Times film columnist Patrick Goldstein as "a fire-breathing old lefty with the crusty soul of a sensitive artist," Wexler made a string of documentaries on subjects including the civil rights movement ("The Bus"), the Weather Underground ("Underground") and the Vietnam War ("Introduction to the Enemy," for which he traveled with Jane Fonda and Tom Hayden to North Vietnam).
"We have a responsibility to show the public the kinds of truths that they don't see on the TV news or the Hollywood film," he once said.
In the mid-1970s, Wexler and a friend, Oscar-winning cinematographer Conrad L. Hall, launched a TV commercial company. Between shooting feature films, Wexler directed and shot commercials for products such as Miller Beer, STP and, most memorably, for Great Western Savings and Loan with John Wayne.
In 2001, he received an Emmy nomination for outstanding cinematography for a miniseries or movie for "61," the Billy Crystal-directed HBO film about New York Yankee sluggers Mickey Mantle's and Roger Maris' quest to break Babe Ruth's single-season home run record.
More recently, Wexler, who was a board member of the International Cinematographers Guild, returned to social commentary with the 2006 documentary "Who Needs Sleep?," which addressed the movie industry problem of sleep deprivation among film crews who must work excessively long hours.
"The main difference in documentaries is that it's closer to the skin," Wexler said. "You're more in control, it's more yours and maybe two other people that are working with you. Documentaries, I really like."
McLellan is a former Times staff writer. Former special correspondent Steve Appelford contributed to this report.
ALSO
Ellsworth Kelly dies at 92; artist was master of geometric abstraction
If the government handed you $1,100 a month, would you amount to anything?
Winds up to 40 mph expected Monday in L.A. and Ventura counties
---
Get our L.A. Goes Out newsletter, with the week's best events, to help you explore and experience our city.
You may occasionally receive promotional content from the Los Angeles Times.