2019 Grammys: Kacey Musgraves, Childish Gambino take top awards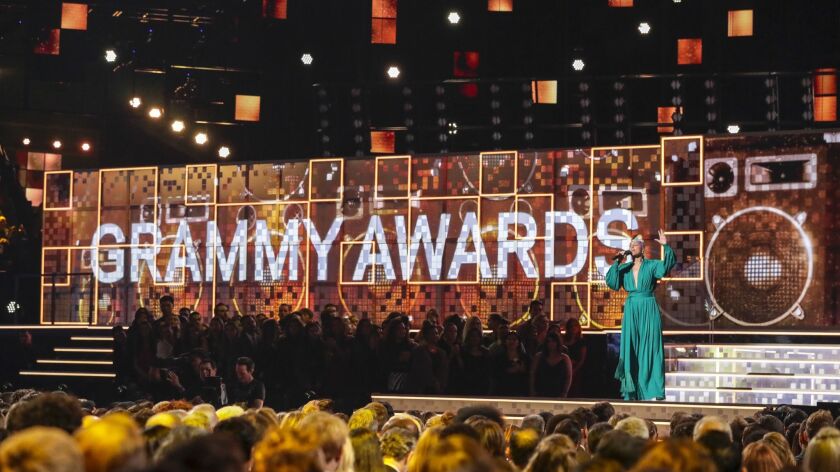 The 2019 Grammys are officially wrapped. Kacey Musgraves and Childish Gambino were among the night's big winners. The country singer won album of the year, while the rapper also known as Donald Glover took home song and record of the year. Fifteen-time winner Alicia Keys hosted the show for the first time, and pulled out all the stops. In addition to performing, she also welcomed a slew of special guests at the start of the show, most namely former First Lady Michelle Obama. But while the show may be over, there's still plenty to come from backstage. Brush up on the full winners list, and scroll through for other big moments and performances from the evening..
See the full list of winners
Missed a category during the show? Need to catch up on the pre-telecast winners. See the full list of winners for the 2019 Grammy Awards here.
Childish Gambino is a no-show at the Grammys, does a Google ad instead
Childish Gambino, aka Donald Glover, took home two of the top prizes at Sunday's Grammys, winning record and song of the year for "This Is America." However, the actor-rapper was a no show at the ceremony, at which he declined to perform when invited by the Recording Academy. Instead of the Grammys, he opted to do a Google ad. Watch it below.
Grammys say goodbye to Aretha Franklin, Recording Academy president Neil Portnow and more
No figure towers over the popular music of the 20th century like Aretha Franklin, so it was no surprise that she warranted a significant tribute at this year's Grammys. But it was a little strange that a ceremony that made time for Jennifer Lopez, of all people, to lead a Motown tribute, Aretha just got a short version of "(You Make Me Feel) Like a Natural Woman." Yes, Andra Day, Fantasia and Yolanda Adams were immaculate. And yes, Aretha had her own extensive Grammy tribute in 2011 with Adams, Christina Aguilera, Jennifer Hudson, Martina McBride and Florence Welch. But the Grammys' barometer for tributes was a little weird this year. Dolly Parton, immortal as always, deserved every second of hers.
But how strange to have Diana Ross in the audience (after performing her own medley), and so much phenomenal black vocal talent sharing one Aretha track while J. Lo, who has to rank in the lower quintiles of Motown-influence of all the artists onstage — got to tackle the most canonical songbook in American pop music.
No one was surprised that outgoing Recording Academy president Neil Portnow got a long tribute (the Grammys are gonna Grammy). But the irony of Dua Lipa roasting his infamous "step up" comments just seconds beforehand was pretty rich. Coupled with the now-meme-able face of Kacey Musgraves during Portnow's closing comments, it all made for an interesting blend of insurrection and misfired laurels at the ceremony. This was the first telecast in years without a creeping sense of disappointment. But now that they more or less righted the ship after a stormy year of criticism, maybe they can take that energy and better plan how they allot their tributes to the giants of music, and the artists who followed them.
8:45 p.m. | August Brown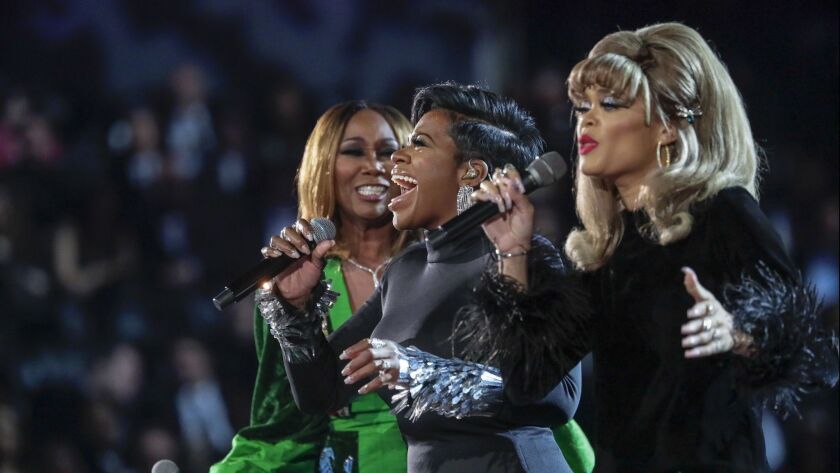 Brandi Carlile proves less is more with acoustic performance
Brandi Carlile sent a powerful message at the Grammy Awards on Sunday: Sometimes less really is more.
On a cavernous stage filled with just her band and the softest of spotlights, the Americana darling brandished an acoustic guitar for an unvarnished version of "The Joke." Its accompanying album, "By the Way, I Forgive You," scored Carlile three awards in the Americana categories in the pre-telecast ceremony.
For "The Joke," Carlile kept the focus on what made her the most nominated female artist going into tonight's ceremony. Her lyrics, and her staggering emotional connection to them, stood in stark relief in her performance. Read more.
8:30 p.m. | James Reed
Cardi B makes history with rap album win
Cardi B won the Grammy for rap album at the 61st Grammy Awards for her debut LP "Invasion of Privacy." She is the first woman to win the award as a solo artist since its introduction at the 1996 telecast.
The album yielded two No. 1 singles, Cardi's breakthrough single "Bodak Yellow" and "I Like It," with J Balvin and Bad Bunny. She's the first female rapper to have two No. 1 singles, and all 13 tracks from the album entered the Billboard Hot 100. The LP earned near-universal critical acclaim.
Cardi was arguably the most influential new artist of 2018, with dominant streaming figures and social media ubiquity (including some salient political commentary). Read more.
8:27 p.m. | August Brown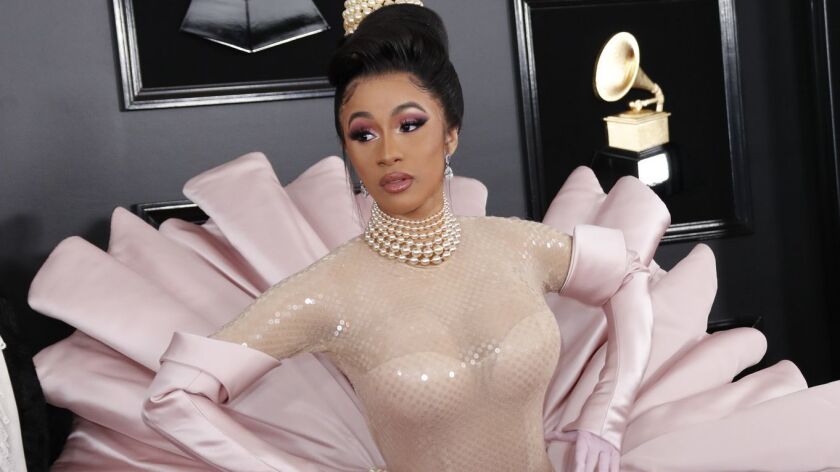 Dua Lipa and St. Vincent tag-team for 'One Kiss'
The tag team performance by British dream pop singer Dua Lipa and St. Vincent – teased during a commercial break as "two exciting artists sharing one Grammy moment" — saw them connecting as if mirror images of each other. With matching black bobs, they moved through a medley of St. Vincent's Masseduction and Lipa's hit with Calvin Harris, "One Kiss," and did so as if hoping to mass-seduce all 25 million or so viewers.
8:25 p.m. | Randall Roberts
The backlash to Jennifer Lopez's Motown tribute is fast and fierce
Those who weren't on social media for the Motown medley during the Grammy Awards might have still registered the backlash. So lukewarm was the reaction prompted by Jennifer Lopez leading the celebration of one of America's most important labels that the haters couldn't resist. Which is to say, Jennifer Lopez is hardly known for her vocal range, and in leading a medley that included songs such as "Tears of a Clown," "War (What Is It Good For)" and "Please Mr. Postman" the production seemed to demand response.
Those complaints were perhaps best captured by Twitter user Kevin O'Keefe, who captioned a photo of Diana Ross watching the performance with, ""Yeah, they're saying J. Lo is doing the Motown tribute? I don't know. I don't get it either." Read more.
8:05 p.m. | Randall Roberts
The Grammy stage can't contain Travis Scott — and that's a good thing
The Grammys couldn't get Donald Glover or Kendrick Lamar to perform tonight, but Travis Scott got enough guests for the both of them to accompany his performance. Scott's up for rap album, rap song and rap performance tonight, with plenty of formidable competition in each. Scott's mini-medley started regally, with haunting guest vocal turns from James Blake and Philip Bailey (of Earth, Wind & Fire) for Scott's "Stop Trying to Be God." But soon enough, dozens of dancers rushed the stage to either head-bang and circle-pit or climb a mesh cube, where Travis rapped "No Bystanders" ferociously from the inside.
Most of the performances have been rigorous so far tonight, but Scott's was in line with his moshing, noise-driven solo sets where he artfully translates that basement-show energy onto arena stages. He makes aggression poignant, and melancholy melodies feel all-consuming. No box can contain him, and this one didn't either. At the end, he too scaled the cube and dove off the side to crowd-surf. If the Grammys couldn't land many of rap's biggest names tonight, Scott did his best to help carry the genre on his own shoulders.
7:50 p.m. | August Brown
Ally, who? Lady Gaga goes full pop diva on 'Shallow'
Lady Gaga delivered another emotional rendition of "Shallow," from the Oscar-nominated film "A Star Is Born," at the Grammy Awards on Sunday.
The duet, which she performs in the film with director and costar Bradley Cooper, was all Gaga inside Staples Center. The singer returned to her fierce pop roots in front of a backing band that included fellow songwriters Mark Ronson, Anthony Rossomando and Andrew Wyatt.
Unlike her film alter ego, Gaga did not shy away from the camera. Instead she embraced the extreme close-ups and dance elements of the song, opting for glitz on the smoke-filled stage rather than the usual stripped-down performance of the single. Read more.
7:40 p.m. | Nardine Saad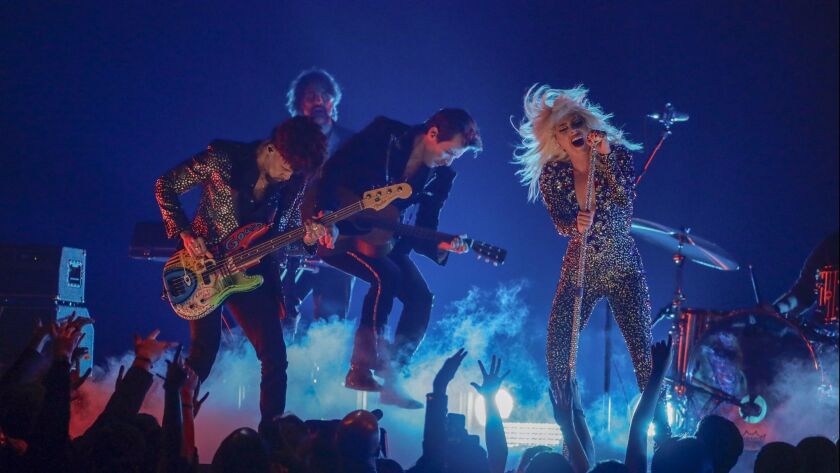 Drake gives Grammys the brushoff (again) during acceptance speech
Drake's relationship status with the Grammys keeps getting more complicated. After famously declining an invitation to perform on Sunday's show — despite being the second-most-nominated artist of the night — Drake gave the Recording Academy the brushoff again when he won the award for rap song for "God's Plan." Drake took his opportunity at the mic to explain why the award doesn't matter.
"This is a business where sometimes you know, its up to a bunch of people that might not understand, you know, what a mixed-race kid from Canada has to say or what a fly Spanish girl from New York or anybody else," he said. "The point is you've already won. If you have people who are singing your songs word for word. If you're a hero in your hometown. Look, look, if there's people who have regular jobs who are coming out in the rain, in the snow spending their hard-earned money to buy tickets to come to your shows, you don't need this right here. I promise you. You've already won."
After a brief pause, Drake appeared to have to more to say, but was cut off by producers.
7:15 p.m. | Kate Stanhope
Why Post Malone-Red Hot Chili Peppers pairing made total sense
It should have been easy to rip on the pairing of Post Malone and the Red Hot Chili Peppers. Right when Grammys are fighting to keep its relevance among women and young hip-hop fans, here comes one of the genre's most divisive white male newcomers paired with a bro-beloved band who is, at this point, a classic rock act. It could have been one of the more easily pilloried sets of recent years.
So what a pleasant surprise that it was a perfectly capable forum to get the white guys in and out of the way on the telecast. Post Malone has, shall we say, a mixed record when it comes to the genre he made his career in. His perfectly sufficient acoustic guitar talents can, at times, feel a bit like protesting-too-much when he feels boxed in as a hip-hop artist, and you can read your own subtext into that.
The Chili Peppers would be an almost comically out-of-touch performer in an era when rock is at its least relevant in the main categories. But they were maybe the only sensible pairing for a guy who cribs from rap, folk and rock. Post swung from coffeeshop folkie on "Stay" to backstage lurker on "Rockstar" before joining the band onstage, and looked perfectly happy as a rhythm guitarist during the Peppers' "Dark Necessities."
Malone is a hugely popular artist, and the Grammys need all the help they can get in keeping the interest of young fans. So maybe it was actually clever to pair him up with a Gen X rock act with many of his same influences, and keep the prime performance slots open for women and POC. Janelle Monae and H.E.R. ripped their funk and R&B harder, but now we can rest soundly knowing this: Post Malone is indeed the Red Hot Chilli Peppers of the Soundcloud rap era.
7:10 p.m. | August Brown
Cardi B brings razzle dazzle with her 'Money' performance
Cardi B shed her clam-and-pearl ensemble on the red carpet Sunday night when she stepped onto the Grammy Awards stage to perform "Money" from her Grammy-nominated album, "Invasion of Privacy."
Flanked by a gaggle of female dancers inspired by "Diamonds Are a Girl's Best Friend," the brazen rapper cheekily reminded viewers of her background as an exotic dancer with moves fit for a Pilates studio and gyrations that would make your grandmother clutch her pearls. Rhinestones, black feathers and leopard print appeared to be a requirement, not a suggestion. Read more.
7:00 p.m. | Nardine Saad
After Post Malone and the Red Hot Chili Peppers delivered exactly what was promised in a summit meeting of bro-friendly songcraft, the Grammys paid tribute to a singular artist everyone can agree upon: Dolly Parton.
Parton, who was honored as MusiCares person of the year last night, was first paired with Grammy nominee Kacey Musgraves and Katy Perry on "Here You Come Again." Perry overreached a bit in trying to stretch her singing voice toward the same assured ferocity of Parton's original, while the song suited Musgraves perfectly, who came prepared with Music Row-ready locks worthy of Loretta Lynn before Parton joined.
Miley Cyrus was next to duet with Parton on the ferocious "Jolene," which was another chance her to flex country roots that returned to the forefront in 2017 with "Younger Now," but the strength of the original remained out of reach. Parton then teamed with Cyrus and Maren Morris for a harmony-rich take on Neil Young's "After the Gold Rush" that provided a welcome reminder of her pairing with Emmylou Harris and Linda Ronstadt on her 1995 album "Feels Like Home."
Parton took center stage alongside Little Big Town in "Golden Streets of Glory" before a closing kick through "9 to 5." Despite the occasional whiff of country cosplaying that came with parts of the performance, it mostly highlighted how indelible Dolly — and her music remain.
6:20 p.m. | Chris Barton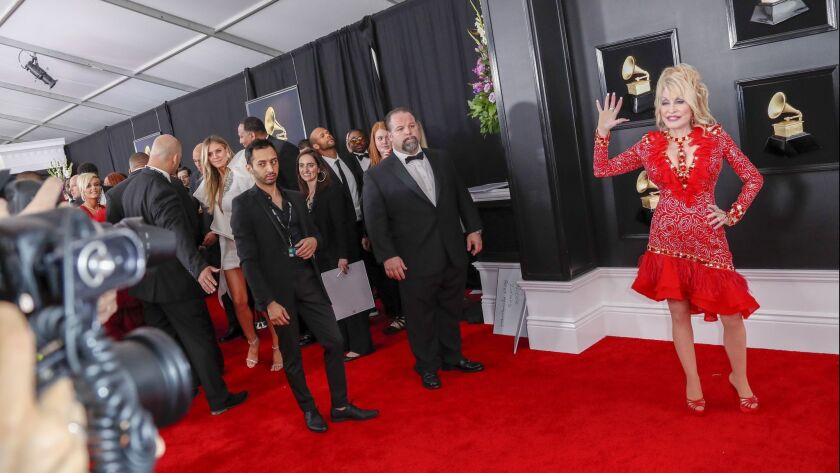 Kacey Musgraves and Janelle Monáe deliver very different, but equally powerful, performances
Kacey Musgraves, dressed in an elegant white dress, walked onto the Grammy stage already a winner. You could feel it. She earned four nominations for work from her breakout album, "Golden Hour," and had earlier in the day won trophies for country song ("Space Cowboy") and country solo performance ("Butterflies"). But she didn't perform either. Rather the singer and songwriter delivered "Rainbow," an uplifting ballad in which the singer advised, "You hold tight to your umbrella / Well, darling I'm just trying to tell ya / That there's always been a rainbow hanging over your head." The rendition was as simple as it was beautiful, accompanied only by a pianist.
2019 Grammys: See the full list of winners and nominees »
By contrast, Janelle Monáe was dressed in black-and-white rubber and commanded more than a pianist for her frenetic, mesmerizing take on "Make Me Feel." Few contemporary artists command a stage as confidently as Monáe, and her precisely choreographed performance served as a reminder. She first performed during a Grammys telecast in 2011, when she joined Bruno Mars and B.o.B. for a medley.
She's earned a total of eight Grammy nominations, but has yet to stand at the podium – though that could change. Her "Dirty Computer" is up for album of the year, but her work was underrepresented in the song fields. She came up short in the music video category for "Pynk." Sang Monáe during "Make Me Feel," "It's like I'm powerful with a little bit of tender/An emotional sexual bender/Mess me up, yeah, but no one does it better/There's nothin' better." The same could be said of her Grammy set.
5:55 p.m. | Randall Roberts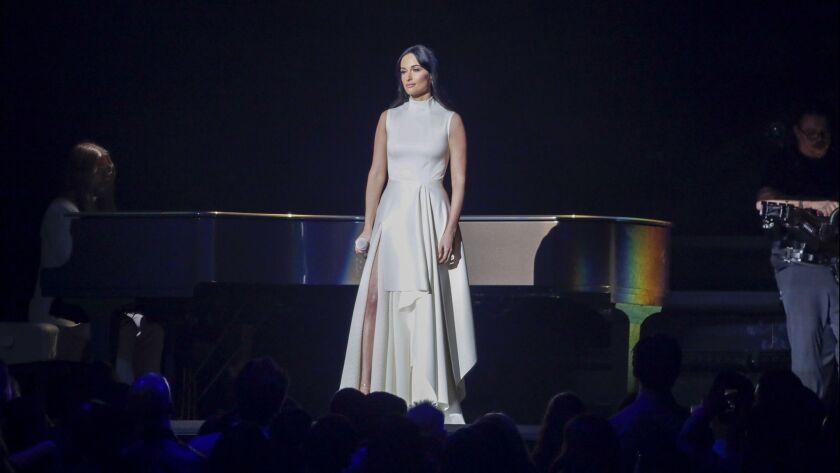 Former First Lady Michelle Obama makes surprise appearance to celebrate 'the unifying power of music'
The former first lady appeared alongside Lady Gaga, Jada Pinkett Smith, Jennifer Lopez and host Alicia Keys. Read more about the opening here, and her remarks here.
Lady Gaga tackles mental health in moving acceptance speech
When Lady Gaga won her award for pop duo performance, she devoted her acceptance time to a specific cause: mental illness. "If I don't get another chance to say this, I just want to say that I am proud to be a part of a movie that addresses mental health issues," she said during her speech. "They're so important. And a lot of artists deal with that, and we got to take care of each other. So if you see somebody that's hurting, don't look away. And if you're hurting, even though it might be hard, try to find that bravery within yourself to dive deep and go tell somebody and take them up in your head with you. Thank you so much."
5:35 p.m. | Randall Roberts
Camila Cabello and Ricky Martin kick things off with an energetic ode to Latin music
In an extraordinary year for Latin music, and with all eyes on fixing its problems with gender parity, at least the Grammys made one decent call asking Camila Cabello to kick off the telecast. Sure, Cabello's "Havana" was nominated for a late-arriving live version of "Havana" for pop solo performance (she was also up for pop vocal album). But her zesty, colorful opener was a fine start for what looks to be a corrective telecast that, last year, took plenty of heat for its lack of female winners.
Cabello started her performance inside a neon-lit bedroom set that, within a minute, dropped her out into a Havana street scene. "Havana's" been ubiquitous for over a year now, and even though it's raining and freezing outside Staples Center, there's a never a bad season for Cabello's vibrant and ebullient breakout hit. She was later joined by the always-immaculately dressed Young Thug for his verse, along with peer J Balvin and standard-bearing Cuban trumpeter Arturo Sandoval.
But bonus points due to Ricky Martin, who emerged at the end of her show with a new rakish mustache and a welcoming nod of recognition from one Latin-pop crossover hit to another, more newly ascendant one. Who knows how the Grammys will shake out tonight in fixing its image as a tough place for women who aren't Adele or Taylor Swift to take home the big trophies. But the first five minutes were an excellent opening statement.
5:30 p.m. | August Brown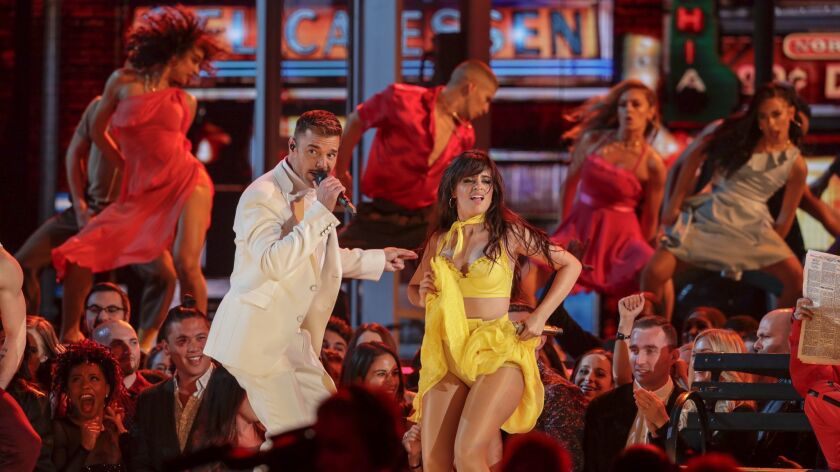 See Tori Kelly, 'Weird Al' Yankovic and more winners backstage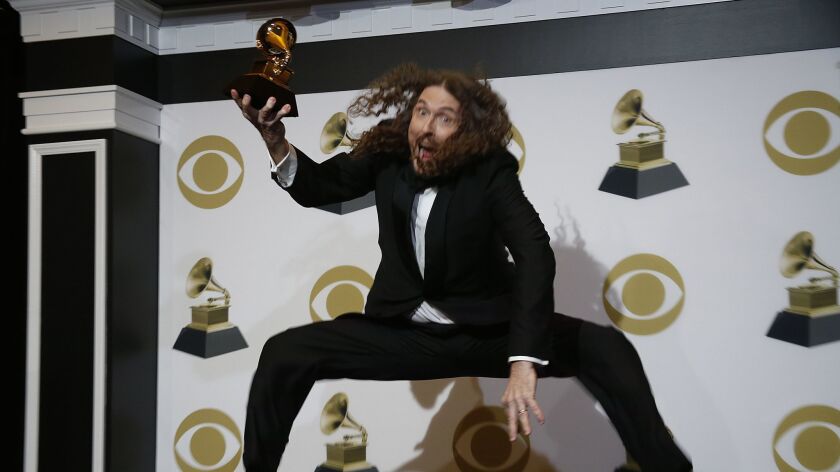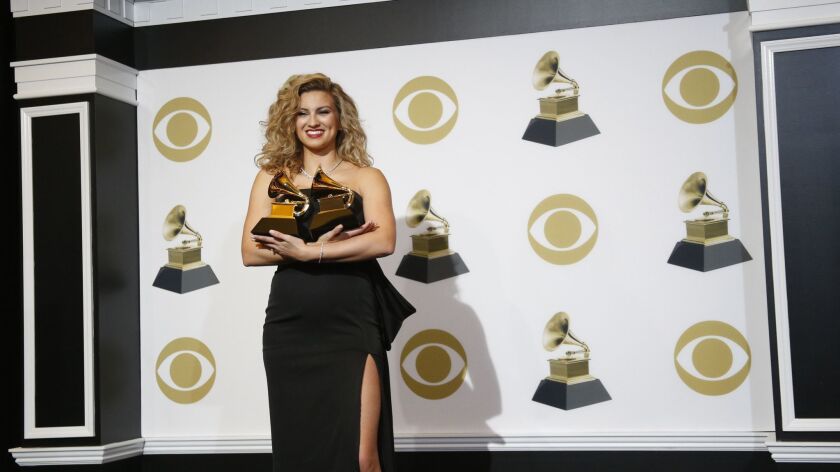 Here's what you missed from the pre-telecast awards
Well ahead of their 5 p.m. start time on CBS, the Grammys kicked things off with a lengthy pre-telecast ceremony where a majority of the awards were handed out. Brandi Carlile is currently in the lead with three awards, and other notable victories include first-time winners Ariana Grande, the late Chris Cornell and more. Catch up on the full list of winners so far here, and read more about the early wins and trends here before the show kicks off at 5 p.m.
4:45 p.m. | Los Angeles Times Staff
---
From the Emmys to the Oscars.
Get our revamped Envelope newsletter, sent twice a week, for exclusive awards season coverage, behind-the-scenes insights and columnist Glenn Whipp's commentary.
You may occasionally receive promotional content from the Los Angeles Times.