Mark Geragos, from celebrity lawyer to alleged 'un-indicted co-conspirator' in Avenatti case
Mark Geragos, left, Michael Jackson and his sister Janet Jackson arrive for the King of Pop's arraignment on child molestation charges at the courthouse in Santa Maria, Calif., in January 2004.
(Hector Mata / AFP/Getty Images)
Singer Chris Brown appears in a Los Angeles courtroom on Sept. 24, 2009, with his attorney Mark Geragos for a probation hearing related to his beating of then-girlfriend Rihanna in February that year.
(David McNew / Associated Press)
Actress Winona Ryder reacts to the prosecutor during her sentencing hearing, where she was sentenced to three years' probation, 480 hours of community service and $11,300 in fines and restitution, in Beverly Hills Municipal Court in December 2002. Ryder was convicted a month earlier of felony grand theft and vandalism. At right is Ryder's attorney Mark Geragos.
(Steve Grayson / Pool Photo)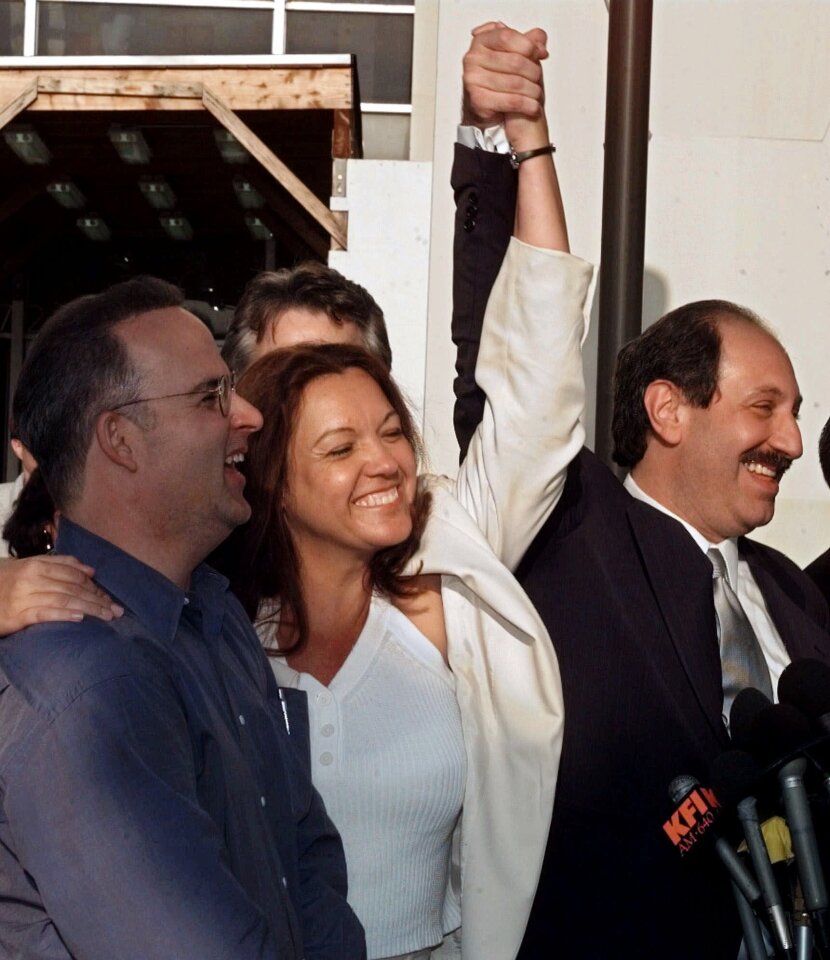 Susan McDougal raises her arm in victory with her attorney Mark Geragos, right, and her fiance, Pat Harris, after her embezzlement trial ended with verdicts of not guilty on all counts on Nov. 23, 1998, in Santa Monica.
(Mark J. Terrill / Assocaited Press)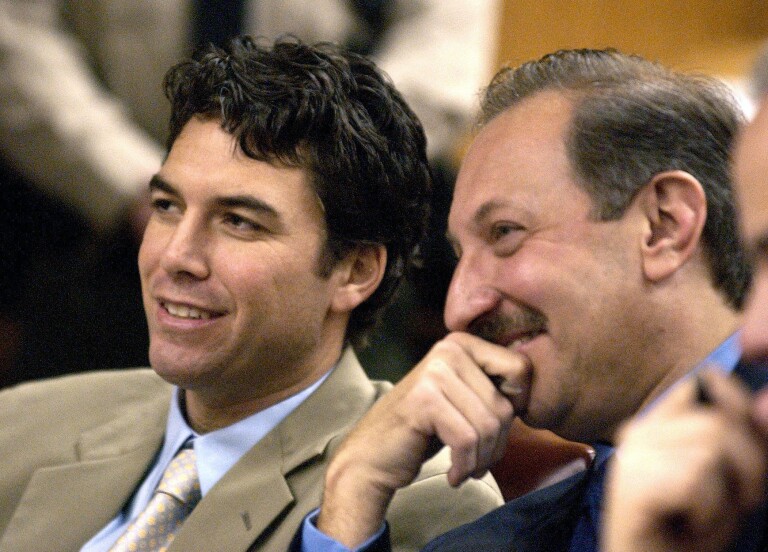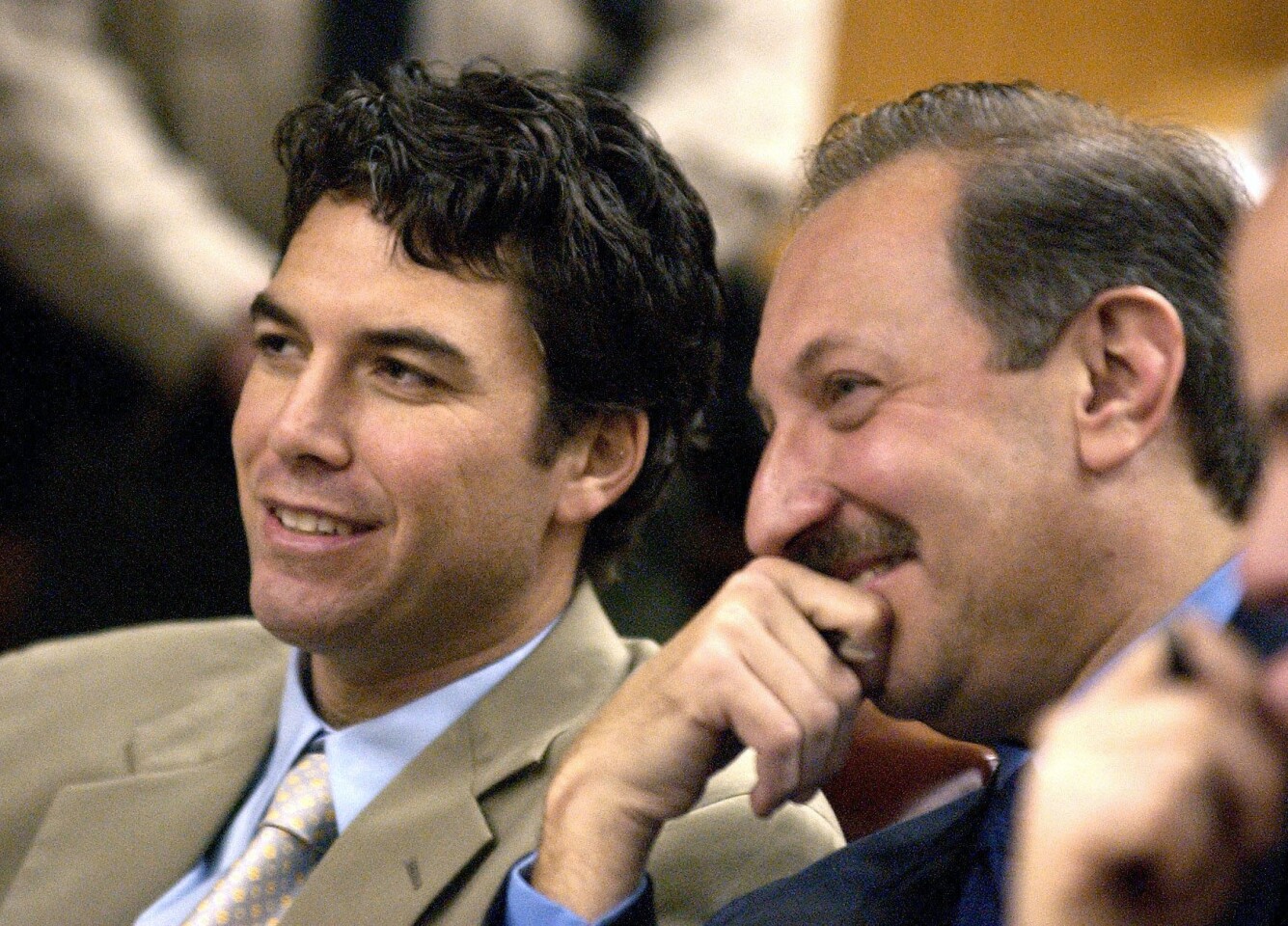 Scott Peterson, left, and defense attorney Mark Geragos at a hearing in Modesto on Dec. 12, 2003. A judge ruled on Jan. 8, 2003, that accused murderer Scott Peterson can't get a fair jury in his deceased wife's hometown and ordered the case moved out of Stanislaus County.
(Al Golub / Assocaited Press)
Victor Willis, right, the original policeman in the 1970s disco band the Village People, with his attorney Mark Geragos during a sentencing hearing in a Redwood City, Calif., courtroom on Sept. 5, 2006. Willis was sentenced to three years' probation after he agreed to enter a drug treatment program. He was arrested in South San Francisco in March 2006 after police stopped his car and found cocaine and drug paraphernalia. He pleaded no contest.
(Paul Sakuma / Assocaited Press)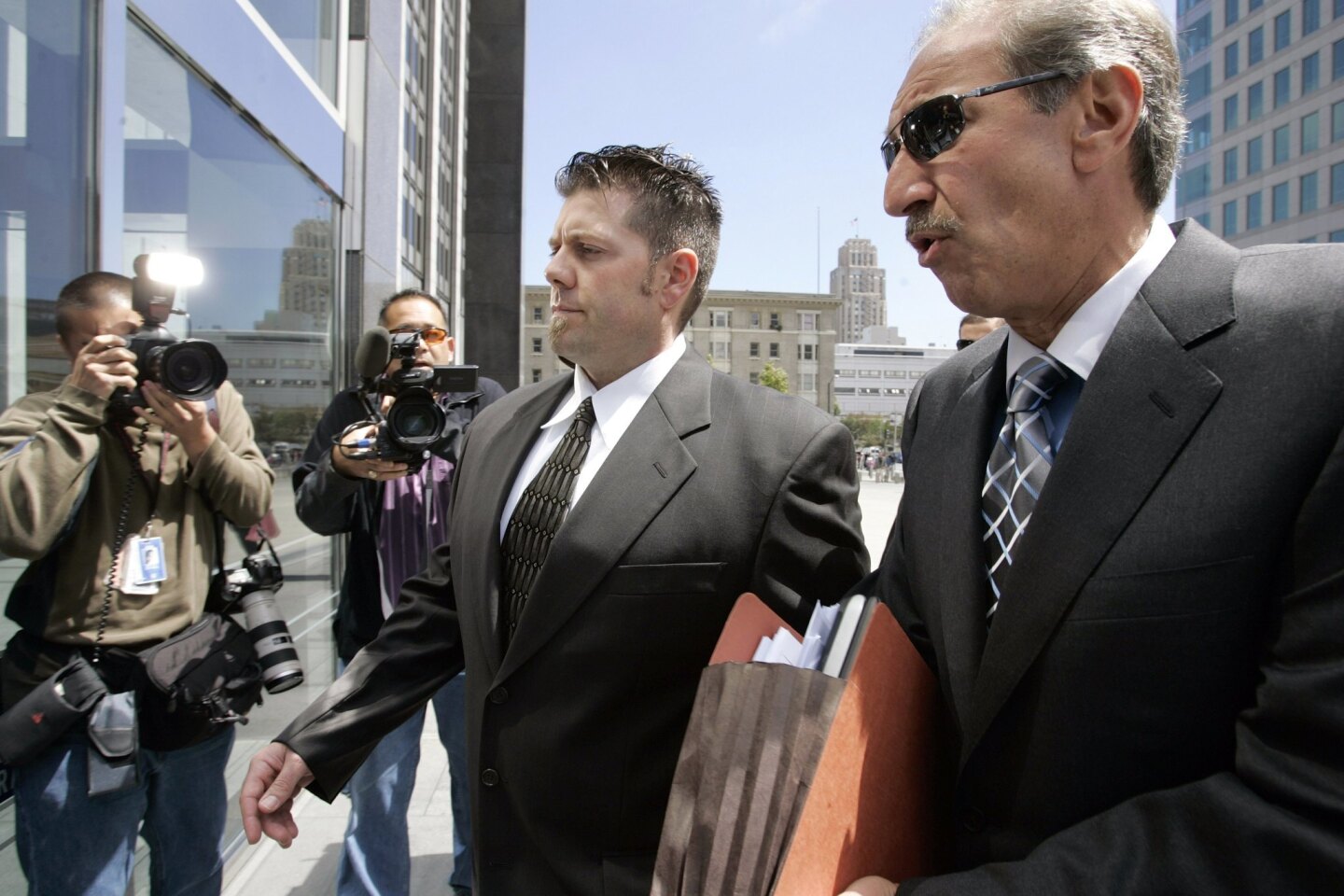 Greg Anderson, center, arrives at the federal courthouse in San Francisco with his attorney Mark Geragos on Aug. 28, 2006. Anderson, who was Barry Bonds' personal trainer, was held in contempt of court and jailed for refusing to testify before a grand jury that was investigating Bonds for allegedly lying to a previous grand jury about knowingly taking steroids.
(David Paul Morris / Getty Images)
Los Angeles has more than its share of "celebrity lawyers."
But few have achieved the status of Mark Geragos.
Over five decades, Geragos has been at the center of some of the country's most sensational cases, representing the likes of Winona Ryder, Michael Jackson, Chris Brown, Colin Kaepernick and Scott Peterson.
Now, he's at the center of another sensational case, but in an unusual position.
What is Geragos' role in the Nike case?
Federal prosecutors in New York announced that another high-profile L.A. attorney, Michael Avenatti, was charged with trying to extort millions of dollars from the sports-gear giant — part of a web of criminal counts that, if proved, could send the 48-year-old lawyer to prison for decades.
Court documents in New York referred to an "un-indicted co-conspirator" in the Nike case, and a source familiar with the investigation identified him as Geragos.
Geragos' lawyer, Benjamin Brafman — who earlier this year stepped down as the defense attorney for beleaguered producer Harvey Weinstein — said he hoped that prosecutors "will conclude that Mr. Geragos did not violate the law in any manner."
What do we know about the Avenatti probe?
Avenatti was accused of "attempting to extract more than $20 million" from Nike. He allegedly threatened to hold a news conference if Nike didn't pay his client, an Amateur Athletic Union coach in California who alleged the company was paying families of high school basketball prospects, and hire Avenatti for an internal investigation.
After Avenatti and Nike's attorneys met on March 19, federal investigators launched a sting operation and began monitoring all contact between the lawyer and the sports company. They recorded a call Friday, during which Avenatti allegedly threatened to take $10 billion off Nike's market capitalization by holding a news conference if his demands were not met.
"You guys know enough now to know you've got a serious problem," Avenatti said, according to prosecutors.
What is Geragos' story?
Geragos has been at the center of headline-generating cases for decades.
He graduated from Loyola Law School in 1982 and joined his father's L.A. law firm.
An early triumph was his defense of Susan McDougal, who was acquitted on charges of theft and obstruction of justice after becoming a target of the Whitewater investigation.
He tried unsuccessfully to get actress Winona Ryder acquitted on felony shoplifting charges. He represented former President Clinton's brother Roger in a drunk driving case and Robert Downey Jr. on drug charges.
He engineered a plea bargain for former Los Angeles City Councilman Art Snyder that allowed an appeal, and later a dismissal, of corruption charges. He won a dismissal of charges of felony kidnapping, arson and criminal threats against hip-hop star Nathaniel Hale, better known as Nate Dogg.
Geragos has long been a fixture of cable TV news shows while he represents celebrity clients. At one point, he was representing Peterson against charges that he killed his pregnant wife, Laci, and the couple's unborn son as well as Jackson in the molestation case. Jackson eventually replaced Geragos before trial.
Geragos made no bones about representing unpopular clients.
"If I'm going to represent somebody, I think at the very least they deserve someone who can find the good in them," Geragos told The Times in 2003. "I don't think most people are evil. I think sometimes people are demonized unfairly."
In that same story, Nancy Grace, who used to spar with him on cable TV, described Geragos as "clever, slick and likable. He knows every trick in the book."
More recently, he has represented Kaepernick in his battles with the NFL and served as a legal advisor to "Empire" star Jussie Smollett, who was accused of staging an attack against himself in Chicago.
---
The stories shaping California
Get up to speed with our Essential California newsletter, sent six days a week.
You may occasionally receive promotional content from the Los Angeles Times.