Betty Dukes, Wal-Mart greeter who took retail giant to the U.S. Supreme Court in gender bias case, dies at 67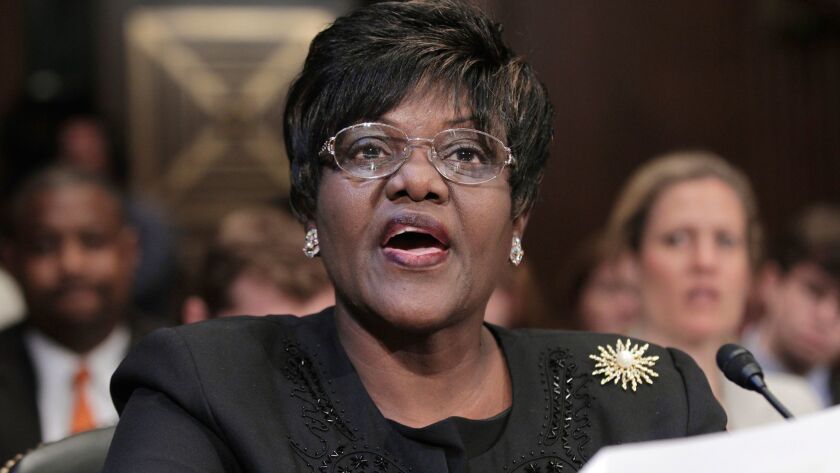 The Wal-Mart greeter who took the retail giant all the way to the U.S. Supreme Court in the largest gender bias class-action lawsuit in U.S. history has died, a family member said Tuesday.
Betty Dukes died July 10 at her home in Antioch, Calif., said her niece, Rita Roland. Dukes was 67.
"She was a very tough lady, very driven and passionate about what she believed in. She was persuasive. She just didn't want to tell her point, she wanted you to have an understanding so you could come to the same conclusions that she had," Roland said.
As the lead plaintiff in Dukes vs. Wal-Mart, she alleged in the 2001 lawsuit that the company violated the 1964 Civil Rights Act, which made it illegal for employers to discriminate on the basis of race, creed or gender.
Dukes said Wal-Mart systemically paid women less than male counterparts and promoted men to higher positions at faster rates than women. The case reached the U.S. Supreme Court in 2011, where it was dismissed. But Roland said the dismissal was not in vain for her aunt.
"The one thing I do know is the work that she did is fluid. It has not stopped," said the Milpitas woman who often traveled with Dukes when she was working on the case. "She was one of many voices fighting for the same cause."
An ordained minister, Dukes' faith was the foundation for everything she did, including taking on the retail giant, Roland said.
"She believed in helping people," Roland said.
In her off time, Dukes helped organize community banquets with speakers celebrating Martin Luther King Day, Black History Month and the election of President Obama. She also helped distribute food to the needy.
At least twice a year, she would also speak to groups about her past struggles and how people should work to fight for women's rights and against discrimination, Roland said.
And she always did it looking her Sunday best. "Matching purse, shoes and accessories. She took pride in the way she dressed," said Roland.
Born in Louisiana in 1950, Dukes moved west at a young age with her mother, who was in search of work. She later married but had no children. In 1994, she enthusiastically accepted an offer to work the Wal-Mart cash registers part time for $5 an hour. She dreamed of turning around a hard life by advancing, through work and determination, into Wal-Mart corporate management.
"I was focused on Wal-Mart's aggressive customer service," Dukes said in 2011 interview during her lunch break, after first saying grace over a meal of fast-food hamburgers and chicken nuggets. "I wanted to advance. I wanted to make that money."
When Dukes needed change to make a small purchase during her break she asked a colleague to open a cash register with a one-cent transaction, which she claimed was a common practice.
She was demoted for misconduct. She complained to a manager that the punishment was too severe and part of a long campaign of discrimination that began almost as soon as she started working for Wal-Mart in Pittsburg, a blue-collar city of about 100,000 about 45 miles east of San Francisco.
When those complaints were ignored, Dukes sought legal advice and ended up serving as the lead plaintiff in what would become the vast class-action suit.
Dukes worked for Wal-Mart until last year.
ALSO
Maryam Mirzakhani, the only woman to win math's Fields Medal, dies at 40 after battle with breast cancer
Jack Shaheen dies; scholar persuaded Disney to alter 'Aladdin' as he fought Hollywood's racial stereotypes
David Theno dies; scientist helped set safety standards after Jack in the Box's deadly outbreak in 1990s
---
Must-read stories from the L.A. Times
Get the day's top news with our Today's Headlines newsletter, sent every weekday morning.
You may occasionally receive promotional content from the Los Angeles Times.