The top food stories from this week at the Los Angeles Times:
IN PRAISE OF LONCHERAS
Lucas Kwan Peterson lays out a beginner's guide to taco trucks, ubiquitous in Los Angeles: "there are over 3,000 licensed food trucks and carts roaming the streets."
ON TACO SALADS
Patricia Escárcega contemplates the culinary and political ramifications of the taco salad — and other Mexican American dishes — at Amorcito in Long Beach.
THE SUNSET BOULEVARD SPICE ROUTE
Bill Addison tours the tables at Northern Thai Food Club in East Hollywood, finding excellent bowls of khao soi, stews and other dishes.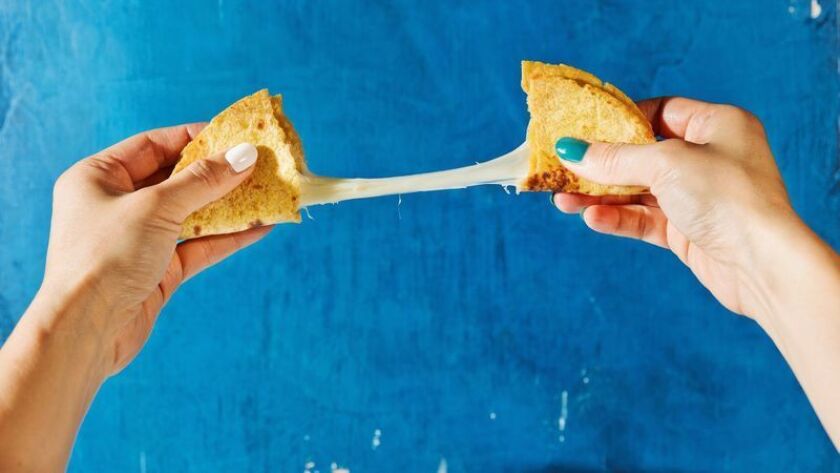 IN PRAISE OF CHEESE PULLS
Genevieve Ko has a recipe for Oaxacan string cheese tacos, just in time for the long holiday weekend.
DRINKING SAKE IN ECHO PARK
Erica Zora Wrightson pours a few glasses at Ototo, a new sake bar that stocks over 40 bottles of the stuff.
Food Bowl continues. It's another week of our annual May food bowl, with events, screenings, demos and So Much Food. Go to lafoodbowl.com for a calendar, plus links for tickets.
Our 101 Restaurants We Love list for 2018 is out. The list incorporates restaurants and trucks from around Los Angeles and Orange County, in alphabetical order (no rankings this time). Plus, there's a bonus list of 10 classic restaurants.
Check us out on Instagram at @latimesfood.
And don't forget the thousands of recipes in our California Cookbook recipe database.
Feedback? We'd love to hear from you. Email us at food@latimes.com.
---