Newsletter: Essential California: A big surprise in the governor's race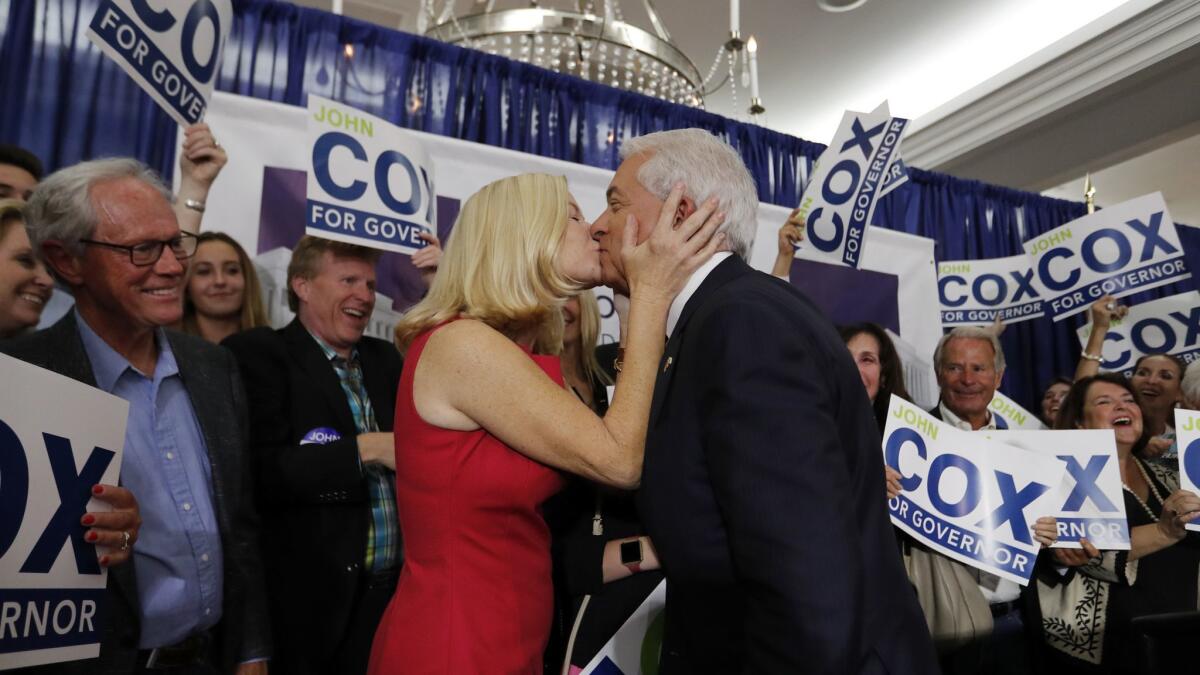 Good morning, and welcome to the Essential California newsletter. It's Wednesday, June 6, and here's what's happening across California:
TOP STORIES
Gavin Newsom, the favorite of the California Democratic Party's core liberal base, won the top spot in Tuesday's primary election for California governor, but the big surprise was that Republican businessman John Cox, backed by President Trump, grabbed the No. 2 spot ahead of Democrat and former Los Angeles Mayor Antonio Villaraigosa. Los Angeles Times
Plus: Before Villaraigosa conceded, he called on elections officials to extend election day until Friday because of errors that led to the names of more than 118,000 voters not appearing on the rolls in Los Angeles County. Los Angeles Times
And: Did you vote? Columnist Steve Lopez found that, even in the heart of the resistance, voter apathy was running high. Los Angeles Times
Waiting, waiting, waiting
Match-ups in several key congressional districts in California remained unsettled Tuesday night as Democrats nervously awaited word on whether their candidates would advance to the November election. Their most pressing concern was whether the party's wide, boisterous field of candidates means the party will be locked out of multiple races thanks to the state's top-two primary system. It could take a day or even weeks for the final results in these and other races. Los Angeles Times
In the early going
Here's where the big races stood early on. Get the latest results from across the state here.
-- Four statewide ballot propositions passed, while an effort to control how future funds collected through the state's climate change program was defeated. Los Angeles Times
-- Tuesday's election featured seven statewide contests besides the governor's race, including a barnburner for state attorney general in which incumbent Xavier Becerra took a big lead. He'll face Republican Steven Bailey in the general. Los Angeles Times
-- California's longtime Democratic U.S. Sen. Dianne Feinstein secured the top spot on the November ballot afters voters overwhelmingly chose her in the primary. But who will challenge her? Los Angeles Times
-- State Sen. Josh Newman (D-Fullerton) appeared headed for a recall election loss, with Republican challenger Ling Ling Chang slated to replace him. Los Angeles Times
-- Aaron Persky, the judge whose controversial sentence in the Brock Turner sexual assault case sparked national outrage, was booted. Mercury News
-- London Breed was leading in the San Francisco mayor's race, a special election touched off by the death of Mayor Ed Lee in December. San Francisco Chronicle
-- Los Angeles County Sheriff Jim McDonnell was leading in his bid to secure a second term as top cop of the nation's largest sheriff's department. Los Angeles Times
-- In San Diego County, voters were choosing among candidates for City Council, district attorney, sheriff and county supervisor. San Diego Union-Tribune
Get the Essential California newsletter »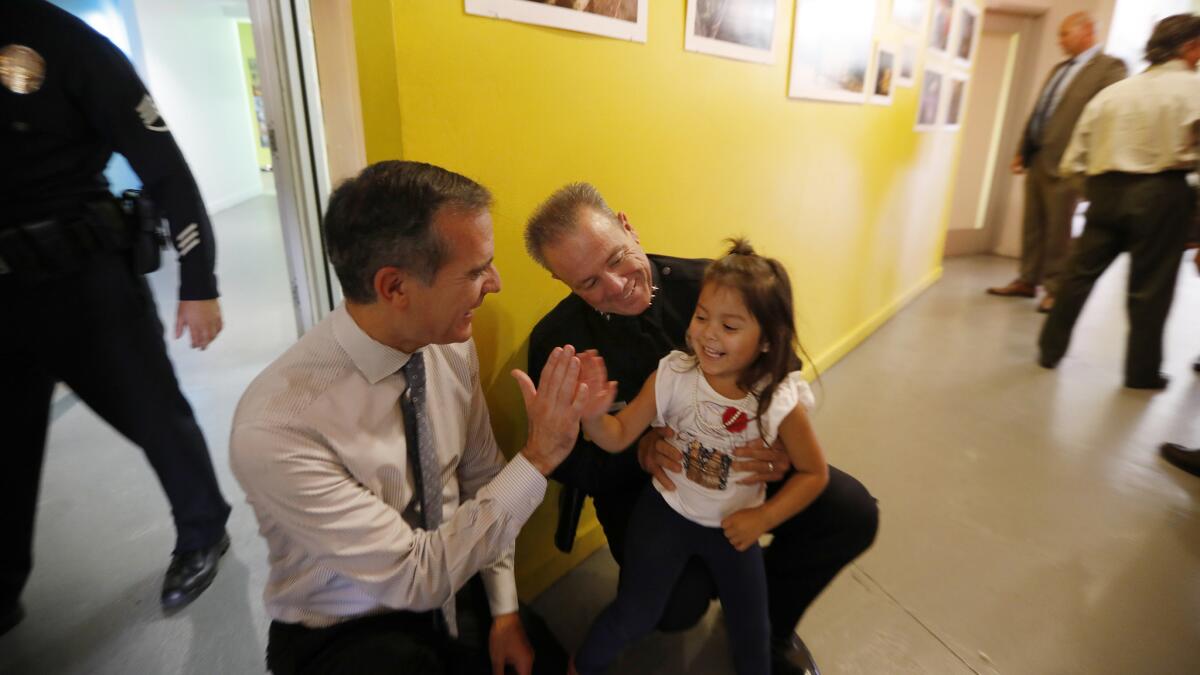 L.A. STORIES
USC follow-up: A former vice dean of USC's Keck School of Medicine testified Tuesday that he feared the school's then-dean, Dr. Carmen A. Puliafito, "could be doing drugs" and expressed concerns about Puliafito's general well-being to the university's No. 2 administrator before Puliafito abruptly left his job in 2016. Los Angeles Times
Police shootings: As the Los Angeles Police Department adopted a new policy in 2017 to reduce the number of police shootings, the number of incidents increased 10% compared with 2016, according to a comprehensive report on use of force released Tuesday. Los Angeles Times
Walking the block: A day after Mayor Eric Garcetti selected LAPD veteran Michel Moore to be the new chief, the two took a community walk near Echo Park Lake. Los Angeles Times
Ch-ch-changes: Decades ago, when Baldwin Hills Crenshaw Plaza opened its doors, its developer was determined to show that a shopping mall could prosper in a black neighborhood. Now a new owner is pushing, once again, to prove it can thrive — this time in the digital era. Los Angeles Times
IMMIGRATION AND THE BORDER
Big story: "Border agents and child welfare workers are running out of space to shelter children who have been separated from their parents at the U.S. border as part of the Trump administration's new 'zero tolerance' policy.'" NBC News
Plus: Caught between Americas, asylum seekers are in limbo on a bridge over the Rio Grande. Los Angeles Times
DACA showdown: "An internal GOP dispute over how to provide legal status to Dreamers has emerged as the biggest flashpoint among Republicans as they struggle to resolve an intra-party clash over DACA." Politico
POLITICS AND GOVERNMENT
Slow down: "Lime, Bird, and Spin, start-ups that have delighted and infuriated San Franciscans with their scooter-sharing services, have pulled their vehicles from the streets while they apply for permits to operate." Bloomberg
Big settlements: Los Angeles will pay up to $14 million to settle lawsuits over a deadly Venice Beach boardwalk crash. Los Angeles Times
CRIME AND COURTS
In NYC: Harvey Weinstein has pleaded not guilty to charges stemming from a pair of alleged sexual assaults in New York City. Los Angeles Times
Sentenced: A former Monterey Park police officer convicted of sexually assaulting three women during traffic stops was sentenced Tuesday to nearly eight years in prison and required to register as a sex offender. Los Angeles Times
In Palo Alto: Here is the story of Brock Turner's twisted legacy — and a Stanford professor's relentless pursuit of justice. Huffington Post
CALIFORNIA CULTURE
Trouble in paradise: As "Solo: A Star Wars Story" sputters at the box office, some are nervous about Disney's "Star Wars" future. Los Angeles Times
A board fight: A vote to kick Tesla Chairman and Chief Executive Elon Musk out of his chairman's seat failed at Tesla's annual shareholder meeting Tuesday. So did a push to reject three board members who were up for reelection. Los Angeles Times
RIP: Kate Spade, a designer best known for her simple, colorful handbags, which became favored accessories of professional women in the 1990s, was found dead at her home in Manhattan. Los Angeles Times
Uh-oh: Facebook has data-sharing partnerships with at least four Chinese electronics companies, including a manufacturing giant that has a close relationship with China's government. New York Times
Transitions: Bill Davis, the public radio executive who oversaw the transformation of KPCC from a small college-run station into one of Southern California's largest news organizations, announced Tuesday that he plans to step aside sometime in the next 18 months. KPCC
CALIFORNIA ALMANAC
Los Angeles area: Partly cloudy, 73, Wednesday. Partly cloudy, 74, Thursday. San Diego: Partly cloudy, 69, Wednesday and Thursday. San Francisco area: Cloudy, 59, Wednesday. Partly cloudy, 60, Thursday. Sacramento: Partly cloudy, 80, Wednesday. Partly cloudy, 81, Thursday. More weather is here.
AND FINALLY
Today's California memory comes from Joel Leanse:
"Before the Dodgers and Angels, the sports center in Southern California was at Beverly and Fairfax avenues. The original Farmers Market was located on the southeast corner, just south of there was Gilmore Stadium, where pro football games and midget auto races took place. Nearby was Gilmore Field, where the Hollywood Stars played minor league baseball and were owned by Bob Cobb, who owned the Brown Derby where the famous Cobb salad started. And, east of there, the Pan Pacific arena saw USC and UCLA basketball and hockey played. On the north side of Beverly sat the original Los Angeles Rams office. Conditions in those days allowed our parents to let us get on a bus in West Los Angeles and go to ball games, a two-bus ride."
If you have a memory or story about the Golden State, share it with us. Send us an email to let us know what you love or fondly remember about our state. (Please keep your story to 100 words.)
Please let us know what we can do to make this newsletter more useful to you. Send comments, complaints and ideas to Benjamin Oreskes and Shelby Grad. Also follow them on Twitter @boreskes and @shelbygrad.
Get our Essential Politics newsletter
The latest news, analysis and insights from our politics team.
You may occasionally receive promotional content from the Los Angeles Times.