Newsletter: Essential California: The white supremacists at the center of a Charlottesville hate case
Good morning, and welcome to the Essential California newsletter. It's Wednesday, Oct. 3, and here's what's happening across California:
TOP STORIES
The Rise Above Movement is a hate movement straight out of Southern California's suburbs. The white supremacist group espouses anti-Semitism, promotes "clean living" and meets regularly in public parks to train in physical fitness, including boxing and other street-fighting techniques, authorities say. Its members have caused problems across California. But now they are linked to much more serious, and high-profile, allegations in Charlottesville, Va. Los Angeles Times
— The road from California to to Virginia, with the intent to incite a riot and commit violence at last year's deadly far-right rallies in Charlottesville. Los Angeles Times
So many laws
In all, Gov. Jerry Brown weighed in on 1,217 pieces of legislation passed by the state Senate and Assembly. He signed 1,016 into law, and most will take effect on Jan. 1. Some of the new laws are momentous, others minuscule. Taken together, they are a grab bag of limitations and expectations on the personal and professional lives of Californians. Los Angeles Times
— How immigration could end up once again being the defining issue for Republicans in California. Los Angeles Times
— Where Sen. Dianne Feinstein and her Democratic challenger, state Sen. Kevin De Leon, stand on the issues. Los Angeles Times
— President Trump vs. Gavin Newsom could be a sign of the future. SF Gate
— The wild ride for California's gas tax. Record Searchlight
A quiet search for closure
The Santa Barbara Bucket Brigade is a group of volunteers that formed after the deadly Montecito mudslides in January to help neighbors dig sludge out of their homes. Finding relics soon became their specialty, and then an obligation. The tiniest of trinkets mean everything these days. Now, the group searches for the invaluable. A girl of 2, with doe eyes — Lydia Sutthithepa — and Jack Cantin, a 17-year-old Eagle Scout, both missing since the storm. Los Angeles Times
Get the Essential California newsletter »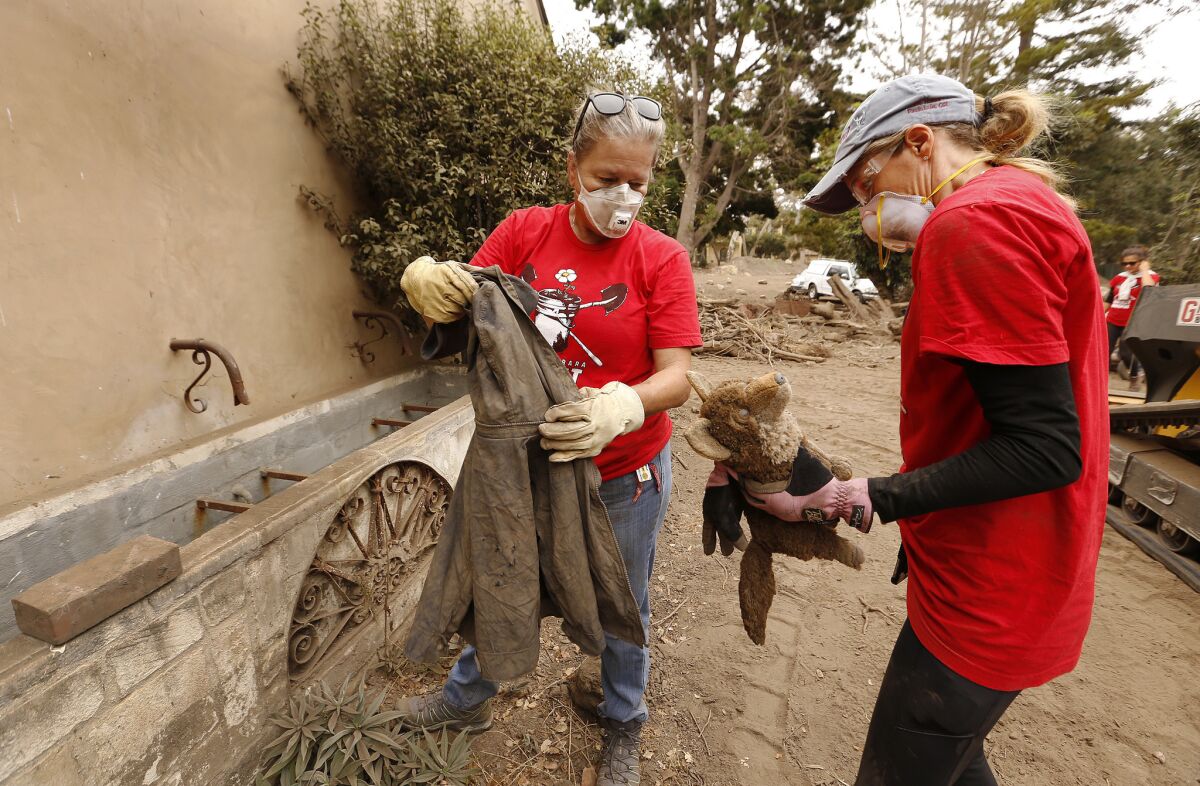 L.A. STORIES
Anatomy of a tragedy: How everyone — including the system — failed 8-year-old Gabriel Fernandez. The Atlantic
Celebrity break-ins: It was not exactly the Bling Ring. But police say they have cracked another burglary ring. A man arrested break-in at the San Fernando Valley home of an NFL player during a game last week has been linked to recent burglaries at the homes of Yasiel Puig, Rihanna and Christina Milian. Los Angeles Times
Picture this: Cheat Day Land, a new L.A. pop-up museum, is completely devoted to "cheat day" foods. The new interactive museum in the downtown Los Angeles Arts District is full of bright murals of burgers and fries, tacos, doughnuts and cake — a museum clearly tailored for Instagram feeds. It's the latest in an ongoing trend of experiential pop-up museums. Los Angeles Times
— The welcome wagon isn't always coming for museums amid a boom. New York Times
End of an era: After more than five decades, the Bob Baker Marionette Theater says it will leave its original home near downtown Los Angeles at the end of November, with plans to relocate. Los Angeles Times
The Dodgers' skipper: In Dave Roberts L.A. trusts. Los Angeles Times
CRIME AND COURTS
Shocking conditions: Federal inspectors have issued a scathing report on conditions at the Adelanto ICE Processing Center, which can house nearly 2,000 immigrant detainees in the high desert, after officials found nooses made of bed sheets in cells, improper use of disciplinary segregation and inadequate medical care during an unannounced visit to the facility earlier this year. Los Angeles Times
Guilty plea: A 37-year-old man accused of waterboarding and beating his 65-year-old wife of two months in Newport Beach has pleaded guilty and was sentenced to 10 years in prison. Orange County Register
POLITICS AND GOVERNMENT
Paying at the pump: Why California's climate change fight will likely bring much higher gas prices. Sacramento Bee
Another story: On the eve of last week's dramatic Senate Judiciary Committee hearing on Supreme Court nominee Brett Kavanaugh, legislative staffers questioned him privately about an anonymous letter purportedly from an Oceanside woman saying Kavanaugh and a friend raped her. San Diego Union-Tribune
Transbay Transit Center woes: The $2-billion San Francisco station — closed last week when cracks were found in beams — won't be open for at least three more weeks. San Francisco Chronicle
New law: Is California's plan to diversify boardrooms a recipe for disaster? New York Times
CALIFORNIA CULTURE
Hollywoodland: Nina Jacobson was famously dumped as a Disney studio mogul a few years ago. But she's having the last laugh, becoming one of Hollywood's most successful producers. Los Angeles Times
— Will Disney ever build that third theme park in Anaheim? Daily Breeze
The Elon chronicles: The bizarre story behind Elon Musk's detente with the SEC. New York Times
Park it: Self-driving cars may be inevitable, but few office developers want to spend money preparing for the changes they will bring. That's the conclusion of a recent survey of real estate professionals, despite the expectation that ride-sharing and autonomous vehicles will drive down the need for parking in the decades ahead. Los Angeles Times
Step away from the vehicle: Don't mess with her Corvette. Really. Don't. Wall Street Journal
CALIFORNIA ALMANAC
Los Angeles area: thunderstorms, 72, Wednesday; partly cloudy, 72, Thursday. San Diego: thunderstorms, 72, Wednesday; mostly sunny, 73, Thursday. San Francisco area: partly cloudy, 68, Wednesday; partly cloudy, 62, Thursday. San Jose: scattered showers, 74, Wednesday; partly cloudy, 70, Thursday. Sacramento: partly cloudy, 79, Wednesday; partly cloudy, 73, Thursday. More weather is here.
AND FINALLY
Today's California memory comes from Winton Woods:
"My first sighting of San Francisco coming out of the Waldo Tunnel in 1965. It was afternoon and the fog was rolling in through the Golden Gate. The City was a palette of soft pastel marred only by a single high-rise, the BofA tower. It was heaven, I could never go back. I am so sad that my children and grandchildren will never see Baghdad by the Bay."
If you have a memory or story about the Golden State, share it with us. Send us an email to let us know what you love or fondly remember about our state. (Please keep your story to 100 words.)
Please let us know what we can do to make this newsletter more useful to you. Send comments, complaints and ideas to Benjamin Oreskes and Shelby Grad. Also follow them on Twitter @boreskes and @shelbygrad.
The stories shaping California
Get up to speed with our Essential California newsletter, sent six days a week.
You may occasionally receive promotional content from the Los Angeles Times.