Newsletter: Essential California: The expensive reality of the Woolsey fire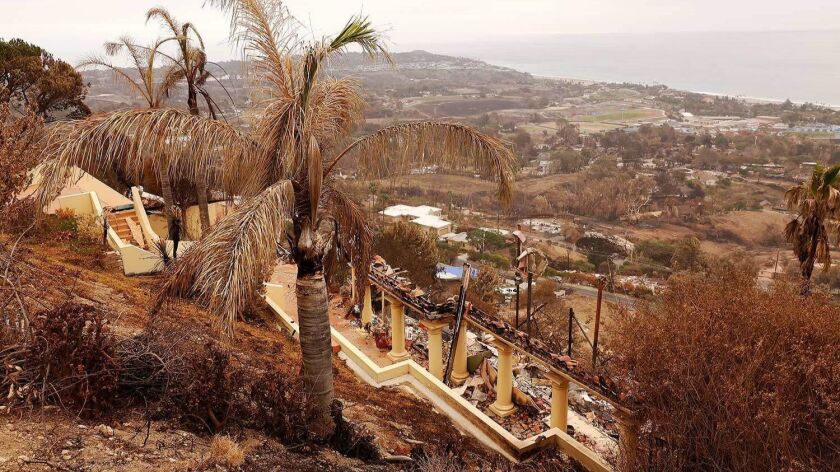 Good morning, and welcome to the Essential California newsletter. It's Tuesday, Dec. 4, and here's what's happening across California:
TOP STORIES
Destructive wildfires are regular events in Malibu, but last month's deadly Woolsey fire could prove to be the worst ever to strike the upscale coastal community. At least 670 structures were destroyed inside the Malibu city limits, including more than 400 single-family homes with an estimated market value of at least $1.6 billion, according to an analysis of aerial imagery and property records conducted by The Times and Zillow, the real estate website. "There's so much destruction," said Chris Cortazzo, a Malibu real estate agent, who lost his home on Mulholland Highway, just outside the city. "Everyone's a little shell-shocked." Los Angeles Times
Plus: California's biggest utilities will soon have more flexibility in covering costs associated with wildfires sparked last year and in years to come — but not those that began in 2018, a gap in state law one legislator hopes to soon close. Los Angeles Times
-- The closure of portions of Pacific Coast Highway along a 20-mile stretch through Malibu began Monday as crews went to work repairing damage caused by the Woolsey fire. Los Angeles Times
-- A Golden State of paranoia: Internet conspiracies link wildfires to takeover schemes. Mercury News
-- After the deadly Camp fire, Northern Californians open their homes to evacuees. Los Angeles Times
Here's a list we all love
Every year, the release of Jonathan Gold's list of the 101 best restaurants in Los Angeles was a highly anticipated event that elicited more coverage, debates and could make the careers of chefs and restaurateurs. Gold is tragically gone, but his legacy lives on with this year's 101 Restaurants We Love. Using last year's list — Gold's last — as a guide, food writers Jenn Harris, Andrea Chang and Amy Scattergood tried to introduce the new and fill in the gaps where appropriate to reflect the city as a whole. The list is now available online to subscribers and on Saturday in print. Los Angeles Times
Plus: There's a great map to go along with the list. Los Angeles Times.
-- Here's a little more detail about how the Food team put together the 101 Restaurants We love. Los Angeles Times
At the movies
Alfonso Cuaron's critically acclaimed film "Roma" — an intimate, black-and-white, Spanish-language feature about a middle-class Mexican family and their live-in nanny — seems an unlikely candidate for the role of Hollywood disrupter. Nonetheless, the $15-million awards contender, which Netflix Inc. released in a handful of theaters just before Thanksgiving, has become a flash point in the contentious debate over the future of film distribution. Los Angeles Times
Get the Essential California newsletter »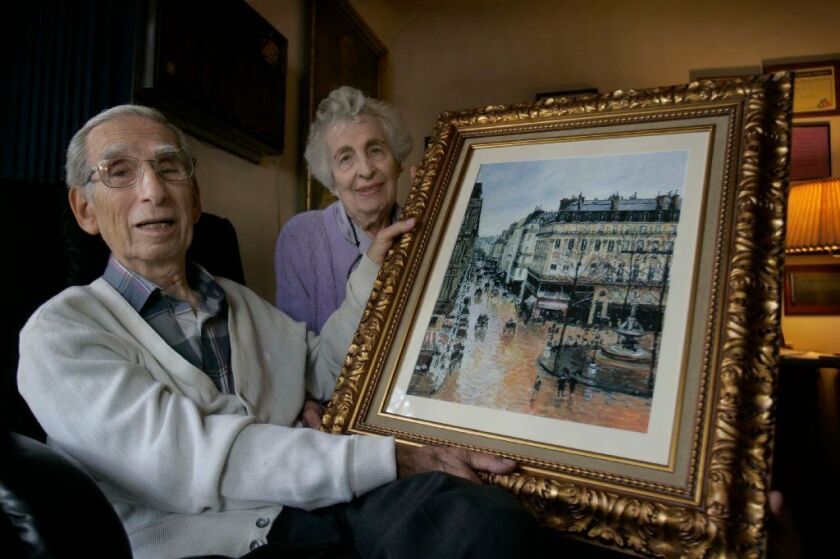 L.A. STORIES
Brrr: Keep an umbrella at the ready, Californians, because more wet weather is on the way. A cold front moving through the state will bring up to an inch of rain to Northern California from Monday night through Thursday. Los Angeles Times
In court: Nearly 80 years ago, Nazis stole a painting by Camille Pissarro from a Jewish family. Now a federal judge in Los Angeles will decide if it should be returned. Los Angeles Times
Banksy watch: Street artist Ron English vowed to whitewash a $730,000 Banksy mural. Then things took an even stranger turn. Los Angeles Times
IMMIGRATION AND THE BORDER
Important investigation: "The founder of Southwest Key made millions from housing migrant children. His nonprofit has stockpiled taxpayer dollars and possibly engaged in self-dealing with top executives." New York Times
Plus: "What will become of one contentious mile of President Trump's wall? New Mexico's land commissioner has some ideas." Rolling Stone
AMLO watch: What the new president of Mexico means for Los Angeles and Mexican Americans at large. L.A. Taco
Plus: "Mexican President Andrés Manuel López Obrador fulfilled a campaign promise on his inauguration day by opening most of the vast and secretive presidential complex of Los Pinos to the public." Wall Street Journal
POLITICS AND GOVERNMENT
In Sacramento: Democrats have a mega-majority in the California Legislature. Expect them to swing for the fences, writes columnist George Skelton. Los Angeles Times
Plus: California's new Legislature will look a lot like the old one — and that's just what voters ordered. Los Angeles Times
Remember, he was reelected: The trial for Rep. Duncan Hunter (R-Alpine) and his wife and former campaign manager, Margaret, has been set for Sept. 10. San Diego Union-Tribune
A new housing crisis proposal: State Sen. Ben Allen (D-Santa Monica) is proposing a 2020 ballot measure that would remove from the California Constitution a provision that makes it harder to build low-income housing. Los Angeles Times
CRIME AND COURTS
New sheriff in town: Just days after the final ballots were counted in a closely watched election that awarded him a stunning win, Alex Villanueva was sworn in Monday as Los Angeles County sheriff, promising to steer one of the nation's largest law enforcement agencies toward a new era of change. Los Angeles Times
Beverly Hills cop: Despite repeatedly denying allegations of harassment and workplace misconduct against its police chief, Beverly Hills has agreed to pay $2.3 million to settle a lawsuit, closing the first of roughly 20 complaints filed against her in the last two years. Los Angeles Times
A voice from the Bay Area: Ray Taliaferro, a longtime journalist and radio host, was found dead in Paducah, Ky., three weeks after he had been reported missing, his family said. SF Gate
CALIFORNIA CULTURE
News from Dodgerland: The Dodgers maintained their objective was to sign manager Dave Roberts to a long-term contract since their season ended in late October. They were confident they would cross it off their lengthy offseason to-do list. It was just a matter of time. On Monday, more than a month after the team's season ended with another World Series appearance under Roberts, the Dodgers announced they had signed their manager to a four-year deal. Los Angeles Times
Holding off: The announcement of the nominations for the Grammy Awards is being delayed so as not to compete with the coverage of George H.W. Bush's memorial services. Los Angeles Times
In Silicon Valley: The friendship that made Google huge. The New Yorker
The Clippers' Doc Rivers holds forth: "What I've learned in 20 seasons as an NBA head coach." The Undefeated
Save our stadium? A plea to save the Oakland Coliseum. Curbed San Francisco
CALIFORNIA ALMANAC
Los Angeles area: Partly cloudy, 68, Tuesday. Showers, 59, Wednesday. San Diego: Partly cloudy, 68, Tuesday. Showers, 64, Wednesday. San Francisco area: Showers, 53, Tuesday. Showers, 54, Wednesday. San Jose: Showers, 56, Tuesday and Wednesday. Sacramento: Cloudy, 52, Tuesday. Partly cloudy, 53, Wednesday. More weather is here.
AND FINALLY
Today's California memory comes from Jonathan Mendoza:
"After moving from Iowa and settling in Southern California, I was pleased to explore and learn how unique and beautiful California is! Living with both of my parents and having ample time to do a lot of things, I took time to enjoy the beautiful beaches and the cool, fresh water during the summer, and enjoying the scenery and the food California has to offer. Even though there were struggles for my family, we made the best of our time in enjoying the very little things in life that matter so much. That's why I will always embrace my beautiful home in California!"
If you have a memory or story about the Golden State, share it with us. Send us an email to let us know what you love or fondly remember about our state. (Please keep your story to 100 words.)
Please let us know what we can do to make this newsletter more useful to you. Send comments, complaints and ideas to Benjamin Oreskes and Shelby Grad. Also follow them on Twitter @boreskes and @shelbygrad.
---