Newsletter: Essential California: New revelations in the ex-USC gynecologist investigation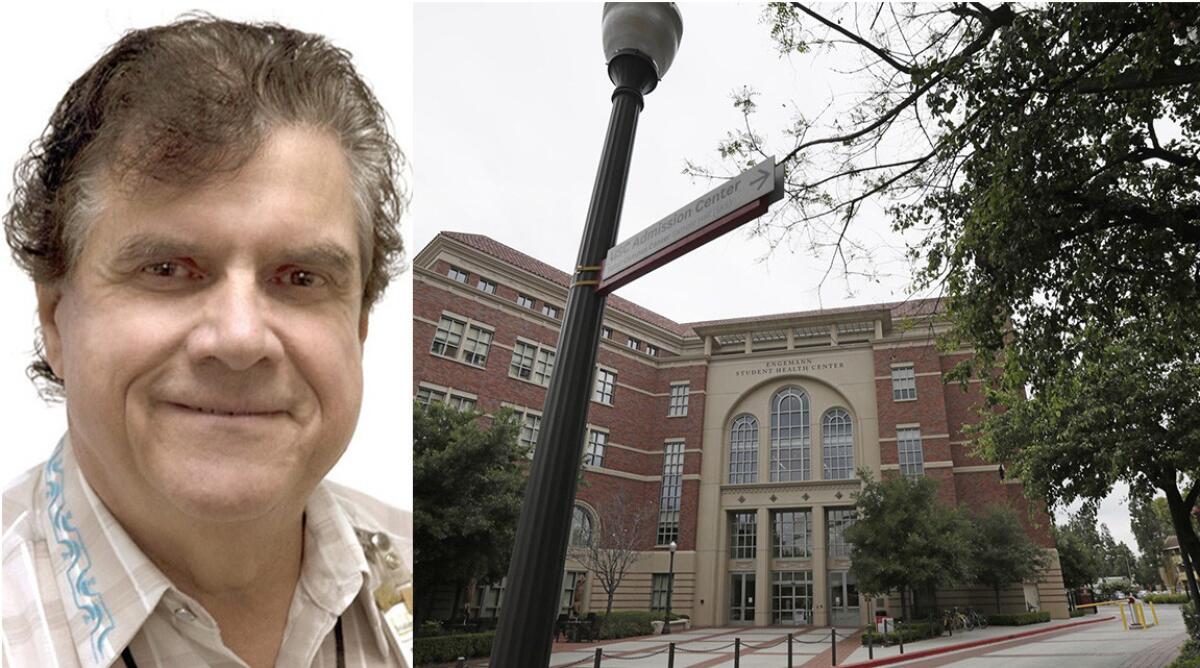 Good morning, and welcome to the Essential California newsletter. It's Wednesday, Dec. 12, and here's what's happening across California:
TOP STORIES
Shortly after Los Angeles police launched an investigation into Dr. George Tyndall last spring, a team of detectives began surreptitiously following the former USC gynecologist. The 71-year-old passed most of his days inside a condominium he owns near Lafayette Park, but on at least two occasions, Tyndall drove to a self-storage facility and spent time inside the rental unit, police said. When investigators later raided the unit, they found a trove of homemade pornography and a smaller set of photos of unclothed women in what appeared to be a medical exam room, according to LAPD Capt. Billy Hayes. Those images have become part of the investigation into whether Tyndall sexually abused hundreds of students over his three-decade career at USC's student health center. Tyndall denied the allegations through his lawyer, Leonard Levine, who said in a statement, "Dr. Tyndall is adamant that he has never sold, traded or shared any images of patients he examined while conducting medical examinations at USC." Los Angeles Times
Plus: Some USC students say their new sexual abuse hotline is a disappointment. LAist
A rare prosecution
For the first time in nearly 20 years, a Los Angeles County law enforcement officer has been charged with killing an unarmed civilian while on duty. Luke Liu is accused of shooting Francisco Garcia at a Norwalk gas station in 2016, according to a complaint filed by the Los Angeles County district attorney's office. Liu, appearing in a downtown courtroom on Tuesday, pleaded not guilty to a charge of voluntary manslaughter and to a special allegation of intentionally discharging a firearm which caused death. Los Angeles Times
Huge new development approved
The Los Angeles County Board of Supervisors has voted to approve the Centennial project at Tejon Ranch, clearing the way for a hotly debated master-planned community in a private wilderness area at the county's edge. "This is not just another sprawl project," said Supervisor Kathryn Barger, who represents the district where Centennial will be located. She described it instead as "a forward-looking way of governance" that will help address California's housing crunch and bring economic opportunities. Environmental groups argue that it will destroy an important natural habitat and worsen greenhouse gas emissions. Los Angeles Times
Get the Essential California newsletter »
L.A. STORIES
Speeding up to crack down: Los Angeles officials have raised speed limits on more than 100 miles of streets, saying the increases are the best way to quickly resolve a years-long problem that has prevented police officers from ticketing speeding drivers across the city. Los Angeles Times
Sold! For CBS Corp., the price was right. The company announced it has sold its Television City headquarters and active sound stages near Farmers Market and the Grove for $750 million to Los Angeles-based real estate developer Hackman Capital Partners. Los Angeles Times
Exam season interrupted: A letter discovered in a building at Cal State Northridge that threatened a mass shooting has prompted school officials to provide off-campus alternatives for final exams Wednesday. Los Angeles Times
Sad story: After her losing job and missing a DWP payment, Eva Flores is being evicted from San Fernando Gardens public housing. Los Angeles Daily News
IMMIGRATION AND THE BORDER
In D.C.: In a combative Oval Office meeting that previewed what a divided government may look like, President Trump sparred with Democratic leaders and said he'd be "proud" to shut down the government later this month unless Congress provides taxpayer money to build his long-promised border wall with Mexico. Los Angeles Times
Ouch: After the encounter, Pelosi told fellow Democrats in a closed-door meeting, according to an aide in the room, that Trump's push for a wall is "like a manhood thing for him — as if manhood could ever be associated with him." Los Angeles Times
Tear gas aftermath: After photos emerged of tear gas use on child migrants, a top U.S. border official going before Congress defended its use. Los Angeles Times
POLITICS AND GOVERNMENT
Shakeup: The California Democratic Party fired seven top staffers Monday and Tuesday as part of the continuing fallout over the misconduct allegations surrounding former party Chairman Eric Bauman. Los Angeles Times
Tough words for the governor: Columnist Robin Abcarian says California college students who want abortions were slapped in the face by Jerry Brown. Los Angeles Times
A darling of the right: How Hollywood invented Ben Shapiro. Vanity Fair
Mobilizing: "Silicon Valley billionaire Reid Hoffman has teamed up with several former Obama administration officials to create an independent — and likely for-profit — database that would store all of the progressive community's voter data." Politico
CRIME AND COURTS
Katy Perry and the nuns: The developer behind an effort to convert a vacant Presbyterian Church in the heart of Silver Lake into a 25-room boutique hotel is selling her stake in the project a year after losing a high-profile legal battle with pop singer Katy Perry and the Los Angeles Archdiocese over a former convent in Los Feliz. Los Angeles Times
Different nuns: "Under mounting pressure and a national media glare, the Archdiocese of Los Angeles now plans to support criminal charges against two longtime nuns accused of embezzling as much as $500,000 from St. James Catholic School in Torrance." Daily Breeze
Scary: A homeless man was arrested Monday night in Santa Ana after police say they found a loaded gun and hundreds of rounds of ammunition inside a shed at a city-owned park where the man was staying. Los Angeles Times
Overlooked: Is California failing its most vulnerable adults? FiveThirtyEight
Plus: Another tragic story about someone slipping through the cracks of the state's mental health system. Orange County Register
Just sue, baby: The city of Oakland filed a federal antitrust and breach-of-contract lawsuit against the NFL on Tuesday over the relocation of the Raiders to Las Vegas, contending the move to Nevada is illegal. Los Angeles Times
THE ENVIRONMENT
They're back! Rockfish have made a remarkable recovery off the California coast, prompting federal officials to raise catch limits. Los Angeles Times
Hit the slopes: A wet start to the winter has brought piles of snow to the mountains and high hopes for the state's water supply. Los Angeles Times
Powering up: "California is dominating other states in electric vehicle adoption." Axios
Looking ahead: "Gov. Jerry Brown explains the challenges facing his state in trying to prevent more deadly wildfires in coming years." NPR
CALIFORNIA CULTURE
Hot stove heating up: The Dodgers have hinted at their game plan as the wheeling and dealing begins at the Baseball Winter meetings in Las Vegas. Los Angeles Times
Awkward: This top FTC official is so conflicted, he has to leave the room if Facebook gets mentioned, consumer columnist David Lazarus writes. Los Angeles Times
Why wait? Zillow will buy your home directly. And it just brought the service to parts of Southern California. Los Angeles Times
We're all ears: How the local public radio station in Chico has managed through the Camp fire. Current
CALIFORNIA ALMANAC
Los Angeles area: partly cloudy, 65, Wednesday; sunny, 73, Thursday. San Diego: sunny, 65, Wednesday; sunny, 72, Thursday. San Francisco area: partly cloudy, 60, Wednesday; partly cloudy, 59, Thursday. San Jose: partly cloudy, 61, Wednesday; partly cloudy, 64, Thursday. Sacramento: partly cloudy, 61, Wednesday; partly cloudy, 58, Thursday. More weather is here.
AND FINALLY
Today's California memory comes from Laura Santos:
"In May 1959, my family moved from Colorado to Los Angeles. 'The Wonderful World of Disney' was my favorite television program, so I expected to step off the airplane and see Disneyland across the street. That did not happen, but I was not disappointed. I was fascinated by so much, especially the palm trees, which I had never before seen. Tilting my head way back to watch a tall palm sway in the breeze was so beautiful and kind of scary. I'd never seen a tree trunk bend and move, so I was afraid it would fall on me."
If you have a memory or story about the Golden State, share it with us. Send us an email to let us know what you love or fondly remember about our state. (Please keep your story to 100 words.)
Please let us know what we can do to make this newsletter more useful to you. Send comments, complaints and ideas to Benjamin Oreskes and Shelby Grad. Also follow them on Twitter @boreskes and @shelbygrad.
Sign up for Essential California for news, features and recommendations from the L.A. Times and beyond in your inbox six days a week.
You may occasionally receive promotional content from the Los Angeles Times.