Newsletter: Essential California: How an expensive Big Sur wedding led to a new app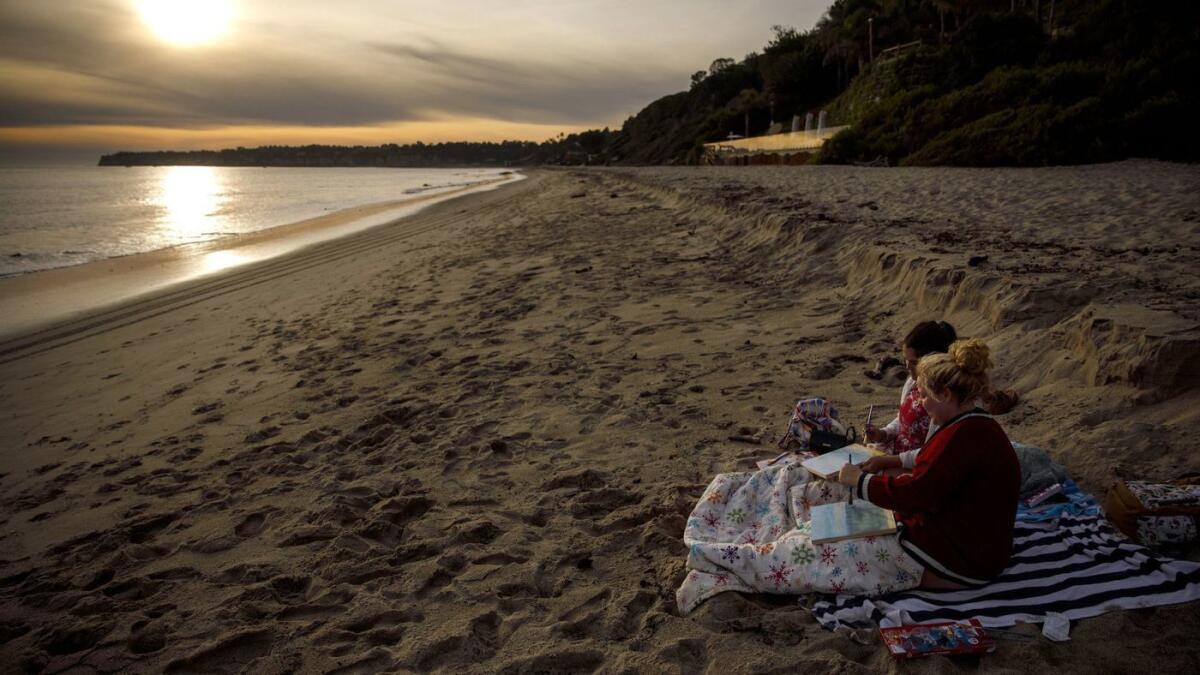 Good morning, and welcome to the Essential California newsletter. It's Friday, Dec. 14, and here's what's happening across California:
TOP STORIES
When a seaside property owner blocks beach access with a gate, the California Coastal Commission can order it removed. When a developer builds along the coast without permission, the agency can rain down millions in fines. But when tech billionaire Sean Parker chose a wedding venue in violation of the California Coastal Act, the state settled on a far more creative form of restitution: a mobile app. Los Angeles Times
Turn it all off!
Electric utilities are under increasing pressure to shut down power lines during dangerous weather conditions to stop fires from sparking. State officials want to make sure those shutoffs don't do more harm than good. The California Public Utilities Commission has voted unanimously to begin crafting new rules for turning off electricity when fire risk is high. The agency's move follows a second straight year of devastating wildfires across California, some of which were started or may have been started by electric utility equipment. Los Angeles Times
Heartbreaking: Many victims of California's worst wildfire were elderly and died in or near their homes, new data show. Los Angeles Times
Helping displaced families: "The Federal Emergency Management Agency wants to put 405 mobile or manufactured homes on a site in Gridley, in addition to the 250-home group site in Chico that was subject of a Chico City Council meeting Wednesday." Chico Enterprise-Record
Questions of liability: Just days after a lawsuit blamed Pacific Gas & Electric's equipment for California's deadliest wildfire, the company has submitted a letter to regulators saying they found bullet-riddled equipment near a second, potential ignition point for the blaze. Los Angeles Times
Death penalty decline
In 2015 and again in 2017, Riverside County held the grim distinction of sending more people to death row than any other county in the nation. But so far this year, no one in Riverside County has been sentenced to death, reflecting a trend seen in California and across the country, according to a new report by the Death Penalty Information Center. Five California counties, among the 10 with the most death sentences nationwide in the past five years, either had no sentences or only two. Los Angeles Times
Get the Essential California newsletter »
L.A. STORIES
More jobs coming this way: Apple said it is ramping up its staff in Culver City as it looks to become a bigger player in Hollywood. Los Angeles Times
Just in time for the holidays: A new pop-up is selling cactus trees for a very L.A. Christmas. Los Angeles Times
Pro-growth agenda: Inside California's legislative movement toward more affordable housing. Pacific Standard Magazine
RIP: Actor and activist Rodney Kageyama, a Little Tokyo icon who danced to his own beat, has died at 77. Los Angeles Times
They're back: The Chargers clinched the team's first playoff berth since 2013. Los Angeles Times
IMMIGRATION AND THE BORDER
The wall that wasn't: How Trump let his goal of building a border wall slip away. Bloomberg
Your tax dollars at work: U.S. Customs and Border Protection paid a firm $13.6 million to hire recruits. It hired two. NPR
Sad story: "A 7-year-old girl from Guatemala died of dehydration and shock after she was taken into Border Patrol custody last week for crossing into the United States illegally with her father and a large group of migrants along a remote span of New Mexico desert, U.S. Customs and Border Protection said Thursday." Washington Post
POLITICS AND GOVERNMENT
Culture clash: As UC Santa Barbara enrolls more students from China, faculty members complain of cheating and poor English skills. Los Angeles Times
On the horizon: L.A. teachers could strike a few weeks from now. Here's what you need to know. Los Angeles Times
New administration, new plans: Internal documents describe how Gov.-elect Gavin Newsom could accomplish universal health care. Politico
Buh-bye: The chief justice of the California Supreme Court is leaving the Republican Party, citing the confirmation hearings for U.S. Supreme Court Justice Brett M. Kavanaugh. CALmatters
CRIME AND COURTS
Guilty: A jury found the Mongols motorcycle club guilty in a federal racketeering case. The verdict moves the U.S. government a step closer to its goal of seizing the gang's trademarked insignia. Los Angeles Times
Ugly stuff: Graffiti scrawled on concrete outside Nogales High School in La Puente that threatens a school shooting next week has prompted an increased law enforcement presence on campus, officials said Thursday. Los Angeles Times
Fun times in the Inland Empire: Why a former San Bernardino County assessor is headed to state prison — not county jail — for a corruption conviction. San Bernardino Sun
Medical board leniency: "In California, doctors accused of sexual misconduct often get second chances." California Healthline
Flashback Friday: There's a new book out about the scandal that unfolded in Bell. Los Angeles Review of Books
THE ENVIRONMENT
Empty coffers: Southern California Edison is short nearly $1 billion in its power budget — and it's hoping to charge a big chunk of that money to customers leaving for another energy provider. Los Angeles Times
Replenishing the environment: In an unprecedented step, state regulators adopted standards that would force San Francisco and several big San Joaquin Valley irrigation districts to give some of their river supplies back to the environment. Los Angeles Times
CALIFORNIA CULTURE
The big picture: Los Angeles' proposed vegan food mandate can't see the salad for the greens, writes columnist Gustavo Arellano. Los Angeles Times
Big step: Virgin Galactic reaches suborbital space for the first time. Now it's closer to flying customers there. Los Angeles Times
SMH: "Journalists working as fact-checkers for Facebook have pushed to end a controversial media partnership with the social network, saying the company has ignored their concerns and failed to use their expertise to combat misinformation." The Guardian
Some reinforcements: The Dodgers are set to bolster their bullpen by reaching an agreement to sign hard-throwing right-hander Joe Kelly to a three-year contract worth $25 million. Los Angeles Times
CALIFORNIA ALMANAC
Los Angeles area: sunny, 74, Thursday; partly cloudy, 68, Friday. San Diego: partly cloudy, 70, Friday; partly cloudy, 69, Saturday. San Francisco area: showers, 58, Friday; cloudy, 59, Saturday. San Jose: partly cloudy, 61, Friday; partly cloudy, 64, Saturday. Sacramento: cloudy, 59, Friday; partly cloudy, 61, Saturday. More weather is here.
AND FINALLY
Today's California memory comes from Bunny Withers:
"There are so many memories of DTLA: riding the Red Car to get downtown with my mom and siblings; the exciting and beautiful Christmas displays at Bullock's every year; our mom taking us to Green's Shoe Store in an arcade on Broadway for shoes; club sandwiches at Woolworth's; riding the bus from L.A. High School to Bullock's with girlfriends; my very first job at Bullock's August clearance. I bought all of my school clothes for college with one week's salary; and lastly, buying our wedding bands in the original Jewelry Mart that was across the street from Bullock's. Good times..."
If you have a memory or story about the Golden State, share it with us. Send us an email to let us know what you love or fondly remember about our state. (Please keep your story to 100 words.)
Please let us know what we can do to make this newsletter more useful to you. Send comments, complaints and ideas to Benjamin Oreskes and Shelby Grad. Also follow them on Twitter @boreskes and @shelbygrad.
Sign up for Essential California for news, features and recommendations from the L.A. Times and beyond in your inbox six days a week.
You may occasionally receive promotional content from the Los Angeles Times.