Newsletter: Essential California: Who's watching over the safety of power lines?
Good morning, and welcome to the Essential California newsletter. It's Monday, Jan. 28, and here's what's happening across California:
TOP STORIES
Equipment owned by California's three largest utilities ignited more than 2,000 fires in three and a half years — a time span in which state regulators cited and fined the companies nine times for electrical safety violations. How the state regulates utilities is coming under growing scrutiny after a string of unprecedented fires believed to be caused by power-line issues that have destroyed thousands of homes and killed dozens of people. Los Angeles Times
Recruiting customs agents
Two years after President Trump signed orders to hire 15,000 new border agents and immigration officers, the administration has spent tens of millions of dollars in the effort — but has thousands more vacancies than when it began. In a sign of the difficulties, Customs and Border Protection allocated $60.7 million to Accenture Federal Services, a management consulting firm, as part of a $297-million contract to recruit, vet and hire 7,500 border officers over five years, but the company has produced only 33 new hires so far. Los Angeles Times
Kamala's quest
Kamala Harris formally launched her Democratic bid for president on Sunday with a blunt speech directed at President Trump and a promise to unify a country deeply riven along social, cultural and political lines. Speaking from the steps of Oakland's flag-bedecked City Hall plaza, to a crowd that spilled over several downtown blocks, Harris depicted her candidacy as a fight against those "trying to sow hate and division." Los Angeles Times
Plus: Harris emerges as a 2020 front-runner, but is that a good thing? Los Angeles Times
And: California's big, but South Carolina may be key in Harris' presidential run. Los Angeles Times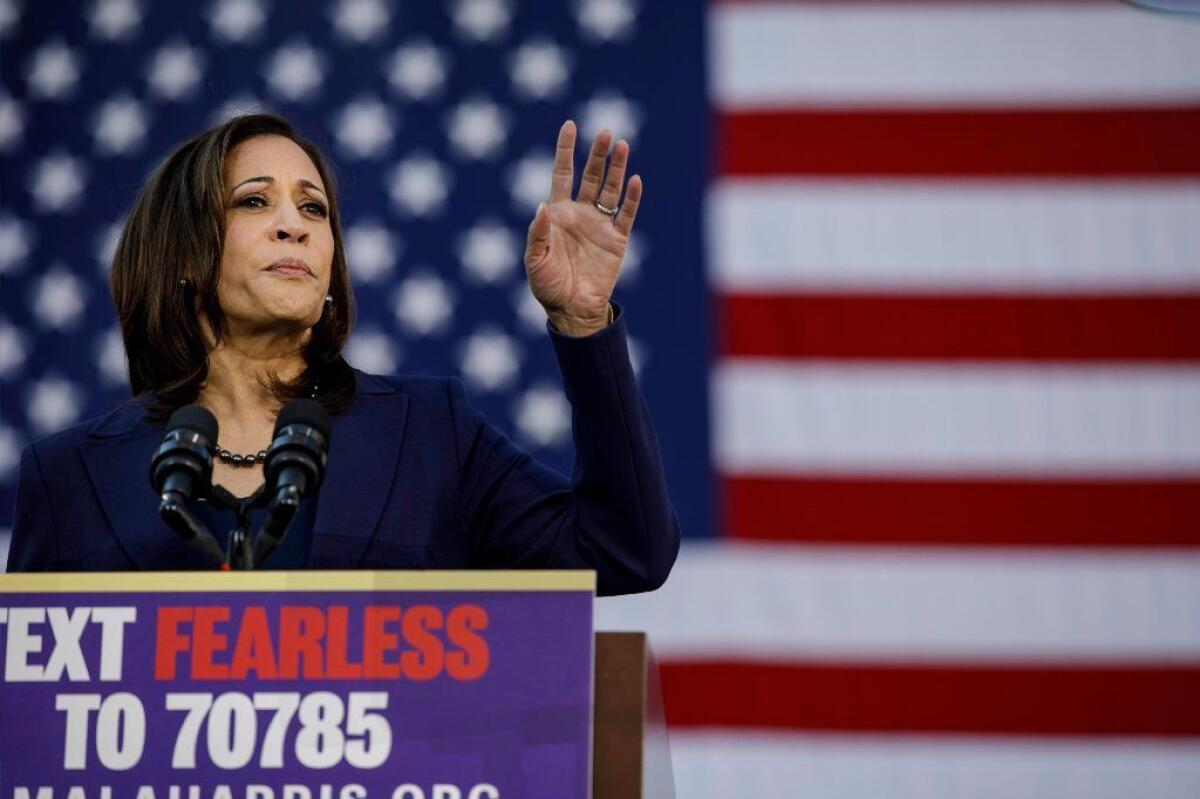 Get the Essential California newsletter »
L.A. STORIES
RIP: There were so many flannel shirts, beers and cowboy boots, it could have been a night at Borderline Bar and Grill. But here, half a mile away at Los Robles Greens golf course in Thousand Oaks, a toast Saturday night in memory of Telemachus Orfanos occurred underneath a starry sky. Los Angeles Times
Back to teaching: Occidental College President Jonathan Veitch, who weathered turbulent campus protests over sexual assault and racial inequity, will step down next year, the Board of Trustees announced Sunday. Los Angeles Times
History lesson: How a dusty road became the Sunset Strip, "the most famous place in L.A. to misbehave." Curbed LA
One opinion: "Gentrification is failing in Los Angeles." Los Angeles Daily News
Boys in blue: Dodgers President Stan Kasten rejects premises about offseason. Los Angeles Times
IMMIGRATION AND THE BORDER
Steve Lopez checks in: In the heart of California, a sheriff makes a case for a middle ground on immigration. Los Angeles Times
Farm report: Could California produce soon cost you more? Farms face labor shortages and immigration woes. USA Today
In San Bruno: A so-called "red notice" from Interpol isn't an arrest warrant. Yet ICE used the existence of one as the reason to detain a mother from El Salvador. BuzzFeed
POLITICS AND GOVERNMENT
Great tick-tock: Learn more about the epic all-nighter that led to the end of the teacher's strike. Los Angeles Times
Plus: The effects of the L.A. teachers' strike ripple across California and beyond. Los Angeles Times
A question in Sacramento: Does California needs an ombudsman to weigh the release of government documents? Los Angeles Times
CRIME AND COURTS
War crimes case: New details in the case against a Navy SEAL charged with multiple war crimes emerged during a marathon hearing at Naval Base San Diego. Los Angeles Times
Under review: The Los Angeles Police Department is investigating a top commander whose unmarked police car was involved in a collision Thursday night and found abandoned in Carson. Los Angeles Times
THE ENVIRONMENT
Shutdown's effects: As Joshua Tree reopens, there's anger over damage to the economy and environment. Los Angeles Times
Fifty years later: The 1969 Santa Barbara oil spill was an environmental "shot heard around the world." Ventura County-Star
CALIFORNIA CULTURE
Wakanda forever: An Oscar season that has had no clear, sustained front-runner took another twist at Sunday evening's Screen Actors Guild Awards, as Hollywood's actors — representing the largest voting bloc of the motion picture academy — gave their highest honor to "Black Panther." Los Angeles Times
Big moves: Level Forward, a female-led studio founded after the Harvey Weinstein misconduct allegations, is backing an effort to break Hollywood's glass ceiling by getting more women hired for jobs at studios and on film and television productions. Los Angeles Times
Art maven: Lyn Kienholz, a tireless advocate for Los Angeles artists, dies at 88. Los Angeles Times
In San Diego: The Navy's newest destroyer, the Michael Monsoor, is as much an experiment as a ship-killer. Los Angeles Times
Stop abusing the refs! There's a shortage of high school referees. Some feel parents are to blame. Modesto Bee
So cool: A blogger recorded her mom cooking Chinese food. Now, the 73-year-old is an Instagram darling. Washington Post
CALIFORNIA ALMANAC
Los Angeles area: Partly cloudy, 73, Monday. Partly cloudy, 74, Tuesday. San Diego: Cloudy, 68, Monday. Cloudy, 68, Tuesday. San Francisco area: Partly cloudy, 60, Monday. Partly cloudy, 59, Tuesday. San Jose: Partly cloudy, 66, Monday. Partly cloudy, 65, Tuesday. Sacramento: Cloudy, 61, Monday. Partly cloudy, 63, Tuesday. More weather is here.
AND FINALLY
This week's birthdays for those who made a mark in California:
Rep. Linda Sanchez (Jan. 28, 1969), media executive Oprah Winfrey (Jan. 29, 1954) and composer Philip Glass (Jan. 31, 1937).
If you have a memory or story about the Golden State, share it with us. Send us an email to let us know what you love or fondly remember about our state. (Please keep your story to 100 words.)
Please let us know what we can do to make this newsletter more useful to you. Send comments, complaints and ideas to Benjamin Oreskes and Shelby Grad. Also follow them on Twitter @boreskes and @shelbygrad.
Get our Essential Politics newsletter
The latest news, analysis and insights from our politics team.
You may occasionally receive promotional content from the Los Angeles Times.