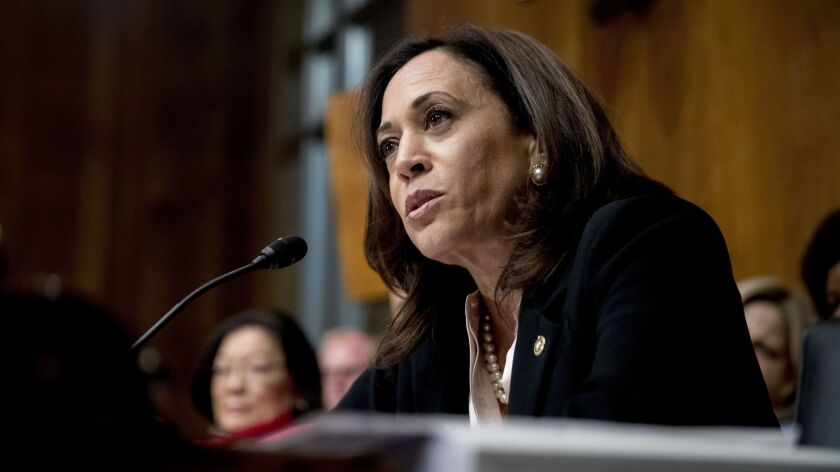 Good morning, and welcome to the Essential California newsletter. It is Saturday, June 1. Here's a look at the top stories of the last week.
WEEK IN REVIEW
Weekend politics. The California Democratic Party convention kicked off yesterday in San Francisco and runs through Sunday, with most of the 2020 candidates expected to appear to campaign for nominations. But what of Sen. Kamala Harris, who, after a dazzling debut, has fallen from the top of the presidential pack?
[Here's yesterday's newsletter with more of what to expect from the convention this weekend. Plus, a calendar of key dates on the 2020 presidential election calendar.]
Eviction notice. Los Angeles County is investigating whether an eviction notice sent to a 102-year-old woman at her longtime home in Ladera Heights violated temporary renter protections approved by lawmakers last year. The woman's situation has garnered the attention of many throughout the country, including former Gov. Arnold Schwarzenegger.
Are you ready? Star Wars: Galaxy's Edge finally opened at Disneyland yesterday. But the attraction is so ambitious, Todd Martens writes, that Disneyland fans may not be ready for it.
Mammoth snow levels. Thanks to record snowfall, Mammoth Mountain Ski Area will stay open to skiers and snowboarders into August, something that has only happened twice before in the resort's history.
"Blood sport." The neighborhood of Koreatown is Los Angeles County's densest area, with 40,000 people jammed into each square mile. As a result, the rhythms of daily life for Koreatown residents revolve around the scarcity of street parking.
For a fee. While examining a Westside private high school's role in the college admissions scandal, The Times discovered a diploma-for-fee arrangement in which non-students could receive a diploma simply by taking a test and paying $280.
Unlikely friendship. "Family Guy's" Seth MacFarlane once called members of the Parents Television Council, a conservative TV watchdog group, "literally terrible human beings." Today, he and the PTC president are unlikely friends.
"Buck wild." School board meetings in the Antelope Valley have turned into must-see theater in recent months amid allegations of state law violations, racism and nepotism. The high desert district of 22,000 students has been roiled by political infighting and protests.
A community home. The gay rights movement in Los Angeles, one could argue, started not in a bar, with beer bottles crashing under the glow of neon, but in a tiny restaurant serving doughnuts 60 years ago last month.
Abortion rights. Disney Chief Executive Bob Iger has signaled that Georgia's long-standing and lucrative relationship with Walt Disney Co. could be headed for a breakup over the state's new, restrictive abortion law.
ICYMI, HERE ARE THIS WEEK'S GREAT READS
An old battle returns: A transgender soldier who fought to wear the Army uniform wonders if it still fits. Los Angeles Times
When the music's over: Making sense of the passionate life and inconceivable death of Gary Stewart. Los Angeles Times
More Lakers drama: A major deep dive on the failed reboot of the NBA's crown jewel. ESPN
Get the Essential California newsletter »
THIS WEEK'S MOST POPULAR STORIES IN ESSENTIAL CALIFORNIA
1. L.A.'s 13 best beaches, mapped. Curbed LA
2. A spring snowstorm turns Yosemite into a stunning wonderland. Fresno Bee
3. The 15 things to do in L.A. before the end of summer. Los Angeles Times
4. The Michelin Bib Gourmand list returns to California. Los Angeles Times
5. How the Beatles really ended up at a garden party in Brentwood. Los Angeles Magazine
LOOKING AHEAD
Saturday Recommendation: The public art outside Ernst & Young Plaza in downtown Los Angeles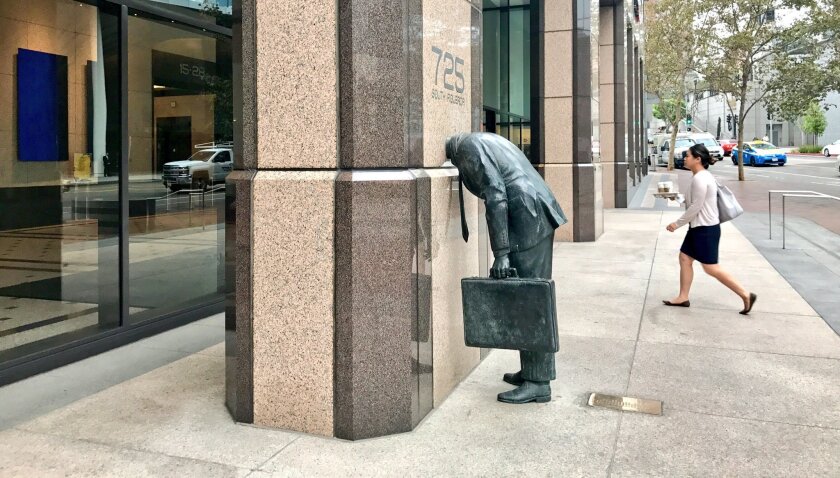 Office tower public art is rarely good, let alone great. The combination of corporate money, committees and bureaucracy isn't exactly conducive to stirring the soul, after all. The results usually end up falling somewhere between milquetoast and actively alienating (though some pieces do manage to be both, and those deserve their own special kind of applause).
Then there is Terry Allen's 1990 sculpture "Corporate Head," which deserves a category all its own. The bronze work, which abuts the stately entrance to Ernst & Young Plaza in downtown Los Angeles, depicts an oversize businessman — suit, briefcase and all — burying his head into the side of the building in a near-bow. It's paired with a poem by former U.S. Poet Laureate Philip Levine, which is also titled "Corporate Head."
"Corporate Head" is part of a multi-piece series of collaborative works called "Poet's Walk," all of which can be found near the intersection of 7th and Figueroa streets in downtown Los Angeles.
Erected in the shadow of a hulking skyscraper that was built as the California headquarters for a multinational investment bank, "Corporate Head" is a wry critique of corporate culture and the profit-at-all-costs excesses of the 1980s. (Don't take my word for it, that interpretation comes from no less a source than the real estate company that operates the building!)
Prudential Realty, which owned the building at the time the sculpture was erected, originally found the concept "unacceptable," but the artist and the poet stood their ground.
Allen had almost always said no to "outdoor art" commissions before embarking on "Corporate Head."
"They always strike me as pointless embellishments that exist just because somebody needed to prove they could afford a big lump of art," he told The Times in 1990. "It seems like it ought to mean more than that."
Below is the full text of Levine's poem, which is inscribed on a plaque adjacent to the base of the sculpture:
They said I had a head for business
They said to get ahead
I had to lose my head.
They said be concrete
& I became
concrete.
They said,
go, my son,
multiply,
divide, conquer.
I did my best.
Please let us know what we can do to make this newsletter more useful to you. Send comments, complaints, ideas and unrelated book recommendations to Julia Wick. Follow her on Twitter @Sherlyholmes. (And a giant thanks to the legendary Diya Chacko for all her help on the Saturday edition!)
---