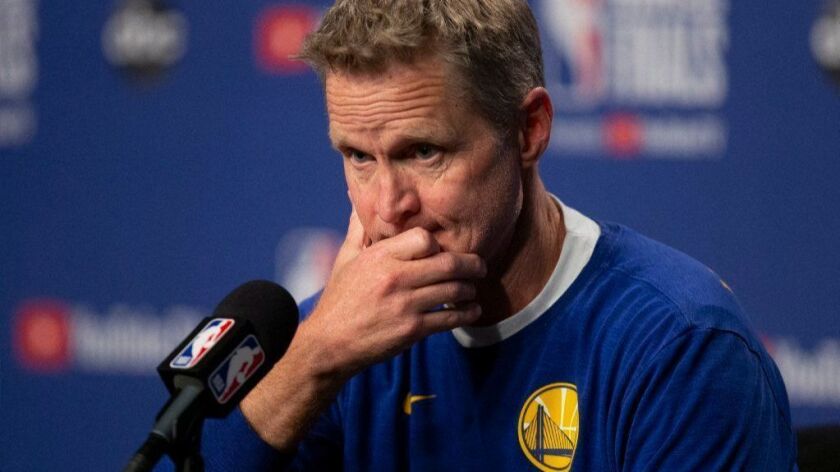 Good morning, and welcome to the Essential California newsletter. It's Monday, June 10, and here's a quick look at the week ahead:
On Monday, the Golden State Warriors will face off against the Toronto Raptors in Game 5 of the NBA Finals. The Raptors lead the Warriors 3-1, so tonight's game at Toronto's Scotiabank Arena will be do-or-die time for the California team. A few things to watch for and highlights from past games:
A Northern California heat wave is likely to continue through Monday, with heat advisories issued for much of the Bay Area.
The Electronic Entertainment Expo (or E3, as it's widely known) officially kicks off Tuesday in Los Angeles, though a few presentations happened over the weekend. E3 is one of the gaming industry's biggest events of the year. Xbox unveiled details about its new game console Sunday, and Nintendo will present Tuesday.
Also Tuesday: Tesla will hold its annual shareholder meeting, which will be livestreamed. The formal agenda will probably be uneventful, per industry analysts, but everyone will be watching what Elon Musk has to say. Tesla Model 3 sales rose in May, but demand still hasn't fully recovered.
Wednesday marks the 25th anniversary of the deaths of Nicole Brown Simpson and Ronald Goldman in the Los Angeles suburb of Brentwood. O.J. Simpson was famously acquitted on murder charges but later found liable for the deaths in a civil suit brought by Goldman and Brown Simpson's families. Here's how The Times covered the deaths that week.
Game 6 of the NBA Finals will be held Thursday, if the Warriors make it that far.
Friday: UCLA's commencement will feature Anna Lee Fisher, one of NASA's first female astronauts, as its main speaker.
Sometime late this week: State lawmakers are expected to vote on parts of the state budget in time to meet their constitutional deadline of June 15. On Sunday, Gov. Gavin Newsom and Democratic legislative leaders announced the broad outlines of a new state budget, signaling the end of key budget negotiations. The agreement provides a boost for California's low-income adults and children but abandons Newsom's plan for a controversial tax to pay for clean water in distressed communities.
And now, here's what's happening across California:
TOP STORIES
Fire season has sadly begun in California. A fast-moving wildfire broke out Saturday afternoon in rural Yolo County in Northern California, and the Sand fire continues to burn. PG&E also began deliberate blackouts early Saturday, as high winds created "red flag" conditions. A second round of blackouts Saturday night affected about 16,000 homes, including homes in Paradise, which was ravaged by the Camp fire last year. A faulty PG&E transmission tower was blamed for sparking the Camp fire, and the utility is under tremendous pressure to prevent further wildfires. Sacramento Bee
(See also: "At PG&E, a workforce on edge — and under attack — as fire season arrives" in the San Francisco Chronicle)
In Southern California, a wildfire broke out near Six Flags Magic Mountain in Valencia, spurring an evacuation of the amusement park and an adjacent water park. Los Angeles Times
The twin ports of Los Angeles and Long Beach have become ground zero in President Trump's trade war with China. For more than a century, the ports have thrived. But since the Trump administration began slapping tariffs on Chinese products, the ports' growth pattern has been upended. Los Angeles Times
Get the Essential California newsletter »
L.A. STORIES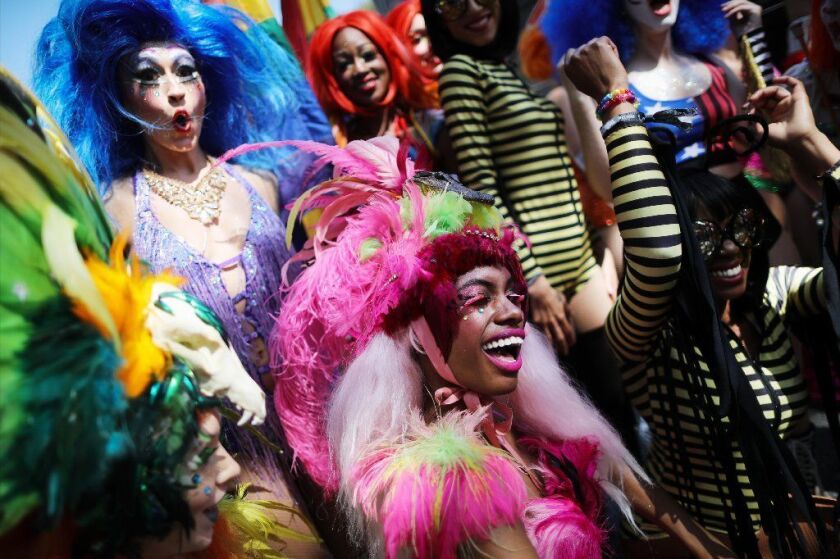 Thousands paraded on Santa Monica Boulevard to celebrate L.A. Pride on Sunday. From gay bashing to AIDS to same-sex marriage, here's a look at how the L.A. Pride parade has reflected hopes, dreams and despairs over the years. Los Angeles Times
Santa Anita racetrack denied a request from the California Horse Racing Board to suspend racing for the remaining six days of their season after a 28th horse died Saturday. A 29th horse died Sunday, hours after track officials denied the request from the horse racing board. Los Angeles Times
(For further context on the deaths at Santa Anita, see this Essential California interview with veteran sports reporter John Cherwa, who covers horse racing for The Times.)
The "Glee" cast reunited to perform a karaoke version of "Shallow" at a Los Angeles bar. Entertainment Weekly
Talks have resumed in the seemingly never-ending war between Hollywood writers and their agents. The Hollywood Reporter
Bicyclists were caught riding down L.A. freeways on two separate occasions last week. (Interestingly, California does not explicitly ban cyclists on freeways, as some rural areas have no alternate routes. Local jurisdictions, however, can institute their own prohibitions.) CBS 2
Your support helps us deliver the news that matters most. Subscribe to the Los Angeles Times.
POLITICS AND GOVERNMENT
The California Lottery director stepped down amid controversy and pressure from the governor's office. Los Angeles Times
Frustrations over a growing homelessness problem are coming to a head in a showdown between a dozen East Bay mayors and Alameda County officials over funding. San Francisco Chronicle
Fake "City of Redding" T-shirts that look an awful lot like the shirts that official city workers wear have been spotted for sale around the Northern California town. City officials took to Facebook to warn residents not to let anyone into their homes or vehicles without first seeing their city-issued ID card. KRCR-TV
CRIME AND COURTS
A surge of gun violence in Stockton has raised community concerns as residents, activists, law enforcement and public officials gathered for a "candid" and "at times emotional" neighborhood meeting. Stockton Record
THE ENVIRONMENT
Smoke from the Sand fire in Yolo County will continue to stream into the Bay Area on Monday. SF Gate
It's rattlesnake season. Here are 12 things you should know. Los Angeles Times
A Southern California earthquake swarm took an unexpected turn, and that's reason to worry. Los Angeles Times
CALIFORNIA CULTURE
California gun owners are stockpiling ammo before a new state background check law takes effect July 1. Los Angeles Times
Author and food expert Michael Pollan's Berkeley home is for rent. And yes, there's an edible garden. Realtor
Students at a Merced high school helped create their own mental health course. Valley Public Radio
The world's largest co-housing building (a "dorm for adults") is coming to San Jose. CityLab
El Tímpano aims to engage Oakland's Spanish-speaking residents with news via text. Nieman Lab
Uniformed cops were allowed to march in Sacramento Pride after a last-minute reversal. Their numbers included the city's highest-ranking LGBTQ cop, who retires Friday. Sacramento Bee
Ten dollars buys an abandoned mall in Bakersfield. Bakersfield Californian
Low-income students question whether Berkeley's venerable student co-ops are living up to their mission. San Francisco Chronicle
CALIFORNIA ALMANAC
Los Angeles: partly sunny, 84. San Diego: partly sunny, 78. San Francisco: partly sunny, 88. San Jose: partly sunny, 100. Sacramento: partly sunny, 103. More weather is here.
AND FINALLY
This week's birthdays for those who made a mark in California:
Retired 49ers quarterback Joe Montana (June 11, 1956), Rep. Lucille Roybal-Allard (June 12, 1941), Weezer frontman Rivers Cuomo (June 13, 1970), Dodgers pitching legend Don Newcombe (June 14, 1926) and rapper Ice Cube (June 15, 1969).
If you have a memory or story about the Golden State, share it with us. (Please keep your story to 100 words.)
Please let us know what we can do to make this newsletter more useful to you. Send comments, complaints, ideas and unrelated book recommendations to Julia Wick. Follow her on Twitter @Sherlyholmes.
---