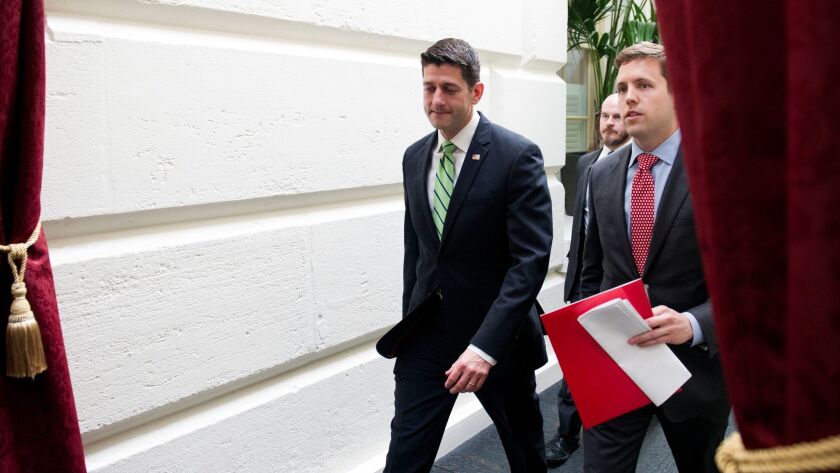 The prognosis for the GOP healthcare plan isn't too good. I'm Davan Maharaj, editor in chief of the Los Angeles Times. Here are some story lines I don't want you to miss today.
TOP STORIES
Repeal, Replace, Retreat?
It looks as if the third time won't be the charm. The latest version of the Republican effort to repeal and replace the Affordable Care Act is struggling for support, and a vote in the House seems unlikely before a recess at week's end. Some observers wonder how much longer the GOP will keep trying, especially in the face of all those protest calls and the fact that no major group representing doctors, hospitals or patients has backed the plan.
Why the President Praises Strongmen
To many, the list reads like a rogues' gallery: Kim Jong Un of North Korea, Rodrigo Duterte of the Philippines, Recep Tayyip Erdogan of Turkey, Abdel Fattah Sisi of Egypt. Trump isn't the first president to reach out to renegade world leaders, but the speed and manner with which he's doing so isn't business as usual. Trump's critics say it sends a dangerous message, while those closest to him say it's part of a strategy.
More Politics
— Trump suggested a possible government shutdown in September, as Democrats claimed victory in the budget battles this time.
— When life gives you lemons: The California citrus industry was livid over the Trump administration's decision to allow lemon imports from Argentina for the first time in 16 years.
— "If the election had been on Oct. 27, I would be your president": Hillary Clinton took some responsibility for her loss, but mostly blamed "a lot of funny business going on." Then Trump weighed in on Twitter.
A Luxe LAX Experience for the Haves
If going through Los Angeles International Airport seems nightmarish now, just wait till May 12, when Delta Air Lines moves terminals and 19 other carriers relocate. But if you have enough money, the pain of LAX can be reduced. For $7,500 a year, and $2,700 a flight, you can fly via the Private Suite, a terminal that caters to the super-rich. Columnist Steve Lopez got a taste of a service that promises an escape from long TSA lines and the paparazzi.
An Ounce of Homelessness Prevention for the Have-Nots
As L.A. County looks to combat homelessness, a new and largely unproven approach is emerging as a major component of the plan: spending more than $40 million over the next three years to prevent people from becoming homeless in the first place. It could be used to pay for rent, security deposits, moving expenses or legal aid. Based on recent tests, such a program would spend about $7,800 on each individual. In other words, about the same as that annual fee for the luxury LAX terminal.
The Art of Hollywood's Deal
Hollywood breathed a collective sigh of relief after the Writers Guild of America and the major studios reached a tentative agreement on a new film and TV contract. "We didn't get everything we wanted and they didn't get everything they wanted," said one person connected to the talks, "which is usually the result of a successful negotiation." (Washington, are you listening?) Here's how the deal shakes out for both sides.
From the NFL's Trenches to the Yoga Mat
As a center for the San Diego Chargers, Nick Hardwick consumed at least 7,000 calories a day to maintain his playing weight of nearly 300 pounds. But when neck injuries ended his career in 2014, he wanted to rid himself of the excess baggage, even if he was limited in what activities he could do. Since then, he's gone from lumbering lineman to health and fitness blogger.
MUST-WATCH VIDEO
— They know how to roll 'em: These champions at the craps tables are all about "hot dice."
— Here's what we learned from the spacecraft Cassini's missions from 2004 to 2017.
— Actress Lili Taylor goes in-depth on her Clair character from the show "American Crime."
CALIFORNIA
— A judge has delivered a new legal defeat to Los Angeles elected officials, striking down the city's approval of a Hollywood Target shopping center for the second time in three years.
— Records show federal agents seized about five dozen firearms worth tens of thousands of dollars from a high-ranking Pasadena police officer during a raid earlier this year.
— A legal dispute has broken out over the city of Los Angeles' decision to block access to one of the most direct hiking trails to the Hollywood sign.
— Los Angeles has hit a milestone: 4 million people and counting.
HOLLYWOOD AND THE ARTS
— There's no "Hamilton" equivalent in this year's Tony nominations, but theater critic Charles McNulty gives them kudos for rewarding inventive shows that take risks.
— After Jimmy Kimmel's son was born with a heart condition, the TV host called for bickering over healthcare to end.
— Dystopian apparel: The making of those blood-red robes in "The Handmaid's Tale."
— He's back: Milo Yiannopoulos is launching a new-media venture.
CLASSIC HOLLYWOOD
Where did Harold Lloyd, Howard Hughes, Mae West, Bing Crosby, the Marx Brothers, Cary Grant, Stan Laurel and Oliver Hardy make pictures? Where were the first two seasons of "I Love Lucy" filmed? At a 15-acre lot that opened in the heart of Hollywood in 1919. It just changed hands.
NATION-WORLD
— The Department of Justice won't bring federal civil rights charges against two police officers involved in the death of Alton Sterling, a black man whose shooting by police set off protests in Baton Rouge, La., last year.
— Former South Carolina police officer Michael T. Slager, who spent two years fighting charges in the shooting of Walter Scott, an unarmed black man, has pleaded guilty in his federal case.
— Venezuela is bracing for more demonstrations today as increasingly vocal activists protest the surprise plan by President Nicolas Maduro to draft a new constitution.
— Mexican authorities said they had arrested an accused drug gang leader reputedly involved in a bloody war for control of the Sinaloa cartel. It used to be headed by "El Chapo."
— North Korea has detained a third U.S. citizen, an accounting instructor, for alleged acts of hostility aimed at overthrowing the country.
BUSINESS
— Molina Healthcare, a major player in Obamacare health insurance markets, ousted its two top executives, citing poor financial results.
— Members of Congress told airline executives that if airlines don't work to fix customer service issues on their own, the government will need to step in.
SPORTS
— Baseball writer Bill Shaikin wants to know: Would you speak up against racist taunts at the ballpark?
— Columnist Dylan Hernandez says that Julio Cesar Chavez Jr., the son of Mexico's greatest fighter, wants his match against Canelo Alvarez to be epic, but his slacker reputation precedes him.
OPINION
— If the U.S. government won't fight to end police shootings, who will?
— Introducing the Trump Rule: Ignore every proposal he makes.
WHAT OUR EDITORS ARE READING
— Two parents who posted videos of themselves pulling disturbing "pranks" on their children have lost custody of two. (Washington Post)
— Why do some adults still see pediatricians, even well in to their 40s? (Stat)
— The not-so-funny science of laughter. (Scientific American)
ONLY IN L.A.
Doug Dracup has opened a place on South La Brea Avenue: It is part bong gallery, part coffee shop and part co-work space, with memberships at about $400 a month. In a cabinet are his high-end, hand-blown glass pipe creations, some which have been counterfeited. But, as he told columnist Robin Abcarian, "I haven't really had the financial means to deal with this. Also, I'm not sure I am ready to go into a courtroom and argue about bongs."
Please send comments and ideas to Davan Maharaj.
If you like this newsletter, please share it with friends.
---