President Trump has an important speech and series of meetings at the United Nations this week, yet his tweets and retweets struck a jarring note beforehand. Here are the stories you shouldn't miss today:
TOP STORIES
Trump Heads to the U.N., but First, Here's a GIF
President Trump will take to the world's biggest stage this week at the United Nations General Assembly, a gathering expected to focus on North Korea's growing nuclear and missile threat and other worrisome issues. But first, he had to tweet — referring to North Korean leader Kim Jong Un as "Rocket Man" — and retweet, including a doctored video showing Trump teeing up a golf ball that flattens Hillary Clinton, via an account whose handle we can't mention in a family newspaper. Many diplomats at the U.N. were already concerned about the president's less-than-diplomatic side as he gears up to give a speech Tuesday. But the real action may be in a series of one-on-one meetings Trump has planned for the week in his hometown of New York City.
More Politics
-- Iran's supreme leader warned that his country would respond strongly to "any wrong move" by the United States on the multilateral nuclear deal struck in 2015.
-- Secretary of State Rex Tillerson says the Trump administration may close the U.S. Embassy in Cuba after sonic attacks on staffers and their families.
-- Will they or won't they? Trump and his administration may be reconsidering pulling out of the Paris climate accord.
Emmys: The Good, the Bad and the Spicey
On a night of historic firsts at the Emmy Awards, one person who never won an Emmy was ever present for the second year in a row. Whether it was former White House Press Secretary Sean Spicer's surprise cameo, Stephen Colbert's comments as host, or Alec Baldwin's acceptance speech for his presidential role on "Saturday Night Live," Trump and the issues of race, gender and politics were the through-line of the night, as TV critic Lorraine Ali observes.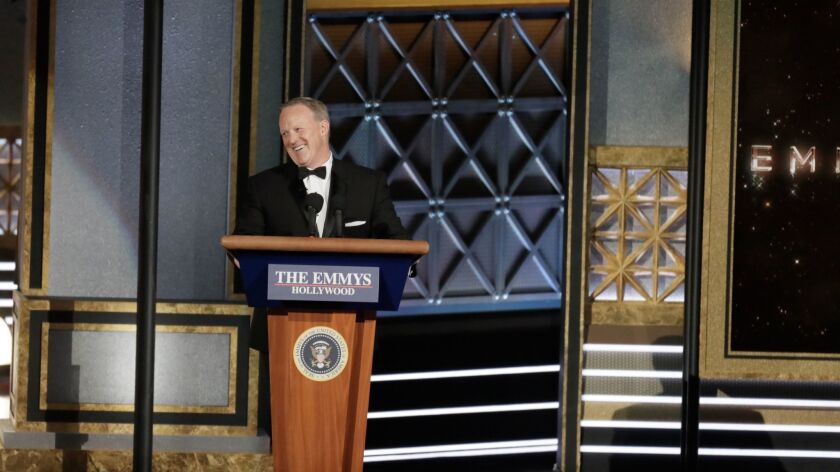 More Emmys
-- Hulu's "The Handmaid's Tale" became the first streaming show to win the awards' most prestigious prize as top drama, a landmark for the digital world.
-- More history: Donald Glover became the first black director to win an Emmy; Lena Waithe won after being the first black woman nominated for comedy writing; and Julia Louis-Dreyfus won a record-breaking sixth consecutive Emmy for her "Veep" role.
-- All the winners and nominees, plus the best- and worst-dressed on the red carpet.
The $24,250 Question
It's one of the most perplexing questions in the felony case facing L.A. school board President Ref Rodriguez: Why didn't he just write his campaign a big check instead of, as prosecutors allege, arranging for others to donate and then using his money to pay them back? "There are no limits on how much he can contribute of his own money," said Bob Stern, coauthor of the landmark California Political Reform Act. "So why would he do this?"
So Many Memories, Lost to a Storm
A favorite chair. An old piano. A clipping of an uncle's obituary. All of them have to be thrown in the trash. It's the ritual of disaster, playing out in Texas, Florida, the U.S. Virgin Islands and many other places that Hurricanes Harvey and Irma hit. This is the story of one family in Port Arthur, Texas, as its members sort through the past, piece by moldy piece.
Let's Get Real About California's Housing Crisis
Housing crisis? What housing crisis? That was the reaction from some readers to Steve Lopez's column last week about the dramatic increase in California real estate prices versus what the average person can afford to pay. Instead, they said the state just has too many people. But how do you solve that? Lopez offers some observations.
The Fight to Stop a Hepatitis Outbreak
With vaccinations, hand sanitizer and bleach-washing of the streets, San Diego health officials are battling the nation's second-largest outbreak of hepatitis A in decades. Sixteen people have died and, since November, more than 420 people have been infected with the virus, most of them homeless or users of illicit drugs. Though a related outbreak occurred in Santa Cruz, so far Los Angeles has been spared. Still, officials say it could easily spread.
OUR MUST-READS FROM THE WEEKEND
-- Fearful of Trump's America, asylum seekers from Haiti, Sudan, Turkey, Eritrea and beyond have been streaming into Canada in recent months.
-- Book review: Hillary Clinton's memoir "What Happened" says something revealing about America.
-- This L.A. mall is famous for its African American Santa Claus. Can it survive gentrification?
-- Behind the scenes of L.A.'s successful bid to bring back the Summer Olympics.
MUST-WATCH VIDEO
-- On the Emmys red carpet: What is the last show you had a strong emotional response to?
-- Canada. Binge-watching. Trump. It's time to play word association with the stars at the Toronto International Film Festival.
-- Inside Caltech's watch party for the Cassini spacecraft's final signal to Earth.
CALIFORNIA
-- After the election, "California versus Trump" became an instant rallying cry. But the resistance has been more complicated in real life, as seen in the "sanctuary state" bill.
-- UCLA closed a compounding pharmacy after a state inspection found it sent out drugs with expired and potentially dangerous ingredients.
-- A federal appeals court has upheld the state's ban on foie gras, a decision that played well with animal rights groups but not with many chefs.
-- UC Berkeley officials said that organizers of a far-right speakers' series missed the deadline to reserve two indoor venues, but that they will still work with them on planning the festival.
HOLLYWOOD AND THE ARTS
-- At 18 hours, the series "The Vietnam War" from Ken Burns and Lynn Novick is "both long, and somehow not long enough," writes TV critic Robert Lloyd.
-- Harry Dean Stanton, who died at age 91, was the rare character actor who was also a veritable household name.
-- Sonequa Martin-Green is about to boldly go where no black woman has gone before: the lead of the newest "Star Trek" series.
CLASSIC HOLLYWOOD
The first Emmy Awards ceremony took place at the Hollywood Athletic Club on Jan. 25, 1949, and honored only Los Angeles-based programming. Relatively few celebrities were in attendance and only six awards were handed out. See how things have changed with this Emmys timeline.
NATION-WORLD
-- In the U.S. Virgin Islands, devastated by Hurricane Irma, many feel their plight was ignored after the storm reached Florida. And another hurricane is on its way.
-- Two men were arrested in connection with Friday's subway bombing in London; meanwhile, the U.S. ambassador to the United Nations said Trump didn't intend to harm the investigation by tweeting about it.
-- Authorities say a woman who attacked four women from the United States with acid in Marseille, France, did not appear to have ties to terrorist organizations.
-- Forget Carnegie Hall. Musicians are going to rural Colorado to play the Tank, a rusty old water tank with amazing acoustic properties.
BUSINESS
-- Restaurants like Chili's, Applebee's, Ruby Tuesday and the Cheesecake Factory are looking for ways to heat up sales, which are down at mid-priced chains.
-- A look at how L.A.'s Halo Top low-sugar, high-protein concoction became America's bestselling ice cream pint at the supermarket.
SPORTS
-- In their L.A. debut, the Chargers gave fans a bad taste of the team's recent history in a 19-17 loss to the Miami Dolphins.
-- Columnist Bill Plaschke goes behind the scenes of USC football's dramatic victory over Texas this weekend.
OPINION
-- How to increase Cal State graduation rates without cheapening the degree.
-- A retired Associated Press reporter who covered the trial of Leslie Van Houten says the former Charles Manson follower has earned her freedom.
WHAT OUR EDITORS ARE READING
-- From the back room of his New York bodega, this man appears as a pundit on Egyptian TV. (New York Times)
-- A cancer researcher's story: "The week my husband left and my house was burgled I secured a grant to begin the project that became BRCA1." (Huffington Post UK)
-- The widow of Roald Dahl says the hero of "Charlie and the Chocolate Factory" was meant to be black, but the author's agent thought it was a bad idea. (BBC)
ONLY IN L.A.
The Dodgers may be known as the boys in blue, but some of their followers are much more specific: They're the fans in Pantone 294. It's the hue of their favorite team, which they wear wherever they go. That includes Yankee Stadium in New York and Petco Park in San Diego. This story and video show how the fan club known as Pantone 294 lets its blue freak flag fly — that is, when the flag isn't confiscated by ballpark security.
If you like this newsletter, please share it with friends.Comments or ideas? Email us at headlines@latimes.com.
---