Newsletter: Today: What's the Price of a Jet-Set Lifestyle?
Tom Price says "taxpayers won't pay a dime for my seat on those planes," but there's more to the story; the GOP tax plan may not give everyone a break; Puerto Rico's power grid needs rebuilding; and will there be a Playboy Mansion after Hugh Hefner? Here are the stories you shouldn't miss today:
TOP STORIES
What's the Price of a Jet-Set Lifestyle?
Health and Human Services Secretary Tom Price's jet-setting ways are catching up with him, but how much of a price will he pay? Amid public criticism, government scrutiny and the "I am not happy about it" treatment from President Trump, Price says he'll pick up part of the costs for his personal use of charter flights around the country. That amounts to $52,000, though those trips reportedly cost taxpayers more than $400,000. Even as Price was expressing regret, new questions about his use of military aircraft for two international trips emerged. The cost of those: about $500,000, according to figures first reported by Politico and confirmed by the Los Angeles Times based on military data.
More Politics
-- Immigration officials have made hundreds of arrests in an operation targeting communities they've identified as "sanctuary cities," including Los Angeles, San Francisco and San Jose.
-- Trump has taken to blaming the Republican Party's failure to repeal Obamacare on the false claim that a GOP senator has been "in the hospital" and couldn't make the vote.
-- Twitter said it had found about 200 accounts linked to Russian interference in the 2016 election.
Trump's Tax Plan and the Art of Deduction
The only certainties in life may be death and taxes, but figuring out what those taxes look like is a whole other matter. Under the Republican plan unveiled by Trump this week, the standard deduction would be nearly doubled, but personal exemptions would be eliminated. Given that Congress must fill in many details, it's hard to say exactly what the effect would be for the middle class, but many analysts remain doubtful of how much it will benefit average Americans.
Puerto Rico's Powerless Feeling
Before Hurricane Maria, Puerto Rico was already struggling to keep the lights on because of poor maintenance, allegations of corruption and a heavy debt load on the power grid. Now officials say they'll have to rebuild the entire system — a process that could take four to six months. The vast majority of the island is still without electricity, which affects everything from water supply pumps to hospital life support systems. Meanwhile, facing continued criticism, the Trump administration lifted restrictions on the delivery of goods to Puerto Rico and assigned a three-star general to oversee relief efforts.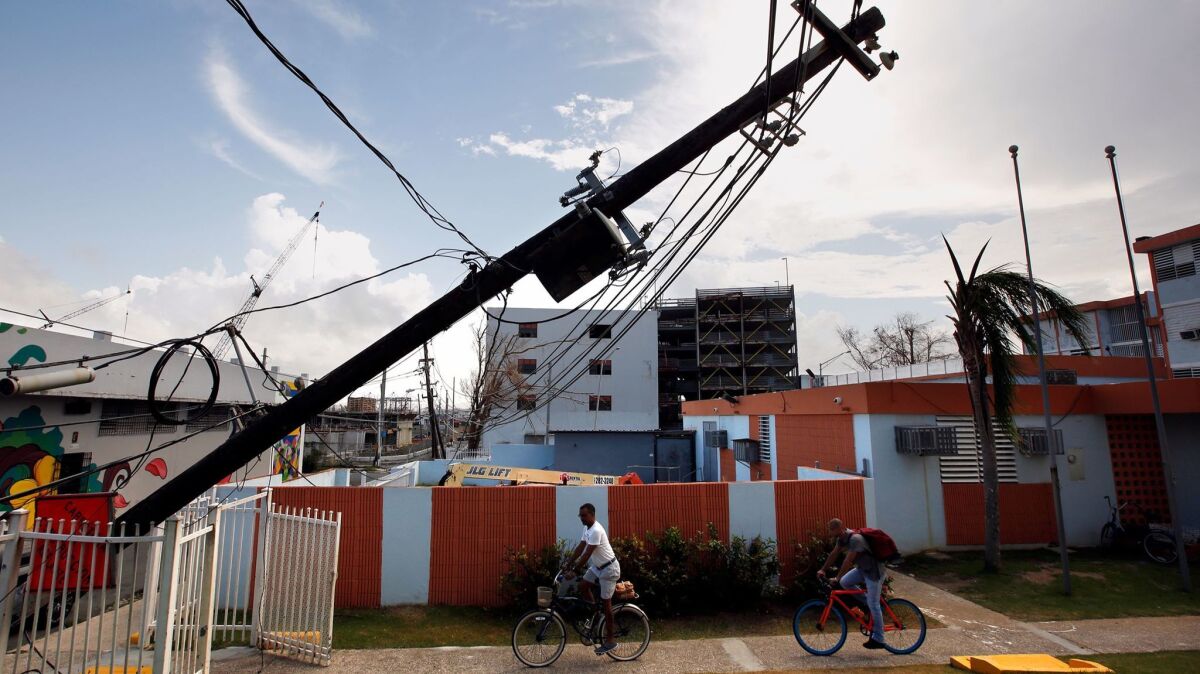 The Supreme Court Takes Up Union Dues and Don'ts
Should teachers and other public employees in states such as California, Illinois and New York be forced to pay union fees that support collective bargaining? Forty years ago, the U.S. Supreme Court decided that was reasonable. Now, it will be revisiting the question, and Trump appointee Justice Neil M. Gorsuch could be a deciding factor in overturning that ruling come June. Such a decision would deal a sharp blow to some very powerful unions.
For L.A.'s Homeless, It's Hard to Take Shelter
New York City has 70,000 homeless people, the most in the nation, but relatively few sidewalk encampments. L.A. County has 58,000, and 43,000 of them sleep on the streets. Whereas New York must provide a bed for all under a state law, L.A. has taken a vastly different approach as its homeless population has exploded. The emphasis here is on building permanent housing, rather than shelter beds, which have actually declined in number since 2009. Why? Read on.
A D.A.'s Nightmare Scenario
Did an L.A. County prosecutor inadvertently tip off a gang member to where a potential witness in his case lived by including her address in a protective order? Police are investigating what happened after the gang member allegedly opened fire outside the woman's East Hollywood home, wounding two people. "This is what every prosecutor fears," Dist. Atty. Jackie Lacey said.
FLASHBACK FRIDAY
Fifty years ago, what was mobile banking like? No smartphones, of course. But Bank of America did have this traveling branch in a Condor camper coach built on a Ford chassis. "BofA's Valinda branch in West Covina makes a round trip of about 12 miles per day, chugs along at a respectable 35 miles per hour and gets about five miles per gallon."
MUST-WATCH VIDEO
-- It was a Mexico City office building. Now, after the earthquake, it's a tomb.
-- Film critic Justin Chang reviews the Watergate drama "Mark Felt: The Man Who Brought Down the White House."
-- It's time to talk custom motorcycles with award-winning designer Max Hazan.
CALIFORNIA
-- A second rock slide was reported at Yosemite National Park's El Capitan, a day after a rockfall on the granite monolith killed a British tourist and seriously injured his companion.
-- A civilian oversight group has told the L.A. County Sheriff's Department to ground its drone.
-- A Lynwood woman is facing federal charges on allegations that she posed as an attorney and defrauded immigrants.
YOUR WEEKEND
-- A weekend escape to the Russian River and the wild coast of Sonoma County.
-- Sweet and savory: Favorite crepe recipes from The Times' Test Kitchen.
-- The Mexican drink michelada is beer with benefits.
-- What everyone should know before getting that smile straightened, whitened or veneered.
HOLLYWOOD AND THE ARTS
-- Queens of the Stone Age rockers Dave Grohl and Josh Homme have a decades-long bromance. "Josh makes me feel like I can be the drummer I want to be," Grohl says.
-- We're in the throes of Stephen King mania again, and there's a reason why his scary stories resonate.
-- Film critic Kenneth Turan says "American Made" shows Tom Cruise can still dominate the screen.
-- Julia Louis-Dreyfus learned she has breast cancer the day after the Emmy Awards. "1 in 8 women get breast cancer. Today, I'm the one," she said on social media.
NATION-WORLD
-- David Friedman, the U.S. ambassador to Israel, appeared to break with almost 25 years of American policy advocating a two-state solution to the Israeli-Palestinian conflict, but a State Department spokeswoman said his remarks do "not indicate a shift."
-- Islamic State released what it said was an audio recording of its leader, Abu Bakr Baghdadi, a move apparently intended to counter rumors of his death.
-- The first refugees accepted under a contentious agreement with Australia are headed to the United States, months after Trump assailed the deal as "dumb."
-- Chinese researchers have pinpointed the single genetic change, probably in May 2013, that made the Zika virus a fearsome plague to pregnant women and their babies.
BUSINESS
-- Roku's debut on the stock market got an enthusiastic response, even if the streaming company is up against Amazon, Apple and Google.
-- A breach too far: Columnist David Lazurus says it's time to require government and businesses to encrypt people's data.
SPORTS
-- Columnist Dylan Hernandez checks in with a calmer, more mature Andre Ethier, the outfielder who is taking it all in as the Dodgers head to the postseason.
-- As Santa Anita opens its fall horse-racing season today, the executive brought in to fix the track's fortunes is encountering "problems bigger than I thought."
OPINION
-- Mötley Crüe co-founder Nikki Sixx writes: Take it from a former addict. A lot more could be done to end the opioid crisis.
-- Hugh Hefner mainstreamed male sexuality, stood for civil rights and never stopped exploiting women's bodies.
WHAT OUR EDITORS ARE READING
-- In 1973, John McCain gave this first-person account of his 5½ years in captivity in North Vietnam. (US News & World Report)
-- As computer coding is used in everything around us, some programmers are worried it's all too complicated and could trigger a software apocalypse. (The Atlantic)
-- Is too much money being spent on making TV shows these days? (Variety)
ONLY IN L.A.
To some it was party central; to others, a den of iniquity. The Playboy Mansion is a 1920s Gothic Tudor estate located in the Holmby Hills and at the same time occupies a place in the collective imagination that isn't easily summed up. The mansion has 29 rooms, as well as its own zoo license. After Hugh Hefner's death, what will become of it and the infamous grotto?
If you like this newsletter, please share it with friends. Comments or ideas? Email us at headlines@latimes.com.
Must-read stories from the L.A. Times
Get the day's top news with our Today's Headlines newsletter, sent every weekday morning.
You may occasionally receive promotional content from the Los Angeles Times.