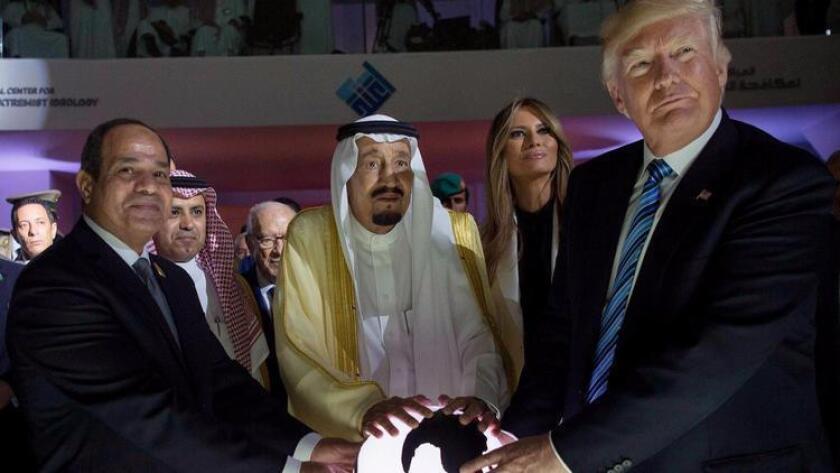 President Trump says he's building America's power overseas, but some recent developments would seem to contradict that view.
TOP STORIES
America First or America Alone?
"Our strategy is to advance American influence in the world," President Trump said in his national security speech last week. Many in the international community say it's having the opposite effect, as China takes the lead on fighting climate change, Russia oversees Syrian peace talks, France and Germany provide unwavering leadership for NATO, and the U.S. has lost its status as a negotiator acceptable to all sides in the Israeli-Palestinian conflict. Even India has cast a wary eye on Trump's unpredictability.
More From Washington
-- To counter North Korea, the Trump administration is trying to vastly expand the homeland missile defense system, but experts warn it is plagued with problems and upgrades might not help.
-- Could white college graduates in America's suburbs upend the Republican Party's control of Congress in the 2018 midterm elections?
Christmas Amid the Flames
As 1,500 firefighters and crew members battled the Thomas fire, now California's largest wildfire on record, on Monday, there was some Christmas cheer. Two people dressed as Santa and Mrs. Claus paid a visit in Ventura, and fire officials used a giant candy cane as a map pointer to show where units were focused. But on the fire lines, the serious work of fighting the flames and doing so unscathed was the order of the day. The good news: The fire is mostly contained and is not expected to grow.
Reading, Writing and Random Searches
The Los Angeles Unified School District ordered daily random searches of students using metal-detector wands starting in 2011 after a shooting. Some activists want to get rid of the practice, arguing that it is applied unevenly and unnecessarily creates mistrust. The statistics show relatively few weapons are found. To some at the LAUSD, that's just proof the random searches are having the intended deterrent effect.
Folsom Prison Blues, Revisited
Nearly 50 years have passed since Johnny Cash walked into Folsom State Prison on Jan. 13, 1968, and recorded a live album that would renew his career. Since then, much has changed: The gray cells on Condemned Row that once housed inmates now hold keyboards, drum kits and other gear for the prison's music program. Instead of outlaw country songs, the prisoners lean to hip-hop, heavy metal and even smooth jazz. What hasn't changed, as Times reporter Randy Lewis discovered on a recent prison tour: the healing power of music.
Year in Review: Picture This
The Great American Eclipse. Devastating wildfires. The massive tunnel under downtown Los Angeles. The Milky Way over Joshua Tree National Park. Hurricane-hit Puerto Rico. War-torn Syria. L.A. Times photographers traveled the globe to capture images that were triumphant and tragic. Here are some of the best from 2017, as part of our weeklong look back at the year.
MORE FROM THE YEAR IN REVIEW
-- Tiffany Haddish, Daniel Kaluuya, Cardi B and more: Here are the biggest breakout stars in entertainment.
-- An overdose, a young companion, drug-fueled parties: A Times investigation into the secret life of USC med school dean.
-- If the year in L.A. sports had a name, it'd be Yu Darvish, writes columnist Bill Plaschke.
-- The best books of 2017: fiction and nonfiction.
MUST-WATCH VIDEO
-- How the discovery of an ancient mastodon ignited debate over humans' arrival in North America.
-- "Santa Baby" composer Phil Springer still can't figure out why his sexy Christmas song endures.
CALIFORNIA
-- Trash fight! Los Angeles and the companies picked to carry out the city's huge new recycling program are at odds over the size of customers' bills.
-- Officials say a California Highway Patrol officer was killed on Christmas Eve when a suspected drunk driver crashed his car into the officer's patrol vehicle in Hayward.
-- A Los Angeles psychologist claims to have left the festively wrapped box of manure outside the Bel-Air home of U.S. Treasury Secretary Steven T. Mnuchin.
-- To encourage reading, Los Angeles County has eliminated late fees for patrons under 21 at all county-run libraries.
HOLLYWOOD AND THE ARTS
-- From "Blue Velvet" to "Jurassic Park" to "Star Wars: The Last Jedi," actress Laura Dern looks back on what key roles of her career taught her along the way.
-- TV critic Robert Lloyd previews the cartoons to keep watching in 2018.
-- Heather Menzies-Urich, who played Louisa von Trapp in the hit 1965 film "The Sound of Music," has died at age 68.
-- "Harry Potter" has been working its magic on college campus architecture, as an inspiration for Gothic Revival buildings.
CLASSIC HOLLYWOOD
"I want to give you the bad news first, folks. This show is going to go on forever." Little did Steve Allen, the first host of "The Tonight Show," know that 64 years later it would still be going strong. Or maybe he did. Allen, who was born on this date in 1921, laid the foundation on which late-night shows have been built ever since.
NATION-WORLD
-- Election officials have formally barred Russian opposition leader Alexei Navalny from running for president against Vladimir Putin. Navalny is calling a boycott of next year's vote.
-- For two years, the Nigerian military has claimed to have defeated the Islamist militant group Boko Haram, but the fight is far from over.
-- In Myanmar, hatred for the Rohingya runs far deeper than the fears over Islamist terrorism being has used to justify a ruthless, four-month crackdown on the small Muslim minority.
-- A look at how Bethlehem celebrates Christmas with spare but beautiful traditions.
BUSINESS
-- Foreign tech workers are considering Canada, as the political climate in the United States creates uncertainty for immigrants.
-- Columnist David Lazarus examines how a small wording change at the Consumer Financial Protection Bureau reveals the emphasis is being shifted away from consumers.
SPORTS
-- The Lakers have improved this season, but as their Christmas Day loss showed, they have room for improvement, writes columnist Helene Elliott.
-- Which UCLA football team will show up in the Cactus Bowl today?
OPINION
-- Are public schools in California failing their students on literacy?
-- Author Noah Berlatsky writes that although we're living in an age of naive cynicism, we need to realize we can change the world for the better.
WHAT OUR EDITORS ARE READING
-- Eight political cartoonists, including The Times' David Horsey, discuss drawing President Trump. (Politico)
-- A Christmas tree stands where this Santa Rosa house once stood. (KQED)
-- Fact-checking the film "All the Money in the World" in its depiction of the Getty kidnapping. (Vanity Fair)
ONLY IN L.A.
After a season-ending knee injury in August, Rams defensive lineman Dominique Easley had to do something to fill his downtime aside from rehab sessions. So he is taking online courses, learning guitar and recently performed a stand-up routine at an L.A. comedy club. That and training to get his pilot's license. While his teammates are impressed, not all are willing to go along for a ride. "He barely can drive a car," says one, "so I ain't going in no airplane with him."
If you like this newsletter, please share it with friends.Comments or ideas? Email us at headlines@latimes.com.
---