Newsletter: Today: Why the Wildfire Warnings Didn't Come for All
California's deadly blazes have brought to light several issues with the systems meant to alert people in harm's way.
TOP STORIES
Why the Wildfire Warnings Didn't Come for All
In this era of modern technology, warning people about an approaching wildfire might seem simple. It's not. As the recent fires in California have shown, the systems in place can be more crazy-quilt than clear-cut, and there is concern about causing even greater problems by blasting an alert too broadly. The situation has frustrated officials, who are pushing for improvements. "I can use my cellphone to order a pizza and it gets here," says Rob Lewin, director of the Santa Barbara County Office of Emergency Management. "Why can't I have that same system to save people's lives? To get people out of harm's way?"
Trump Gives California the Cold Shoulder
California is the heart of "the resistance" and a state Hillary Clinton resoundingly won, so it's no wonder President Trump hasn't made his way here just yet. Barring a very surprise visit, he'll be the first president since Dwight D. Eisenhower 64 years ago to skip a trip to the Golden State during his first calendar year in office. If he had journeyed this week to California, which is having record heat, he might not have tweeted about needing "a little bit of that good old Global Warming" to counter a cold snap through much of the U.S.
More Politics
-- Roy Moore cried election fraud and lost in court, as Doug Jones became the first Alabama Democrat in 25 years to be confirmed as the winner of a U.S. Senate seat.
-- Trump charged on Twitter that China was "caught RED HANDED" allowing oil shipments to reach North Korean ports, but it wasn't clear whether the tweet was based on news reports or classified intel.
What Caused the 'Temixco Massacre'?
In the heart of Mexico and the dead of a November night, a hail of bullets killed four women and two children, including a 3-month-old girl. At first, police said it was the work of assassins out to get an alleged drug-smuggling kingpin. Then, they admitted it was a police raid and said the people inside the house opened fire first. The incident, which has become known as the Temixco Massacre, has prompted an investigation into a possible "crime against humanity" in Mexico's bloody drug wars.
Year in Review: The Accusers and the Accused
Since Harvey Weinstein was accused of sexual harassment and assault on Oct. 5, nearly 100 powerful people have been accused of sexual misconduct. That's at a rate of nearly once every 20 hours. This interactive graphic looks at where the accusations stand.
MORE FROM OUR YEAR IN REVIEW
-- Enough is enough: The Times' Editorial Board weighs in on Trump.
-- Notable deaths: A look back at those who shaped and changed our world.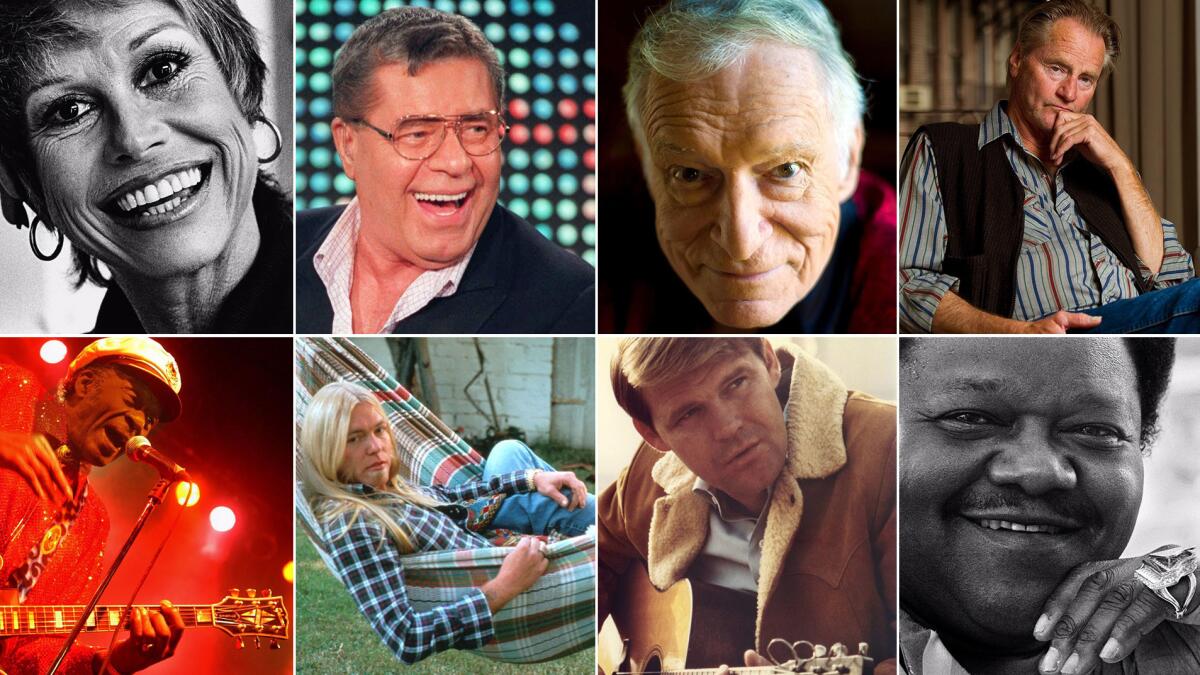 -- The 11 most popular home makeovers, including a Midcentury Modern in Palm Springs and a trailer in Malibu.
-- Our automotive writer's favorite vehicles of 2017 range from a $14,000 electric motorbike to a $450,000 Lamborghini.
NEW YEAR'S
-- Parties! Music! Comedy! Here are some of the bigger events around L.A.
-- Planning your own bash? Here are 15 appetizers to wow your guests.
-- As for the bubbly, some L.A. wine pros have a few recommendations for Champagne and sparkling wine.
-- If you can't wait for the Rose Parade, get an early look at the prep work.
FLASHBACK FRIDAY
The Rose Bowl game is the granddaddy of them all, but the first contest in 1902 was so lopsided, the Tournament of Roses tried other post-parade events, including chariot races from 1904 through 1915, and ostrich racing.
MUST-WATCH VIDEO
-- The high cost of battling wildfires in California and beyond.
-- Inside the Gardena lab where Uniqlo jeans get ripped, hand-sanded and stone-washed for that lived-in look.
CALIFORNIA
-- It's complicated: As California legalizes recreational marijuana, this L.A. pot shop may close its doors.
-- Meanwhile, some marijuana sellers are planning big parties to mark the occasion.
-- The L.A. County Sheriff's Department says crime fell in the areas it patrols, including a 20% decline in homicides.
-- Officials are trying to determine what killed a 20- to 30-foot-long whale whose corpse floated into the Port of Long Beach.
HOLLYWOOD AND THE ARTS
-- Film critic Kenneth Turan says Annette Bening fans shouldn't miss seeing the actress in "Film Stars Don't Die in Liverpool."
-- Mike Love discusses his new solo album and that time the Beach Boys channeled Johnny Cash and played a prison.
-- Rose Marie, who began her career as a child star and gained fame on the 1960s sitcom "The Dick Van Dyke Show," has died at age 94.
NATION-WORLD
-- A Bronx apartment building fire killed at least 12 people and seriously injured others, according to New York's mayor.
-- The daughter of police chokehold victim Eric Garner was declared brain-dead after a massive heart attack.
-- A dispute between Japan and South Korea over "comfort women" flared up again this week.
-- Brain health experts say exercising twice a week may help preserve memory and thinking skills in people with mild cognitive impairment.
BUSINESS
-- California workers earning minimum wage will get a 50-cent raise on Jan. 1 to $10.50 per hour. By 2022, they'll get $15.
-- Apple will temporarily lower the price of replacing iPhone batteries to $29, a move designed to quiet outrage that it deliberately slowed down older-model phones.
SPORTS
-- USC will face Ohio State today, but instead of the familiar confines of the Rose Bowl, it'll be the Cotton Bowl. Here's how the football teams match up.
-- With an eye on the playoffs, the Rams plan to rest some key players, including quarterback Jared Goff, in their regular-season finale against the 49ers.
OPINION
-- The feds are right: California students deserve to know how their schools are performing.
-- The co-founder of a nonprofit explains why charitable giving will be devastated under the new tax law.
WHAT OUR EDITORS ARE READING
-- There are plenty of reasons to worry about Russian election interference in the 2018 midterms. (The New Yorker)
-- Many of Trump's Cabinet secretaries are shielding their schedules from public view. (Politico)
-- "I know what I'm doing": Ridley Scott, 80, explains his approach to directing and much more, all in very colorful language. (Vulture)
ONLY IN L.A.
With hip-hop having taken rock's place atop the charts, it's somewhat fitting that Guns N' Roses and Velvet Revolver guitarist Slash sold his Sherman Oaks mansion to the rapper Big Sean. The price, according to sources: $8.7 million. One can only wonder whether Slash's pirate ship-shaped chandeliers and faux alligator wallpaper remain.
If you like this newsletter, please share it with friends. Comments or ideas? Email us at headlines@latimes.com.
Sign up for Essential California for news, features and recommendations from the L.A. Times and beyond in your inbox six days a week.
You may occasionally receive promotional content from the Los Angeles Times.