Newsletter: Today: High Noon on Capitol Hill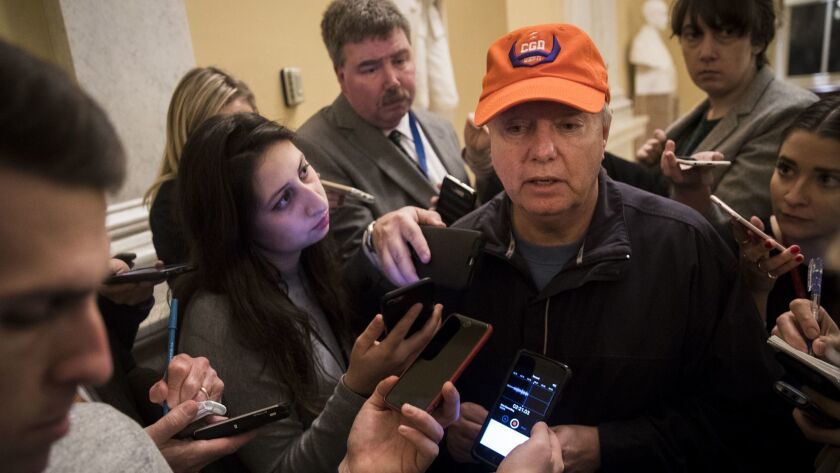 After Congress failed to reach a deal to end the federal government shutdown over the weekend, the Senate plans to talk more and vote at noon Eastern time.
TOP STORIES
High Noon on Capitol Hill
Is it the "Trump shutdown" or the "Schumer shutdown"? As one senator said, it "depends on whose pollster you talk to." Either way, most federal offices, many national parks and other federal facilities will be closed until the stalemate over government funding is resolved. Despite some intense negotiations on Capitol Hill, a deal to temporarily fund the government through Feb. 8, with a promise to take up immigration legislation then, couldn't get done Sunday. Will a deal be in place when senators plan to vote at noon today?
The March to the Ballot Box?
"Ugh where do I start." "If you take away my birth control, I'll just make more feminists." "Stormy Daniels, Secretary of Internal Affairs." The protesters and their signs were out in force for the Women's March on the first anniversary of President Trump's inauguration. Hundreds of thousands across the country marched to oppose the president's stance on immigration, healthcare and an array of other issues while also giving voice to the #MeToo movement. The next day, a rally was held in Las Vegas to draw attention to a nationwide push to register 1 million voters this year.
Trump Vs. California: The Next Round Begins
It's been almost a year since a newly inaugurated President Trump said, "California is in many ways out of control." Since then, the Trump administration has taken a number of actions seemingly aimed at the Golden State, while California has pushed back à la Texas during President Obama's two terms. But as Trump's second year in office begins, the battles over immigration, oil drilling, legalized marijuana and more appear ready to intensify.
More Politics
-- Vice President Mike Pence arrived on relatively friendly territory in Israel after the leaders of Egypt and Jordan publicly rebuked him for the Trump administration's upending of the Israeli-Palestinian peace process.
-- Some Republicans are pushing to release a memo written by staff working with Rep. Devin Nunes and containing classified information about the federal investigation into Russian campaign meddling.
-- The Reagan Ranch in Santa Barbara has become a destination for young conservative high school students.
Acting With Authority
The Screen Actors Guild Awards typically don't get the same attention as the Oscars, Golden Globes or Emmys, but they had something to say about Hollywood, beyond shedding some light on Tuesday's upcoming Academy Awards nominations. Set amid the #MeToo movement, the show featured all-female presenters and was hosted by Kristen Bell; pink, rather than black, was the statement color of choice on the red carpet. Among the winners were Frances McDormand for her role in "Three Billboards Outside Ebbing, Missouri," Julia Louis-Dreyfus for the show "Veep" (giving her a record nine SAG Awards), and Nicole Kidman, who noted: "How wonderful it is that our careers today can go beyond 40 years old." The complete list of winners is here.
Life Along the River, Destination Unknown
Three generations of Kathy Schuler's family live in a massive homeless encampment near Angel Stadium along the Santa Ana River. Soon, they'll have to move — unsure where they'll go next. Along a three-mile stretch of the river made well known by a YouTube video, theirs is the last and largest encampment to be cleared out by Orange County authorities over the last few months. The Sheriff's Department starts its work today.
OUR MUST-READS FROM THE WEEKEND
-- Charlie Beck, who is retiring early as the chief of the Los Angeles Police Department, looks back on his career of more than 40 years.
-- The girlfriend of the Las Vegas shooter says he began to act strangely in the time leading up to the shooting that killed 58 people. The motive remains a mystery.
-- "Cheech & Chong represent the middle, the vast majority," says Cheech Marin. But don't get him started on Atty. Gen. Jeff Sessions' war on pot.
-- We rode with Jane Fonda to the Sundance Film Festival's Respect Rally, where she said, "Time is up!"
-- R.I.P. for the spec script, long a source of some of Hollywood's most beloved films.
MUST-WATCH VIDEO
-- Our review of the Tesla Model 3: Elon Musk's mass-market car is a magic carpet ride.
-- Architect Frank Gehry unveils his designs for the long-delayed Grand Avenue project in downtown L.A.
CALIFORNIA
-- The death toll in the Montecito mudslides rose to 21, as officials disclosed that six people killed were in voluntary evacuation zones and 11 others were on the border. In addition, Highway 101 in Santa Barbara County has reopened.
-- The parents in the Turpin family raised suspicions among some of their neighbors in Texas before moving to Perris and being charged with torture, child abuse, abuse of dependent adults and false imprisonment.
-- Video of a La Mesa police officer slamming a handcuffed high school student to the ground has sparked outrage.
-- University of California regents will vote Wednesday on raising tuition and the student services fee by $342, a 2.7% increase.
HOLLYWOOD AND THE ARTS
-- Kelvin Harrison Jr. stars in three films getting buzz at Sundance: "Monster," "Monsters and Men" and "Assassination Nation."
-- Also at Sundance: Supreme Court Justice Ruth Bader Ginsburg says she has had her fair share of #MeToo moments throughout her life.
-- TV critic Lorraine Ali says TNT's "The Alienist," adapted from the bestselling 1994 novel, pairs serial killer carnage with horse-and-carriage charm for a thriller set in 19th century Manhattan.
-- Guillermo del Toro's "The Shape of Water" won the Producers Guild of America's top honor. It's one of the front-runners for best picture ahead of the Oscar nominations on Tuesday.
CLASSIC HOLLYWOOD
Morgan Freeman, who received the Life Achievement Award at the SAG Awards, has about 100 film credits to his name. There are more on the way. But getting there wasn't easy. "I think the little horn-tooting I can do for myself is merely having the courage to keep going," Freeman said Sunday. "I tell kids the surest way to lose is to quit."
NATION-WORLD
-- Pope Francis ended his trip to Chile and Peru with a warning about the plight of the urban poor and what he termed the "globalization of indifference" toward their fate.
-- Kabul hotel guests say they hid in terror as Taliban attackers searched floor-to-floor during a deadly, 14-hour siege in Afghanistan.
-- Cape Town is facing its worst drought in a century. The water supply in South Africa's second-largest city is expected to run out April 21.
BUSINESS
-- Borrow $5,000, repay $42,000. How super high-interest loans have boomed among struggling households in California.
-- Natural gas has quickly become the country's dominant energy source, outstripping coal. California's experience shows it may not remain that way for long.
SPORTS
-- The New England Patriots are headed to their third Super Bowl in four years. Their opponent: the Philadelphia Eagles, who blew out the Minnesota Vikings for the franchise's third appearance.
-- Columnist Bill Plaschke says the Dodgers are testing fans' loyalty with big price increases for season tickets, even in the cheap seats.
OPINION
-- Our immigration problem is something the Trump administration can't arrest its way out of.
-- Some readers say the Perris abuse allegations are an indictment of our neighborhoods.
WHAT OUR EDITORS ARE READING
-- Jared Kushner's meetings with Chinese officials have drawn particular interest from Beijing. (The New Yorker)
-- Want to leave a voicemail on the White House comment line? An outgoing message accuses Democrats of holding government funding "hostage." (New York Daily News)
-- The story of North Korea's fabric made of coal and limestone. (Reuters)
ONLY IN L.A.
Rosecrans Avenue stretches 27 miles from Fullerton to Manhattan Beach, but it's the 15 miles through Compton that have made it hip-hop's Main Street. Rosecrans has been name-checked in dozens of songs. "Every spot in Compton got something going on, but Rosecrans is the common denominator," says the rapper known as Problem. "There's a lot to talk about, there's a lot to live about, there's a lot to say, there's a lot to represent." Roll with him on this musical tour of Rosecrans, including a stop at — where else? — Tam's Burgers.
If you like this newsletter, please share it with friends. Comments or ideas? Email us at headlines@latimes.com.
---