Newsletter: Today: The White House and the Doghouse
More drama from inside 1600 Pennsylvania Ave.
TOP STORIES
The White House and the Doghouse
Will White House Chief of Staff John F. Kelly stay or go? That's the latest personnel drama unfolding in the Trump administration, as the fallout over domestic violence allegations against former Staff Secretary Rob Porter continues. Officials sought to publicly defend Kelly and his handling of the Porter situation, even as a person close to the White House said President Trump would like to replace Kelly but is being advised by fellow Republicans not to. (Lost track of who's exited already? Check out this graphic.) Meanwhile, Trump muddied the waters on the White House's stance on Porter by tweeting about "lives ... being shattered and destroyed by a mere allegation."
More Politics
-- As the Senate sets its sights on immigration reform, White House officials have begun floating the idea of leaving legal immigration at current levels, about 1.1 million people a year, for more than a decade.
-- After refusing to release a 10-page memo on government surveillance written by Democrats, Trump tweeted that he wants the lawmakers to "re-do" it.
-- In a rare bit of praise for California, a Trump administration official lauded Measure M, the L.A. County sales tax increase to fund transportation, as an example of how state and local governments would pay for its infrastructure plan.
When the Tap Runs Dry — or Murky
So, about that infrastructure proposal: Imagine going for weeks without running water, and then not trusting what comes out of the faucet. That's the reality for many residents of Martin County, a former coal mining region in eastern Kentucky. So when the Trump administration outlines its plan to generate at least $1.5 trillion in infrastructure improvements today, many wonder whether repairs of aging, leaky pipes — and not just "gleaming new roads" — will be part of it.
Is the Mojave Ready for Life in the Fast Lane?
Speaking of gleaming new roads…. It's been 25 years since a freeway has been built in L.A. County. With the abandonment of plans to connect the 710 and the 210, and an emphasis on public transportation, many thought the era of freeway construction was over. But out in the desert, officials are laying the groundwork for one to link Palmdale and Lancaster with the San Bernardino County communities of Victorville, Apple Valley and Adelanto. Once again, the battles over who will pay and how a freeway will affect communities and the environment are heating up.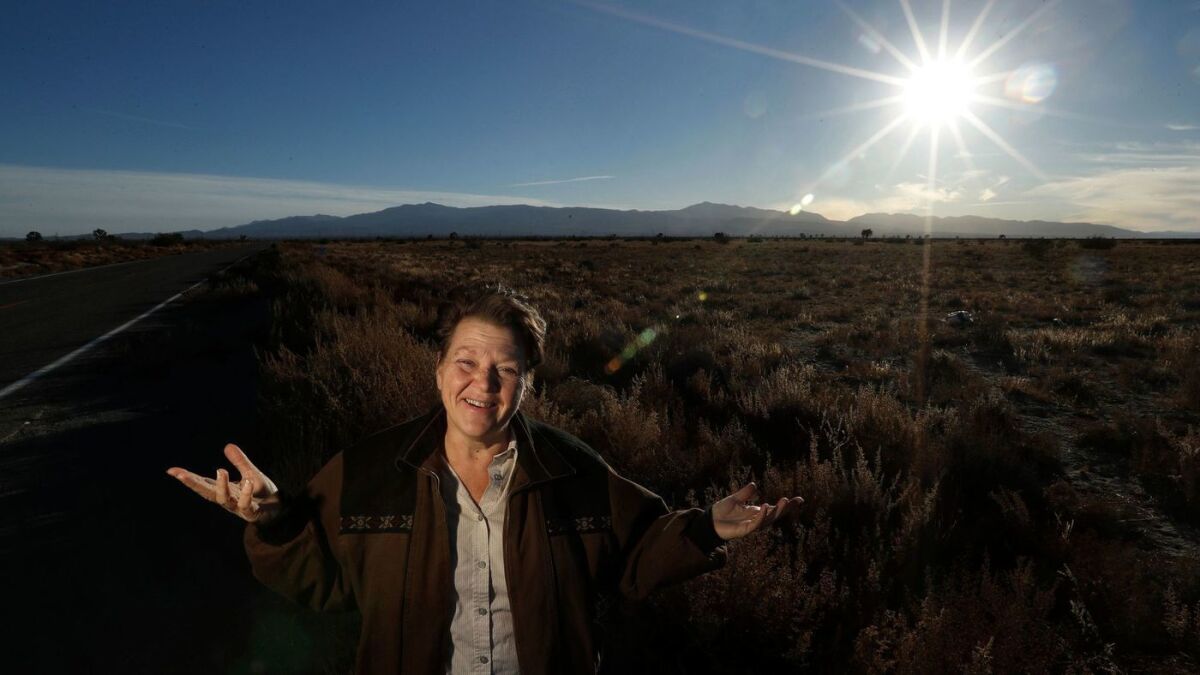 The Weinstein Saga Takes Another Twist
Just as a $500-million deal to sell Harvey Weinstein's troubled old studio to former Obama administration official Maria Contreras-Sweet was ready to be signed, New York Atty. Gen. Eric Schneiderman sued the Weinstein Co. and its co-founders for "egregious violations of New York's civil rights, human rights and business laws." The suit, which jeopardizes the planned sale, seeks to "ensure that victims will be compensated, employees will be protected going forward, and that neither perpetrators nor enablers will be unjustly enriched."
Olympic Sensations Sweeping the Nation
The ice. The rocks. The sweeping. Curling doesn't get much attention in the U.S., but every four years, it becomes something of a cult favorite among Winter Olympics viewers. This year, mixed doubles competition is making its debut, with slightly different rules, shorter games and instead of four players per team, just two — a man and a woman.
More From the Olympics
-- Mirai Nagasu of Arcadia has become the first American woman, and third overall, to land a triple axel in the Olympics.
-- Jamie Anderson of South Lake Tahoe survived brutal conditions to win another gold medal in the women's slopestyle.
-- San Diego native Shaun White's journey to Pyeongchang was almost stopped by a gruesome snowboarding injury.
OUR MUST-READS FROM THE WEEKEND
-- The manufacturer of the powerful painkiller OxyContin says it will stop promoting its opioid drugs to doctors after years of criticism and mounting lawsuits, some based in part on a Times investigation.
-- More than 600 brick buildings in the Inland Empire are unretrofitted and at risk of collapse during a major earthquake, despite decades of warning, a Times analysis has found.
-- In the Gaza Strip, residents describe the situation as increasingly unlivable, with only four hours of electricity a day and no clean water for many.
-- Cambodia is sliding into dictatorship, and it's playing out on Facebook.
MUST-WATCH VIDEO
-- Brittany Force appeared to escape serious injury in a wall-banging crash in the season-opening NHRA Winternationals in Pomona.
-- Film critic Kenneth Turan says "Black Panther" is a royally imaginative standout.
CALIFORNIA
-- When Gavin Newsom and Antonio Villaraigosa entered the governor's race, it was assumed that their past extramarital affairs were behind them. Not so fast.
-- Amid the homelessness crisis, the L.A. City Council is considering two measures aimed at clearing obstacles to getting more people into housing, but there's already pushback.
-- Four people died when a small plane crashed in the rugged hills near Agua Dulce and the 14 Freeway in northern L.A. County.
-- Santa Barbara County authorities are monitoring a storm system that is expected to dump light rain beginning today over the barren hills charred by last year's Thomas fire.
HOLLYWOOD AND THE ARTS
-- Tim Robbins and Holly Hunter discuss their new HBO show, "Here and Now." They star as the parents of adopted children from three countries living in an America with a president who continually lashes out against people not born in the U.S.
-- On stage, immigration is also at the heart of the play "Ironbound," about a woman from Poland who sought but did not find the American dream.
-- The Oscars you don't see on TV: The film academy honored unsung innovators at its Scientific and Technical Awards.
-- And at the Writers Guild Awards, Jordan Peele won for best original screenplay for "Get Out."
CLASSIC HOLLYWOOD
Lorne Greene was the star of TV's "Bonanza," but he believed "in having as many careers as possible." So it was that, in one week in 1965, he narrated a Defense Department training film, delivered a speech at a Salvation Army meeting, did the ribbon-cutting at the then-new Los Angeles County Museum of Art and reigned over the Ponderosa. Greene, who was born on this date in 1915 and died in 1987, would become known to a generation later as Commander Adamas on "Battlestar Galactica" in the late '70s.
NATION-WORLD
-- After the deadliest mass shooting in modern U.S. history, Congress has not acted on bump stocks, while state and local governments have moved to limit their sale and possession.
-- Two Ohio police officers responding to a 911 hang-up call were fatally shot over the weekend after entering an apartment in a Columbus suburb.
-- Israel says it destroyed nearly half of Syria's air defense system in a retaliatory air force sortie after one of its F-16 fighter jets was shot down by a Syrian missile.
-- A Russian passenger jet crashed shortly after taking off from one of Moscow's major airports, killing all 71 people aboard.
BUSINESS
-- After more than a year of calm in which stock prices climbed to record highs, the market is now being whipsawed. What does all the volatility mean?
-- Meet Janice Bryant Howroyd, the first African American woman to run a $1-billion business.
SPORTS
-- Shohei Ohtani might be the most intriguing player in baseball, but the Angels won't push him to be the face of the team.
-- Julius Randle is giving the Lakers another tough decision to make.
OPINION
-- A new study about the ozone layer shows we need to redouble our efforts at understanding climate change, not stick our heads in the sand.
-- Former gymnast Jessica O'Beirne writes about Larry Nassar and how to stop the next abuser from taking his place.
WHAT OUR EDITORS ARE READING
-- Rep. Devin Nunes' campaign committee has been paying to run a partisan news website. (Politico)
-- Want to get your end-of-life affairs in order before the inevitable happens? There are apps for that. (Boston Globe)
-- "Three races. No fear. Everything I have." Lindsey Vonn has battled back to compete at what is likely her last Olympics. (ESPN)
ONLY IN CALIFORNIA
Tigger Army. Big Bad Wolves. Neverland Mermaids. The members of these and other social clubs love Disneyland, and if you take a walk through the Happiest Place on Earth, you'll spot them by their vests and Disney-themed tattoos. But a lawsuit filed in Orange County Superior Court claims there is a dark undercurrent: The head of the Main Street Fire Station 55 Social Club has accused the head of the White Rabbits Social Club of trying to collect "protection" money for a charity fundraiser at the park.
If you like this newsletter, please share it with friends. Comments or ideas? Email us at headlines@latimes.com.
---