Newsletter: Today: Your Vote vs. a Hack Attack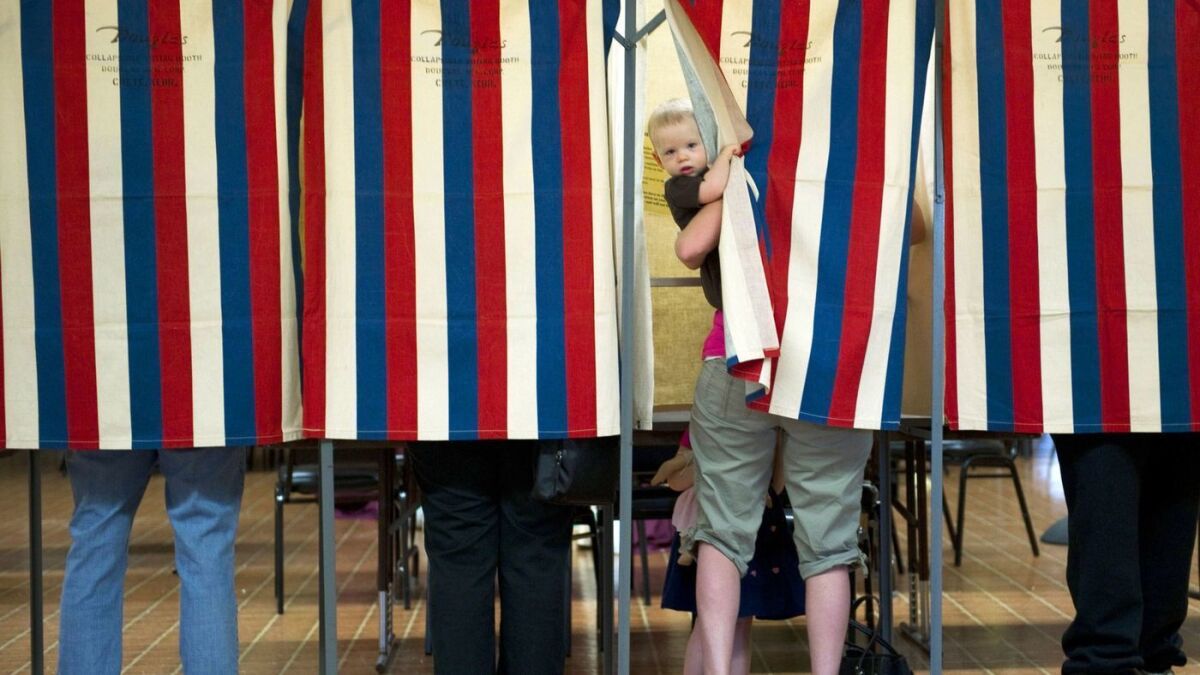 Experts say aging polling stations and outdated software could be a hacker's playground.
TOP STORIES
Your Vote vs. a Hack Attack
President Trump's top intelligence advisor has a warning about November's elections: The Russians are coming again, and this time it may be more than just trying to sway public opinion. A parade of officials and experts before Congress had a warning too: Our voting systems are alarmingly vulnerable to foreign attack. Although no evidence has surfaced to indicate Russian hackers succeeded in directly tinkering with votes in 2016, many say the United States can't count on that going forward — and not nearly enough is being done to prevent it.
The Porter Problem
A week after Trump's staff secretary Rob Porter resigned or was fired over domestic violence allegations, the basic question remains: Who knew what and when? FBI Director Christopher A. Wray said the bureau submitted its completed security check on Porter in late July. Wray's sworn testimony contradicts the statements of White House officials, who've maintained they didn't know all the details and wanted to leave Porter in place because the investigation hadn't been finished. The scandal has rekindled questions about competence in the White House, as well as Trump's willingness to disbelieve abuse accusations by women.
More Politics
-- As the Senate considers protections for "Dreamers," the debate has quickly turned to the question of whether those who achieve legal status should be able to sponsor loved ones to join them.
-- Meanwhile, a second federal judge has ruled against Trump's move to end DACA.
Laying Down the Shelter Law
The homelessness crisis may seem intractable, but U.S. District Judge David Carter has seen enough: He's demanding Orange County officials, cities and homeless advocates find shelter for hundreds of people who've been living in camps along the Santa Ana River. And he says he will survey the area for himself. "I'm tired of the paperwork and the 'we can't get it done' nonsense," said Carter, who last week put a halt to sheriff's deputies arresting homeless people who refuse to leave. The legal showdown will be closely watched.
Would Catwoman Win in a Fairfax Fight?
On Fairfax Avenue near Canter's Deli, the high-end streetwear store Supreme is getting ready to drop its latest gear. Julie Newmar, the actress who played Catwoman on the "Batman" TV series, isn't a fan. That's because she owns real estate nearby and can't stand the crowds looking to buy the clothes and sell them for a handsome profit, nor can she abide the trash they leave behind. "I'm not against anyone," she told columnist Steve Lopez, "but you can't destroy this wonderful neighborhood called Fairfax."
Not All Was Golden
Snowboarder Shaun White won gold medals in 2006 and 2010, then got shut out in 2014. As he worked toward these Olympic Games, he had a horrific crash in October and moments where he questioned his resolve. To win gold this time, he had to save his best athletic effort for last. But after the victory, White responded to a question about a 2016 sexual harassment suit filed by a former drummer in his band by saying he didn't want to talk about "gossip." He also apologized for letting an American flag drag on the ground during his celebration.
More From the Olympics
-- High winds forced the postponement of the women's giant slalom, meaning Mikaela Shiffrin's Pyeongchang debut was delayed.
-- A look at how Chloe Kim became the breakout star of these Winter Games.
MUST-WATCH VIDEO
-- How the #MeToo movement is changing the way mothers and daughters talk about sexual assault.
CALIFORNIA
-- Alameda County sheriff's officials say a woman left for dead dragged herself to the side of a rural street and used her final words to help authorities identify her killers.
-- The Pico Rivera City Council called on Councilman Gregory Salcido to resign after his recent diatribe against U.S. military service members, but Salcido says he doesn't intend to step down.
-- The RecycLA trash program hasn't won many fans, to say the least. Now City Councilman Mitchell Englander wants to know what it would take to pull out.
-- Stuck on the 710 Freeway? Metro staff have recommended a $6-billion proposal to add a lane in each direction between Long Beach and East Los Angeles.
VALENTINE'S DAY
-- History lesson: How St. Valentine's Day was transformed from a sacred event into an amorous one.
-- Love L.A.? Make a card inspired by the city and get your recommended daily requirement of cheese.
-- Meanwhile in New York, love stinks on the Valentine's Day tour of a sewage plant.
-- How to buy eco-friendly flowers? You can always ask, or check out one of these certification programs.
HOLLYWOOD AND THE ARTS
-- Art critic Christopher Knight says the Obama portraits cheerfully buck the trend of instantly forgettable presidential paintings.
-- "This Close," which premieres today over the premium streaming service Sundance Now, makes a little bit of history as the first television series created, written by and starring deaf artists.
-- The Oscar-nominated film "On Body and Soul" from Hungary wonders if love in a dream can survive the real world.
-- British pop singer Dua Lipa gained fame on streaming services like Spotify and YouTube, but her live show at the Palladium left critic Mikael Wood cold.
CLASSIC HOLLYWOOD
Even if you weren't around to read Hedda Hopper's Hollywood gossip, you might know her from her appearance in an "I Love Lucy" episode. On this date 80 years ago, Hopper's first Los Angeles Times column was published. It would run for nearly 30 years.
NATION-WORLD
-- A New Jersey man who planted a pair of improvised bombs in Manhattan in 2016, but said he doesn't "harbor hate towards anyone," was sentenced to two life terms plus 30 years in prison.
-- Israeli police have recommended the indictment of Prime Minister Benjamin Netanyahu on suspicion of bribery, fraud and breach of trust, casting the future of his government into doubt.
-- In South Africa, President Jacob Zuma is being pressured to resign after the party he led, the African National Congress, called for him to step down.
-- The tangled seven-year war in Syria is growing more complicated and posing new dangers to the U.S.
-- In soil-dwelling bacteria, scientists have found a new weapon to fight drug-resistant superbugs.
BUSINESS
-- A woman who worked for Vice Media filed a lawsuit alleging the company discriminates against female employees, systemically and intentionally paying them less than their male counterparts.
-- Behold the Harvest Box. Columnist Michael Hiltzik calls Trump's plan to replace food stamps with food boxes his meanest idea yet.
SPORTS
-- Despite an uncertain future, outfielder Matt Kemp is grateful to get a second chance with the Dodgers.
-- Tiger Woods is back on the PGA Tour, trying to continue his comeback this week at Riviera Country Club, a course he loves but one that doesn't often love him back.
OPINION
-- Pressing prisons and jails to violate the 4th Amendment is not part of the job description for Immigration and Customs Enforcement agents.
-- Free community college for ... some. Well, it's a start, writes columnist Gustavo Arellano.
WHAT OUR EDITORS ARE READING
-- Longtime Trump lawyer Michael D. Cohen says he paid $130,000 out of his own pocket to porn actress Stormy Daniels, who once claimed to have had an affair with Trump. (New York Times)
-- Louise Linton, actress and wife of Treasury Secretary Steven T. Mnuchin, says she is "super-duper" sorry about the missteps she's made. (Elle)
-- On finding love after loss: "When I buried my husband, I didn't bury my heart." (Huffington Post)
ONLY IN CALIFORNIA
Call it the house without a home. Swiss-born architect Albert Frey designed his first American project, the Aluminaire House, for a 1931 New York exposition. But it would not stay there, or anyplace else, for long. Today it sits in pieces in a container in Palm Springs, waiting for enough money to be raised to give it a permanent residence in the city where Frey made Desert Modernism famous.
If you like this newsletter, please share it with friends. Comments or ideas? Email us at headlines@latimes.com.
---