Newsletter: Today: Too Soon? No Way, These Students Say
Students who survived the deadly Florida school shooting are inspiring others to speak out, but not without being assailed too.
TOP STORIES
Too Soon? No Way, These Students Say
Students from Marjory Stoneman Douglas High School have been told to be quiet. Conspiracy theorists have even attacked them as "actors." But they've unleashed an outpouring of activism rarely seen after similar tragedies by demanding action to prevent more mass shootings. That's helped give the issue of gun control new urgency. But will anything change? As protests took place outside, Florida legislators voted down a motion to take up a bill to ban assault rifles. On the national level, President Trump says he's directed Atty. Gen. Jeff Sessions to "very soon" propose regulations to get rid of "bump stock" devices, and he tweeted, "Whether we are Republican or Democrat, we must now focus on strengthening Background Checks!" But gun control advocates are skeptical, saying we've heard similar statements before (remember Las Vegas?), only to see nothing happen. Meanwhile, the Supreme Court left in place California's 10-day wait for gun buyers, rejecting a 2nd Amendment challenge.
More Politics
-- A lawyer linked to two of Trump's former campaign aides ensnared in the continuing Russia inquiry has pleaded guilty to lying to investigators.
-- U.S. officials say Vice President Mike Pence was set to meet with North Korean officials during the Olympics, but the North Koreans pulled out just hours beforehand.
-- Donald Trump Jr. traveled to India to hawk apartments and quickly edged into politics.
A Firehouse Divided
The chief of the L.A. city Fire Department is calling for "a professional and respectful workplace" after a series of incidents in recent months that included a debate over protests by NFL players, "a perceived lack of sensitivity" toward nonwhite firefighters and a "near physical altercation" among those of different ethnic backgrounds after someone was late to work. Another high-ranking fire official says he wants to make sure the department doesn't return to the days when it was divided along racial lines. The channel of choice in most fire stations? Fox News, he said.
Let Them Stay or Push Them Out?
It's a key question in the effort to deal with homelessness: Should officials provide some basic necessities for those on the street or force them to move on? L.A. County has placed toilets, sinks and other supplies at a handful of encampments to prevent outbreaks of disease such as hepatitis A. But residents near a camp in West Carson fear that will only serve as a draw. In Orange County, officials have taken a different approach by removing hundreds of people along the Santa Ana River. After a court battle, those in Anaheim have begun trading in their tents for motel vouchers and other aid.
More About the Homelessness Crisis
-- L.A. has a growing backlog of requests to clean encampments. The city Bureau of Sanitation will ask for $17 million, more than double the program's current budget, for next fiscal year.
-- Columnist Steve Lopez checks in with a skid row activist on a hunger strike to protest conditions there.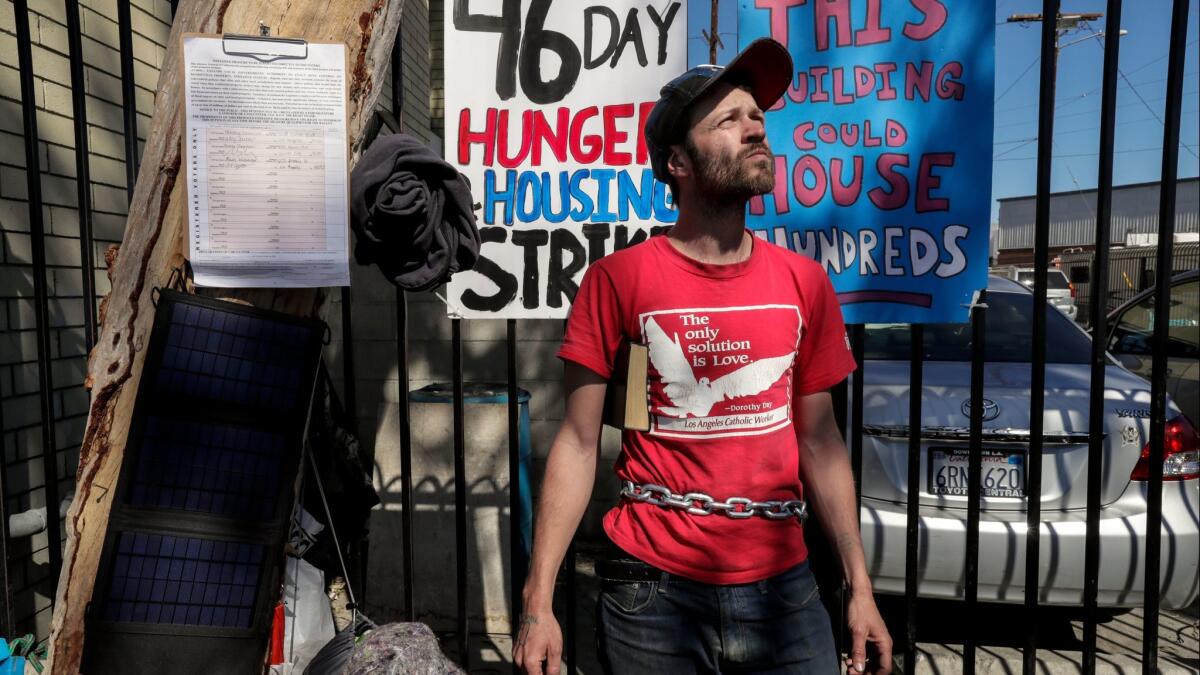 Paying State Taxes, Without Representation
At the moment, about 440,000 people in southeastern Los Angeles County don't have a voice in the state Assembly or Senate. That's because Assemblywoman Cristina Garcia (D-Bell Gardens) and Sen. Tony Mendoza (D-Artesia) are on leave while allegations of sexual misconduct are being investigated, and their districts have quite a bit of overlap. Meanwhile, their constituents wonder who is looking out for them in Sacramento.
Hopes Dashed, but the Heart of a Champion
Mirai Nagasu was the best hope U.S. women's figure skating had to end its 12-year medal drought in individual competition at the Pyeongchang Games. But the move that put her on the map last week — the triple axel — was her downfall this week. "The most important thing for me is that I put it all out there," she says. Her parents, who run a sushi restaurant in Arcadia, have set that example for decades. As competition continues, Alina Zagitova of the Olympic Athletes From Russia is the favorite for the gold after earning a world-record score for her short program.
More From the Olympics
-- In women's downhill skiing, Sofia Goggia of Italy took the gold medal and Lindsey Vonn got the bronze in what was likely Vonn's final Olympic downhill run.
-- No miracles: The Czech Republic eliminated the U.S. men's hockey team.
MUST-WATCH VIDEO
-- Homeless people at an encampment next to the Santa Ana River move on.
-- Ten key scenes from this year's Oscar-nominated acting performances.
CALIFORNIA
-- Former Hillary Clinton aide Amanda Renteria confirmed she is launching a campaign for governor, saying she will offer a "new voice" to voters who have soured on big-money politics.
-- Sources say labor rights icon Dolores Huerta is trying to make sure her son, Emilio Huerta, is the only Democrat challenging Republican Rep. David Valadao in his Central Valley district.
-- The two men accused of turning the Oakland warehouse the Ghost Ship into a labyrinth-like fire trap have pleaded not guilty to 36 counts of involuntary manslaughter.
-- Authorities say a 29-year-old Uber and Lyft driver who went missing in downtown Los Angeles more than a week ago has been found.
HOLLYWOOD AND THE ARTS
-- Joan Baez on "Nasty Man" Trump, #MeToo and her final tour as a musician.
-- The Weinstein Co. is seeking to toss out a lawsuit by alleged victims of Harvey Weinstein, arguing that former colleagues were not aware of his "predatory" behavior.
-- How Yance Ford's historic Oscar nomination for "Strong Island" is a victory for more than trans filmmakers.
-- The latest production of Anton Chekhov's "Uncle Vanya" at San Diego's Old Globe proves spectacular, theater critic Charles McNulty says.
CLASSIC HOLLYWOOD
For playing a rogues' gallery of villains, Alan Rickman was beloved. The actor, who was born on this date in 1946, had a career that ranged from big-budget Hollywood movies to classical theater. When Rickman died in 2016, "Harry Potter" co-star Daniel Radcliffe said: "People create perceptions of actors based on the parts they played so it might surprise some people to learn that contrary to some of the sterner (or downright scary) characters he played, Alan was extremely kind, generous, self-deprecating and funny."
NATION-WORLD
-- The Texas Board of Pardons and Paroles has recommended the governor grant clemency to death row inmate Thomas "Bart" Whitaker, fulfilling years of appeals from Whitaker's father, who survived the attack that killed his wife and younger son.
-- In Syria, the multi-day bombardment of a rebel-held suburb just outside Damascus killed almost 200 people, activists say.
-- In Las Vegas, federal authorities have made an arrest in connection with the killings of two homeless men and the shooting of two other people.
-- Pope Francis' commission on sexual abuse by clergy has been hit by resignations and criticism, but it's getting a reboot. Here's what to expect.
BUSINESS
-- The Trump administration took new steps to loosen health insurance rules, moving to allow the sale of more short-term health plans that do not need to offer a full range of health protections.
-- Grocery store operator Albertsons plans to buy drugstore chain Rite Aid … well, at least the part that isn't already being sold to Walgreens.
SPORTS
-- The Dodgers are maintaining an "open dialogue" with Clayton Kershaw as the ace pitcher approaches free agency next summer.
-- New details of the Clippers' proposed Inglewood arena complex have emerged, including retail space and public basketball courts.
OPINION
-- For America's next gun massacre, here's a handy clip-and-save editorial.
-- How much more humiliation can Melania Trump take? Columnist Robin Abcarian examines an uncomfortable question.
WHAT OUR EDITORS ARE READING
-- Voting machines around the United States are old, but no one wants to pay for new ones. (ProPublica)
-- Someone stole a terra cotta warrior's thumb in Philadelphia, and Chinese authorities aren't happy about it. (National Geographic)
-- Media Literacy 101: Some ideas on teaching it to kids. (Salon)
ONLY IN L.A.
Writer-director Paul Thomas Anderson's latest film, "Phantom Thread," is up for six Oscars. His wife, Maya Rudolph, is one of Hollywood's most in-demand comedic actresses. Their four kids? Not too impressed. When Anderson told his children of the film's nominations, there was a pause at their Tarzana breakfast table. Then Minnie, the youngest, asked, "Can I have a spoon?"
If you like this newsletter, please share it with friends. Comments or ideas? Email us at headlines@latimes.com.
Sign up for Essential California for news, features and recommendations from the L.A. Times and beyond in your inbox six days a week.
You may occasionally receive promotional content from the Los Angeles Times.