Newsletter: Today: Border Rhetoric and Reality
A look at some of the talk about immigration and the reality for an asylum seeker.
TOP STORIES
Border Rhetoric and Reality
Over the weekend, the Trump administration said it has a "well coordinated" process in place to reunite more than 2,000 "separated minors" with their migrant parents, an assertion that Democrats have looked upon with skepticism. Meanwhile, President Trump suggested that all people who cross the border illegally ("invade" was the term he used) should be deported summarily, without a court hearing. But amid all the rhetoric stands the reality for those seeking asylum in the U.S. One 33-year-old tells of the violence she and her three children are fleeing in Guatemala and the agonizing choice she made before surrendering to officials at the San Ysidro Port of Entry.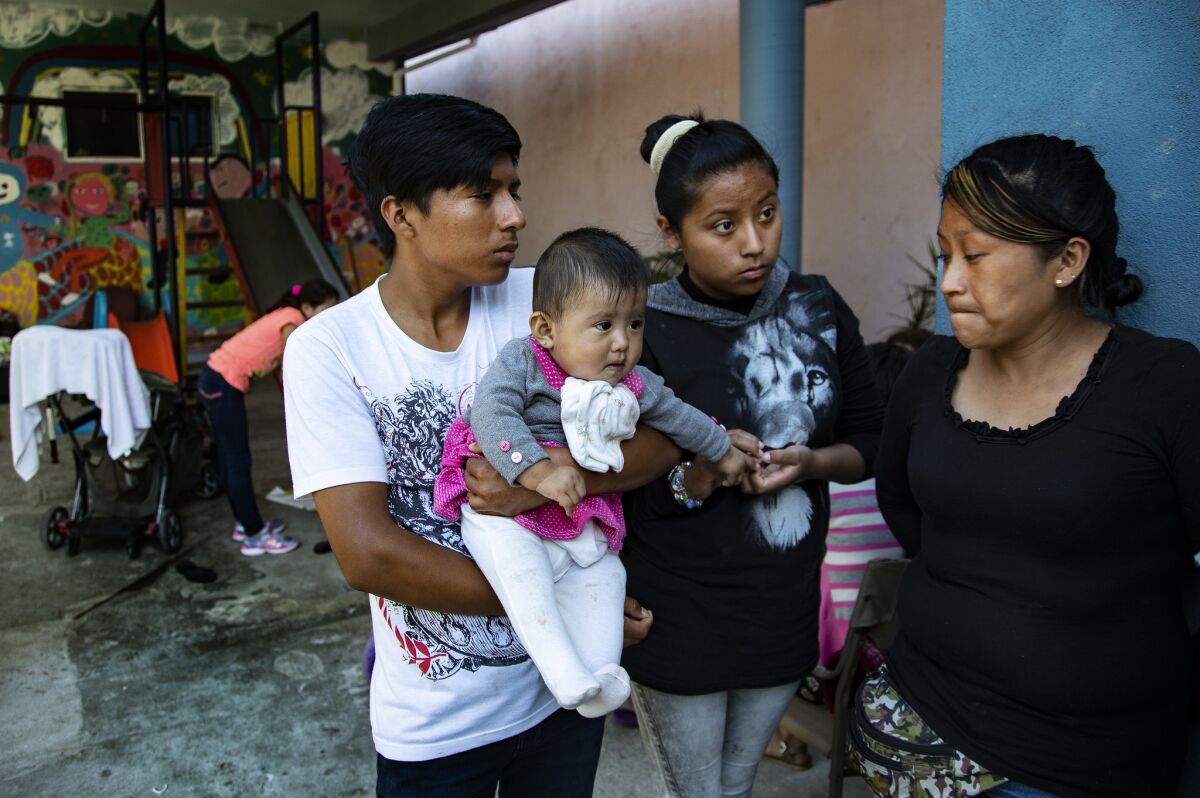 A Not Unimpeachable Argument
Pretend for a moment that you're a Democrat running for Congress: Do you make the November election about impeaching Trump? To the leaders of the Democratic Party, the answer is no. "I think it's a gift to Republicans," says House Minority Leader Nancy Pelosi. To Tom Steyer, a billionaire Democratic activist, the answer is yes. Polls, though, suggest the issue does not sit well with voters.
More Politics
-- Jared Kushner ripped Palestinian Authority President Mahmoud Abbas and said a Mideast peace plan will move forward, with or without him.
-- After Sarah Huckabee Sanders was asked to leave a Virginia restaurant, people flocked to social media to take sides: Should she have been shown the door?
-- A year after Trump reversed President Obama's opening to Cuba, the U.S. is sitting out Havana's political revamp.
Mexico's Next President?
He's bashed the North American Free Trade Agreement, attacked the "mafia of power" in charge and called the efforts against him part of a "dirty war." If the polls are correct, Andres Manuel Lopez Obrador will be Mexico's next president. Though voters have twice rejected his leftist vision since 2006 and his opponents portray him as the next Hugo Chavez, Lopez Obrador has found an opening with those angry at a status quo of violence and corruption.
Spain's Stolen Babies
It began during the dictatorship of Francisco Franco, who came to power in Spain in 1939: taking babies from their biological parents. At first, the actions were ideologically driven, removing the children from "leftist" parents and giving them to families deemed more deserving. Later, the motive transformed from ideology to business opportunity. Now, an 85-year-old obstetrician is going on trial in a case that may finally shed light on one of Spain's darkest eras.
More Fallout From a USC Scandal
At least 200 former USC students have joined lawsuits alleging the university failed to heed warnings that longtime campus gynecologist George Tyndall was sexually abusing patients. The accusations against Tyndall, which the doctor strongly denies, have roiled USC, leading to the departure of the university's president and a criminal investigation by the LAPD. It's also led to a moment of reckoning within the field of gynecology, focused on how to address the scandal and make patients feel safer and more educated.
Sign up to get Today's Headlines delivered to your inbox. »
OUR MUST-READS FROM THE WEEKEND
-- Long before 10-year-old Anthony Avalos died last week with severe head injuries and cigarette burns covering his body, law enforcement officers and child protective caseworkers documented years of severe abuse allegations, according to sources familiar with the case history.
-- A look at how LAPD Chief Charlie Beck has evolved with the department he leads. This week, he retires after more than four decades.
-- As columnist Steve Lopez demonstrates, the fight over the beach at Hollister Ranch isn't over; hundreds have written in protest of an agreement over access to the site.
-- Lakers general manager Rob Pelinka said his team is "sitting at the top of the food chain.'' Columnist Bill Plaschke says Lakers leadership needs to stop talking about past glory and focus on the future.
MUST-WATCH VIDEO
-- Tesla may be profitable in the second half of this year partly because of tax credits sold to Nevada casinos.
-- Race Imboden is the top-ranked American male fencer. He pays the bills by working as a model.
CALIFORNIA
-- L.A. Mayor Eric Garcetti says the city can resume its ban on overnight sidewalk sleeping, but a legal fight surely awaits if it starts ticketing people under the contested code.
-- A wind-driven wildfire tore through Spring Valley in Northern California over the weekend, scorching thousands of acres and destroying at least a dozen structures.
-- Thirty years ago, a CHP officer was convicted of murdering a 20-year-old woman in San Diego. The case still resonates today.
-- GOP Rep. Dana Rohrabacher will face Democrat Harley Rouda in the 48th Congressional District in November, after Hans Keirstead this weekend conceded the second-place spot in the June 5 primary.
HOLLYWOOD AND THE ARTS
-- The best and worst moments of Sunday night's BET Awards, from H.E.R. to Jamie Foxx.
-- "Jurassic World: Fallen Kingdom" dominated at the box office, knocking Disney-Pixar's "Incredibles 2" into second place.
-- "It's really hard to say this, but I didn't mean what they think I meant": Audio of Roseanne Barr's first phone interview after the racist tweet that led to her show's demise has surfaced.
-- Was Pasadena's Arroyo Seco Weekend, featuring Neil Young, Jack White, the Pretenders and Hurray for the Riff Raff among others, too much of a good thing?
CLASSIC HOLLYWOOD
Farrah Fawcett rose to fame as a sex symbol in the 1970s, but it was for her intense portrayal of a battered wife in the 1984 TV movie "The Burning Bed" that she earned her first Emmy nomination. Her fourth and final nomination came for the documentary "Farrah's Story," which chronicled the last stages of her life battling cancer. She died on this date in 2009 at the age of 62.
NATION-WORLD
-- Turkish President Recep Tayyip Erdogan said unofficial results showed that he had won this weekend's presidential election, which was marred by violence and accusations of voter fraud.
-- More than a year after North Carolina undid its "bathroom bill," a legal battle is simmering over a law that replaced it.
-- In Saudi Arabia, the ban on women driving was lifted Sunday, and some took to social media to document their first forays on the road.
BUSINESS
-- Hotels in California are treading warily into the world of being 420-friendly, but some have begun to do so. One motel puts marijuana on the pillows instead of a mint.
-- High earners (no, not that type of "high") need to watch out for a Medicare surcharge that begins when modified adjusted gross income exceeds certain levels.
SPORTS
-- Can the Lakers land LeBron James? Here's what you need to know as NBA free agency begins this week.
-- At this point, possibilities for Mexico's future in the World Cup are endless.
OPINION
-- Foreign policy consultant Molly K. McKew: If we lose our post-World War II allies, we lose the foundation that made us a superpower. Trump is doing lasting damage to that global order.
-- Berkeley professor and former Bush administration official John Yoo argues that Asian Americans need to wise up and end their blind loyalty to the Democratic Party.
WHAT OUR EDITORS ARE READING
-- Joy Chen, a former L.A. deputy mayor, became a star for telling young Chinese women to ignore their mothers' advice on love and life. (Wall Street Journal)
-- Wild bees are in decline. This book is a love letter to them. (Los Angeles Review of Books)
-- Built out of spite: What happens when grudges become the foundation of architecture? (The Guardian)
ONLY IN L.A.
Rosie O'Neill and Josh Resnick are like two kids in a candy store, except neither is a kid and both own the store. They say they got the idea for what would become the El Segundo-based artisan candy company Sugarfina on their third date in 2010, when they went to see "Willy Wonka & the Chocolate Factory." Here's how they made pure imagination a reality.
If you like this newsletter, please share it with friends. Comments or ideas? Email us at headlines@latimes.com.
Must-read stories from the L.A. Times
Get the day's top news with our Today's Headlines newsletter, sent every weekday morning.
You may occasionally receive promotional content from the Los Angeles Times.