Newsletter: Today: Trump's on the Ballot, Even If He's Not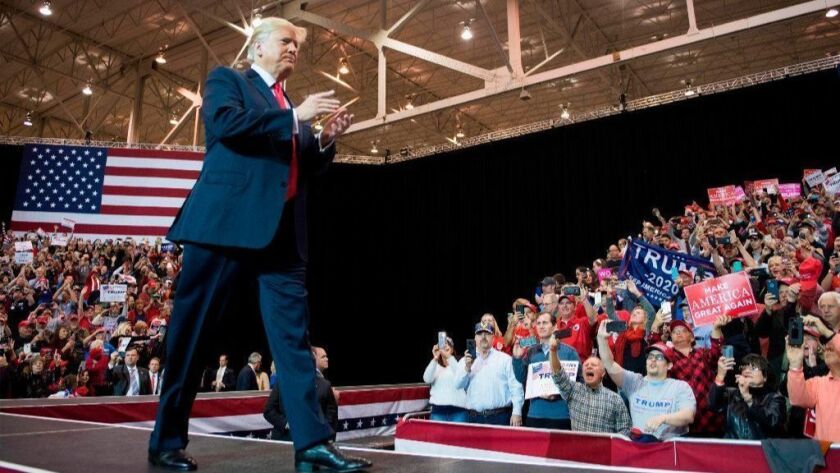 The midterm election? Call it the Trumpferendum.
TOP STORIES
Trump's on the Ballot, Even If He's Not
Today is election day, and whatever the results may be, the outcome will be seen as a referendum on President Trump. Why? To some extent, midterm elections usually are a reflection of a president's performance. For Trump, doubly so, given his extensive campaigning, a much-criticized ad and his own words on the topic: "I want you to vote," he said last month. "Pretend I'm on the ballot." If Republicans fare well — and especially if they were to defy the polling and manage to keep control of the House of Representatives — Trump can proclaim victory. If a "blue wave" hits, many fingers could be pointed at the president. Will he accept the blame? Experts recommend that you don't hold your breath on that one.
He's Not Running for Governor Either, but ...
Likewise, the final days of California's race for governor have played out more as an extension of the battle between Trump and the Golden State than between its two contenders: Democrat Gavin Newsom and Republican John Cox. On Monday, both made stops in battleground districts for the House — and offered their visions for the future.
More About the Election
-- Democrats take the House? Republicans hold the Senate? A look at the most likely outcomes of the next Congress.
-- Kansas is pondering a Democratic shift as the governor's race between Kris Kobach and Laura Kelly goes down to the wire.
-- Sean Hannity spoke from the stage of Trump's last midterm rally, after Fox News Channel and Hannity had insisted that he wouldn't.
-- Questions about voting in California? Here are some answers.
Follow all of today's election news on our live blog.
Sanctions Are Here
After appropriating a "Game of Thrones" poster last week to warn that sanctions were coming against Iran, the Trump administration has imposed them on the Islamic Republic's energy, banking and shipping industries. But there's a big asterisk: The U.S. granted waivers to the six largest importers of Iranian oil, so as not to cause a "shock to the market," as Trump put it. Not surprisingly, the government in Tehran reacted defiantly. And the Trump administration has promised more punishment if Iran doesn't change its "malign behavior."
1 Divided by 32 Equals …
Would reshaping how the L.A. Unified School District is run improve student performance and reduce costs? That's the idea behind Supt. Austin Beutner's as-yet-unreleased plan to shrink the central bureaucracy and spread more control of resources among 32 "networks." Beutner has declined to comment on the plan, saying it would be premature to talk about a work in progress.
A Killer Dog in Town
And now, for something completely different…. This is a story about a dog — a German shepherd mix who seemingly came from nowhere and started killing livestock in a Utah town. "Some took to calling him Cujo. Others dubbed him Zorro. At least one named him Jack. For most around these parts, however, he was simply known as The Dog."
Sign up to get Today's Headlines delivered to your inbox. »
MUST-WATCH VIDEO
-- Here's why you won't see all of L.A. County's election results today.
FROM THE ARCHIVES
We don't want to guilt you into voting, but even these nuns in downtown L.A. answered their civic calling by participating in the 1976 general election, as Gerald Ford and Jimmy Carter faced off at the top of the ticket for president.
CALIFORNIA
-- The L.A. Unified School District waited more than two weeks to acknowledge the arrest of a man with an arsenal outside Reed Middle School in Studio City.
-- The chief psychiatrist for the prison system has delivered a report that slams the state over mental healthcare in its prisons and details a gruesome incident to make its point.
-- Two death row inmates have died after they were found unresponsive in their cells, less than 48 hours apart, at San Quentin State Prison.
-- The YWCA is ending a foster youth program in Hollywood as it prepares to open a shelter for homeless women.
HOLLYWOOD AND THE ARTS
-- ABC's George Stephanopoulos on the midterms, #MeToo and his future at "Good Morning America."
-- Film critic Kenneth Turan says "The Front Runner," with Hugh Jackman taking on the role of ill-fated Democratic presidential candidate Gary Hart, plays it fast and funny.
-- After years of being mistaken for a "Parent Trap" villain, Times reporter Meredith Blake spoke with the actress who played Meredith Blake in the film.
-- An Aretha Franklin documentary 46 years in the making is finally eyeing a release date.
NATION-WORLD
-- Thousands of Central Americans from the migrant caravan that has become a divisive campaign issue in the U.S. midterm election have begun arriving in Mexico City, still hundreds of miles from the border.
-- Jury selection is underway in the trial of Mexican drug kingpin Joaquin "El Chapo" Guzman. One prospective juror was a professional Michael Jackson impersonator.
-- The death of a Ukrainian activist in an acid attack highlights the risks facing those who openly criticize the government.
BUSINESS
-- Related Cos. says it's secured $630 million in construction financing for the Grand, a Frank Gehry-designed retail, entertainment and hotel project in the works for more than a decade.
-- Consumer columnist David Lazarus says it's time cellphone signal jammers be installed in people's steering wheels.
SPORTS
-- UCLA and USC open the college basketball season today. Bruins coach Steve Alford is looking for big things from his team, while Trojan senior Bennie Boatwright gets one final shot at doing something special in the NCAA.
-- Los Angeles has been selected as the inaugural host city for the World Urban Games, featuring nontraditional and emerging Olympic sports. L.A. Times owner Dr. Patrick Soon-Shiong led the effort to bring them here.
OPINION
-- A quick list of the Times Editorial Board's endorsements in today's election.
-- Most neighborhood polling stations in Los Angeles County won't be back after today, and although the closures are being done in the name of progress, it's hard not to feel melancholy.
WHAT OUR EDITORS ARE READING
-- The Election Assistance Commission is supposed to provide security training, but state and local officials say it went MIA. (ProPublica)
-- When Laura Levis had an asthma attack, she went to a hospital and called 911. As her husband recounts, she was left to die just outside the emergency room. (Boston Globe)
-- The kilogram, along with some other measurement standards, will be getting a new definition no longer based on a physical object. (Scientific American)
ONLY IN L.A.
You might know Nick Offerman from his days on the TV shows "Parks and Recreation" and "Making It." Or from this year's films "Hearts Beat Loud" and "Bad Times at the El Royale." Or as the coauthor of the book "The Greatest Love Story Ever Told: An Oral History" with his wife, comedian Megan Mullally. But did you know he runs his own woodshop in L.A.? "I feel like making things with your hands hones your problem-solving skills in a way that improves the rest of your life," he says. No joke.
If you like this newsletter, please share it with friends. Comments or ideas? Email us at headlines@latimes.com.
---