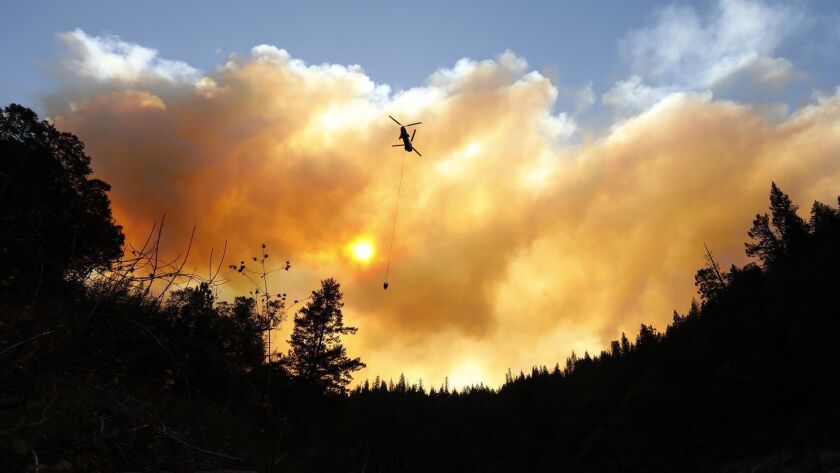 California's wildfires have become a political tinderbox. Experts say it's time to focus on reality.
TOP STORIES
Wildfire and Fury
President Trump has blamed bad forest management for California's deadly wildfires. Gov. Jerry Brown has pointed to climate change. But many experts say the reality of why wildfires in the state are taking a higher toll is far more complicated than either politician's talking points. The core issue, they say, is that Californians keep building in areas prone to fire and strong wind — and that the flames are usually sparked from manmade sources.
A Wait in Anguish
The names of the missing cover message boards set up at shelters, evacuation centers and churches in postings that evoke memories of the aftermath of 9/11 in Manhattan or the Wenchuan earthquake in China. But this is the area around Paradise, the Northern California town devastated by the Camp fire. The death toll from California's worst fire stands at 48, as some of the victims' stories begin to emerge. With hundreds of people still unaccounted for, there is hope and desperation as relatives, friends and authorities try to find them.
More About the Fires
-- The Woolsey fire has become one of the worst in Southern California history, burning about 150 square miles, including more than 80% of the national parkland in the Santa Monica Mountains National Recreation Area.
-- A surreal scene off Malibu: A billionaire's yacht full of volunteers delivers supplies to victims, but not without some drama.
-- Officials at Pepperdine University are being criticized for their decision to shelter more than a thousand students on campus rather than evacuate.
-- Columnist Steve Lopez reminds us that it wasn't just the rich who lost homes in the Malibu area.
'We've Seen Things We Can't Unsee'
Amid all of the fire devastation in California, there is another group of survivors: the people who lived through the terror of last week's deadly mass shooting at the Borderline Bar & Grill in Thousand Oaks. "Comfort comes from being with the relatively small circle who understand," reports The Times' Esmeralda Bermudez. "One minute they're laughing, the next they're crying. Sometimes they sit together in silence, staring into space."
Now You See Trump, Now You Don't
Before last week's election, President Trump was talking up a storm in a series of red-state rallies. Since then, he's gone mostly into silent mode: no-showing at World War I memorial events in France, opting not to lay a wreath at Arlington National Cemetery on Veterans Day, canceling a trip to Colombia and dispatching Cabinet officials and aides to other events in his place. What's going on? With Democrats taking control of the House and the likelihood of more indictments from special counsel Robert S. Mueller III, sources say Trump has retreated into "a cocoon of bitterness and resentment." One place the president has kept up his presence: Twitter, of course.
More Politics
-- Amid questions over the tenure of White House Chief of Staff John F. Kelly and Department of Homeland Security Secretary Kirstjen Nielsen, First Lady Melania Trump took the unusual step of demanding the ouster of national security advisor John Bolton's top deputy, Mira Ricardel.
-- California Republicans have lost a fourth seat in the House as Democrat Josh Harder gained enough votes to oust GOP Rep. Jeff Denham in the San Joaquin Valley.
-- Meet the new members of Congress, including activists, advocates, combat veterans, political novices and old pros.
-- CNN is suing the president and other administration officials over the decision to suspend the White House press credentials of correspondent Jim Acosta.
Sign up to get Today's Headlines delivered to your inbox. »
CALIFORNIA
-- UC Berkeley's elite law school will move to drop the name of its famed Boalt Hall after a century because it honors a man now known to have been an anti-Chinese racist.
-- The L.A. school board wants to end fees for fingerprinting parent volunteers and find more ways to help homeless students and their families.
-- Challenger Alex Villanueva widened his lead over L.A. County Sheriff Jim McDonnell, but 688,000 votes were still left to be counted.
-- An L.A. City Council committee has endorsed a $1.2-billion plan to substantially enlarge the Los Angeles Convention Center and add hundreds of hotel rooms at L.A. Live.
HOLLYWOOD AND THE ARTS
-- Actress Paz de la Huerta is suing Harvey Weinstein, alleging that the Oscar-winning producer raped her in two instances. Weinstein's lawyer has dismissed the accusations.
-- Miranda Lambert's country supergroup Pistol Annies is having a moment. Catch them on the Country Music Assn. Awards tonight.
-- Maná, arguably Mexico's most beloved rock group, is heading back on the road in autumn 2019 as part of a world tour launching in the U.S.
NATION-WORLD
-- Hate crimes rose in the U.S. by more than 17% in 2017, fueled by increases in attacks against religious and racial minorities, according to a new FBI report.
-- Ninety people have been diagnosed in the U.S. this year with the sudden paralysis known as acute flaccid myelitis, and 162 additional cases are being investigated, federal health officials say.
-- British government officials say a proposed "Brexit" agreement has been reached with European Union negotiators, but it's still not a done deal.
-- Russian border guards blocked opposition leader Alexei Navalny from flying out of the country. He had planned to attend a final hearing on his case before the European Court for Human Rights.
BUSINESS
-- LoanMe, a high-interest lending company in Anaheim, has stopped making personal loans in Wisconsin after an L.A. Times report that drew connections between the company and a legally troubled firm that was not permitted to make loans there.
-- Amazon's HQ2 is headed to New York and Virginia, with thousands of jobs. Some Amazon skeptics say L.A. is better off without it anyway.
SPORTS
-- The big "Monday Night Football" game between the Rams and Kansas City Chiefs in Mexico City has been moved to the Coliseum in L.A. because of poor field conditions at Estadio Azteca.
-- Will this weekend feature the worst USC-UCLA football game ever? Not necessarily.
OPINION
-- The sooner we build housing for homeless people, the sooner they can get off the sidewalk.
-- Columnist Gustavo Arellano revisits author Mike Davis' case for letting Malibu burn.
WHAT OUR EDITORS ARE READING
-- How artificial intelligence is changing wildlife research. (National Geographic)
-- Podcasts: They're popular … and potentially manipulative. (The New Yorker)
-- New York City, as seen through the comics of Marvel and Stan Lee. (City Lab)
ONLY IN L.A.
In Rolling Hills, a gated community on the Palos Verdes Peninsula, you can't build up; no homes taller than one story are allowed. One option: Build down. That's what frozen foods executive John Z. Blazevich did when he created Hacienda de la Paz, whose 51,000-square-foot main house is mostly subterranean. The estate has sold at auction for $22.4 million, about $30 million shy of the original asking price. Get a look at it here, without going underground or over budget.
If you like this newsletter, please share it with friends. Comments or ideas? Email us at headlines@latimes.com.
---