Newsletter: Today: An Impatient President and the Forever War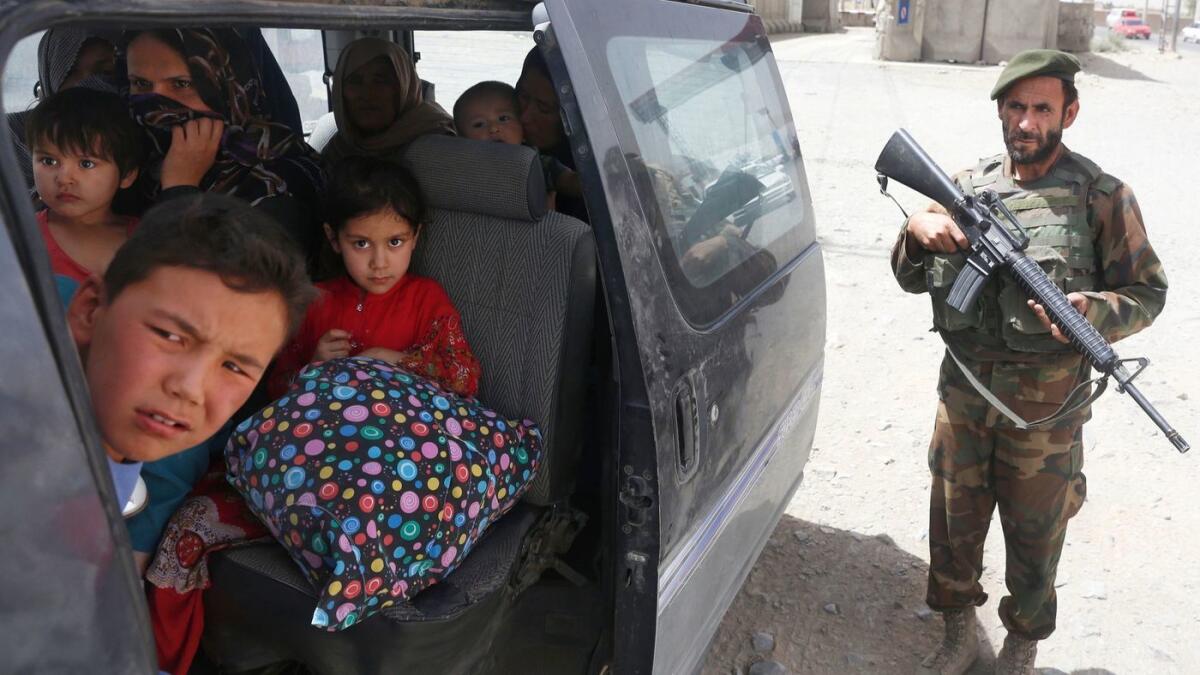 After 17 years of war in Afghanistan, there's no obvious way out.
TOP STORIES
An Impatient President and the Forever War
In Afghanistan, where America has waged its longest war and seen more than 2,400 military personnel die, attacks by Taliban insurgents have increased at an alarming rate. The Pentagon has stepped up airstrikes. Is it time for peace talks? That's what the Trump administration is pressing for by April, a timetable said to be driven by President Trump's growing impatience with the conflict. Aside from the fact setting a target date is similar to the approach President Obama unsuccessfully tried (and which Trump criticized), the prospects of a far-reaching settlement aren't good. Some analysts fear Trump could pull the troops anyway — a move that, as history has shown, could also have disastrous consequences.
More From Washington
-- Trump secretly authorized his longtime lawyer Michael Cohen to try to arrange a meeting with Russian President Vladimir Putin in New York just three months after Trump had announced his White House bid, according to disclosures from special counsel Robert S. Mueller III.
-- As allegations surrounding the president grow, Trump foes and allies are grappling with looming questions: What constitutes an "impeachable offense" and will the Democrats actually seek impeachment?
-- Who wants to be White House chief of staff? With John F. Kelly on his way out, the man who was said to be Trump's top pick to replace him, Nick Ayers, is no longer in the running.
The Law and Unintended Consequences
In China's corridors of power, the arrest in Canada of a Huawei executive at the behest of the U.S. is seen as a bell that can't be unrung. Now what? Even if officials from Beijing and Washington can work out a larger trade deal, experts say that the case of Meng Wanzhou has reinforced the idea that being reliant on U.S. components for technology is a weakness. That is likely to spur China to increase subsidies and protection of its tech companies — the opposite of what the Trump administration is demanding in its trade war with China.
Exiting Stage Right
After losing to Democrat Harley Rouda in November, Rep. Dana Rohrabacher is winding down his last days in Congress. His departure will mark the end of a tradition of sorts in Orange County: bombastic right-wing politicos. Much like his political predecessors from behind the Orange Curtain, Rohrabacher doesn't have much of a legislative record to show, even after 30 years.
Injured, Dazed and Dropped Off at a Day Laborer's Center
Late on the Fourth of July, a 64-year-old Malibu artist and master carpenter left a friend's party and was viciously attacked. What befell Stafford Taylor on Pacific Coast Highway that night is still murky. What is known is that he was dropped off by L.A. County sheriff's deputies at a day laborers' center rather than a hospital. As his family sues the Sheriff's Department, saying it showed a "deliberate indifference to medical needs," the incident has brought the practice of "patient dumping" back into the spotlight.
Good Dog!
Bill Gaylord and his wife, Andrea, faced a nightmare for anyone who loves animals: As the deadly Camp fire bore down on them, the 75-year-old man tried to get their two half-Anatolian shepherd, half-Pyrenees guard dogs into the car, but they were too frightened. Eventually, Gaylord and his wife had to flee, knowing they'd probably never see Madison and Miguel again. But this story has a happy ending.
Sign up to get Today's Headlines delivered to your inbox. »
OUR MUST-READS FROM THE WEEKEND
-- More than 20 women accused Dr. Patrick Sutton, a prominent Pasadena obstetrician, of mistreating them. He denied the claims.
-- Hector and Maria Torres' son died of cancer at age 10 after a brave fight. The ordeal left his parents broke but strengthened by his memory, as columnist Steve Lopez reports.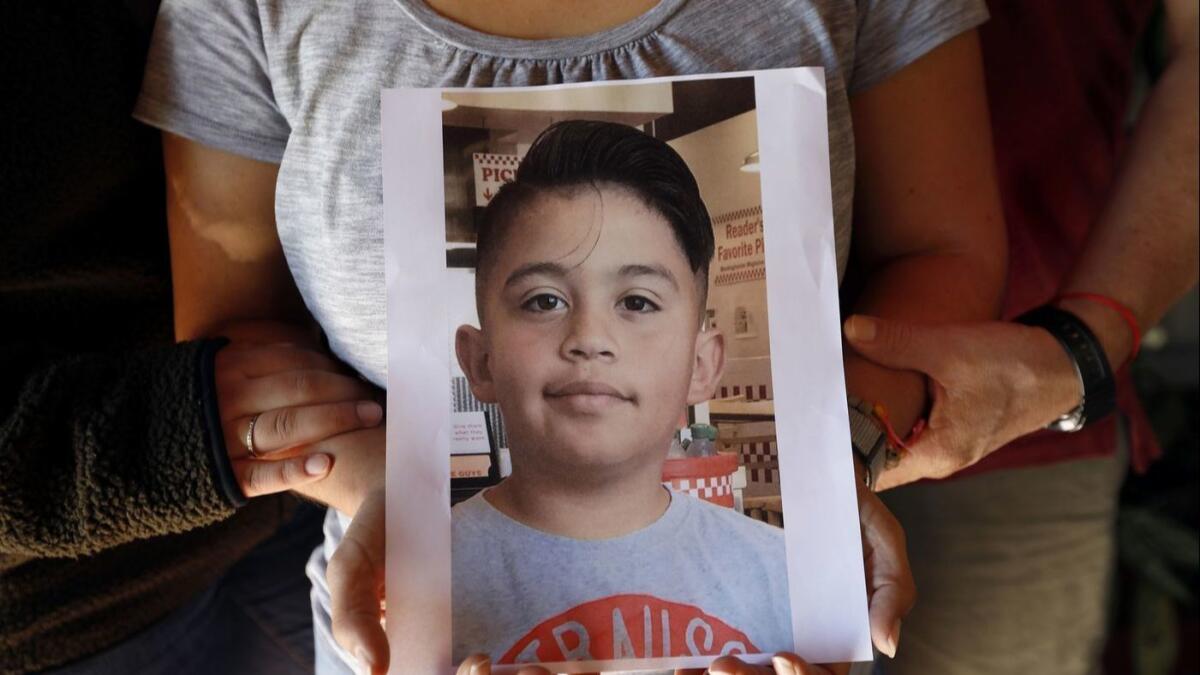 -- Out of the sex scandal involving former CBS Chief Executive Leslie Moonves, the portrait of a culture of fear, entitlement and little accountability has emerged.
-- In the crosshairs of outrage: Roseanne, Kathy Griffin and now Kevin Hart show how comedy's red line has shifted.
CALIFORNIA
-- The Tejon Ranch Co. has blacklisted a botanical group from visiting its environmental conservancy in what opponents say is an attempt to stifle criticism.
-- The fight over a proposed Clippers arena in Inglewood has intensified, with accusations and subpoenas flying.
-- Prosecutors say an attack in which a man shoved a downtown L.A. tailor into the path of a truck appears to be random and unprovoked. The incident was caught on video.
-- Marijon Ancich, the second-winningest football coach in state high school history, has died.
HOLLYWOOD AND THE ARTS
-- The Los Angeles Film Critics Assn. gave its top honors to Alfonso Cuarón's "Roma," adding to its buzz as possibly the first Netflix-produced movie to get a best picture Oscar nomination.
-- The band Nine Inch Nails is 30 years old and headed by Oscar-winning composer Trent Reznor, but its gig at the Hollywood Palladium still feels a bit like a basement punk show.
-- Tim McGraw says he didn't imagine himself writing a song for the mountain climbing film "Free Solo," until he saw it.
-- A century ago, female filmmakers were a powerful force in Hollywood. A new DVD set puts the spotlight on them.
NATION-WORLD
-- More than 1,000 pages of documents reveal Sandy Hook gunman Adam Lanza's descent into darkness.
-- The second-largest Ebola outbreak in history has spread to a major city in eastern Congo. Health experts are worried whether the stock of an experimental vaccine will stand up.
-- Ecuador faces a huge budget deficit because of loans it received from China.
-- The pilots of a fatal Lion Air flight in Jakarta may have been befuddled by a safety system designed to prevent fatal errors.
BUSINESS
-- Is the stock market's severe drop a normal pullback or an ominous sign?
SPORTS
-- The Rams' march to a playoff bye is on hold after they lost to the Chicago Bears, while the Chargers keep on winning after knocking over the Cincinnati Bengals.
-- The Dodgers have many options in Las Vegas this week at baseball's annual Winter Meetings.
-- Patricio Manuel, the first transgender male boxer in U.S. history, won his first professional fight over the weekend.
OPINION
-- It's time for the Supreme Court to take the Constitution's ban on double jeopardy seriously after an Alabama man was prosecuted twice for the same crime.
-- Early on, Trump-Russia obsessives were marginalized; they're prophets now.
WHAT OUR EDITORS ARE READING
-- A yacht, a Monet and a see-through piano are among the assets that prosecutors say were bought with money looted from a Malaysian fund. Finding and maintaining them is a large international operation in itself. (New York Times)
-- A White House correspondent remembers jogging with the late President George H.W. Bush and their discussions of family, sports and Spike Lee's movie "Do the Right Thing." (The Undefeated)
-- The history behind Queen Elizabeth I's chalk-white face. (Slate)
ONLY IN L.A.
Get your kicks on … South Broadway between 4th and 9th streets? This stretch in downtown L.A. has become known as Sneaker Row, where a cluster of stores sells everything from Fila Classic Canvas, on sale at $19.99, to a pair of limited-edition Adidas Hender Scheme NMD R1's listed at $1,000. At one store, you can even run on a virtual-reality Mars simulator or shoot hoops on a rooftop basketball court to try them out — though some sneaker heads don't wear them; they prefer to just stare at their purchases.
If you like this newsletter, please share it with friends. Comments or ideas? Email us at headlines@latimes.com.
Sign up for Essential California for news, features and recommendations from the L.A. Times and beyond in your inbox six days a week.
You may occasionally receive promotional content from the Los Angeles Times.