Newsletter: Today: John Kelly's Exit Interview: 'To Be Honest, It's Not a Wall'
In an exclusive interview, the outgoing White House chief of staff talks about the wall and the "bone-crushing hard" work and says it's best to judge him by what President Trump didn't do.
TOP STORIES
John Kelly's Exit Interview: 'To Be Honest, It's Not a Wall'
"Illegal immigrants, overwhelmingly, are not bad people." "It's never been: The president just wants to make a decision based on no knowledge and ignorance." "To be honest, it's not a wall." These are just a few of things John F. Kelly had to say in a two-hour interview with The Times, before he leaves the Trump administration on Wednesday. One of the so-called adults in the room, Kelly had his differences with President Trump as secretary of Homeland Security and then as White House chief of staff. He blamed former Atty. Gen. Jeff Sessions for the "zero tolerance" immigration policy that resulted in family separations at the border. But above all, Kelly defended his tenure, arguing it's best measured by what Trump did not do.
More Politics
-- With one-quarter of the federal government shut down, Trump appears increasingly isolated in his demand for $5 billion for a border wall and his insistence that such a barrier would have prevented the deaths of two child migrants in U.S. custody. Senior Republican allies have acknowledged that the president's full demands on border security would almost certainly go unmet.
-- The Texas judge who said that core provisions of Obamacare were unconstitutional has decided to halt his decision pending an appeal. Meanwhile, after years of assailing Obamacare, some Republicans now fear the political fallout.
-- Republican Sen. Lindsey Graham said Trump has ordered a slowdown to the withdrawal of U.S. forces in Syria. "I think we're in a pause situation," Graham said after lunch with the president.
NDAs in the #MeToo Era
The #MeToo movement has brought to light countless allegations of sexual misconduct and taken down some powerful figures in Hollywood, corporate America and government. It's also led to a number of related laws going into effect Jan. 1, with California at the vanguard. The state will be among the first to ban nondisclosure agreements in settlements involving claims of sexual assault, harassment or discrimination based on sex. But not everyone is satisfied that California's new #MeToo laws, including those regulating NDAs, will improve the outcome for victims.
The Ultimate New Year's Eve Countdown
As people around the world count down to midnight tonight, the scientists involved with NASA's New Horizons spacecraft will be ticking down the minutes to 9:33 p.m. PST. That's when the probe is scheduled to fly past a mysterious object known as Ultima Thule in the outer reaches of the solar system. At roughly 4 billion miles from Earth, it will be the most distant world ever visited.
Out With the Old, In With the New
A record year for women in politics. A "tectonic time bomb" more dangerous than the San Andreas fault. A mysterious figure in the literary world. In 2018, it seemed as if there wasn't a single slow news day, yet some stories resonated more with you, our readers, than others. We put together the 18 most read stories of 2018 as part of our look back at a year that had a certain poetry even in its darkest moments.
More Year in Review
-- The year in pictures: wildfires, immigration, homelessness, a mass shooting and a super blue blood moon eclipse.
-- A year of fire and rain and the new normal, as told by columnist Robin Abcarian.
-- In case you missed it: The new California laws you need to know for 2019.
Sign up to get Today's Headlines delivered to your inbox. »
OUR MUST-READS FROM THE WEEKEND
-- Officials said the tragedy in Paradise, Calif., from the Camp fire was unforeseen and unavoidable, an "unprecedented" monster of fire. In truth, the destruction was utterly predictable.
-- Catastrophic fires are a reckoning for Californians. Has the state reached a tipping point?
-- How mountains of plastic waste from the United States ended up in Malaysia, to be broken down by workers for $10 a day.
-- Columnist Frank Shyong on what Chinese food means to his family: not just sustenance, but identity, language and culture.
-- The top 10 places to visit in 2019: Belize, Tasmania and Napa/Sonoma wine country are among them.
FROM THE ARCHIVES
The Rose Bowl football game is the granddaddy of them all, but the first contest in 1902 was so lopsided that the Tournament of Roses tried other post-parade events, including chariot races from 1904 through 1915, and ostrich racing.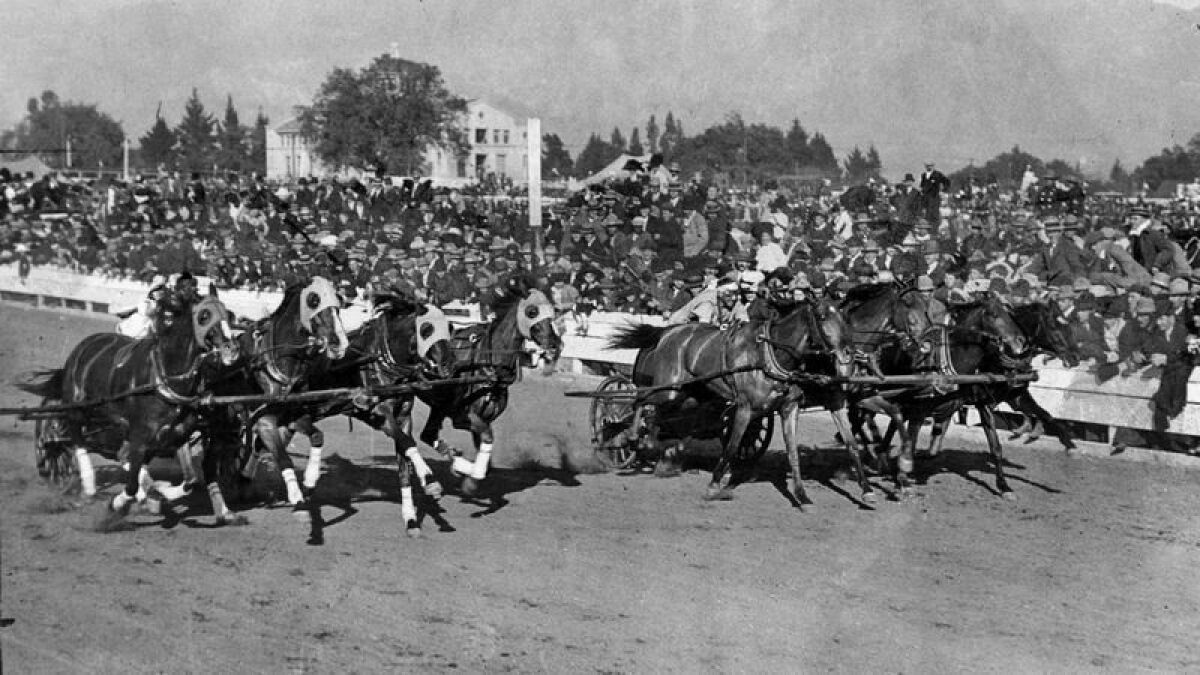 CALIFORNIA
-- The Los Angeles Times, the San Diego Union-Tribune and Tribune Publishing said newspaper delivery operations were back to normal on Sunday, but that some issues remained after a malware attack that affected papers from California to Florida. A source with knowledge of the situation said the cyberattack was believed to have originated outside the United States.
-- Joshua Tree National Park has been busy with visitors over the holidays, despite its facilities being closed by the government shutdown.
-- The residents of Maywood are looking to new leaders to turn around their troubled city in southeast L.A County.
-- With the state's cash bail system in limbo, a pilot program in Compton is serving as an experiment.
HOLLYWOOD AND THE ARTS
-- Looking for some New Year's Eve entertainment tonight? Here's where to go in L.A. and what to watch on TV.
-- Netflix's expansion into interactive shows such as "Black Mirror: Bandersnatch" signifies a big effort by Silicon Valley to reimagine the next generation of entertainment.
-- Lady Gaga's new show, "Enigma," at the Park MGM hotel's Park Theater is perfectly attenuated to its host city of Las Vegas. Is that a good thing?
-- Memo to Oscar voters: Don't sleep on these 14 performances worthy of consideration.
NATION-WORLD
-- Ten months after the mass shooting at Marjory Stoneman Douglas High School in Parkland, Fla., students in Broward County are still exposed to potential danger.
-- More than a dozen people were reported killed in election-related violence in Bangladesh as voters went to the polls to decide whether to give Prime Minister Sheik Hasina Wajed a third consecutive term.
-- An official says authorities in Colombia are investigating a possible plot involving Venezuelans to assassinate President Ivan Duque.
-- For 800 years, the Cathars have been celebrated as martyrs to their faith. Just one problem: They may never have existed.
BUSINESS
-- Did your investments lose money in 2018? If so, you were not alone. Just stuffing cash in the mattress would have beaten the 7% loss incurred this year from a fund tied to the S&P 500.
-- More than 200 people paid $100,000 to ride on Xcor's space plane. After the company declared bankruptcy, the ticket holders understandably want their money back.
SPORTS
-- The Rams secured the No. 2 seed in the NFC playoffs with a victory over the San Francisco 49ers, while the Chargers will open the playoffs in Baltimore after toppling the Denver Broncos.
-- Ready for more college football bowl games? Here's a sneak preview.
OPINION
-- When professionals like doctors and lawyers sell out, we get a president like Trump.
-- We need to learn "timefulness." Most of us are clueless about humanity's place in the planet's long history.
WHAT OUR EDITORS ARE READING
-- Stanley McChrystal, the former commander of U.S. and NATO forces in Afghanistan, called Trump dishonest, immoral and criticized his holiday visit to troops in Iraq. (The Atlantic)
-- Nancy Grace Roman, known as the "Mother of Hubble" for her role in making the Hubble Space Telescope, has died at 93. (NPR)
-- Eight months with a flip phone? This editor tried to survive. (Wired)
ONLY IN L.A.
How will you spend your New Year's Eve? At a fabulous party with friends, in front of the TV, at work, or passed out from dealing with the kids? If you chose "fabulous party," Ann Soh Woods, the founder of an adult beverages company, has some ideas for you. They include a gift basket featuring a flask of whiskey (natch!), a karaoke microphone, Krispy Kreme doughnuts and Advil. And if, like your humble newsletter writer, you'll be at work, in front of the TV and then passed out from dealing with the kids? All those things would come in handy too. Either way: Happy New Year!
For the record: An item in Friday's newsletter said the "Far Out Frequencies" Rose Parade float was being built entirely by the students at Cal Poly Pomona. Students from Cal Poly San Luis Obispo and Cal Poly Pomona are building it.
If you like this newsletter, please share it with friends. Comments or ideas? Email us at headlines@latimes.com.
Must-read stories from the L.A. Times
Get the day's top news with our Today's Headlines newsletter, sent every weekday morning.
You may occasionally receive promotional content from the Los Angeles Times.