Newsletter: Today: Between a Wall and a Hard Place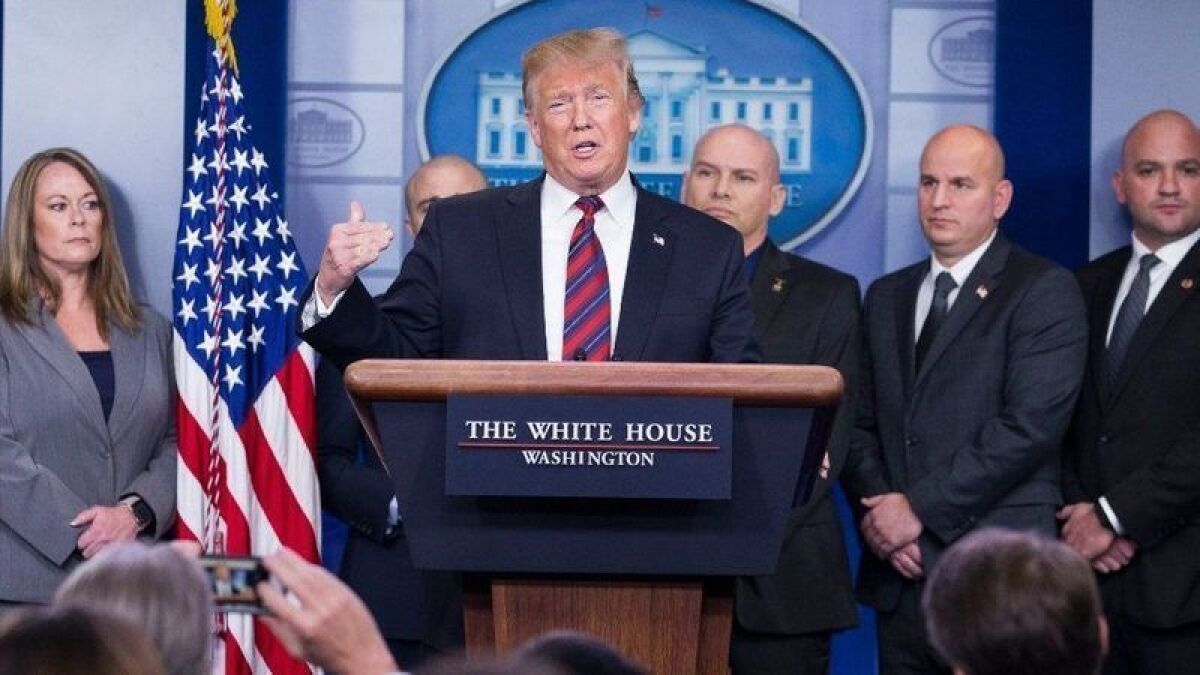 President Trump wants billions for a wall. Newly empowered Democrats in the House say he won't get it. Now what?
TOP STORIES
Between a Wall and a Hard Place
Lawmakers plan to return to the White House today for talks aimed at ending the partial shutdown of the federal government, though there are few signs of it coming to a close. On Thursday, the first day with Nancy Pelosi back as speaker of the House, Democrats passed two bills to reopen federal agencies — without money for President Trump's wall along the border with Mexico. As such, the Republican-controlled Senate is unlikely to take them up, especially considering the White House has said Trump would veto the measures. Trump has showed no signs of backing down on his demand for $5 billion in taxpayer money to build that wall. As a kind of counterprogramming to TV coverage of Democrats retaking the House, Trump made a surprise appearance with leaders of a border agents' union to restate his case. The battle is likely to be a sign of things to come over the next two years, as Democrats have vowed to serve as a check on Trump.
More Politics
-- Trump's uncertain plans in Syria could have chaotic implications for fighting terrorism and for the fate of many civilians.
-- In a rare public break with the White House, top government officials in Afghanistan criticized Trump's praise of the 1979 Soviet invasion of their country and defended the "sacrifice of millions of Afghans" in the conflict.
-- Sen. Dianne Feinstein said that she supports former Vice President Joe Biden in what is likely to be a crowded 2020 Democratic presidential field. That might make things awkward with Feinstein's fellow Californian, Sen. Kamala Harris, who is also considering a run.
Crime and Punishment and Redemption
When Gov. Jerry Brown leaves office next week, his influence on California's criminal justice system will be one of the most complicated parts of his legacy. His last eight years in office emphasized redemption, including measures to downgrade drug crimes, give inmates new chances for parole and more — an about-face from his stance as governor in the 1970s. While reformers have praised Brown, critics cite an uptick in violent and property crimes in some communities as evidence that leniency doesn't work.
L.A.'s Quake Alerts: What Took So Long?
With the launch of the ShakeAlertLA app this week, Los Angeles has become the first city in the U.S. to offer quake alerts to the general public. It's a system that Tokyo, Taipei and Mexico City have used for years. What took so long? While fights over money were part of the delay, scientists say they had to build a network unique to the area's geography, where numerous faults crisscross.
Contingency Plans for Half a Million Kids
By this time next week, teachers in the Los Angeles Unified School District could be on strike. Much could hinge on a meeting planned for Monday, and both sides say they want to reach an agreement. But parents are already pondering what to do if a strike begins Jan. 10. Some told The Times they'd continue to send their kids to school; some said being on a picket line would be a learning experience; and some said they'd wait and see how things play out. The vast majority of the district's half a million students rely on schools for meals, and many receive medical and mental health services on campus.
Sign up to get Today's Headlines delivered to your inbox. »
FLASHBACK FRIDAY
On this date in 1914, The Times reported on the closing Christmas festivities at the Plaza Church, a historic Catholic church in downtown Los Angeles, for nearly 2,000 children of Mexican descent. "Every little one got bags of candies and Christmas goodies, and besides these some suitable gifts of toys and clothing."
CALIFORNIA
-- Despite a flurry of activity, Gov. Brown is leaving plenty of unfinished water business as he heads to his Sacramento Valley ranch. Gavin Newsom could change course on a lot of it.
-- Six months after a state Supreme Court ruling forced local courts to provide court reporters in civil cases involving poor litigants, officials are struggling to hire enough.
-- In Ojai, reports that junior high students created a human swastika on campus and had a racist, violent group chat have prompted concerns about the school's response and safety.
-- The state snowpack is still below average but better than last year. Storms are on the way this weekend.
YOUR WEEKEND
-- On a weekend escape to Death Valley, you can witness the rebirth of a historic hotel.
-- Las Vegas' newest restaurants echo those of L.A., including ventures from Roy Choi and the Factory Kitchen.
-- The Ronald Reagan Presidential Library in Simi Valley is one of only two presidential libraries nationwide that are still open during the government shutdown.
-- What to do with palm fronds, the stubborn garden waste that defies composting.
HOLLYWOOD AND THE ARTS
-- The Golden Globes take over Hollywood on Sunday. Awards columnist Glenn Whipp gives you five things to watch for, including spotlight turns for Sandra Oh, Bradley Cooper and the Dude.
-- Will Kevin Hart return as Oscars host? The comedian said Thursday he is "evaluating" whether to return to the job he stepped down from after he faced backlash over past homophobic remarks.
-- Alfonso Cuarón's film "Roma" is a critical darling. He recently gave columnist Carolina Miranda a tour of the Mexico City movie theater and streets that shaped it.
-- After widespread complaints, the Coachella music festival is enacting a new anti-sexual harassment policy. But will it be enough?
NATION-WORLD
-- Investigators in Houston are trying to determine a motive for the attack that killed 7-year-old Jazmine Barnes. The girl's mother, who was shot in the arm, says she believes the attack on her African American family was motivated by race.
-- Russian news agencies reported that a former U.S. Marine being held in Moscow has been formally charged with espionage.
-- Saudi Arabia says it will seek the death penalty against five suspects in the killing of Washington Post columnist Jamal Khashoggi.
-- Earth is missing a huge chunk of continental crust. Could a long-ago "Snowball Earth" be the culprit?
BUSINESS
-- Stocks tumbled Thursday, with technology companies suffering their biggest loss in seven years, after Apple reported that iPhone sales are slipping in China. Apple stock dropped 10%, wiping out more than $74 billion of the company's market value.
-- SoCal Edison's new rates for electricity will vary with the time of day. Some customers may not benefit much, if at all.
SPORTS
-- The Chargers meet the Ravens in an NFL wildcard game on Sunday. To beat the team from Baltimore, they'll have to control possession of the ball.
-- The Trinity League, made up of six private high schools in Southern California, attracts top athletes and elite coaches. But it lacks minority head coaches in its most visible sports of football, basketball and baseball.
OPINION
-- Prayer at government meetings violates the 1st Amendment.
-- The women's march has lost some of its steam. Recent controversies threaten to overshadow its greater purpose. Columnist Robin Abcarian thinks we need to keep our eye on the ball: gender and racial equality.
WHAT OUR EDITORS ARE READING
-- Who killed the Weekly Standard, the most influential publication of the American right? (The New Yorker)
-- The future of medicine could be revolutionized by these dozen innovations. (National Geographic)
-- How the Netflix film "Bird Box" inspired so many memes that drove people to watch it. (The Ringer)
ONLY IN L.A.
A German beer garden with vegan schnitzel and wurst. An Israeli-Asian fusion place with stir-fried kosher curry noodles. A Sichuan restaurant with spicy dishes served on shovels. They're all part of this week's restaurant openings. Get 'em while they're hot.
If you like this newsletter, please share it with friends. Comments or ideas? Email us at headlines@latimes.com.
---