Column: For all its prowess, the Trinity League is behind the times when it comes to hiring African American coaches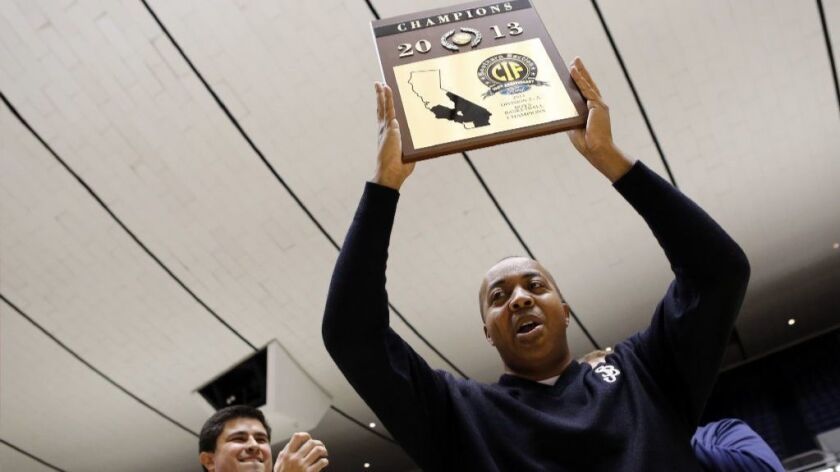 In talent-rich and diverse Southern California, the Trinity League, made up of six private schools, continues to attract top athletes and elite coaches, using past success, creative transportation options and financial solutions, and a growing presence on social media to promote its programs.
There is one area, however, where the league has failed miserably. It lacks minority head coaches in its most visible sports of football, basketball and baseball. There are no African American head coaches even though many of the schools' best athletes are African American. The last African American coach was Derrick Taylor, who was basketball coach at Bellflower St. John Bosco for four seasons ending in 2015.
"I can't believe you can't find a qualified man of color to coach in that league," said Taylor, who guided the Braves to a Southern Section and state title.
Perhaps it's time for parents to start speaking up and encouraging the administrators at St. John Bosco, Santa Ana Mater Dei, Orange Lutheran, Anaheim Servite, Santa Margarita and San Juan Capistrano JSerra to go outside their comfort zone the next time an opening exists and widen the circle of candidates.
Other private schools have already figured out the positive results of diversity. In basketball, private programs at Chatsworth Sierra Canyon, Santa Monica Crossroads, Brentwood, L.A. Loyola and Mission Hills Alemany have all won championships in recent years with talented African American head coaches.
Last football season, Westlake Village Oaks Christian decided to take a chance and promote an unsung African American assistant. Charles Collins guided the Lions to a 12-1 record. The Lions also hired former major leaguer Royce Clayton as baseball coach.
Coaching openings don't happen very often in the Trinity League, and the schools like to hire people with connections to their programs. Mater Dei has had the same basketball and football head coaches for more than 30 years. JSerra had a football opening two seasons ago and promoted assistant Pat Harlow. The school had a basketball opening last year and settled on a former USC player, Keith Wilkinson. Servite went back to someone it knew for football, Troy Thomas, a former head coach at Encino Crespi and Servite.
As far as demographics, five of the six schools have 59% or more students listed as white. St. John Bosco is 50% Latino and has highest percentage of African Americans at 10%. Many of the standout athletes in football and basketball are African American. On Mater Dei's state championship football team, the quarterback, receivers, running backs and top defensive backs are African American.
Considering how many African American athletes have graduated from the schools since the league's inception in 2006, it's time administrators opened the head coaching positions to a wider group.
Progress is happening slowly. Mater Dei has a woman, Tia Meza, as its athletic director. Santa Margarita hired Annie Garrett as its new athletic director. Orange Lutheran has an African American athletic director in Paul Jones, who has been trying to expand the coaching candidates.
"Even for me, it's not if somebody is African American I'm going to hire them," he said. "It's the best qualified person that will fit our school, students and community."
Jones is a 2002 Orange Lutheran graduate who remembers being one of only three African American students on campus. Times have changed. Campuses have changed.
"As we continue to get older in our history, our alums will become more diverse," he said.
Orange Lutheran has an African American freshman football coach and African American junior varsity basketball coach. The Lancers also have African American alumni as assistant coaches for varsity football.
Of course, it takes someone who wants to go into teaching to become a head coach. That's a big commitment in terms of education. Public schools have lots of African American head coaches, but they would face the difficult decision of leaving for a private school and abandoning generous health and pension benefits.
Clearly, the schools in the Trinity League want head coaches who will follow their culture. They like alumni who know how their school operates. But it is time to start looking a little harder to seek out candidates with more diverse backgrounds to reflect their changing student population.
Twitter: @latsondheimer
---
Get our high school sports newsletter
Prep Rally is devoted to the SoCal high school sports experience, bringing you scores, stories and a behind-the-scenes look at what makes prep sports so popular.
You may occasionally receive promotional content from the Los Angeles Times.