Newsletter: Today: The Wall and the Tower
President Trump says House Speaker Nancy Pelosi is behaving "irrationally" in the shutdown impasse, while more Russia questions swirl around him.
TOP STORIES
The Wall and the Tower
It's been two years and one day since Donald Trump took office as president of the United States. It's been more than 30 days since a partial government shutdown started. But the man who presented himself as the ultimate deal-maker is having trouble getting any deal on reopening the government done, in part because so few lawmakers, even in his own party, trust him. On Saturday, Trump offered three years of protection against deportation for about 1 million immigrants, including some "Dreamers" as well as refugees, in exchange for more than $5 billion in border wall funding. That proposal didn't just flop with Democrats, but it also riled some conservative critics, who worry Trump is softening his hard line on immigration. Trump then unleashed some tweets to counter that perception, along with one accusing House Speaker Nancy Pelosi of behaving "irrationally" in rejecting his offer. Meanwhile, the questions over Trump's efforts to build a tower in Moscow while he was campaigning for president (and claiming he had nothing to do with Russia) are growing. Trump's lawyer, Rudolph W. Giuliani, confirmed that talks about the project continued up to the 2016 election, months longer than acknowledged.
She's Running
Ever since Sen. Kamala Harris grilled then-Atty. Gen. Jeff Sessions and then-Supreme Court nominee Brett M. Kavanaugh, there's been talk of her running for president in 2020. Today, she made that talk a reality by announcing on ABC's "Good Morning America" that she is entering the increasingly crowded field of would-be Democratic challengers to Trump. Harris is the fourth female member of Congress to do so.
Who is Ed Buck?
The deaths of Timothy Dean, 55, this month and Gemmel Moore, 26, in 2017 in the West Hollywood home of Democratic donor Ed Buck have prompted homicide investigations by the Los Angeles County Sheriff's Department. They also have stoked outrage and suspicion among activists and the men's family and friends, who question whether differences in race, wealth and political connections have influenced the investigations. Both of the dead men were black. Buck is white. His attorney, Seymour Amster, said his client was a man with a "heart of gold" who invited troubled people into his home to help them and is not responsible for the deaths.
Pinching Pennies on the Picket Line
Negotiating teams from the teachers union and the L.A. Unified School District have been working long hours over the weekend to try to settle the teachers' strike. With today's Martin Luther King Jr. holiday, school is set to resume Tuesday — and is likely to feature plenty of movies, as it did last week. Pressure on both sides has grown. It's been especially challenging for couples who are both striking teachers. Here's how they're making do.
Sorry, Not Sorry
A deafeningly loud stadium. An amazing comeback. A huge blown call. The Rams' victory in New Orleans over the Saints will be remembered for many things, but it ultimately sent an L.A. team to the Super Bowl for the first time in 35 years. They'll face the New England Patriots in the big game on Feb. 3 in Atlanta. No doubt, the missed pass interference call on Rams defensive back Nickell Robey-Coleman, which prompted an apologetic message from the NFL to the Saints' coach, will still be talked about then.
Sign up to get Today's Headlines delivered to your inbox. »
FROM THE ARCHIVES
During the Rev. Martin Luther King Jr.'s years in the civil rights movement, he visited Southern California several times. In honor of MLK Day, here's a look back at some of those visits in pictures.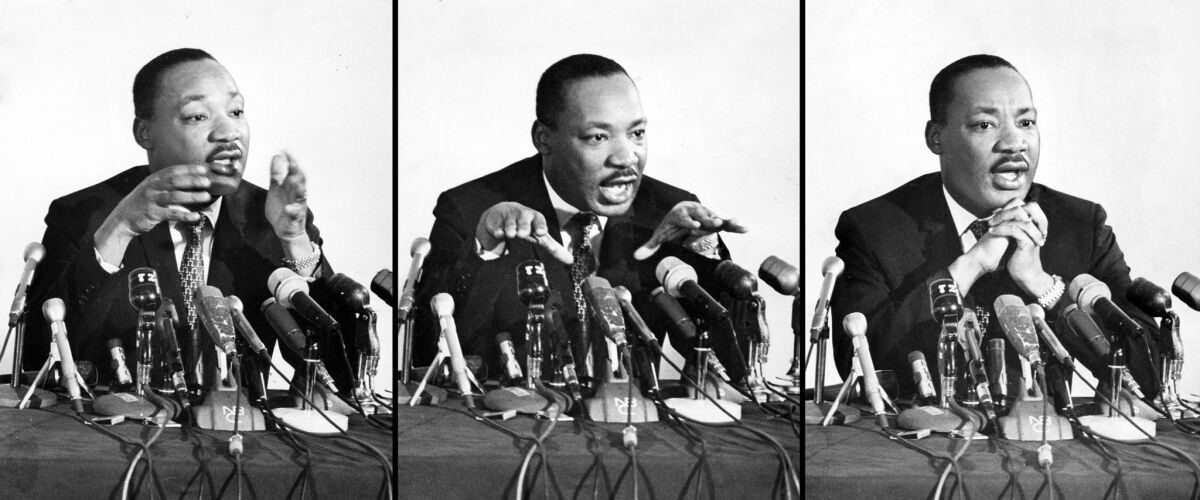 CALIFORNIA
-- Gov. Gavin Newsom's lifelong struggle with dyslexia makes his proposal to screen small children for developmental disorders a personal mission.
-- As the opioid epidemic continues to claim lives, police officers and first responders are increasingly stocking naloxone, a medicine that can reverse opioid overdoses, in their patrol cars.
-- Some people call Pradeep Khosla "the best chancellor UC San Diego has ever had." Others say he's exhibited bullying behavior toward campus employees.
-- Did you see it? The Super Blood Wolf Moon eclipse put on quite a show, even if scientists cringe at that name.
HOLLYWOOD AND THE ARTS
-- The Oscar nominations will arrive bright and early Tuesday morning. Get ready with awards columnist Glenn Whipp's predictions in all 24 categories.
-- "Green Book" has emerged as an Oscar front-runner after winning the Producers Guild of America's top honor this weekend.
-- At the Women's March in downtown Los Angeles on Saturday, the Community Chorus joined the protest in song.
-- With his latest tour, former Monkee Michael Nesmith is revisiting a cult 1972 album that resonates in today's political climate.
NATION-WORLD
-- Bitter cold is setting in after a major winter storm blanketed a wide swath of the United States in snow, sleet and rain this weekend.
-- After a gas pipeline explosion in Mexico, the death toll has risen to at least 85 people. Officials say it could take weeks or months to identify all the bodies.
-- Congo is on the brink of its first peaceful, democratic transfer of power since independence in 1960, though questions about the presidential election's results remain.
BUSINESS
-- Remember the subprime mortgage mess? More than $1 trillion in risky corporate debt is flashing similar warning signs.
-- Financial advice: Is it smarter to save for retirement or pay off debt first?
SPORTS
-- The Lakers' injury problems just got worse: Lonzo Ball will miss four to six weeks with an ankle sprain.
-- Boxer Floyd Mayweather Jr. is feigning indifference to a rematch with Manny Pacquiao, but we've seen this before.
OPINION
-- We celebrate Martin Luther King Jr. for trying to rescue America's soul. Rep. Steve King reminds us the job still isn't finished.
-- Nancy Pelosi is winning in her battle with Trump. Here's why.
WHAT OUR EDITORS ARE READING
-- A fuller, more complicated picture of the encounter between a Native American man and a throng of high school boys wearing "Make America Great Again" hats outside the Lincoln Memorial has emerged. (New York Times)
-- BuzzFeed is standing behind its Trump Tower story after the special counsel's office issued a statement challenging the accuracy of the report. (CNN)
-- Being a science consultant in Hollywood doesn't come with much power or prestige. (Wired)
ONLY IN L.A.
Laughter may be the best medicine, but judging from Trevor Noah's new home, it can also be a gold mine. The host of "The Daily Show" has shelled out $20.5 million for a modern estate in Bel-Air, according to sources not authorized to comment on the deal. What does $20.5 million buy? Take a look.
If you like this newsletter, please share it with friends. Comments or ideas? Email us at headlines@latimes.com.
---