Newsletter: Today: Should L.A.'s Freeways No Longer Be Free?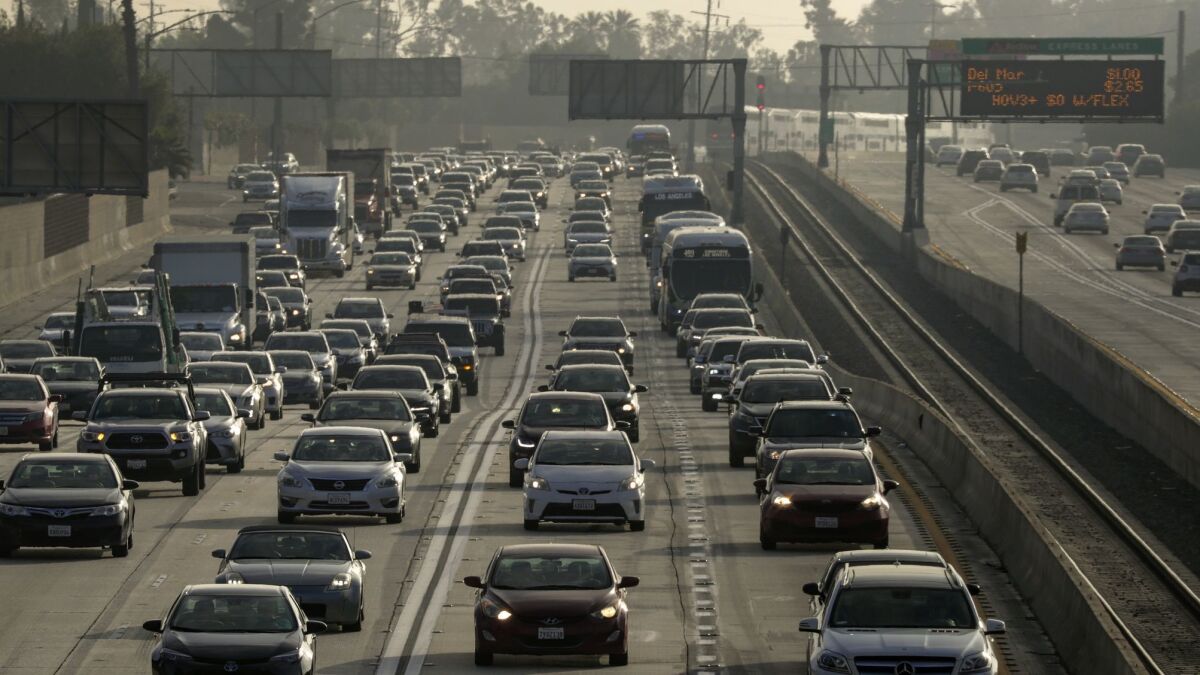 The Metropolitan Transportation Authority wants to study some drastic ways to reduce traffic congestion in Los Angeles.
TOP STORIES
Should L.A.'s Freeways No Longer Be Free?
For decades, L.A. has had a complicated relationship with its freeways, but one thing has remained the same: They're more or less free to drive. Now transportation officials say traffic congestion has gotten so bad that we need to study the alternatives, including converting carpool lanes to toll lanes (as the 110 and 10 Freeways have now), taxing drivers based on the number of miles they travel, or charging a fee to enter certain neighborhoods and business districts. But the experts also wonder whether politicians will stand up for an idea that, as one puts it, "challenges what Angelenos see as their God-given right to drive anywhere they want."
From the Crucible of San Francisco Politics
Kamala Harris was born in Oakland, spent her early years in Berkeley and forged her political career in San Francisco. Now, as a U.S. senator just two years into her term, she has joined the ranks of presidential contenders for the 2020 election. Harris is hoping to take what she learned from the hard-knocks politics of San Francisco and apply them to a national stage. Her quick rise has been driven by relentless fundraising, the force of personality and what some would call a kind of cold calculation.
More Politics
-- President Trump and Vice President Mike Pence paid a two-minute visit to the Martin Luther King Jr. Memorial to lay a wreath during the civil rights hero's national holiday, while Democrats who may run against Trump in 2020 fanned out to public events across the nation for bigger tributes.
-- The percentage of TSA airport screeners missing work hit 10% as the partial government shutdown stretches into its fifth week. Sunday's absence rate was up from 3.1% on the comparable Sunday last year.
-- Trump's lawyer, Rudolph W. Giuliani, said the comments he made about discussions of a Trump Tower project in Moscow during the 2016 presidential election are "hypothetical."
Teacher-Less Tuesday
After a long weekend of negotiations, there were signs Monday night that a settlement of the Los Angeles teachers' strike is nearing. "We have been working tirelessly to reach an agreement, and have made tremendous progress with five days and more than 50 hours of negotiations at City Hall," said L.A. Mayor Eric Garcetti, who is serving as mediator with his staff since talks resumed Thursday. One thing is clear: For one more day at least, skeleton crews will watch over L.A. Unified School District campuses.
Lifestyles of the Rich and Infamous
In any other context, the nine-figure bribe that a former Sinaloa cartel secretary said he arranged for a Mexican president-elect would defy belief. But for the mega-rich narco-traffickers who have lined up to testify in the trial of Mexican drug kingpin Joaquin "El Chapo" Guzman, $100 million is just the price of doing business — and a peek into the multibillion-dollar drug trade.
Sign up to get Today's Headlines delivered to your inbox. »
OUR MUST-READS FROM THE WEEKEND
-- Columnist Steve Lopez on the passing of his mother, Grace, and the perils of hospice care.
-- Southern California Edison is putting the blame on Santa Barbara County and Caltrans for failing to prepare for the Montecito mudslides that followed the Thomas fire.
-- Fifty years ago, Richard Nixon took office, and for the new president it was a time of hope, civility and optimism.
-- "The 2004 tsunami could have killed me. I escaped, but it changed my perspective."
-- Why did USC Athletic Director Lynn Swann remove the USC Song Girls, a school spirit group founded 50 years ago, from home basketball games?
-- Jonathan Cheban is not a food critic, but as Kim Kardashian's BFF and later rebranding himself as Foodgod on Instagram, he has been dining on fame.
FROM THE ARCHIVES
When the Rams play in the Super Bowl next month, it will be the first time in 35 years that an L.A. team has made it to the game. On this date in 1984, the Los Angeles Raiders defeated the Washington Redskins, 38-9, in Super Bowl XVII. It was the first and only time a Los Angeles team has won the championship game. It was also the day Apple's "1984" ad made its national premiere.
CALIFORNIA
-- Thousands of volunteers will fan out across the city and county of Los Angeles over the next three days for a count of the homeless that will serve as a barometer of how well government efforts are working.
-- Gov. Gavin Newsom wants to use state funds to help migrant families arriving at the border, with much of the money going to San Diego nonprofits and community organizations running a shelter.
-- UCLA and the Brentwood School are under fire from those who say that neither institution is providing the veteran services they agreed to under their leases on the U.S. Department of Veteran Affairs' West L.A. property.
-- Electric scooters have taken over Venice and Santa Monica, but L.A. County has a different plan for its unincorporated areas.
HOLLYWOOD AND THE ARTS
-- The Oscar nominations come out this morning at 5:20 a.m. Pacific. Here is everything you need to know.
-- The American Society of Cinematographers, which turns 100 this month, has identified increasing gender and ethnic diversity among its ranks as a necessary goal.
-- While it didn't shatter any records, M. Night Shyamalan's thriller "Glass" topped the box office over the Martin Luther King Jr. Day holiday weekend.
-- Lady Gaga and Gwen Stefani take different approaches for Las Vegas shows that revel in spectacle.
NATION-WORLD
-- Health officials say they have 22 confirmed measles cases in Washington state since the start of the year.
-- In Syria, American forces were targeted again when a suicide bomber blew up a car near a joint U.S.-Kurdish convoy. There were no U.S. casualties, according to a statement from the U.S.-led coalition.
-- A Taliban assault on a military base and police training center in a province just outside the Afghan capital killed at least 45 people and wounded as many as 70. There were fears the death toll may be even higher.
-- Venezuela has plunged deeper into turmoil after security forces put down an uprising by national guardsmen that triggered violent street protests. The Supreme Court has also outlawed the opposition-controlled congress' new leadership.
BUSINESS
-- China's economy is weakening, adding to fears of a global slowdown. The trade war with the U.S. isn't helping.
-- To keep his Tesla dream alive, Elon Musk is being forced to focus on some fairly mundane goals: building high-quality affordable cars and creating an efficient sales, parts and service system.
SPORTS
-- For his first L.A. Times column, LZ Granderson explains why it's hard to "stick to sports" when writing. It's because sports doesn't stick to sports.
-- This year's Baseball Hall of Fame induction class will be announced today. Will Curt Schilling be in it? Though voting closed weeks ago, Trump tweeted his support of Schilling, who is an outspoken conservative.
OPINION
-- A "justice" system that frees the monied and locks up the poor isn't worthy of the name.
-- Trump is likely to face a challenger in the primaries in the 2020 presidential election. Here's why.
WHAT OUR EDITORS ARE READING
-- U.S. intelligence officials have met with their North Korean counterparts secretly for a decade. That's allowed communications during tense times, aided in detainees' release and helped pave the way for Trump's summit with North Korean leader Kim Jong Un. (Wall Street Journal)
-- Oxfam says the world's 26 richest people own as many assets as the 3.8 billion people who make up the poorest half of the planet's population. (Guardian)
-- Matt Bray was determined to dance with 1,000 people around the world. This video was the result. (Time)
ONLY IN CALIFORNIA
Take a fitness routine inspired by obstacle-course events like the Spartan Race. Add some disco music — and a "pancake" filled with sand. What do you get? A workout that will push you to the limit and perhaps a little bit beyond. Then again, the class takes place at a Laguna Niguel resort where the toilets smell like cinnamon.
If you like this newsletter, please share it with friends. Comments or ideas? Email us at headlines@latimes.com.
---