Newsletter: Today: Presidential Gender Politics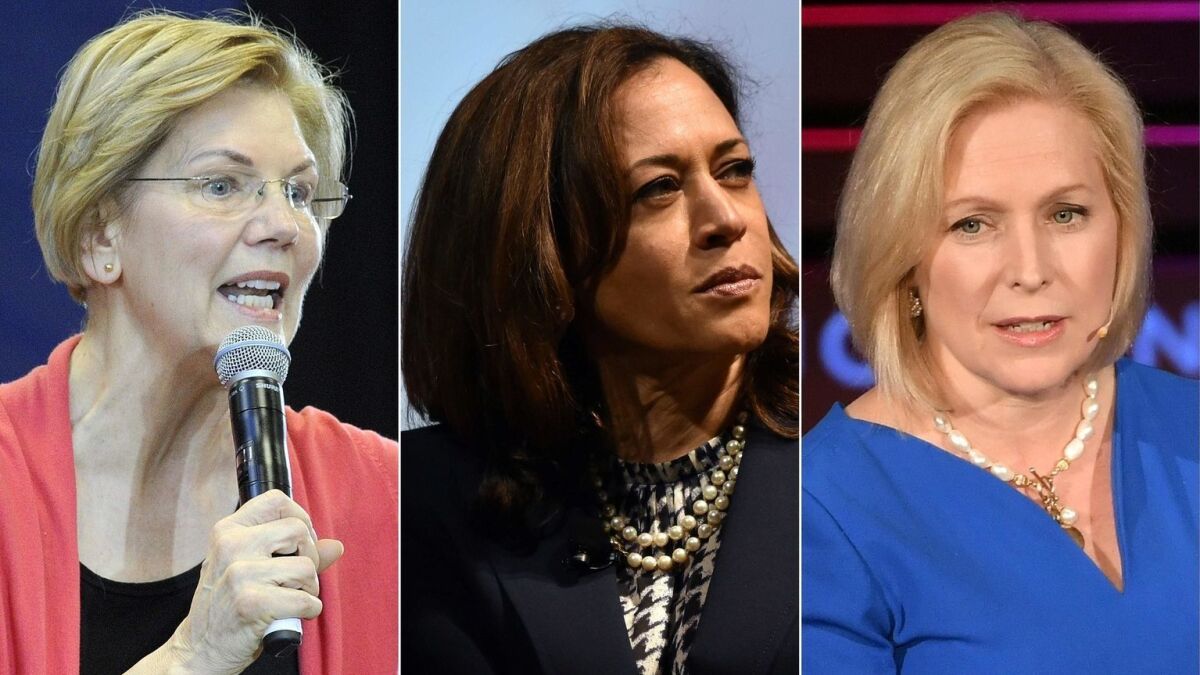 More women than ever before are running for president in 2020. Each has a different strategy for navigating the crosscurrents of gender in national politics.
TOP STORIES
Presidential Gender Politics
It's still early days, but a record number of women are already running for president in 2020. So far, each one is taking a different tack on how gender plays into her campaign strategy and message. Sen. Elizabeth Warren has put class, not gender, at the center of her campaign; Sen. Kamala Harris has focused more on her connections with the black community and a career in law enforcement; Sen. Kirsten Gillibrand has emphasized her record on protecting women from sexual assault and her support for female candidates; and Rep. Tulsi Gabbard has spoken of her status as a military veteran. For these and other Democrats in 2020, for the first time in the history of presidential campaigns, being a woman may be more a political asset than a liability among voters. But it also often comes with plenty of sexist double standards.
More Politics
-- Acting Atty. Gen. Matthew Whitaker said special counsel Robert S. Mueller III's Russia investigation "is, I think, close to being completed, and I hope we can get the report from Director Mueller as soon as possible."
-- Roger Stone, a longtime political advisor to President Trump, is expected to plead not guilty today to felony charges brought by Mueller.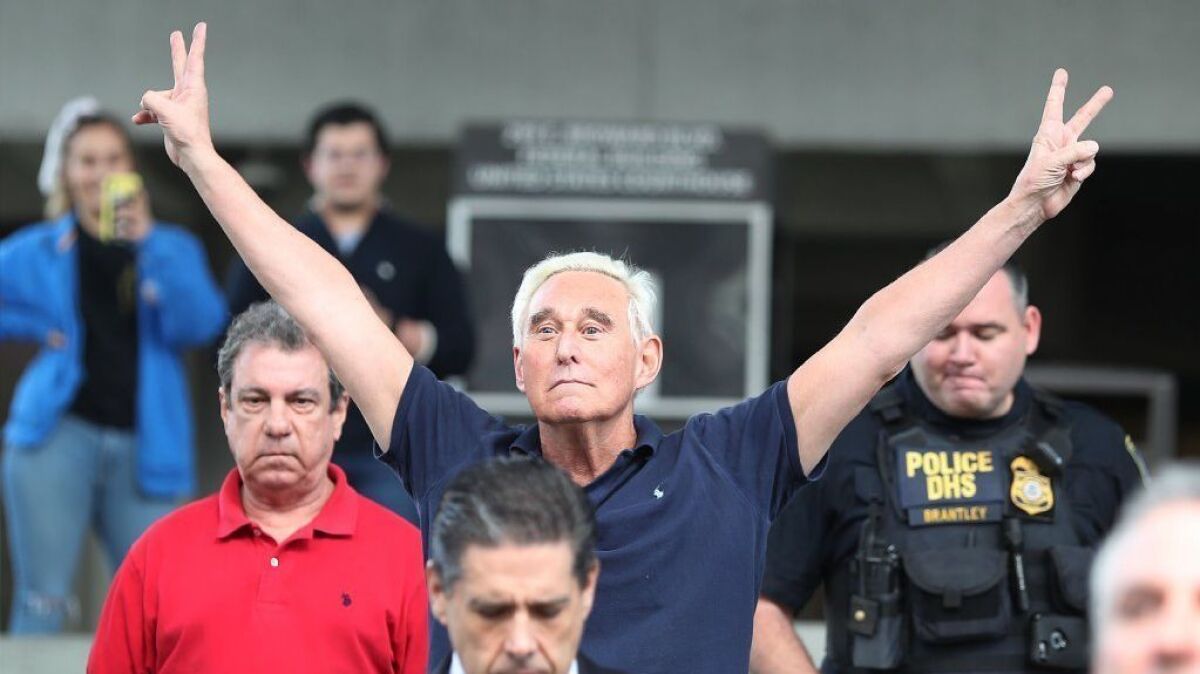 -- Trump has accepted an invitation from House Speaker Nancy Pelosi to give his State of the Union speech on Feb. 5: "We have a great story to tell and yet, great goals to achieve!"
-- Ramping up pressure to unseat the government of President Nicolas Maduro, the Trump administration is sanctioning Venezuela's oil company and saying it will divert revenue to the party of his chief opponent.
A Wake-Up Call for Huawei
Just before high-level negotiations on the trade dispute between the U.S. and China are set to resume in Washington on Wednesday, the Justice Department is taking on Chinese telecom giant Huawei. In two criminal indictments, prosecutors allege the company engaged in a long-running scheme to deceive banks and the U.S. government about its activities in Iran and tried to steal sensitive information from T-Mobile. They also charged Huawei's chief financial officer with bank and wire fraud as they seek her extradition from Canada.
PG&E Files for BK
Faced with huge potential liabilities from California's deadly wildfires, the state's largest power company, Pacific Gas & Electric Corp., has filed for bankruptcy protection — for the second time in two decades. Though PG&E says employees will still be paid and customers in Northern and Central California will still get their gas and electricity, the process is likely to be unpredictable and result in higher rates. Critics have said PG&E is exaggerating its financial woes in an effort to gain concessions from Sacramento.
Looking Into Those Traffic Stops
Last week, an L.A. Times investigation found that officers in the Los Angeles Police Department's elite Metropolitan Division stop black drivers at a rate more than five times their share of the population. Now, Mayor Eric Garcetti has called for an audit of those traffic stops, adding urgency to one by the LAPD's Office of Inspector General that's already underway. Police Chief Michel Moore has credited the expansion of Metro with helping to reduce violent crime.
'It's a Bigger Problem Than You Think'
The town of Ojai is known for its spiritual retreats, wine-tasting rooms and generally liberal esprit de corps. So when a group of junior high students formed a swastika on a soccer field in December, it opened some eyes to a problem that other residents say has been simmering for a long time — and spurred a conversation about hate incidents.
The St. Louis Football Blues
As the L.A. Rams prepare to face the New England Patriots in the Super Bowl, there is a feeling of melancholy in the city the Rams left three years ago. There, in St. Louis, fans have felt a lot of anger toward team owner Stan Kroenke. But that hate typically doesn't extend toward the players. And while some St. Louisans may want to see the Rams lose on Sunday, quite a few might be quietly rooting for their old team.
Sign up to get Today's Headlines delivered to your inbox. »
CALIFORNIA
-- Construction workers and builders are close to a deal on wages and benefits that could mean a surge of new building.
-- The state Medical Board has launched investigations into doctors who prescribed opioids to patients who suffered fatal overdoses. Critics are calling it a "witch hunt."
-- An LAPD captain alleges in a lawsuit that she was the victim of sexual harassment and a hostile work environment after the circulation of a photo of a nude woman that some falsely claimed was her.
-- A federal jury has acquitted two Pomona police officers charged with using excessive force and lying in the arrest of a teenager at the Los Angeles County Fair.
HOLLYWOOD AND THE ARTS
-- Michael Jackson's family calls the reaction to the two-part documentary "Leaving Neverland," which premiered at the Sundance Film Festival, a "public lynching."
-- "Luce," a thriller that also premiered at Sundance, asks tough questions about race, expectations and privilege.
-- #MeToo founder and civil rights activist Tarana Burke has unveiled four public service announcements that put the spotlight on survivors.
-- Britney Spears has an upcoming movie cameo that was so secret that even one of the stars didn't know about it.
NATION-WORLD
-- Authorities say two suspects are dead after a shooting that wounded five Houston police officers, including four who were hit as they tried to serve a search warrant.
-- Heavy snow and powerful wind created blizzard-like conditions across parts of the Midwest on Monday. Forecasters warned the most dangerous weather is yet to come.
-- Joaquin "El Chapo" Guzman said he will not take the stand at his drug trafficking trial in New York.
-- Seventeen years after the U.S. military-led invasion of Afghanistan, the prospect of a truce with the Taliban appears to be inching closer to reality.
-- Hawker food in Singapore is a bit of culture worth preserving ... and devouring.
BUSINESS
-- California Insurance Commissioner Ricardo Lara says insurers have received claims of $11.4 billion so far to cover losses caused by November's wildfires. That number is expected to grow.
-- Consumer columnist David Lazarus made a trip to the podiatrist that shows how patients can be manipulated by industry-influenced doctors into making the most expensive healthcare choices.
SPORTS
-- The New Orleans Pelicans are open to trading five-time all-star Anthony Davis to the Lakers. The cost, sources say: Lonzo Ball, Kyle Kuzma, Ivica Zubac and a first-round draft pick for starters.
-- The Dodgers are hoping newly signed center fielder A.J. Pollock is their everyday answer to consistency issues.
OPINION
-- Talking to the Taliban is better than an endless war.
-- Declare a "national emergency" in an effort to build a border wall would be a long-term political and constitutional atrocity.
WHAT OUR EDITORS ARE READING
-- In the book "Team of Vipers," former White House aide Cliff Sims recounts his year and a half in a West Wing "out of control." (The Atlantic)
-- The trouble with online trolls: Why do they do it? (Slate)
-- Maroon 5 is playing the Super Bowl halftime show in Atlanta, and given the city's musical roots, some wonder why an act with a local connection wasn't chosen. Here's a look at the show's musicians through the years and their logical replacements. (The Undefeated)
ONLY IN L.A.
What has no beginning, no end, no middle and is bright yellow? The answer to this riddle can be found at Randy's Donuts, where the famous giant doughnut atop the store has been given a new paint job to mark the Rams' trip to the Super Bowl. How long it stays that way is anyone's guess.
If you like this newsletter, please share it with friends. Comments or ideas? Email us at headlines@latimes.com.
---