Newsletter: Today: Straight Talk From L.A. Vets to Trump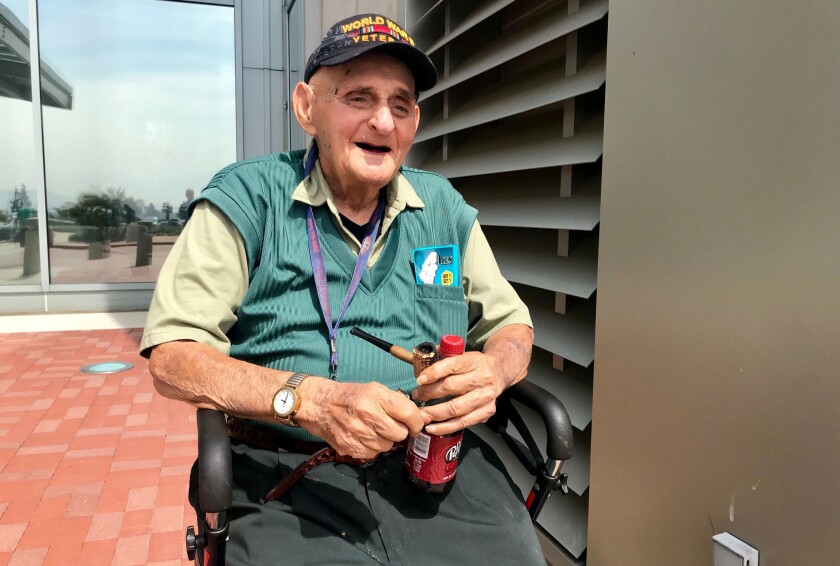 Regardless of their politics, some Los Angeles veterans wish President Trump would leave the late Sen. John McCain alone.
TOP STORIES
Straight Talk From L.A. Vets to Trump
Time and again, President Trump has made clear that he doesn't like Sen. John McCain, the late Republican war hero. How is that playing with those who have served their country? Columnist Steve Lopez paid a visit to the Veterans Administration's Sepulveda Ambulatory Care Center to find out. "Even veterans who support the president told me they can't understand why the president would speak with such contempt about a man who devoted his life to public service, endured years as a prisoner of war after his plane was shot down in Vietnam, and died of brain cancer seven months ago," Lopez writes.
More Politics
-- A divided Supreme Court bolstered the Trump administration's power to arrest and indefinitely jail legal immigrants who once committed crimes that could trigger deportation, including those who completed their sentences years ago or were convicted of minor drug offenses.
-- Trump and Jair Bolsonaro, the new Brazilian leader dubbed "the Trump of the Tropics," pledged cooperation in opposing Venezuela's socialist government. Both also took aim at a pillar of democracy: the media.
-- Trump has denounced Democrats vying for his job as socialists. The more interesting question for 2020 Democrats is about capitalism, writes columnist Doyle McManus.
-- How Howard University shaped Sen. Kamala Harris' identity: For her, it was a political awakening.
An Inside Look at Police Misdeeds
In 2017, an off-duty South Pasadena police officer fled when he crashed his truck after a night of drinking. Hours later, he let his mother claim she had been behind the wheel. The incident is one of hundreds of cases being examined by the newly created California Reporting Project, a collaboration of 33 news organizations including The Times that is analyzing internal police records released under a new transparency law. The Times and other collaborative partners will be publishing stories about how the records shed light on shootings by police and confirmed cases of dishonesty and sexual assault by on-duty officers.
No Soccer Experience Required
On a team of all-stars, Lauren Isackson was given the No. 41 jersey as a member of the UCLA women's soccer team in 2017 and was listed as a midfielder on the roster. But prosecutors say she did not play competitive soccer before enrolling at the university and that her parents conspired to have her admitted as an athletic recruit. According to the FBI affidavit, they gave about $250,000 in Facebook stock to a charity run by William Singer, the admitted mastermind of the college admissions scandal. Meanwhile, USC officials have started investigating students who may be linked to the scheme, UC Berkeley has launched an investigation into a former member of the men's rowing team, and federal prosecutors are said to be seeking potential deals with some of the wealthy parents charged.
Fox, Meet the Mouse
It's been more than a year since the Walt Disney Co. announced its plans to buy much of Rupert Murdoch's 21st Century Fox. Now, the $71.3-billion deal is officially done. One of the biggest media consolidations in Hollywood history gives Disney ownership of film and TV franchises including "X-Men," "Deadpool" and "The Simpsons." The remaining Fox assets, including Fox News, the Fox broadcast network and the historic studio lot, have been spun off into a new company called Fox Corp. that will count former House Speaker Paul D. Ryan among its board members. And for Disney Chief Executive Bob Iger, it's the boldest and riskiest move he's taken in 14 years on the job.
Sign up to get Today's Headlines delivered to your inbox. »
FROM THE ARCHIVES
On this date in 1976, Patty Hearst — granddaughter of American publishing magnate William Randolph Hearst — was convicted of federal bank robbery charges related to her actions in the Symbionese Liberation Army, a left-wing radical group that had kidnapped her two years earlier. When the image below by L.A. Times photographer John Malmin was taken, Hearst was in Los Angeles criminal court facing California charges.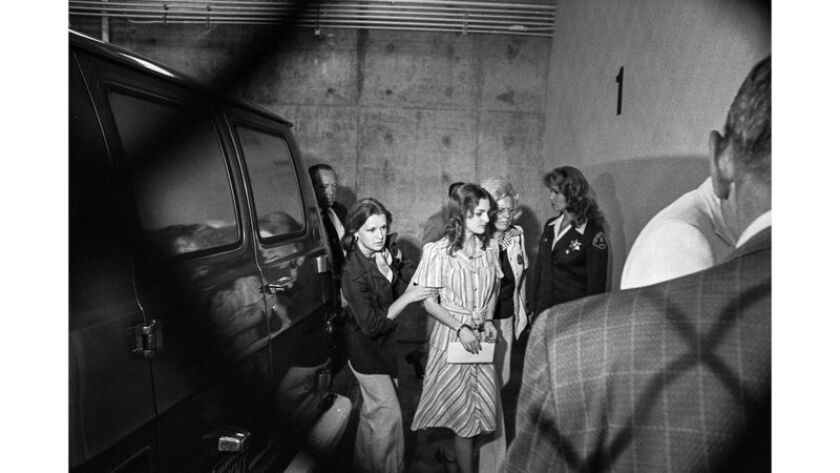 CALIFORNIA
-- A year ago, L.A. City Council members promised to support 222 units of new housing for homeless people in each of their districts. So far, the reality has been uneven.
-- The L.A. Police Commission has ruled that the last round fired by each officer in the fatal shooting of a man at the Baldwin Hills Crenshaw shopping mall violated department policy.
-- Today is the first day of spring, which means … more rain. Back-to-back storms are hitting Southern California.
-- Wondering where to find the super bloom in Southern California? Here's a quick guide.
HOLLYWOOD AND THE ARTS
-- ASMR videos are the anti-digital digital phenomenon. Columnist Mary McNamara even found one of a reader rustling through a copy of the L.A. Times.
-- For more than two decades, "The Rolling Stones Rock and Roll Circus" was a lost film. Now, it's been remastered for a limited U.S. theatrical run during the first week of April.
-- What to make of "The Village," NBC's latest tear-jerker? Critic Robert Lloyd says it's a feel-sad fairy tale saved by its acting.
-- Yoko Ono, from demon to saint: why 75 women are paying tribute to her legacy at Disney Hall.
NATION-WORLD
-- Trump is expected to nominate Washington attorney Christopher Landau to be the next United States ambassador to Mexico nearly one year after the resignation of the previous U.S. ambassador.
-- U.S.-backed Syrian forces have seized control of an encampment held by Islamic State in eastern Syria, after the surrender of hundreds of militants.
-- President Nursultan Nazarbayev is the only leader Kazakhstan has had since gaining independence. Now he's stepping down … sort of.
-- New Zealand Prime Minister Jacinda Ardern says she'll deny the accused gunman in an attack on two mosques the fame he sought by refusing to even speak his name.
-- As Hong Kong sprawls into the surrounding hills, it's struggling to contain a wild boar problem. The boars are eating more, reproducing more and living an unhealthy urbanized life.
BUSINESS
-- With weeks to go in his tenure atop the U.S. Food and Drug Administration, Scott Gottlieb said his agency may need to pull pod-based nicotine products off the market as it fights a surge in teen vaping.
-- A pilot who hitched a ride on a Boeing 737 Max 8 operated by Lion Air saved the plane. The next day, under command of a different crew, the same jetliner crashed.
SPORTS
-- Mike Trout will have what is essentially a lifetime contract with the Angels, reportedly for 12 years at $426.5 million, which would make it the richest deal in pro sports history. Columnist Bill Plaschke says Trout's worth it.
-- Santa Anita's plan to reduce the amount of a drug called Lasix that a horse can have on race day has received a rebuke from the North American Assn. of Racetrack Veterinarians.
OPINION
-- Trump has some suggestions to help student loan debt, for better and worse.
-- The military's new transgender policy is a ban, no matter how the Pentagon spins it.
WHAT OUR EDITORS ARE READING
-- Tech firms in the United States are lending expertise and even technology to Chinese surveillance companies, wittingly or otherwise, as Beijing builds an Orwellian state. (Foreign Policy)
-- Since Freddie Gray's death in 2015, violent crime in Baltimore has grown to levels unseen for a quarter-century. (ProPublica)
-- Swiss researchers played various kinds of music to cheese. So what produced the best flavor? It was hip-hop. (Reuters)
ONLY IN L.A.
For decades, a fanciful zeppelin has occupied a picture window at the Santa Monica prop shop Jadis. Though it has fascinated generations of passersby, the vehicle had seen better days. But Jadis' owner was not willing to give up the ship, and she went on a search to find the zeppelin's builders. Here's how this incredible flying machine came back to life on a wing and a prayer.
If you like this newsletter, please share it with friends. Comments or ideas? Email us at headlines@latimes.com.
---