Big health insurance deductibles have strained family budgets, saddled many with debt and driven millions to skip care.
TOP STORIES
The Forgotten Health Insurance Crisis
Soaring deductibles and medical bills are pushing millions of American families to the breaking point, fueling an affordability crisis that is pulling in middle-class households with health insurance as well as the poor and uninsured. Those are among the key findings of a Times examination of job-based health insurance — the most common form of coverage for working-age Americans — which has undergone a rapid transformation, requiring patients to pay thousands of dollars out of their own pockets. The conclusions are based in part on a nationwide poll conducted in partnership with the nonprofit Kaiser Family Foundation. Yet while much of the healthcare debate in Washington has focused on Obamacare, not much attention has been paid to the rapid run-up in costs for people covered through work.
Barr's Boycott
Atty. Gen. William Barr has pulled out of today's scheduled appearance before a House committee, announcing the move just hours after Democrats attacked his credibility during a contentious Senate hearing yesterday. They accused him of deliberately mischaracterizing special counsel Robert S. Mueller III's final report to protect President Trump. Barr's boycott marks a new escalation between the White House and House Democrats, who have stepped up their investigations of Trump since the release of Mueller's redacted report.
More Politics
-- The White House has asked Congress for $4.5 billion more in emergency funding to address a surge of migrants at the southern border.
-- Bernie Sanders never had this before: a campaign machine that's crushing it.
-- Iowa voters are flocking to Joe Biden, but out of practicality, not passion.
39,927,315 and Counting, Very Slowly
California's population growth last year was the slowest since data collection began in 1900, according to state officials. Reasons for the change include shifting immigration patterns, a decline in the number of births, and economic strains that are making it harder for some to afford living here. Meanwhile, seniors are making up a larger and larger share of the population.
The $6.5-Million Mystery: Partially Solved
Of the many allegations federal prosecutors revealed in the college admissions scandal, one stood out: Someone paid $6.5 million to get a child into an elite school. Now, sources have told The Times who that someone is — the family of a Chinese student admitted to Stanford. No one in the family has been charged in the scandal, and it's unclear how much the parents or their daughter knew about steps William "Rick" Singer was taking to secure the girl a spot at the university.
Sharing Nightmares and Dreams
For two hours every Thursday, the members of Transgéneros Unidas gather in a building wedged between a seafood market and a piñata shop in Long Beach. The group of transgender Latinas, ranging in age from their early 20s to 60s, swaps advice and talks about past traumas. Times reporter Marisa Gerber visited their meetings, which provide a "once-a-week respite from the too-long stares of strangers and the heaviness of hyper-vigilance."
Sign up to get Today's Headlines delivered to your inbox. »
FROM THE ARCHIVES
On this date in 1955, Times photographer Jack Gaunt was awarded the Pulitzer Prize for a heartrending photograph of a couple moments after learning that their 19-month-old child had been swept out to sea in Hermosa Beach. The image was hard for the photographer to bear, and when staffers came to congratulate him on his work being recognized, Gaunt said: "I'm ill in my interior."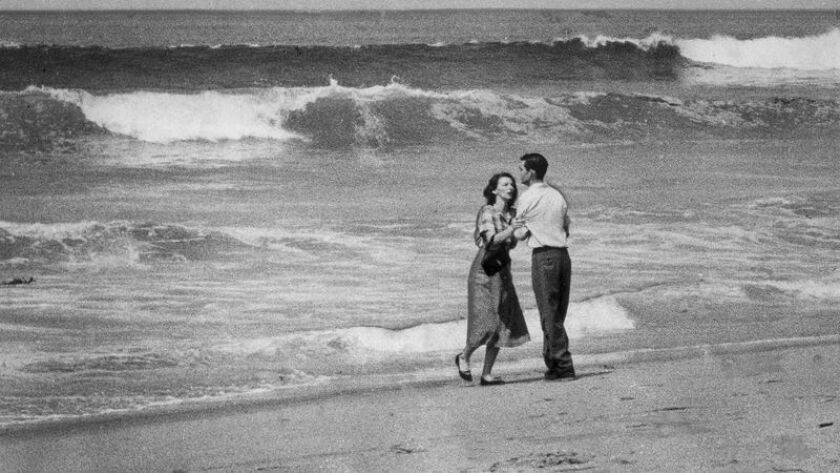 CALIFORNIA
-- On the state's high-speed rail project, Gov. Gavin Newsom plans to scale back the use of costly consultants but push ahead with a segment in the Central Valley.
-- Prosecutors will seek the death penalty in the trial of a man they've called a "serial sexual-thrill killer" that's set to start this week in L.A.
-- L.A. residents could get more warning before parking tickets are issued in repair zones.
-- Former First Lady Michelle Obama, who was once told she wasn't Ivy League material but went on to Princeton and Harvard, urged students to follow her lead at a UCLA appearance.
HOLLYWOOD AND THE ARTS
-- Lil Nas X's country-rap song "Old Town Road" sounds a lot like the future, but Nashville has mostly snubbed it.
-- The latest wrinkle in the writer-agent war in Hollywood? A California law widely seen as outdated.
-- The Los Angeles Asian Pacific Film Festival starts today with a spotlight on female filmmakers, Margaret Cho and more.
-- A judge in L.A. has ruled that a Pissarro painting will stay in a Spanish museum, despite a decade-long attempt by a San Diego family to reclaim the artwork they say was seized from them by Nazis 80 years ago.
NATION-WORLD
-- Police say a University of North Carolina-Charlotte student lost his life while saving others by tackling a gunman who opened fire in a classroom on Tuesday.
-- Officials say a 16-year-old boy has died in U.S. custody after crossing the southern border without an adult. It's the latest of several young migrant deaths that occurred in federal custody in recent months.
-- Venezuelans poured into the streets for continued mass demonstrations, and protesters again clashed with government forces Wednesday. But President Nicolas Maduro has held onto the key to remaining in power: the military.
-- A British judge has sentenced WikiLeaks founder Julian Assange to 50 weeks in prison for jumping bail in 2012.
-- With a dwindling number of male heirs in Japan's imperial household, the country once again faces the question: Is it ready to see a female emperor?
BUSINESS
-- Google employees staged a sit-in to protest what they call a "culture of retaliation" at the company. It was the latest in a series of demonstrations by tech industry workers.
-- The quest to make gasoline out of thin air — by removing carbon from the atmosphere.
SPORTS
-- In a landmark ruling that touches upon complex issues of gender in sport, South African runner Caster Semenya has lost her appeal against track officials who may now proceed with a rule that defines her and other female athletes by their body chemistry.
-- Trainer Bob Baffert could tie the record for Kentucky Derby wins; he has three solid contenders in this weekend's race.
OPINION
-- Trump has nominated Barry Myers — the former chief executive of AccuWeather, which was founded by his brother Joel — as head of the National Oceanic and Atmospheric Administration. Columnist Michael Hiltzik says he may have the most direct conflict of interest of any appointee so far.
-- Small retailers who sold through Amazon are facing a tax time bomb.
WHAT OUR EDITORS ARE READING
-- "Mr. Trump eats your soul in small bites": Former FBI Director James Comey gives his views on serving in Trump's administration. (New York Times)
-- "What Jonathan Gold taught me about losing time to cancer." (Esquire)
ONLY IN CALIFORNIA
California Highway Patrol officers received an unusual call during rush hour traffic in San Francisco on Tuesday morning: "Uh, there's a sea lion on the 101." Sure enough, a baby sea lion had wandered onto the busy highway. Several drivers got out of their cars to try to corral the pup out of traffic lanes. The CHP says that when officers arrived, one opened the door of his patrol vehicle, and the sea lion "willingly jumped right into the backseat."
If you like this newsletter, please share it with friends. Comments or ideas? Email us at headlines@latimes.com.
---