L.A.'s annual homeless count shows a sharp increase, despite efforts to help.
TOP STORIES
The Heartbreak of Homelessness Grows
The numbers are grim: Officials say the number of homeless people in Los Angeles County increased by about 12% over last year to just under 59,000. The reality is grimmer: life in vehicles, in shelters and on the streets, where the conditions appear to grow worse each day. And L.A. is not alone: The findings follow a string of similarly dire point-in-time counts from across California. Meanwhile, billions have been earmarked to address the problem, while officials point to a lack of affordable housing that is pushing people into the streets. The reaction from many: anger. Columnist Steve Lopez hopes that emotion can be combined with compassion to motivate our elected officials to lead in a way he says they have not so far.
Climate Change Takes Center Stage
If Joe Biden had been inclined to take a middle-of-the-road approach toward climate change, the proposal he unveiled Tuesday would show he's abandoned that idea. Instead, his $1.7-trillion, 10-year plan goes further than the environmental agenda of the Obama White House and rivals those of Democratic candidates to his left, including a plan presented by Sen. Elizabeth Warren.
More Politics
-- In London, President Trump and British Prime Minister Theresa May expressed shared hope that the United Kingdom would eventually leave the European Union and negotiate a bilateral trade deal with the U.S. As he praised Brexit, Trump also sought to play down a growing fight within the Republican Party over his order to impose tariffs on Mexico.
-- The Trump administration has ended the most popular forms of U.S. travel to Cuba, banning cruise ships and a heavily used category of educational travel in an attempt to cut off cash to the island's communist government.
-- The White House is again directing former employees not to cooperate with a congressional investigation, this time instructing former aides Hope Hicks and Annie Donaldson not to provide documents to the House Judiciary Committee.
-- House Democrats are moving to hold Trump administration officials in contempt of Congress for failing to comply with subpoenas for documents related to the attempt to add a citizenship question to the 2020 census.
A Dilemma Over Venezuela
Venezuela's economic and political crisis has caused millions to flee. As a result, the country has overtaken China to become the No. 1 nation of origin for those claiming asylum in the U.S. upon arrival or shortly after, with nearly 30,000 last year. That has also created a dilemma for the Trump administration: Its foreign policy regards leader Nicolas Maduro as an oppressive dictator, but its immigration policy is aimed at keeping asylum seekers out.
Your support helps us deliver the news that matters most. Subscribe to the Los Angeles Times.
Sign up to get Today's Headlines delivered to your inbox. »
FROM THE ARCHIVES
On this date in 1968, Sen. Robert Kennedy had just finished his victory speech at the Ambassador Hotel in L.A. after winning the California Democratic presidential primary. Times photographer Boris Yaro was standing three feet away when Sirhan B. Sirhan opened fire. Afterward, "Sirhan kept trying to reach the revolver, and I was afraid he might get it, so I stuck my hand in under the guys holding him and picked up the gun," Yaro said years later. "I turned away from the scuffle and was thinking, "It's warm. The gun is warm.' " Read more from Yaro's dramatic account of that deadly night.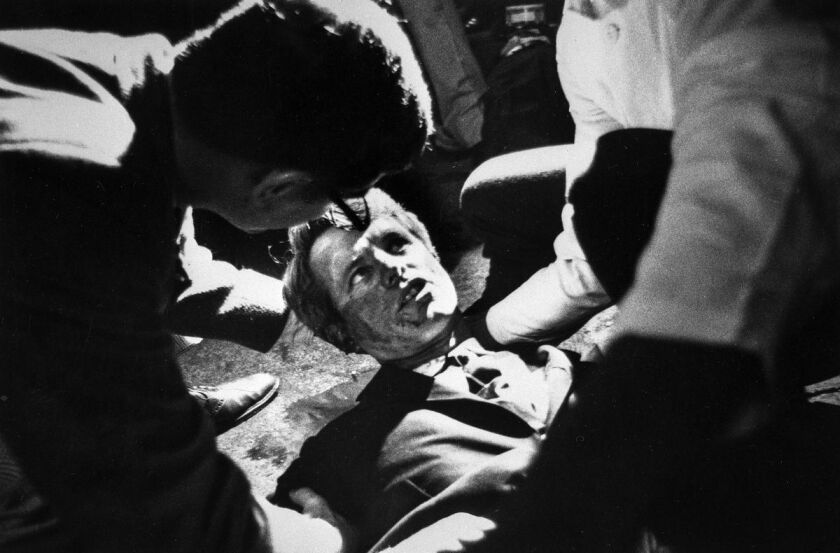 CALIFORNIA
-- The top consultant on the bullet train has been put on suspension after a state watchdog agency began reviewing his approval of a multimillion-dollar contract for a company in which he had heavily invested.
-- In early returns, Measure EE, a tax increase to benefit schools in the L.A. Unified district, received support that fell well short of the two-thirds majority required for it to pass.
-- Prosecutors say a top leader of the La Luz Del Mundo religious organization was arrested on suspicion of human trafficking, production of child pornography, forcible rape of a minor and other felonies.
-- Michelin's new California restaurant guide is out. Critic Bill Addison evaluates what rings true and false for L.A.'s dining scene.
On June 11, The Times will start a new investigative series on the Golden State Killer case. Sign up for updates here.
HOLLYWOOD AND THE ARTS
-- Yvonne Strahovski of the "The Handmaid's Tale," the Hulu series back for its third season today, talks about the challenge of returning to her sometimes monstrous role after giving birth.
-- The film "Bond 25" is facing yet another setback, after an explosion at Pinewood Studios in London resulted in a minor injury to a crew member.
-- The Reprise musical series in L.A. has run out of money (again) and left subscribers hanging.
-- James Holzhauer, who was bumped from the "Jeopardy!" throne he had owned through 32 consecutive episodes, went on Twitter to address the conspiracy theorists and others.
NATION-WORLD
-- Prosecutors say the Florida deputy who failed to confront a gunman during last year's Parkland massacre has been arrested on 11 charges, including child neglect, culpable negligence and perjury.
-- A bill requiring Oregon public schools to teach students about the Holocaust is set to become law, thanks to an improbable friendship between a Holocaust survivor and a 14-year old.
-- China has issued a travel warning for the United States, saying Chinese visitors have been interrogated, interviewed and subjected to other forms of what it called harassment by U.S. law enforcement agencies.
-- In Beijing, the 30th anniversary of the Tiananmen Square protests and massacre passed in silence. In Hong Kong, there was a candlelight vigil.
-- Nearly 75 years after D-day, U.S. veterans are finding a warm welcome in Normandy.
BUSINESS
-- A new UCLA economic forecast predicts California's low unemployment rate should persist through the next two years, but the state's generation of new jobs will lose steam.
-- Will Huawei's loss be Samsung's gain in the China-U.S. trade war?
SPORTS
-- UCLA beat Oklahoma 5-4 in the Women's College World Series championship game in Oklahoma City. It is the Bruins' 12th title and first since 2010.
-- The St. Louis Blues and Boston Bruins have delivered plenty of brawn and bruises to the Stanley Cup Finals.
OPINION
-- L.A. is spending billions to fix homelessness, and it's only getting worse. We need to do more to fight the problem before it happens.
-- How doctors can help skeptical patients understand vaccines.
WHAT OUR EDITORS ARE READING
-- Trump's visit to a Virginia church left some congregants "hurt." The pastor now says he didn't mean to "endorse" the president. (CNN)
-- Captive wild animal encounters are popular, thanks in part to social media. An investigation shows many creatures lead dismal lives. (National Geographic)
-- How the new "Aladdin" film stacks up against a century of stereotyping. (The Conversation)
ONLY IN CALIFORNIA
While traveling between rice fields in Yolo County, a truck driver swerved to avoid a little white mound in the middle of the road. The driver kept going, but when he saw another truck veer behind him, he decided to turn around and investigate. It turns out it was a 3-week-old albino fawn. And while the little deer now named Spirit was shaken up, the folks at the Kindred Spirits Fawn Rescue center say she's taking a bottle and gaining confidence — and wearing her sunscreen.
If you like this newsletter, please share it with friends. Comments or ideas? Email us at headlines@latimes.com.
---