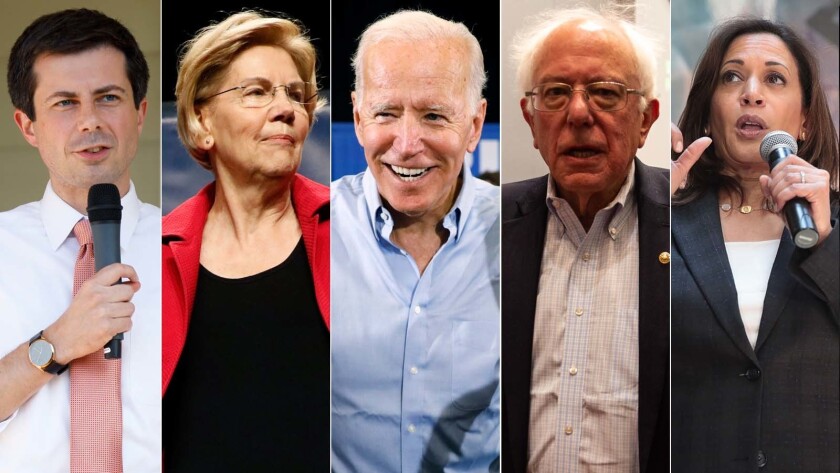 A new poll done for The Times shows five presidential contenders in double-digits but no one candidate dominating California's primary race. Questions about hot-button issues were also asked.
TOP STORIES
Poll Suggests a Fierce California Primary
With the Democratic presidential field now largely set, the race in California, the nation's largest state, is wide open, with at least five candidates in serious contention and no clear favorite. The findings from a UC Berkeley Institute of Governmental Studies poll, done for The Times, provide bad news for some of the contenders. "Our poll indicates that the contest is a wide-open affair, with five candidates in double digits and none dominating," said Mark DiCamillo, the veteran pollster who directs the Berkeley IGS poll. Since candidates in California's primary can gain delegates only by winning at least 15% of the vote, either statewide or by congressional district, he said, "the battle could become fierce."
More Politics
-- A House panel votes to hold Atty. Gen. William Barr and Commerce Secretary Wilbur Ross in contempt over a 2020 census citizenship question.
-- Trump's big, early lead in Facebook ads deeply worries Democratic strategists.
-- Kamala Harris says she would protect young immigrants through executive orders.
Crossing the Street
Pierre Robinson has tried more than once to set up camp in Culver City, a community bordered by Los Angeles on multiple sides. "Every time I tried to set up a tent, [police would] tell me to go to the other side of La Cienega if we didn't want trouble," said the 38-year-old homeless man, who is now living in L.A. — just outside the Culver City line. Los Angeles officials say other cities are pushing the homeless into L.A., but officials in the suburbs say they are in compliance with a court ruling that says cities cannot stop homeless people from sleeping on sidewalks. As numbers surge, the debate rages on.
Art Is Where You Find It
One day in 2016, as Arnulfo Gonzalez waited at a warehouse to pick up cargo, he stared at the filth caked on the back door of his box truck. After a moment of contemplation, he ran his finger on it. Suddenly, the man who years ago had dreamed of becoming an artist, who'd trained for it, realized his canvas had been there all along. And so, every other week since then, the short-haul driver has offered a new "painting" to commuters across Southern California, using only the dirt and grime that collects on his troca. Jesus Christ. A giant jellyfish. A Thanksgiving spread. A horse with a flowing mane, a soulful eye and richly detailed reins.
And So It Begins ...
John Vandemoer, a former sailing coach at Stanford University who swapped spots at the elite college for bribes and pleaded guilty to racketeering conspiracy in March, was spared prison Wednesday for his role in the widespread college admissions scandal. He was the first to be sentenced among the 50 coaches, parents and others charged in the federal investigation into what authorities say was a nearly decade-long scheme to sneak the unqualified children of wealthy families into top universities. Prosecutors had sought 13 months behind bars, but Vandemoer got two years' probation, including six months' home confinement.
Your support helps us deliver the news that matters most. Subscribe to the Los Angeles Times.
Sign up to get Today's Headlines delivered to your inbox. »
FROM THE ARCHIVES
In June 1960, Disneyland opened its 45th attraction: Nature's Wonderland, built for $1.8 million. Set in Frontierland, it featured, among other things, more than 200 lifelike mechanical animals including beavers, bears, boars, deer, coyotes and a mountain lion. Walt Disney himself hosted a preview party along with three of his grandchildren. "Most electrifying to youngsters may be a big mountain cat climbing a tree to get at a nest of baby hawks," read a June 13, 1960, story in The Times. "Mother hawk was on guard, however, with her sharp beak and talons, ready to drive him off."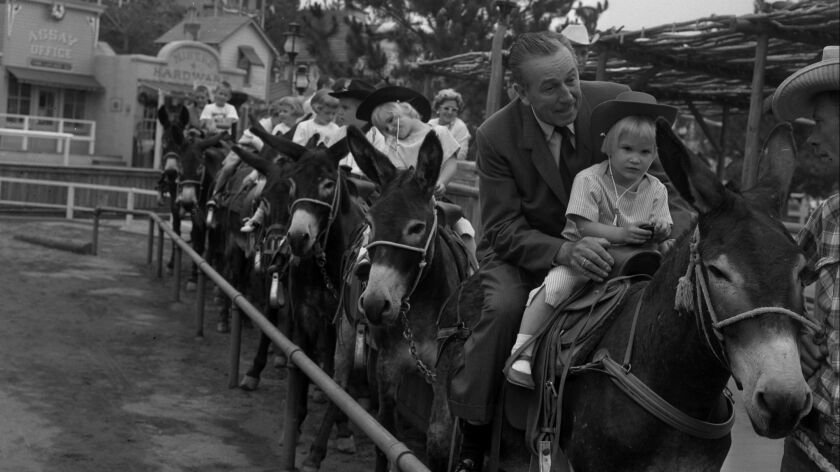 CALIFORNIA
-- The Bay Area cop thought he was having sexually explicit conversations with an underage girl on Tinder, police said. Instead, he was arrested after getting fooled by a man who used several social media apps to pose as a 16-year-old female.
HOLLYWOOD AND THE ARTS
-- The movie "Late Night" makes the late-night TV industry look bleak for women. So we asked how bad it really is.
-- As the son of rom-com royalty, Jack Quaid is making a name for himself in the tiny indie romantic comedy "Plus One."
-- Transgender YouTube star ContraPoints tries to change alt-right minds. "I am an evangelical transsexual," she jokes in one video. "I don't want toleration ... I want converts."
-- As the Museum of Contemporary Art turns 40, financial and leadership calamity have yielded to renewal, and three strong shows and free entry are welcome signs of change.
NATION-WORLD
-- As Japan's premier visits Tehran, here's what you need to know about U.S.-Iran tensions.
-- President Trump said Wednesday that as many as 2,000 additional troops would be sent to Poland, deepening the U.S. military presence near Russia's border after Polish President Andrzej Duda made an unusually public effort to woo Trump.
-- High in the Pamir Mountains of western China, scientists exploring an ancient cemetery have uncovered 2,500-year-old vessels containing the chemical remains of burned cannabis plants. It's the earliest such evidence that ancient peoples smoked weed.
BUSINESS
-- Uber and Lyft executives say they'll raise wages if they can keep treating drivers as contractors.
-- Santa Monica's Bird Rides buys Scoot — and with it, a back door into San Francisco's rental scooter market.
SPORTS
-- The St. Louis Blues defeated the Boston Bruins 4-1 in Game 7 to win the franchise's first Stanley Cup.
-- You can't win the U.S. Open on Thursday, but you can sure lose it. That's Rory McIlroy's disposition heading into the opening round at Pebble Beach, where he will look to maintain his momentum from last weekend's victory at the Canadian Open.
OPINION
-- Amid an ongoing affordable housing shortage and worsening homelessness, Los Angeles leaders are grasping for policies that could help ease the pain. The latest idea is an "empty homes penalty," or vacancy tax. Given the depth of the crisis, it's worth exploring — but the real solution is to build.
-- L.A.'s "new" city charter just turned 20. How well is it serving the city? It turns out that not every civic trial and conflict can be solved by changing the rules of the game.
ONLY IN L.A.
An aspiring rapper accused of scaling an exit sign on the 110 Freeway clad only in boxer shorts and a pair of sneakers last year is getting a little more attention than he probably bargained for. Alexander Dunn, 30, is now facing five misdemeanor charges as part of the June 27, 2018, incident, the city attorney said Wednesday. The publicity stunt forced officials to shut down the southbound lanes of the freeway for two hours — creating a massive traffic jam through downtown — as police and firefighters tried to coax the man down. Dunn told a reporter Wednesday that he hadn't heard about the charges.
If you like this newsletter, please share it with friends. Comments or ideas? Email us at headlines@latimes.com.
---