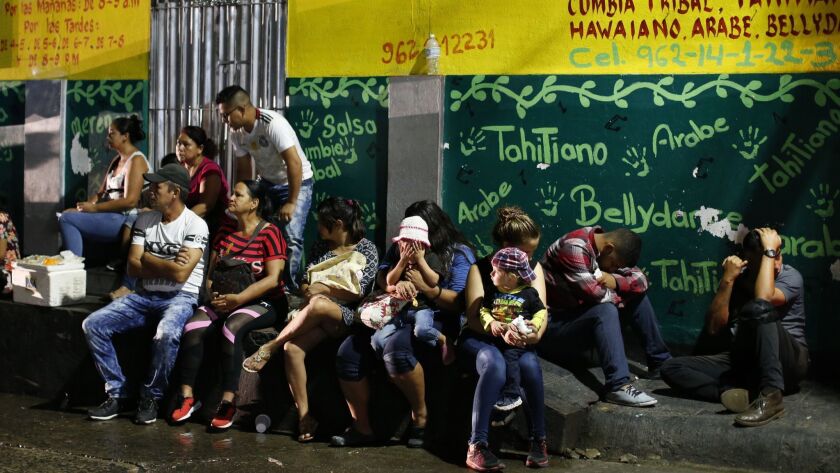 Migrants, mostly from Central America, are finding themselves caught in a Mexican immigration crackdown prompted by pressure from the United States.
TOP STORIES
Stuck in Southern Mexico
Long lines of migrants, mostly Central Americans, queue up daily outside the Tapachula offices of the refugee agencies of Mexico and the United Nations. Meanwhile, a polyglot throng including people from Africa, Asia and the Caribbean regularly gathers at the local headquarters of the National Institute of Immigration, Mexico's agency for migrant affairs. Almost all those seeking help have a common destination — the United States — but they find themselves marooned in this sweltering city in southern Mexico, caught in an expanding Mexican immigration crackdown prompted by U.S. pressure.
More Politics
-- Democrats have named the 20 candidates who qualified to participate in the first debate for the party's 2020 presidential nomination.
-- White House Press Secretary Sarah Huckabee Sanders, one of the most visible faces of the Trump administration, plans to leave her job at the end of the month.
Blame for a 'Blatant Assault'
Secretary of State Michael R. Pompeo on Thursday blamed Iran for what he called a"blatant assault" that caused explosions aboard two oil tankers in the Gulf of Oman, again raising tensions in the region. Pompeo said the assessment was based on U.S. intelligence, the type of weapons used, the level of expertise needed and the belief that none of Iran's proxy groups was capable of carrying out such an attack. Dozens of crew members were rescued after explosions on the Japanese-owned Kokuka Courageous and the Norwegian-owned Front Altair. While Wall Street saw a surge in the price of oil, Iran has denied any connection with the incidents.
Morning Is Becoming Different
For the last decade, fans of indie rock, left-of-center electronic music and experimental pop have soundtracked their mornings with deejay Jason Bentley. That ritual is coming to an end. On Thursday, the longtime host of KCRW-FM's flagship show "Morning Becomes Eclectic" announced his retirement from both his daily three-hour 9 a.m. slot and as the Santa Monica-based public radio station's music director. The station will conduct a national search for his replacement.
A Less Terrible Airline
On your next Spirit flight, you might just arrive on time. Spirit Airlines has overhauled its business plan to focus more on improving customer service. So far, the overhaul has resulted in better service, fewer lost bags and fewer — though still a lot of — customer complaints. "It wasn't enough for the airline to be cheap because everyone was cheap," one aviation industry analyst said.
Your support helps us deliver the news that matters most. Subscribe to the Los Angeles Times.
Sign up to get Today's Headlines delivered to your inbox. »
FROM THE ARCHIVES
On this date in 1987, the Lakers defeated the Boston Celtics to win the NBA Championship. "No question this is the greatest one," said Magic Johnson, who became the first player to be named the playoffs' Most Valuable Player three times. The victory at the Forum in Inglewood marked the Lakers' fourth of five championships during the Showtime era.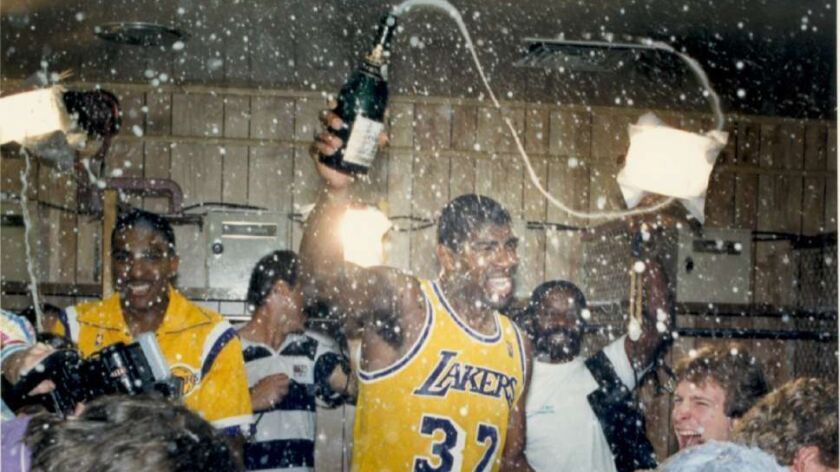 CALIFORNIA
-- It has taken a majority-female Sonoma County Board of Supervisors to revive a controversy over the Bohemian Club's annual all-male bacchanalia in the redwoods, columnist Robin Abcarian writes.
-- Worry mounts as California braces for another possibly devastating wildfire season, with Gov. Gavin Newsom declaring, "We can't take it anymore."
-- Democrats in the California Legislature have sent the governor legislation that lays out the blueprint of a $214.8-billion state budget.
YOUR WEEKEND
-- Here in the region that gave birth to much of what skateboarding is today, quality skate parks are a given. Here's a sampling of the best outdoor public skate spots in greater L.A., whether you're a skater or a spectator.
-- Dear John's in Culver City is a trippy, time-capsule romp, but in April 2021 the building will be razed to make way for a new development. Until then, its new owners are throwing the restaurant an extended farewell.
-- This recipe for redfish blackened with Korean chile flake butter makes the perfect summer dish.
-- Celebrate Pride month and beyond with a rainbow of fashion options.
HOLLYWOOD AND THE ARTS
-- "Toy Story 4" director Josh Cooley was 15 when he saw the first movie. Now, he's in charge of one of America's most beloved franchises.
-- Three generations of "Shaft" bring the 1970s hero up-to-date in a new movie starring Jessie T. Usher, Samuel L. Jackson and Richard Roundtree.
-- Madonna and Bruce Springsteen are going head-to-head today with the release of her "Madame X" and his "Western Stars." We review both of the new albums.
NATION
-- As the 2020 census nears, concern about a possible undercount of Native Americans is gaining traction across the country.
BUSINESS
-- The furor over comments by a UBS Group AG official about a "Chinese pig" has intensified, with a Hong Kong financial group urging the bank to fire everyone involved.
SPORTS
-- The Toronto Raptors defeated the Golden State Warriors 114-110 in Game 6 to claim the franchise's first NBA championship.
-- For more than four decades in the NHL, former Kings player and general manager Dave Taylor superstitiously never dared to touch the Stanley Cup — until now, as an executive for the world champion St. Louis Blues. Time to lift away!
-- Los Angeles Angels? Ha! The Anaheim team's disingenuous name is as laughable as ever, columnist Arash Markazi writes.
OPINION
-- Ask Mom? Once Holning Lau become a father, he became particularly attuned to all the ways in which our culture discourages dads from caregiving.
-- Actress Jessica Biel, facing criticism, explains why she is against California's bill to tighten immunization laws.
WHAT OUR EDITORS ARE READING
-- HBO's miniseries "Chernobyl" coincides with an increase in tourists to Ukraine's Exclusion Zone, where it's been unsafe to live since 1986 but, as one tour package advertises, "You'll get hundreds of fantastic pics for Instagram." (Esquire UK)
-- Inmate-on-inmate homicides in California's county jails have surged since the state was ordered in 2011 to overhaul its overcrowded prisons. One exception? Los Angeles County jails, which haven't seen a homicide in three years. (ProPublica)
-- What does the future hold for the 405, America's most congested freeway? (Mashable)
ONLY IN CALIFORNIA
What kind of home will a million bucks buy these days in Beverly Hills, Bel-Air or the Hollywood Hills? We have a few options to show you. Just know that while you might get a spectacular view, or the coziness of a canyon, or the panache of a famous ZIP Code, what you definitely won't get is a third bedroom.
If you like this newsletter, please share it with friends. Comments or ideas? Email us at headlines@latimes.com.
---