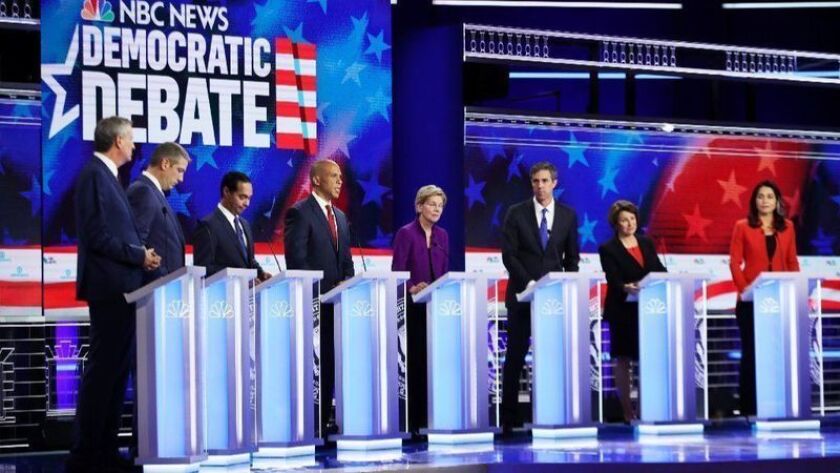 At the first Democratic presidential debate, the 10 candidates tried to display their policy differences. What will tonight's second round bring?
TOP STORIES
Across the Democratic Divide
The first Democratic presidential debate in Miami wasn't an easy place for a breakout moment. There were, after all, 10 candidates onstage. (Not to mention a microphone snafu.) But the contenders tried nonetheless, as they argued — mostly politely, sometimes cantankerously and occasionally in Spanish — about how far left to bring the party, how to confront economic inequality and how to treat immigrants. Though they tried to highlight their differences, on one thing, they could agree: their contempt for President Trump. But even at that, policy matters dominated the discussion. So what will tonight's second debate, with another 10 hopefuls, bring? Here are five things to look for.
A Summit of Low Expectations
Trump arrives in Osaka, Japan, today for the Group of 20 summit, where he is set to talk with at least eight leaders outside the group meetings — including Russian President Vladimir Putin and Chinese President Xi Jinping. Despite a busy agenda and an urgent list of world problems, expectations for significant progress are remarkably low, even within the Trump administration. Asked by a reporter what Trump plans to say to Putin, the president replied, "What I say to him is none of your business."
More Politics
-- South Korea's president says officials from North Korea and the U.S. are holding "behind-the-scenes talks" to arrange a third summit between Trump and Kim Jong Un.
-- The Supreme Court is set to decide today a politically charged dispute over whether the Trump administration can add a citizenship question to the full census for the first time since 1950.
-- The House Oversight Committee has approved a subpoena to force White House counselor Kellyanne Conway to appear before the panel as it looks into allegations that she repeatedly violated a federal law that limits political activity by government workers.
An Arrest in a USC Case
It was a story that shook USC and became the largest sex crimes inquiry involving a single suspect in Los Angeles Police Department history: a campus gynecologist accused of sexual misconduct toward hundreds of students. Now George Tyndall has been arrested and charged with committing more than two dozen felonies at the campus health clinic, with more charges likely to be added. Tyndall has denied any wrongdoing. Police say he was carrying a loaded handgun without a concealed weapon permit when he was arrested, and he was taken to a hospital after complaining of chest pains.
'They Are Milking the System'
It's a noble idea: helping disadvantaged Americans by steering municipal, state and federal contracts to qualified minority-owned companies. But in many instances, government agencies have not vetted those companies. An L.A. Times investigation has found that, since 2000, the federal government and authorities in 18 states, including California, have awarded more than $300 million under minority contracting programs to companies whose owners made unsubstantiated claims of being Native American.
Beach Bummer
If there was one upside to the severe drought that plagued California for seven years, it was how the lack of rain and dirty runoff improved beach water quality. But according to a new Heal the Bay report card, ocean pollution has surged once again at some Southern California beaches because of an unusually wet winter and the effects of the massive Woolsey fire. The good news: Experts believe this year's pollution increases could be temporary.
Your support helps us deliver the news that matters most. Subscribe to the Los Angeles Times.
Sign up to get Today's Headlines delivered to your inbox. »
FROM THE ARCHIVES
On this date in 1966, Lockheed unveiled a full-scale, wooden mock-up of a proposed supersonic passenger aircraft. The company was competing with Boeing to build a plane that would be subsidized by the federal government. But this Lockheed entry lost out to a Boeing model, and Congress canceled supersonic transport funding in 1971.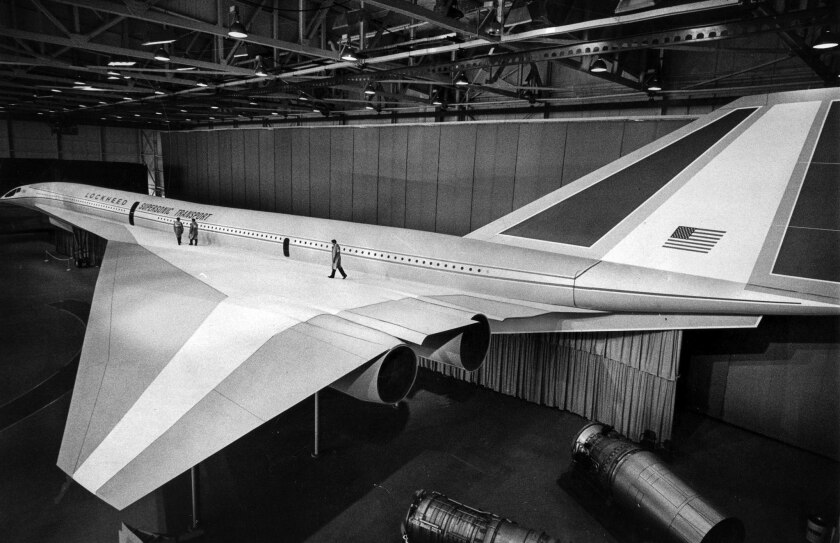 CALIFORNIA
-- State lawmakers agreed this month to hand over $650 million to big cities, counties and regional agencies to help fight homelessness. Now some Los Angeles officials say they want more. Much more.
-- Four women, including an Orange County supervisor, have accused Assemblyman William Brough (R-Dana Point) of unwanted touching and other misconduct. Brough denies the claims.
-- Vicente Benavides spent almost 25 years on death row before the state Supreme Court, citing false evidence, overturned his conviction. Now, he is suing Kern County and the city of Delano.
-- Michael Nguyen of Orange County has received a 12-year prison sentence from a Vietnam court for "attempting to overthrow the state." His supporters have denounced the sentence as an abuse of power.
HOLLYWOOD AND THE ARTS
-- Civil rights hero Bryan Stevenson is getting the movie star moment with the HBO documentary "True Justice."
-- Jade Jackson may be the next big country-rock star. But first, she has some tables to wait.
-- The Getty has picked a theme for the Pacific Standard Time 2024 series: art and science.
-- Beth Chapman, former star of the reality show "Dog the Bounty Hunter," has died at 51.
NATION-WORLD
-- A photo from the Rio Grande captures the tragic end for a father and daughter who were trying to cross the border into the U.S.
-- The U.S. military said two of its service members were killed in Afghanistan but did not offer any details surrounding the circumstances of their deaths.
-- The president of the Oregon Senate said there weren't enough votes in his majority Democratic caucus to approve a landmark climate bill that had sparked a walkout by Republicans.
-- A Russian gas pipeline to Germany is sowing divisions in Europe and beyond.
BUSINESS
-- After months of stalled contract negotiations, grocery workers at Albertsons, Vons, Pavilions and Ralphs stores voted this week to give union leaders the authority to call a strike.
-- The Southern California median home price barely budged in May, a sign that the housing market remains soft despite a sustained drop in borrowing costs.
SPORTS
-- Kevin Durant, Clipper? People around the NBA fully expect the team to have a real chance at signing him.
-- France could be the first country to hold the men's and women's World Cup titles at the same time. The women's team will face a big test Friday when it meets the U.S.
OPINION
-- For a more peaceful vision of the future, Henry Kissinger writes, look to the Olympic Games.
-- Cal State says hoarding more than a billion dollars was "nothing nefarious." Columnist George Skelton's reaction: Yeah, right.
WHAT OUR EDITORS ARE READING
-- "How a top chicken company cut off black farmers, one by one." (ProPublica)
-- A sister company of Google has big plans for a "smart city" along the waterfront in Toronto. (CityLab)
-- The intimacy of crime scene photos in late 19th century Paris. (Atlas Obscura)
ONLY IN L.A.
The strawberry doughnut at Donut Man in Glendora was proclaimed "L.A.'s first destination doughnut" by none other than the late Times restaurant critic Jonathan Gold. Today, it still inspires devotion, as this illustration by artist Stacy Michelson shows. The drawing explores the history and the making of an L.A. classic.
If you like this newsletter, please share it with friends. Comments or ideas? Email us at headlines@latimes.com.
---