Column: Three worthy books for the California reader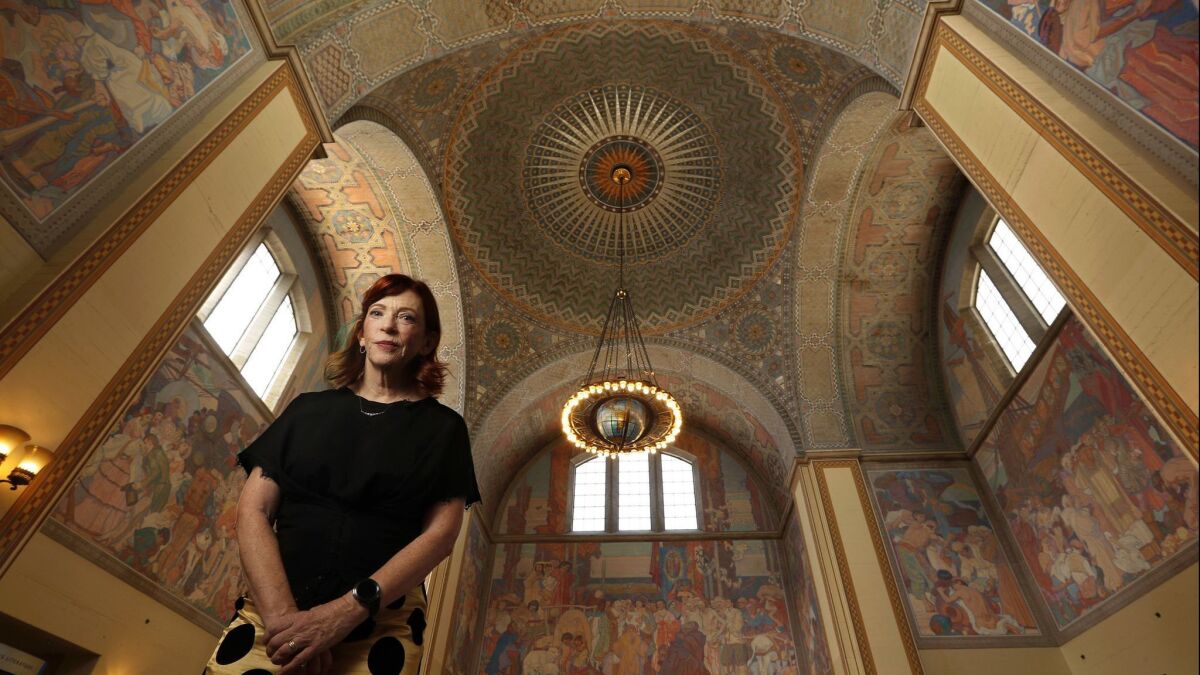 Oh, the books that will be written about California's 2018. So much to cover! The blue wave that crashed over Orange County in the midterms. The apocalyptic fires in Paradise and Malibu. Hollywood's #MeToo reckoning. The best of them will join other classics, like Joan Didion's "Slouching Towards Bethlehem" or "L.A. Bizarro" (look up the latter one), which capture some essential aspect of the Golden State experience.
This year saw the release of several great books in that genre, each of which explores a facet of what makes healthy Southern California communities — institutions, businesses, even newspapers.
The one I just finished was the "The Library Book," the new bestseller by New Yorker staff writer Susan Orlean. She tackles one of the most infamous disasters in Los Angeles history: the 1986 fire at Central Library that destroyed 400,000 volumes and damaged 700,000 more. Orlean's words spread out smoothly and richly like Kerrygold butter on toast. She describes Santa Fe Springs, for instance, as "hemmed in by the dun-colored Santa Rosa Hills and a looming sense of monotony." It's a quick, yet deep read that mentions many facts and figures but never gets bogged down by them.
Each of these books explores a facet of what makes healthy Southern California communities — institutions, businesses, even newspapers.
She easily switches among the trauma that befell the library, how the city united to help it recover (complete with a cameo by legendarily cantankerous TV evangelist Gene Scott!), and the vibrant institution the library system is today. Her positioning of libraries as one of the last truly public spaces in the world resonated with this book nerd. I loved how she painted the Los Angeles Public Library as the city's heartbeat, its 72 branches and employees a circulation system that keeps the city humming. Libraries are egalitarian and democratic communities at their best — a place where those in charge welcome everyone from the homeless to the rich, and want the twain to meet.
Another type of community institution — the local bank — is the focus of "Banking on Beauty: Millard Sheets and Midcentury Commercial Architecture in California," the first book-length study on the productive relationship the titular artist had with businessman and philanthropist Howard F. Ahmanson Sr. Lovers of California art and architecture will swoon at the photos of the murals, statues and mosaics that Sheets designed for about 200 Home Savings and Loan branches between the 1960s and 1980s. (Kids, these are the cooler-looking Chase banks today.)
Ahmanson wanted to create temples to capitalism. He commissioned fortress-like buildings that one of his executives boasted were built to last "not just a hundred, but a thousand years," according to author Adam Arenson. But he also wanted customers to feel welcome and knew he needed art to pretty up his authoritarian aesthetics.
Sheets, already a nationally known artist by the time he signed up to become Ahmanson's personal Picasso, responded to the challenge. He delivered soft, bohemian depictions of local historical scenes to make the past "as understandable as possible" to the public. His creations are beloved fixtures in Southern California. My favorite remains the humongous stained-glass portrait of 1890s Orange County life that looms over the Chase tellers on Harbor Boulevard in Anaheim.
"Banking on Beauty" invites readers to remember a time when our captains of industry cared about public spaces as much as they did the bottom line — and it also challenges us to preserve those remaining buildings that possess Sheets originals.
Enter the Fray: First takes on the news of the minute »
My final 2018 reading recommendation highlights David Allen of the Inland Valley Daily Bulletin. He just published "On Track," a collection of columns that span 2001 to 2005. More Jack Smith than Herb Caen, Allen is one of Southern California's most underappreciated chroniclers, someone who finds the wry and ridiculous in a region that few of us who don't live in the Pomona Valley ever think about — really, when was the last time you ever bothered to consider Montclair, unless it was to wonder where the heck is Montclair?
Through the columns, Allen evolves from, in his own words, "a wannabe Dave Barry" looking to hone his craft at a regional paper before moving on to the big leagues into someone who grew to love the area he covered and never left. "On Track" at its best offers small vignettes — an Ontario man who built a life-sized replica of the Iwo Jima flag-raising sculpture in his frontyard, a remembrance of Jack Benny's Rancho Cucamonga, a Tupperware exhibit at an Upland museum. ("Admission is free. So is burping the merchandise," Allen concluded in one of his trademark nice-guy teases.)
Maybe his subjects didn't affect the historic arc of Southern California, but that's OK: Allen highlighted characters and bits of history that deserved their day in the paper. And that's the through line of all these books. Our everyday institutions — the bank, the library, the newspaper — are so rarely remarked upon and yet are the most essential blocks of society. Let's value them now, because we'd be so much the worse if they were gone.
Twitter: @GustavoArellano
---
Life is stressful. Our weekly mental wellness newsletter can help.
You may occasionally receive promotional content from the Los Angeles Times.