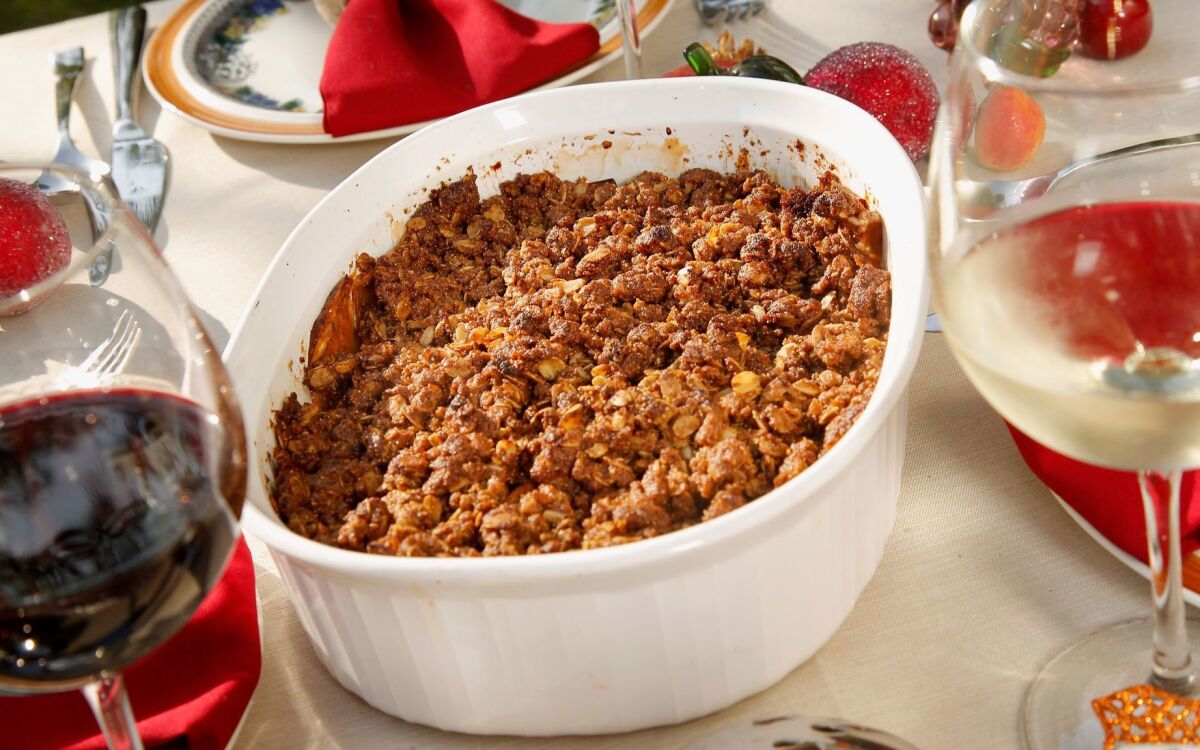 Print Recipe

Print Recipe
I grew up in a Midwestern boarding school next to an apple orchard, so we had what would now be called heirloom apples stowed along the school hallways in crates, like forgotten luggage. As it was a Quaker school, we also had the nostalgia of oatmeal, though that famous guy in the broad-brimmed hat on the oat jar is as much a weird stereotype as the guy on those Washington football jerseys. So when it came time to make dessert for Thanksgiving, my mother — a prairie pragmatist — did what was for her far more logical than baking a pie: She cut up a ton of those apples (unpeeled), topped them with a mixture of oatmeal and flour, butter and cinnamon, and just put the pan in the oven. Years later, my mother is no longer with us, but her crisp is, loaded with more spices, and paired with a bowl of unsweetened whipped cream the size of a soup tureen. My sister and I learned how to make very servicable pie, but when there is so much else to do for the biggest food holiday of the year, we appreciate the simplicity of our mother's crisp. (It is also very good for breakfast.)
From the story: Thanksgiving recipes from our food writers' home kitchens
1
Heat the oven to 375 degrees. Peel the apples if desired, and core and thinly slice them, placing them in a 2-quart ceramic dish. Sprinkle the lemon juice over the apples and set aside.
2
In a large bowl, combine the oats, sugar, flour, butter, cinnamon, cardamom, ginger, lemon zest and salt, mixing the ingredients with your hands until fully incorporated. Sprinkle the topping over the apples.
3
Bake until the topping is crisp and the juice from the apples is bubbling, about an hour.
4
Serve warm with a very large bowl of unsweetened whipped cream.
---
Get our new Cooking newsletter.
Your roundup of inspiring recipes and kitchen tricks.
You may occasionally receive promotional content from the Los Angeles Times.