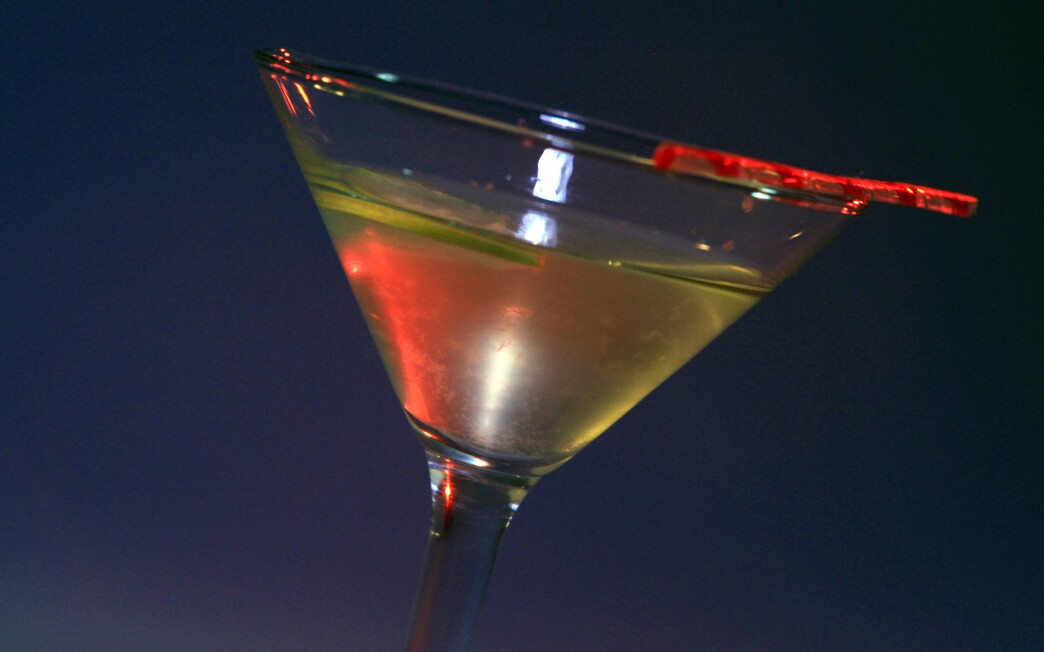 Print Recipe

Print Recipe
With craft cocktail bars sprouting like fungi in a locally sourced mushroom martini made with artisanal bitters, you sometimes find yourself longing for a simpler cocktail. Perhaps, like Carrie Bradshaw in "Sex and the City," you crave a rosy-red cosmopolitan. Or maybe you pine for a white sugar-rimmed lemon drop, like the kind you quaffed in college before passing out in the bushes by the campus bar.
When did cocktails become so serious, you find yourself wondering as you watch Tom Cruise juggle bottles of booze in the 1988 film "Cocktail." In that movie, which celebrated an era of drinking that wasn't afraid of a little yellow No. 5 dye, the in drinks are as bright and artificial as your grandma's Christmas tree, and everybody seems to be having so much fun.
New Year's Eve is the perfect occasion to raise a toast to that bygone era. After all, you don't have 15 minutes to make each drink for the massive party you plan to throw. As an added bonus, you can ask guests to dress the part: They can wear leg warmers, leotard tops, pink polo shirts and feather their hair.
The first drink you must serve is a classic apple martini. Contrary to what some frou-frou mixologists will tell you, the apple martini is still alive and well. You can get one at Lola's on Fairfax, which claims to have invented the drink in 1996.
"We had a bottle of Apple Pucker and a bottle of Ketel One and we combined the two and I thought, 'It tastes just like a Jolly Rancher,' " says Lola's owner, Loren Dunsworth. "We sell ludicrous amounts of apple martinis. I don't know of any craft cocktails that people seek out the world over like they do the apple martini. I think it makes people happy."
These days, drinking an apple martini could be considered the height of irony. And hipsters, it is widely known, love irony.
"Most bartenders I know think cocktails are getting pretentious," says Aidan Demarest, one of L.A.'s most sought-after mixologists and the owner of Neat in Glendale. "There needs to be an irreverent moment, and cocktails need to be fun again."
That's why Demarest created another cocktail that should make your party list: the Blue Whale, made with lemon juice, vodka and ginger beer. The drink is based on one by the same name that was a huge hit at Houlihan's in 1989. Demarest made his own Curacao but was unable to bring himself to color it blue; instead, he serves the drink in a blue Tiki pint glass.
Blue Curacao is the holy grail of flair-style drinks, which initially rose to prominence during the late 1970s and '80s at preppy spots known as "fern bars," which include places such as TGI Fridays, where you can still order a blackberry Long Island iced tea, a Horny 'Rita or a Pink Punk Cosmo.
When it comes to craft cocktails, the L.A. market is still relatively new, says Demarest, which is why bartenders aren't quite yet ready to "turn around and laugh at themselves."
"If I were to make a funny move, I would serve blue Curacao in a beautiful copper mug," jokes former Library Bar mixologist Matthew Biancaniello. "But I'm so in the opposite direction of that -- I probably take three hours to make a drink."
Still, when Biancaniello first started bartending at the Hollywood Roosevelt Hotel's Library Bar, the three most common drinks ordered were a dirty martini, a Bloody Mary and a Long Island iced tea.
"I knew if I could put my own spin on these and make them great, I would be able to gain customers' trust so that they would try my more experimental cocktails," says Biancaniello, so he created a spin on the Long Island iced tea called the Montauk.
With mezcal, gin, aquavit and vodka, the Montauk packs as much saucy punch as your run-of-the-mill Long Island iced tea while keeping it crafty. Perhaps you can have the best of both worlds.
1
In a cocktail shaker filled with ice, combine the apple liqueur, vodka and sweet and sour. Shake, then strain into a martini glass. Garnish with the apple slice.
Adapted from Lola's. Soak the apple slice in lemon water to keep it from browning before serving.
---
Get our new Cooking newsletter.
Your roundup of inspiring recipes and kitchen tricks.
You may occasionally receive promotional content from the Los Angeles Times.