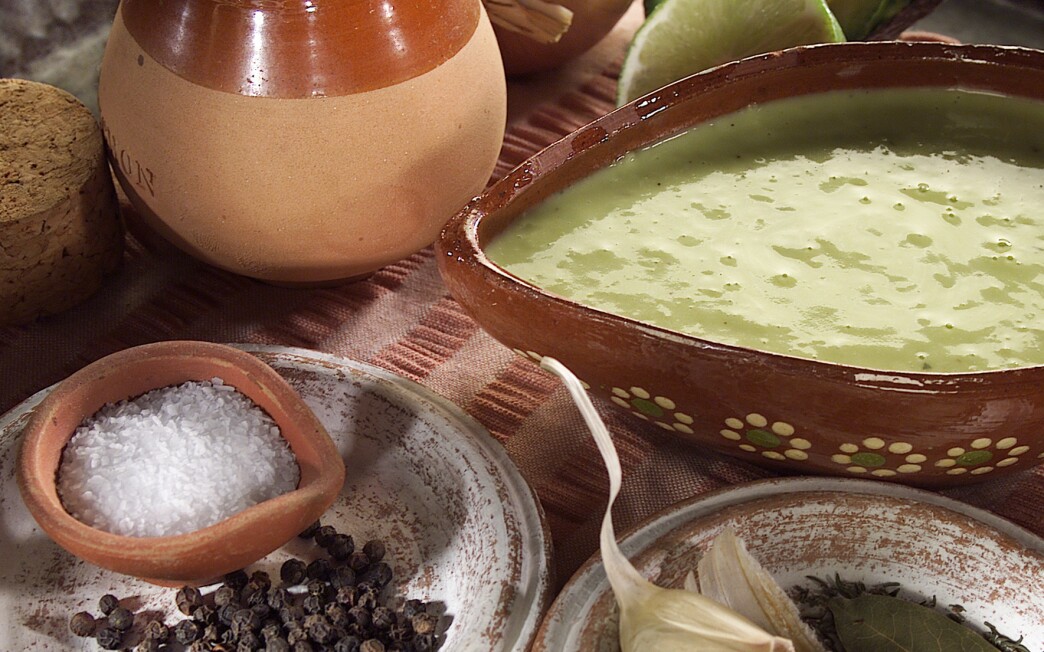 Print Recipe

Print Recipe
It would be hard to establish exactly when Mexican gourmet cooking began. Did it start in the valley of Oaxaca 700 years before Christ? Or did it all begin in 1325 in Tenochtitlan, what is now Mexico City? Regardless of when it began, the cuisine keeps on living, producing delicious, sophisticated and exciting new dishes that mix contrasting flavors in sometimes surprising ways.
The culinary imagination of the Mexicans seems to have no limits, for food is at the forefront of everybody's life. Every time I travel south to visit with my relatives I hear of new ways to prepare dishes with ingredients as old as cilantro, hibiscus and grapes. I taste new recipes and read new books with daring mixtures of fruits, beef, vegetables, seafood and spices blended in imaginative and flavorful dishes.
Consider, for example, a lunch served in my sister's house, which included tacos of hibiscus flowers for appetizers. I'd known that hibiscus could be used to prepare jamaica, a refreshing, red drink similar to a fruit punch, or a comforting hot tea. Until that day, though, I didn't know it made a great taco filler. The hibiscus flowers are boiled until soft, then the water is drained and the flowers are fried with finely chopped onions and serrano chiles. Finally, you add a teaspoon of chicken bouillon and fry the flowers until golden. My sister made the tacos in small tortillas and served them as botanas (appetizers).
Another new dish I tasted at the house of Angelita Borbolla, one of my mother's friends, was a grape and poblano chile soup. Not only is it one of the most elegant and delicious soups I have ever tried, it is also very simple to make. On another occasion, Angelita prepared what she calls chiles ardidos, or "burnt" chiles. These are pasilla or ancho chiles stuffed with Manchego cheese, bathed in a sauce of piloncillo (brown sugar), onion and aromatic herbs.
On another night, when we visited my comadre Lolita Olivares, we tasted her amazing cilantro soup. The conversation at the table became a lecture on cilantro, a plant that has become a staple of Mexican food but which originated elsewhere. In Mexico, cilantro is indispensable for the traditional Mexican hot sauce, but it is also used fresh in all sorts of tacos.
That night, during our dinner conversation, we concluded that there isn't enough time in one lifetime to taste the cuisine prepared in each of the 32 Mexican states. Not only is there so much rich and plentiful history, but the present is ever evolving with innovative dishes being created with a never-ending harmony of flavors.
1
Blend the mayonnaise, garlic, onion, lime juice, thyme, salt, pepper, bay leaf, avocado, water and olive oil in a food processor; it should have the consistency of ranch dressing. When ready to serve, pour over a mixed green salad.
Be sure to use good quality olive oil; otherwise the dressing will be bitter. Or use half good quality olive oil and half vegetable oil.
---
Get our new Cooking newsletter.
You may occasionally receive promotional content from the Los Angeles Times.