Bacon-Basted Root Vegetable Hash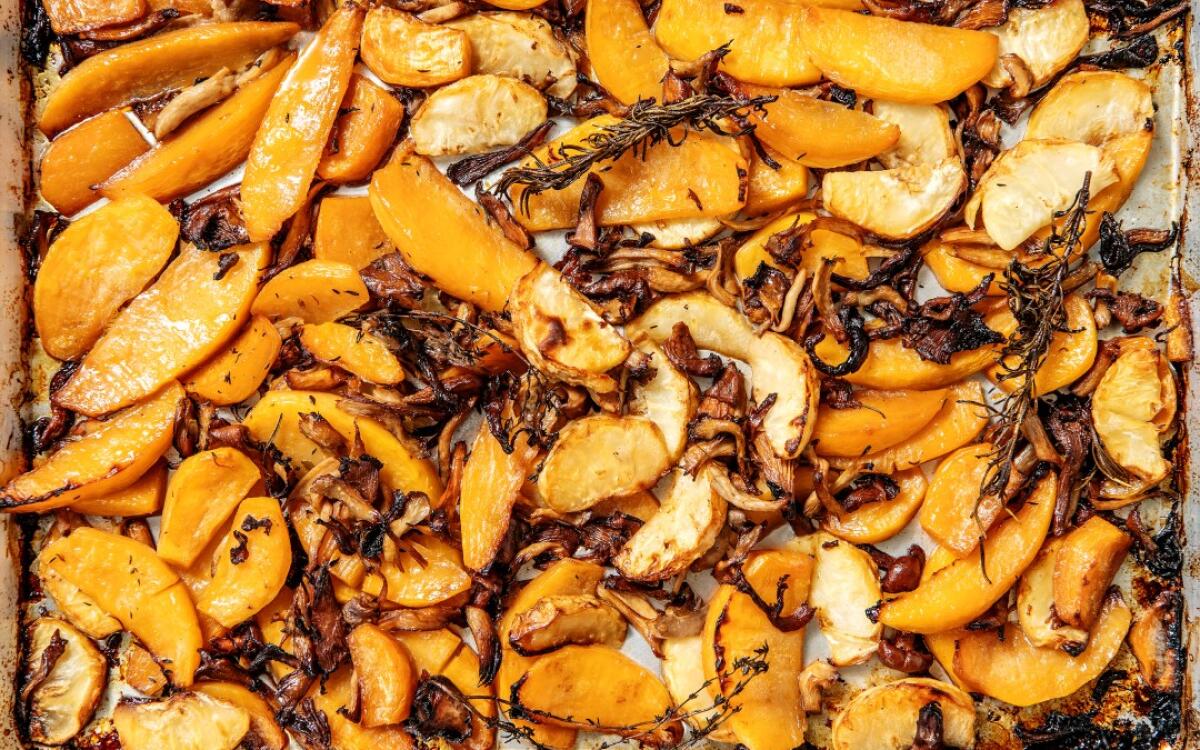 Print Recipe

Print Recipe
1
Heat the oven to 350 degrees. On a large rimmed baking sheet, combine the rutabaga, celery root and mushrooms and toss to mix. Spread the vegetables into an even layer then place the herb sprigs evenly over the top. Cover the pan with foil, crimping the edges shut and bake for 1 hour.
2
While the vegetables bake, make the pickled onions: Combine the onions, vinegar, and 1 teaspoon salt in a medium bowl and refrigerate, stirring every 10 minutes or so, until softened, at least 1 hour. The onions can be made up to 5 days in advance and refrigerated in an airtight container until ready to use.
3
Uncover the pan and discard the foil; increase the heat to 425 degrees. Arrange the bacon slices evenly over the vegetables in a single layer then cook until the bacon is cooked through, about 30 minutes (it will not be crisp). Using tongs, transfer the bacon to paper towels to drain and keep warm; increase the oven temperature to 450 degrees. Use a flat metal spatula to gently flip and redistribute the veggies and herb sprigs, ensuring they're coated in the bacon fat. Return the pan to the oven and cook the vegetables, flipping once halfway through, until brown and crusty, 35 to 40 minutes longer. (Add the bacon back on top of the vegetables for the last 10 minutes of cooking if you want more well-done bacon.)
4
Remove the pan from the oven, remove the herb sprigs and stir the greens into the veggies while they're hot so they wilt slightly. Season the hash with salt and pepper and serve it while hot, topped with an egg and some pickled onions.
---
Get our Cooking newsletter.
Your roundup of inspiring recipes and kitchen tricks.
You may occasionally receive promotional content from the Los Angeles Times.