Baked pasta with spinach and sausage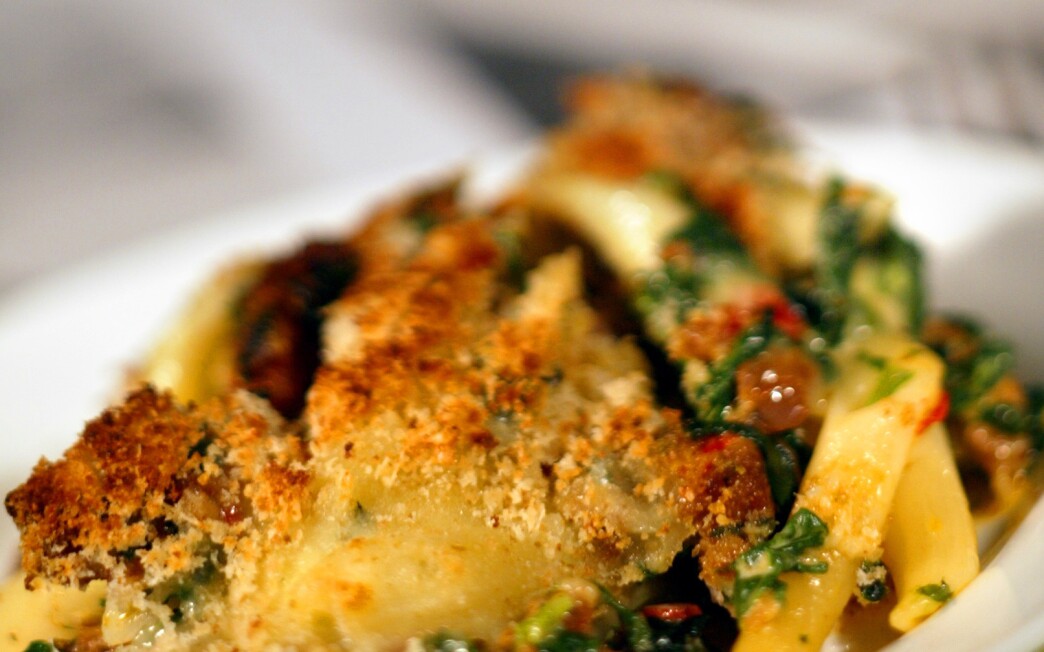 Print Recipe

Print Recipe
Lolling around the television set is not usually my idea of a good time, but this year the Oscars could be such a respite from bad news that I could sit there watching all night. Just not alone.
Now more than ever, the instinct will be to get friends together and share the show and, for once, hope it literally goes on all night. If it does, everyone will need to eat. And eat.
Over many years of serving long into the dark on Oscar night, I've learned that the food has to be both finger-friendly but not rug-threatening, rich enough to absorb hours' worth of wine and stimulating enough to keep guests from gobbling so mindlessly that only empty platters are left two songs before the best actor is announced. The right food keeps people in their seats to the very last speech. Without it, you're looking at "Swept Away" -- and it's no fun to have anything less than a full house left for best picture.
My solution is to treat the evening like the marathon it should be and serve food for stamina, food for energy, food for the long haul. Friends who are serious runners always say the best things to eat are festive but fortifying, and that means carbo- and caffeine-loading with a couch potato's twist.
For starters, garlic bread is an exercise in indulgence, especially one made not just with butter but also a creamy cheese such as Taleggio, the Italian answer to Brie. You can serve it warm with drinks when the first guests arrive, but because everything is baked together the slices won't make a mess in front of the screen, either.
Around halfway through the telecast, I'd serve a big pan of gooey baked pasta (marathoners' high-octane fuel) with a simple salad. Both are easy to eat off a lap without a lot of light. The penne in particular hangs with the sausage, spinach and peppers thanks to a rich sauce and melting cheese. If you want to skip the protein in the sausage, substitute well-seasoned portabello mushrooms, grilled or broiled and diced small.
The salad should be chopped so that it's as easy to eat as nachos with cheese sauce apparently are in a dark multiplex. Toss small bites of romaine with peeled, seeded and diced cucumbers, rinsed and drained garbanzo beans, halved grape tomatoes and slivered Kalamata olives. Avocado is a good add-on for energy and flavor. For the dressing, you don't need anything fancier than a basic vinaigrette.
You also could serve popcorn all night. But at least make it a little more festive, and fortifying, by seasoning it with a blend of spices such as cayenne, garlic powder and crumbled basil (slide them into the oil in the pot just after the first kernel pops) and bulking it up with peanuts or sesame and pumpkin seeds.
As the last taste blast, there's nothing like chocolate-chip cookies super-caffeinated with espresso powder, with a little Kahlua to amplify the coffee illusion. You could call them buzz bites. They're easy to make and are good for nibbling as the night winds down. To pump up the wake-up effect, mix the dough with some Dutch-process cocoa powder, also high in caffeine.
If all else fails, you can always lay in a good stock of a caffeine drink like Red Bull. Friends who don't run marathons swear it makes a very energizing mixer for vodka.
1
Wash the spinach well but do not dry. Place in a large pot, cover and cook over high heat until wilted, about 5 minutes. Transfer to a colander to cool, then squeeze out the excess moisture. Chop coarsely and set aside.
2
Remove the sausage casings and crumble the meat into a large skillet. Cook over medium heat until just done, about 5 minutes. Transfer to a large bowl.
3
Heat the oven to 425 degrees.
4
Bring a large pot of water to a rolling boil. Add salt, then the pasta and cook until just barely al dente, about 8 minutes.
5
While the pasta cooks, wipe the skillet and add the butter. Melt over medium heat. Add the garlic and cook until softened but not browned. Add the spinach and nutmeg and cook 3 to 4 minutes. Add the stock and cream and bring to a boil.
6
Drain the pasta well and place in the bowl with the sausage. Pour in the spinach sauce. Add the peppers and toss until completely blended. Taste and add salt and pepper if needed. Butter a 13-by-9-inch glass baking dish and cover the bottom with 1/3 of the pasta mixture. Strew half the fontina cheese on top. Repeat with the remaining pasta and fontina cheese. Combine the Parmigiano and bread crumbs and sprinkle evenly over top. Bake until the top is crusty and the sauce is bubbly, 10 to 15 minutes.
Canned piquillo peppers can be found at Spanish markets or specialty stores.
---
Get our new Cooking newsletter.
You may occasionally receive promotional content from the Los Angeles Times.