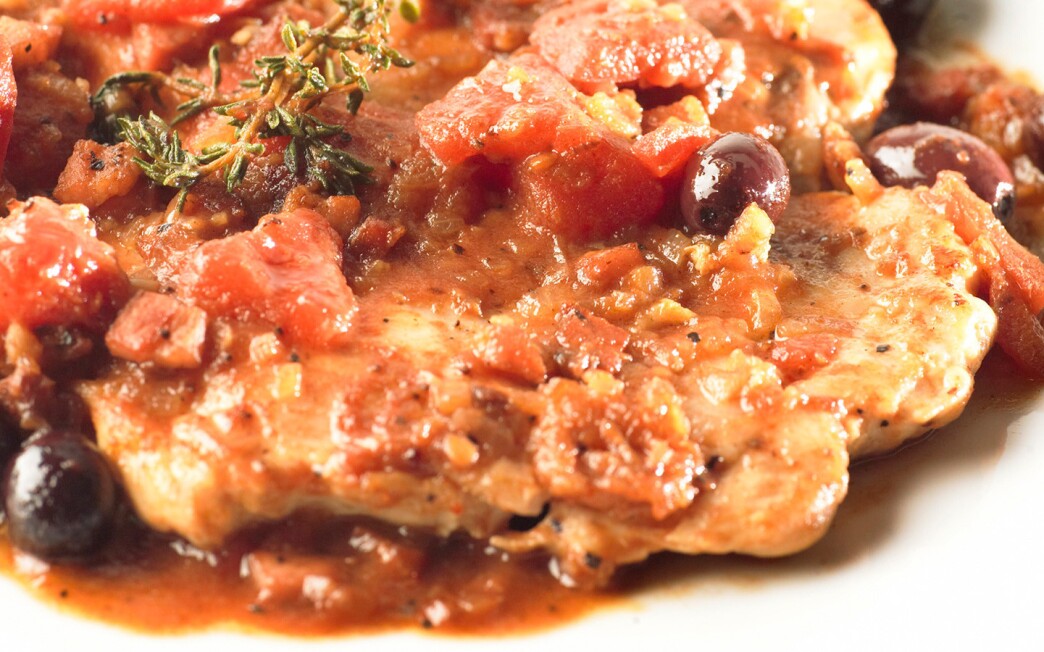 Print Recipe

Print Recipe
Roasted chicken. Chef Thomas Keller waxed poetic about it on a recent episode of "Charlie Rose." It has "reference points," he noted. A big browned bird signals the arrival of the holidays, or a relaxed supper after a lazy Sunday. A whole roasted chicken, crisp-skinned and juicy and aromatic, resonates with deliciousness.
But even when deconstructed to its humble parts, they too can hit all the same notes. Achieve them with a pan or in the oven, with a few easy techniques -- the right ones for the right cut.
Chicken breasts are succulent and tender when pounded thin and quickly sauteed until golden brown, then finished in a rustic Basque-style sauce. Braised thighs are first sauteed, then simmered in chicken broth, sherry vinegar and lemon juice, embellished with shallots and punchy capers. Meaty roasted legs with the thighs attached have rich, flavorful, crisp skin; serve them with fast-fried thin slices of artichokes and lemon.
The chicken breast's reputation precedes it; it's at once adored by the health-conscious and derided by dark-meat loyalists. It's routinely mishandled and overcooked, but it can also be tender, and redolent with warm chicken flavor.
The challenge of the breast is that it's large and uneven, fat on one end and narrowly pointed on the other. The trick is to even it out -- pound it into an elegant paillard. It's a dish you'll want to cook over and over again, an easy recipe for your chicken-three-times-a-week repertoire.
Give them a three-minute pan fry until they're nearly done, and then in the same pan make a quick Basque-style sauce -- tomatoes and olives and herbs, slightly smoky pancetta . . . it's all fantastic with the perfectly cooked chicken breasts that are so tender the meat is almost silky.
The sauce is made with sauteed pancetta, shallots and garlic; with a splash of a crisp-dry wine such as Pinot Grigio and a little chicken broth, reduced until it's almost velvety. Add tomatoes (good-quality canned San Marzano until tomato season starts), nicoise olives, thyme and Espelette pepper. Then the breasts finish cooking in the sweet-salty sauce.
And chicken legs -- there's something about chicken legs with the thighs attached that makes such a great display on the plate. They're quickly seared (in olive oil and butter with a little garlic) before roasting so that they get an extra-crisp golden-brown skin.
Chicken legs, fattier and thus moister, lend themselves to longer periods of cooking. The juices and browned bits in the pan make a nicely rich sauce with chicken broth, white wine and butter. Deep-fried slices of baby artichokes and Meyer lemons serve as garnish. They puff up with a tempura-like crust made with heavy whipping cream and flour.
There are thighs, and then there are thighs. Chicken thighs braised in chicken broth, sherry vinegar and lemon juice are so tender the meat practically falls off the bone. Because the thighs are skinless, brown them well first to deepen their flavor.
They're served with pan-roasted springtime new potatoes with creamy interiors, perfect for sopping up a little sauce with those salt-packed capers. The braised meat is intensely flavorful, the brightness of the vinegar and lemon juice a nice contrast to the mild sweetness of the chicken. A reference point to remember.
--
Denise Martin is a freelance writer. Donna Deane is The Times' test kitchen director.
1
Place each chicken breast between two large pieces of plastic wrap. Using the flat side of a meat mallet or heavy skillet, pound each breast until it is uniformly about one-fourth-inch thick. Season each piece with one-fourth teaspoon salt and a pinch of pepper. Place each breast on top of a large piece of plastic wrap or wax paper.
2
In a large skillet, heat the butter and 1 tablespoon of the olive oil over medium-high heat until hot. Add the chicken, one piece at a time, and saute until golden-brown, about 2 1/2 minutes on the first side and 30 seconds on the other. Remove the chicken to a plate. Set aside in a warm place.
3
Drain the excess fat from the pan and add the remaining tablespoon of oil over medium heat. Add the pancetta and saute until browned, about 2 minutes. Add the shallot and saute for 1 minute, until tender, then add the garlic and saute just until aromatic, a few seconds, being careful not to brown. Add the wine, stirring to scrape up the browned bits at the bottom of the pan.
4
Stir in the chicken broth, the Espelette pepper, thyme and tomatoes. Allow the sauce to come to a 4. Stir in the chicken broth, the Espelette pepper, thyme and tomatoes. Allow the sauce to come to a simmer and cook for 5 minutes so that the flavors develop. Stir in the olives.
5
Add the chicken back to the pan, spooning the sauce over it. Cook for 1 minute, then remove the chicken to a plate. Spoon the sauce evenly over each piece, and serve immediately.
From test kitchen director Donna Deane. Espelette pepper is available at specialty food stores. You can substitute canned San Marzano tomatoes for fresh tomatoes.
---
Get our new Cooking newsletter.
You may occasionally receive promotional content from the Los Angeles Times.